Note: WorkBoard Strategy is a separate add-on product. If you're interested in WorkBoard Strategy, contact your CSM or sales representative.
Overview
In the face of increasingly volatile markets, widely distributed workforces, and transformation driven by technology change and Environmental, Social, and Governance (ESG) awareness, setting long-range strategy is more challenging and important than ever.
WoBo Strategy allows teams to discuss and determine multi-year strategy, codify and measure progress toward it in a "strategy on a page", elegantly publish the strategy to other stakeholders, and link the long-range strategy to the quarterly OKRs that drive its near-term execution.
The tool provides a stage to unlock ambition, accelerate results, create inherent ownership and accountability, and elevate strategic thinking at multiple levels within an organization.
With WoBo Strategy:
Connect long-range strategy

and near-term objectives and focus

Democratize strategic thinking and formulation of strategy

through brainstorming and frameworks

Improve monitoring and iteration on

strategy to fuel long-term growth

Improve alignment of strategies

across the company for effective execution

Communicate and share

strategy with minimal effort to bring strategy front and center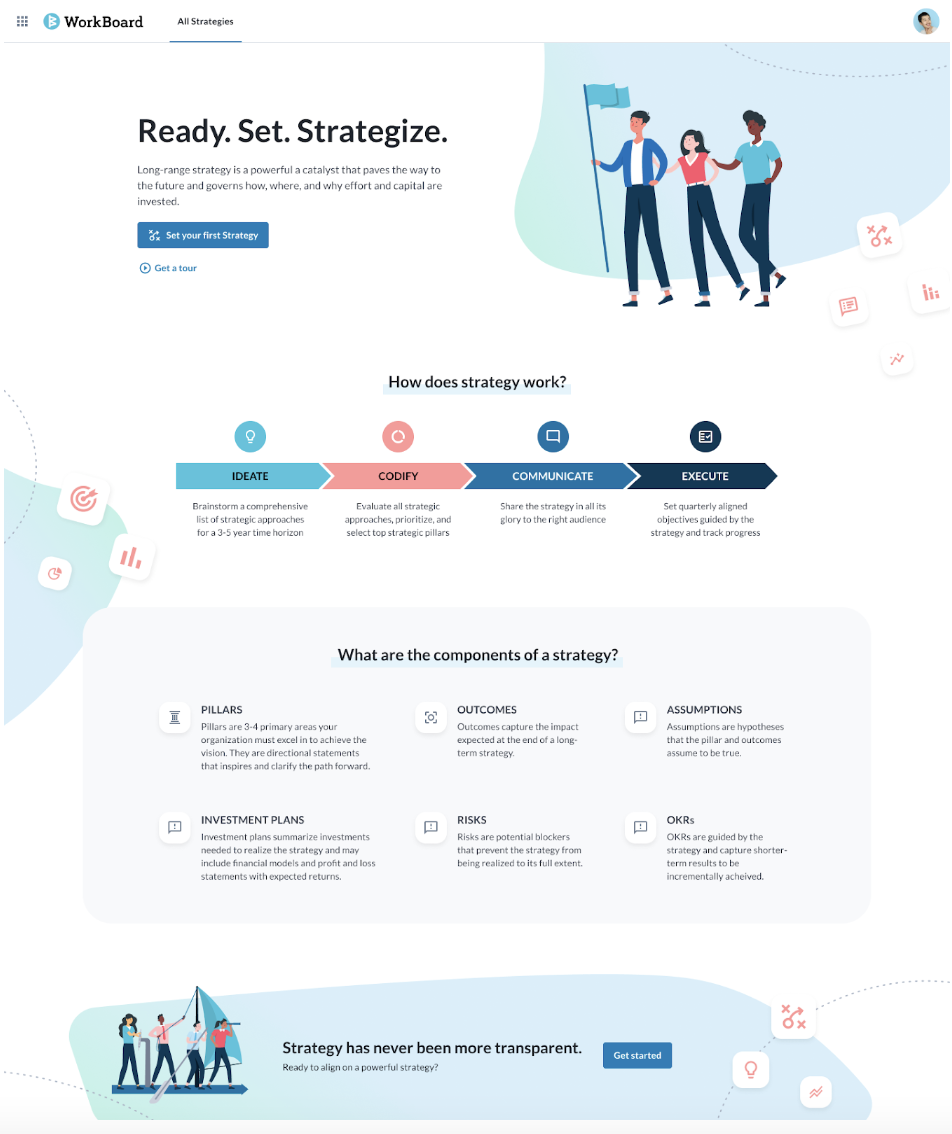 How Strategy Works
The process of strategy begins at ideation and reaches execution – from concept to completion.
Ideate
Brainstorm a comprehensive list of strategic approaches for a 3-5 year time horizon.
Codify
Evaluate all strategic approaches, prioritize, and select top strategic pillars.
Communicate
Share the strategy in all its glory to the right audience.
Execute
Set quarterly aligned objectives guided by the strategy and track progress.
Components of a Strategy
Strategic Pillars support the salient visions of strategies, and have supporting benchmarks, targets, risks, and assumptions outlined by the team.
Outcomes
List the business outcomes that result if the strategy is achieved.
Assumptions
Assumptions outline what must be true in order for the team to achieve the strategy.
Investment Plans
Add investment targets that support the long-range strategy.
Risks
Define any present or suspected risks that can impact the strategy.
Mission
A concise statement that articulates the strategy's purpose.
Vision
Big picture of what you want to achieve.
Values
Principles and values your organization will follow in carrying out the strategy
Narrative
Any trends or beliefs that inform your strategy.
Create a Strategy
Learn more about how to create a strategy.
Publish a Strategy
Learn how to publish your strategy to stakeholders, teams, or across the organization.
Invite Collaborators and Viewers to a Strategy
Learn more about how to update your strategy based on the iteration cadence.
Update a Strategy
Learn more about how to update your strategy based on the iteration cadence.