Overview
Collections are a way to group together a set of Biz Reviews for MBRs or QBRs, or to simply organize them in shared or personal Collections.
You might create a Collection to:
Group a set of Biz Reviews for an MBR, and share the set with all stakeholders with one link.

Organize a biz review set for a QBR or board meeting, and archive the whole set at the end of the quarter in one go.

Organize a quicklist of your go-to Biz Reviews for the quarter.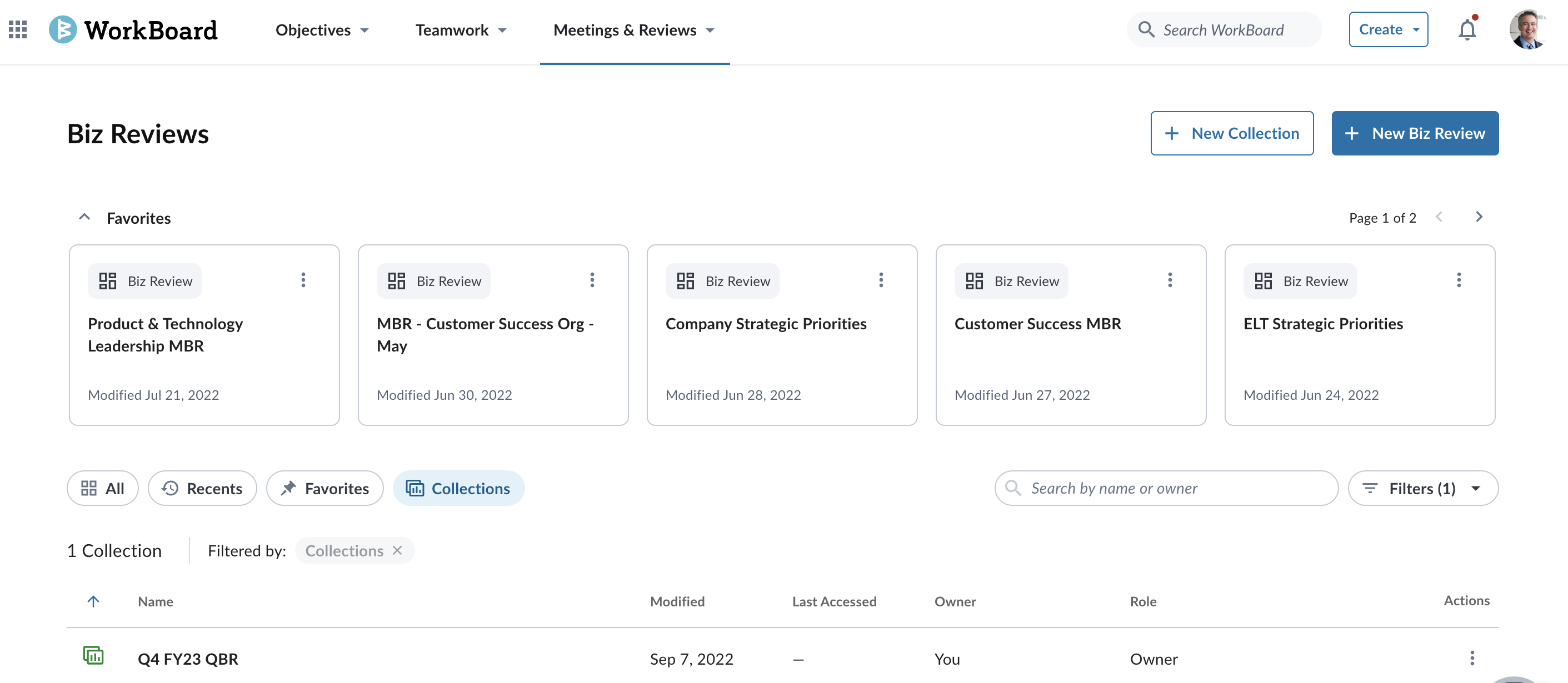 Favorite a Collection so it appears in your Favorites carousel for quick discovery and access.
Permissions
Collections are private by default, but can be made public by selecting the audience of your choice. You can adjust the Collection audience whenever needed.
Note that access to the Collection doesn't give access to the underlying Biz Reviews.
Create a Collection
Select Meetings & Reviews from the main menu

Navigate to

Biz Reviews

Select the

+New Collection

button




Add a name to the Collection

Click

Create
Add Biz Reviews to a Collection
Any Biz Review can be added to multiple Collections, much like a digital photo can be saved to multiple photo albums. The same biz Review can be a shared collection, and also your own private collection.
There are multiple ways to add Biz Reviews to a collection:
Create a Biz Review within the Collection
Create and go to your collection (ex. Q2 FY22 QBR)
Click on +New Biz Review
This might be a great way to create a set of Biz Reviews in one go for the same MBR or QBR!
Add from Biz Reviews Landing Page
Click the Kebab on the Biz Reviews Landing Page

Select

Add to Collection


Choose the Collection to which you'd like to add Biz Review

Share with audience
Add using Drag and Drop
Drag and drop items from the Landing Page directly into the Collection
Favorite Collections
When you favorite Collections, they'll appear in your Favorites section for easy management.
Click the Kebab on the Biz Reviews Landing Page

Select

Add to favorites


Review your favorites in the Favorites section on the top of the Biz Reviews Landing Page


Bulk Archive Biz Reviews
When Biz Reviews in a Collection are no longer relevant, you can archive them in bulk by archiving the Collection.
Locate the Collection you'd like to archive

Hover over the Collection

Select the Archive icon
Note: Archiving a Biz Review or Collection will archive the item(s) for all users with permissions.
Learn more about archiving older Biz Reviews.
Edit Biz Reviews from a Collection
When you navigate to a Biz Review from a Collection and make independent edits, those edits will then be reflected in the Biz Review in all locations. For example, if you change the name of a Biz Review in a Collection, that name change will be reflected in the Biz Review in all Collections and locations.
Share a Collection