Overview
Edit the Presentation Order of a Collection to create MBR and QBR content in one place. From there, you can present all Biz Reviews in the Collection without interruption.
You can also share Collections with an audience so they can review and edit the Collection from their Biz Reviews Landing Page. The unique URL linked to a Collection can also be shared directly with others or linked in Meeting agendas, for an easy reference to an entire MBR or QBR deck.
Learn more about presenting an individual Biz Review.
Sort Collection Presentation Order
You can set the Collection Presentation Order to seamlessly transition between Biz Reviews in a Collection, jump between Biz Reviews in a Collection, and jump between Trays in Biz Reviews, all when in present mode. You might use this feature to:
Set the agenda for an MR or QBR: Set the Presentation Order to sequence Biz Reviews in Present mode
Keep backup material out of the main presentation: Exclude any Biz Review from Presentation Order
Click the Presentation Order icon

Drag and drop Biz Reviews in preferred order
Present From a Collection
Select the

Play icon from within the Collection, or press the Play

icon on the Collection directly from the Biz Review Landing Page

Use the presentation tools to jump across Biz Reviews or Scorecards in a Collection, or between trays in a Biz Review.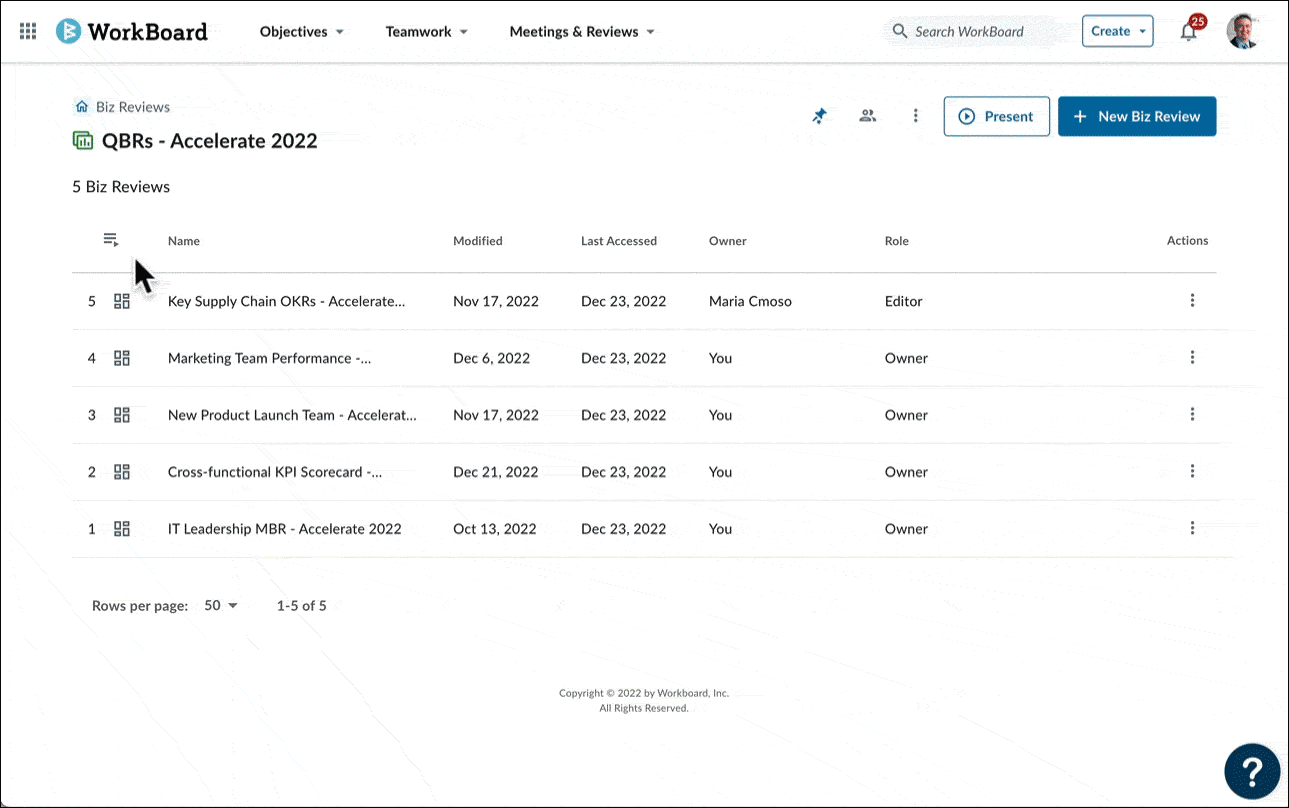 Share a Collection With an Audience
Users or Teams can edit and share Collections to which they have access.
Open intended Collection from the Biz Reviews Landing Page

Choose the

Share Icon



Add Users and Teams to share with all users

Select

Done
Share Link to Collection
You can share one unique link to an entire Biz Review deck to those which have access to the Collection.
Click the Kebab on Collection you'd like to share

Click

Copy link


Paste and share link as intended