Overview
Bring strategy execution into weekly focus in Webex! Incorporate objectives and progress towards them in your weekly digital operating rhythm with WorkBoard meeting agendas, now directly accessible via Webex Meetings. Capture decisions and next steps right in the meeting agenda so everyone walks away from meetings with the same understanding.
Note:
The Webex-WorkBoard integration requires users to hold enterprise accounts for both Webex and WorkBoard. If WorkBoard does not appear as an App in Webex Messaging or Meetings, please consult your organization's admin to approve in Control Hub.
WorkBoard's embedded app for Webex Meetings works best with the 2021 new WB meetings integration. Consult your CSM regarding your organization's timeline to upgrade WB meetings
How to use the WorkBoard integration for Webex Meetings
In-Meeting features and functionality:
Click Apps in the bottom right-hand corner.
Select WorkBoard from the Apps drop-down menu.
Note: This is only available for the Meeting Host.


Log in to WorkBoard.

In the Meetings Dashboard, select Open together at the bottom right hand side of the screen.
Note: Any member of the Meeting can select Open Together. This shares the Meetings Dashboard view with your team. Each individual in the meeting should select the current meeting.

Add Topics & Takeaways like you would with a Meeting directly in WorkBoard.

Objectives, Key Results, Workstreams, and Action Items can easily be opened to view your progress to date.


Closing out the Meeting
Note: Only the team member who opened the session or the meeting host will have the option to close out the Meetings Dashboard.
To close out of the WorkBoard meeting agenda, click Stop session in the bottom right-hand corner of the Meetings screen.
This will close the Meetings Dashboard and the pop-out WorkBoard agenda window.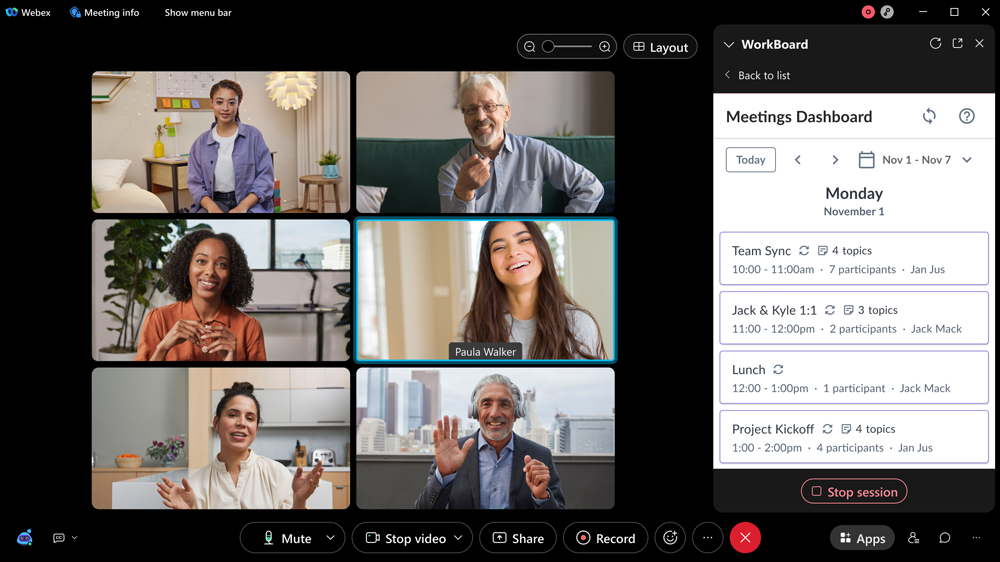 Also see WorkBoard for Webex Messaging.