Introduction
Do you have personal OKRs on a spreadsheet that you want to move to WorkBoard? Do want to track your career growth with measurable outcomes? Do you have OKRs at your workplace that you own outside of your Team OKRs? WorkBoard makes it easy to create Personal OKRs that are separate from your Team OKRs.
Steps for Creating a Personal Objective
Click on the Objectives tab on the Main Menu.
In the bottom left-hand corner in the side pane, and select Add Personal Objective.

Add your Objective name (statement of intent for the given time period), and hit Enter on your keyboard.

Ensure that all of the Objective fields are filled out correctly for your Objective. You can always come back and edit them later if necessary.
OKR Ownership
Owner - The Owner field for Personal Objectives will automatically be assigned to you. That said, you can also create Personal Objectives for people that report to you directly by clicking on the dropdown.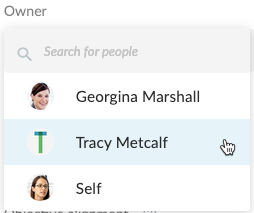 OKR Visibility on Personal Objectives
View Permissions in addition to owner - This field allows you to increase or reduce the number of people in your organization who can view your entire OKR. By default, all Personal Objectives are set to Management Can View, but you can adjust this setting at any time.

Organization Can View

- The entire Organization can view your OKR in the Alignment View (By Organization > People) and Heatmap (sorting by People).
Management Can View

- Only your manager, and their managers up the direct management line, can view your OKR.
Only Owner Can View (

all boxes unchecked!)- When you uncheck Management/Organization Can View the setting automatically changes to Only Owner Can View

Choose Specific teams (searchbox

)- You can select Only Management Can View or uncheck both options so Only owner can view and still select specific Teams that can view your OKR.

Apply to Objective & Key Results

- Automatically checked, this setting applies whatever drop-down choice you made to the Objective (Organization can view, Management can view, Owner can view), to the Key Result as well.

If you uncheck this box, it allows you to modify view permissions for each Key Result giving you greater control over the individual Key Results visibility.
After you've filled out the required and optional Objective fields click Save to start adding Key Results.
Other Helpful Resources: