Overview
The Hotbox showcases the areas where you need to focus. More specifically, it highlights the Medium Risk (orange) or At-Risk (red) Objectives, Key Results, Workstreams, and Action Items that you own or that belong to your Team.

Options in the Hotbox

Add any Objective or Key Result that is organizationally viewable.

Add any Workstream or Action Item with poor health (Risk)/Low Confidence across all of the Teams that you're on.

Choose to

Include on or above plan (green) Objectives or Key Results

in your HotBox for added focus.

Choose what goes in your HotBox in Custom Biz Reviews.

Change owner, status, or due date of an Action Item without leaving the page so you can stay focused on strategy.

Right click the Hotbox while in edit mode for the Quick Actions menu.



Other Hotbox Factors

Your Personal Biz Review is pre-populated with Medium & At-Risk Objectives and Key Results as well as Workstreams and Action Items with

Low Confidence/Poor health(Risk)

.

You can't add or delete the Hotbox in either your Personal Biz Review or Custom Biz Reviews.

If you remove everything from your Hotbox in a Custom Biz Review then it doesn't appear.

Workstream and Action Item health attributes are

subjective

and not based on a progress measurement.
Manage the Hotbox
In your custom Biz Reviews, select the Pencil in the upper right-hand corner.

Search for the Hotbox in your Biz Review. (You may need to scroll down to the bottom to locate it

).
Note: The Hotbox appears on your Biz Review when there's content. While it can't be added or deleted, it can always be updated in Edit mode.
Remove Content from the Hotbox
Hover over content in your Hotbox and activate the Kebab menu button.
Select Remove from Tray.

Add Content to the Hotbox
Activate the "+" icon in the header of your Hotbox.

Choose whether to add an Objective, Key Result, Workstream ,or Action Item.

Add Objectives & Key Results
You can filter by both

Green status & Closed OKRs.

Add Closed OKRs to show comparisons for QoQ performance (in addition to using the Timeline) and add green status Objectives or Key Results for focus.
Add Objectives to the Hotbox:
After selecting to add an Objective to the Hotbox, search across your objectives and select all the objectives you'd like added to your Hotbox.

Activate the "Add" Button to add the selected objectives.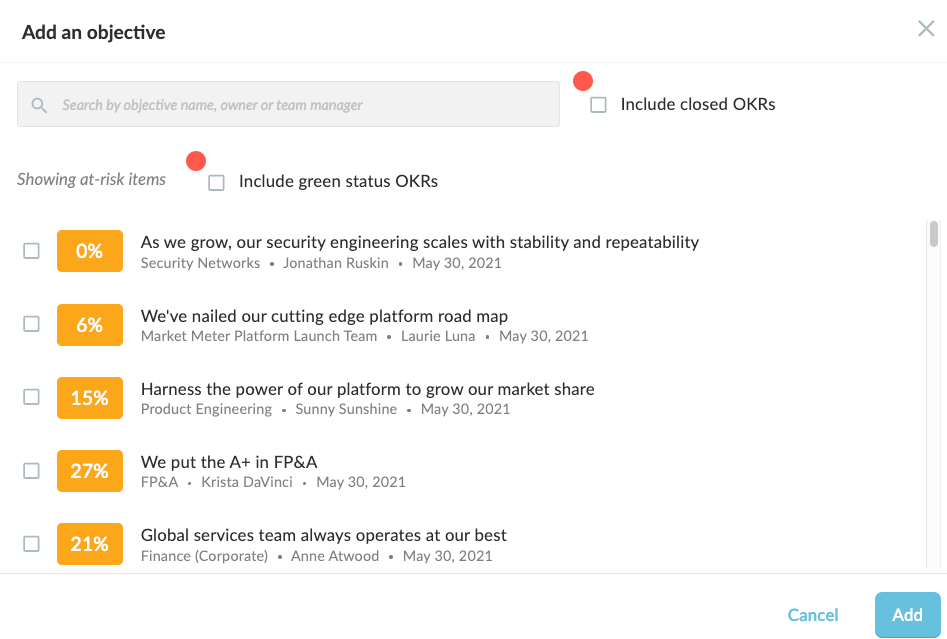 Add Key Results to the Hotbox:
After selecting to add Key Results to the Hotbox, search by name, result owner, team, or team manager and/or scroll through the objectives and select all the key results you'd like to add to your Hotbox.

Activate the "Add" Button to add the selected key results.
Rename Additional Hotbox Trays
Create additional Hotbox trays to g

roup risks in Biz Reviews and rename them by category or business function.

Select "New tray", and edit the name accordingly.