Introduction
How can an executive see how their teams (and the people leading them) are doing on the organization's strategic priorities for the quarter? In the past, you might spend hours, if not days, collating data points from each part of the organization. Now, Results Analytics uses results data in WorkBoard to provide leaders an immediate, data-backed view of their organization's progress in one place so they can improve results faster and earlier in the quarter.
At any given time in the quarter, leaders can see:
Aggregate Results Progress by Objective:

Aggregate picture of how the organization and teams in it are progressing towards the company objectives

Results Variance:

Instant floor/ceiling analysis that shows the delta between best, average, and worst results so you can celebrate achievement and intervene when results are low

Compare Objective Progress:

How is the organization progressing on this specific objective right now? Are there gaps between what we see at the ELT and the rest of the org?
Activating Results Analytics on WorkBoard
Results Analytics must be enabled per user. Get in touch with your Customer Success Manager (CSM) for more information on enabling this feature for individual users in your organization.
Viewing Results Analytics for your org
Click on Objectives

on the Main Menu

Select Results Analytics

from the side pane

View Results Analytics for different on the Team name and Manager drop-down to choose a different Team

.

Note: You can Search for People or Teams. Searching for a specific person will return all functional teams that they are responsible for.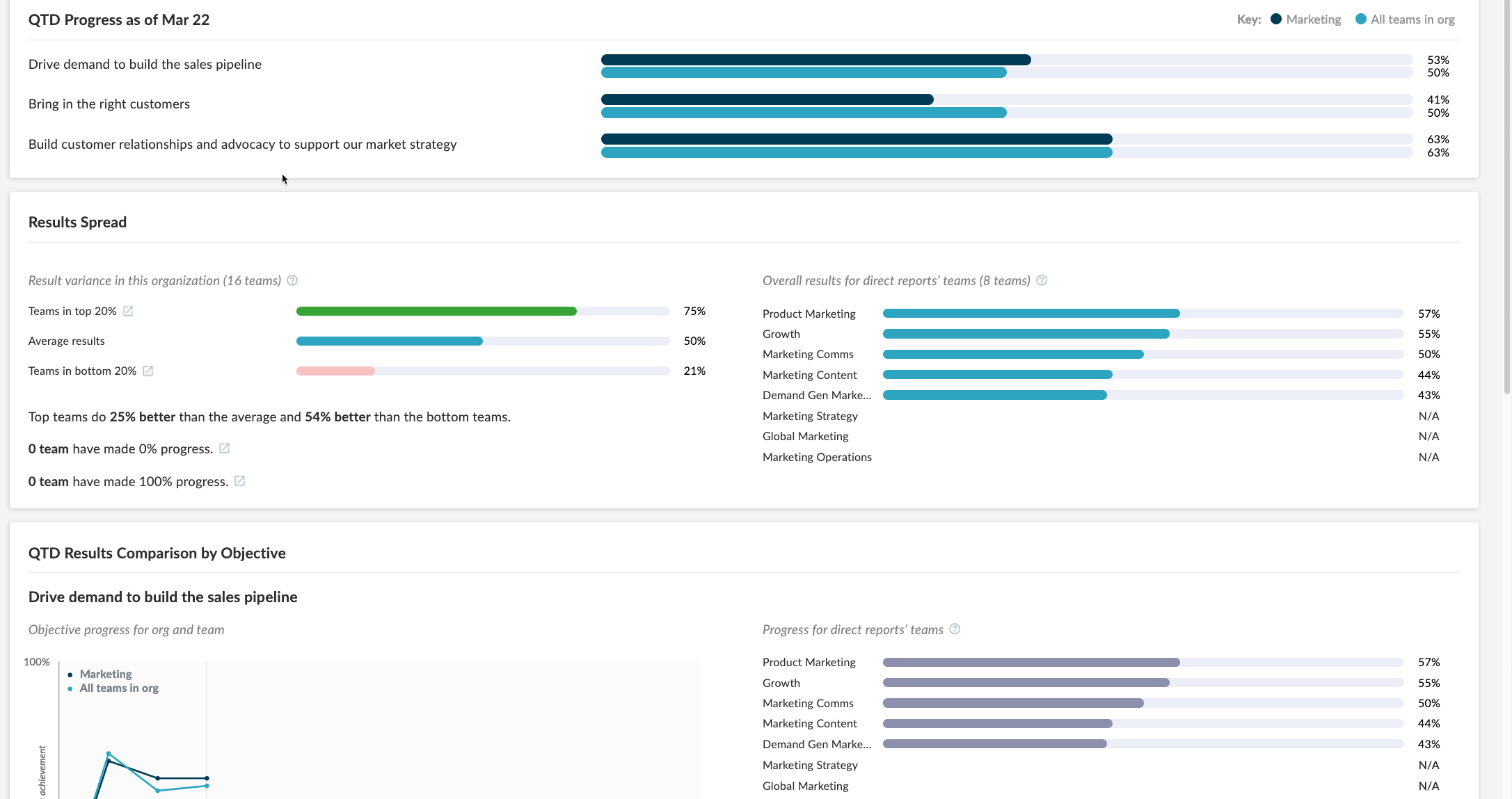 Notes on Results Analytics
Results Analytics runs every Monday at 7pm (based on the users timezone)
Results Analytics goes off the User Reporting Structure and not the Org Structure.

So for example, User A has an OKR aligned with Manager 1's team OKRs but directly reports to Manager 2. With this scenario, User A's OKRs will not be under Manager 1's Results Analytics due to the user being a direct report to Manager 2.
The user would have to not only have OKRs aligned with Manager 1's Team but needs to also be a direct report to Manager 1's Team as well so that their updates are reflected in the R.A. under his Team.

Results Analytics is only for quarterly OKRs
Results Analytics (currently) only supports Functional Teams (not Working Groups)
The Dropdown filter at the top of the Results Analytics page is for the the following Org levels:

Root (Level 0),
Level 1
Level 2

The Key in the Section "QTD progress as of XXX" that states "All Org Teams" is only for the section "QTD progress as of XXX". The Key is not meant to be applied to any of the sections below.
Note: Quarter-to-Date Analysis varies by Leader
Get the full download of Results Analytics features & capabilities by looking at Improve Results Faster and Earlier with Results Analytics.