WorkBoard's objective RAG colors highlight whether a key result is tracking to plan based on current course and speed, given progress to date and time remaining.
Draw attention to hidden risks or opportunities earlier in the quarter with Confidence Ratings that tap into a more subjective perspective of trajectory to plan based on institutional knowledge of risks and recovery initiatives.
Note: In order to add a Confidence Rating to a Key Result, you must first enable this feature. Reach out your WorkBoard Customer Success Manager for assistance.
Adding Confidence Ratings to your Key Result
You can only add Confidence Ratings to Key Results where you are the:
Owner, Updater or both
Manager or Co-Manager
How to add a Confidence Rating to a Key Result:
From the Objectives page on the My Objectives tab or My Team OKRs tab or from your Team page, click on your Key Result.
Click on Confidence.
Fill out your Confidence Rating:
Notes on Confidence Ratings: Because Confidence Ratings are subjective you can define Low, Medium and High however you choose.
Notes on required Narrative: WorkBoard requires narrative along with your confidence rating. Why? Since Confidence Ratings are subjective, without narrative, the rating doesn't provide enough clarity into the risks or opportunities you need to highlight.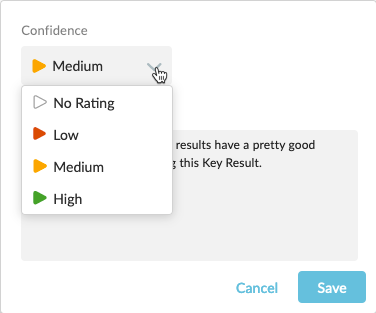 Choose between the following Ratings to provide:

No Rating - Use this Rating when your feeling about the work since setting your OKRs hasn't changed or is neutral.
Low - Use this rating when you have very Low Confidence that you will accomplish this Key Result within your OKR Time Period. I.E. There are many risks uncovered in the process of attempting to complete this OKR which has changed whether or not you believe you can accomplish this Key Result.

A question that people ask a lot: Should I delete a Key Result half-way or most of the way through a quarter if it takes that long to find out that we can't accomplish it? Instead of deleting it, add a Low Confidence Rating and choose whether or not to Exclude it from Progress so that it doesn't affect your score.

Medium - Use this rating when you feel that you have a (in general) 40% - 70% chance of accomplishing this Key Result.
High - Use this rating when you feel that you have a 70% or higher chance of accomplishing this Key Result.
How and where Confidence Ratings appear
Confidence Ratings appear on the Key Result Detail page and also viewing an entire OKR.