With custom Workstreams, you can specify the columns according to phases of a project, type of work, or both. You can set up automation on the columns and create a specific flow based on your team/project needs. Custom Workstreams give you the ability to add as much nuance to your Workstream without sacrificing ease-of-use or workflow.
Creating Custom Workstreams
Note: Only Managers, Co-Managers and Team Admins can create Team Workstreams.
Hover over Workstreams and select Add Workstream

Alternatively, from the Teams page, hover over the "+" in the upper-right hand corner and select Add Team Workstream.

Workstream Details:

Name: Typically the project name - Should be explicit so your teammates understand the type of work being done.
Description: Provide additional clarity on the types of work and the stakeholders involved.
For Team: You will have a dropdown of available teams you can select from. If you aren't a Manager, Co-Manager, or Team Admin of any Team then you will only be able to add it as a Personal Workstream.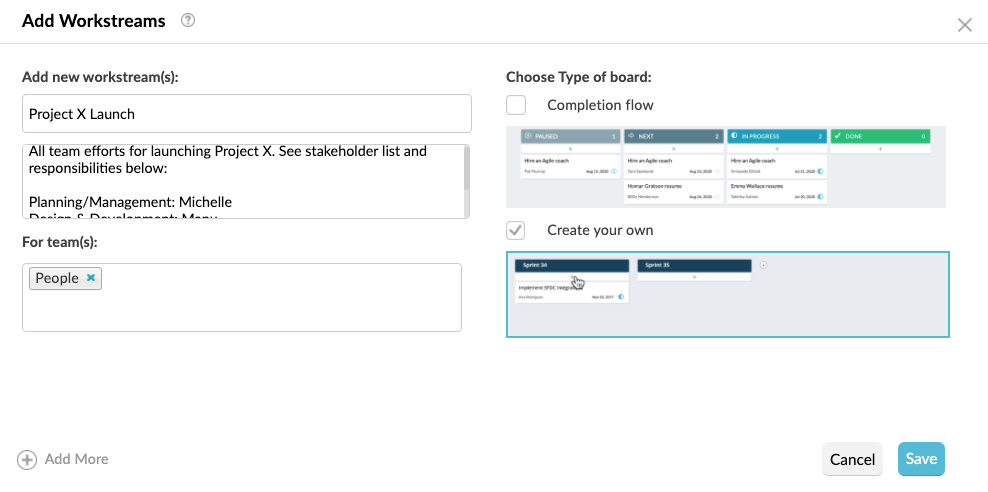 Adding Columns and Adjusting Colors/View
Next, let's customize your project by the phase or the type of work you need to accomplish. For our example, we'll be using a classic project management template
Click into the first column header and type your name.
In order to add additional columns, you must first give the previous column a name and then click the "+".
Continue adding columns until you've covered your phases or types of work. Here are a few examples below:
Project Management Flow:

Four columns labeled Analysis/Planning, Design/Development, Implementation/Testing, and Evaluation/Reporting respectively from left to right
Work Type:

Four columns labeled Persona Work, Use Cases, CX Implementation, and Sales Enablement respectively from left to right
Customizing your Workstream
Change the colors of your columns and the background on your Workstream to create a nice view for yourself and your team.
Click on the Kebab
Select Workstream Settings
You can update the background and column colors.

Background: You can choose to use a flat color from the list, your own custom color using a hex code, or you can choose to for a custom background. To search for a new image simply click on "Search for more images +" and query Unsplash's catalog of free images
Column Colors:

To change the column colors click on the paint can next to the column. You can choose from a standard color use a custom hex code.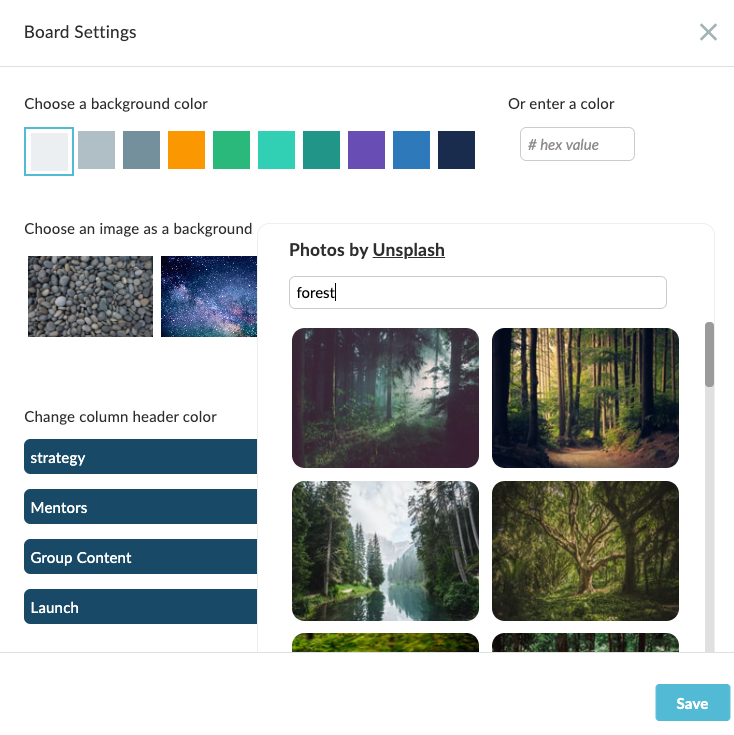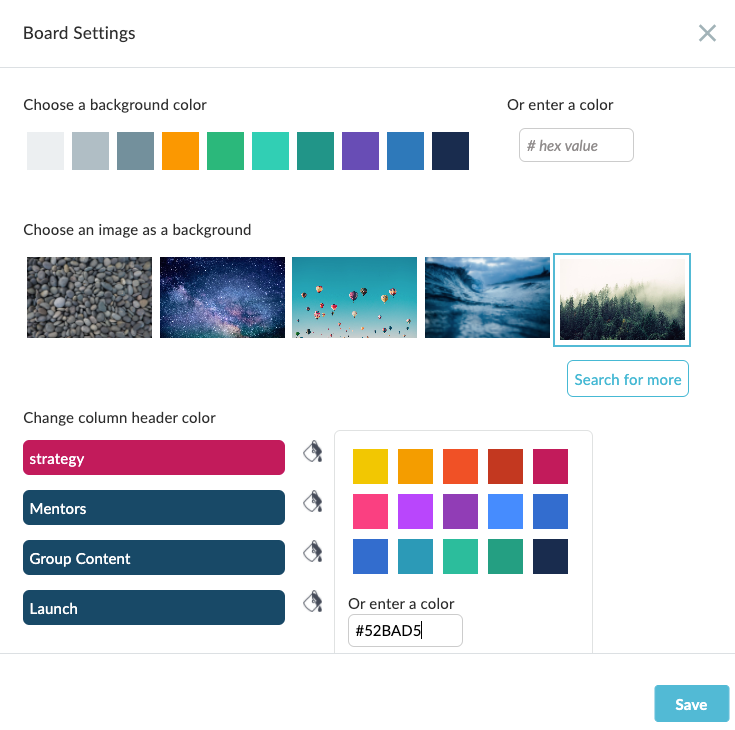 Managing Project Timelines
After you've customized your Workstream, the most important thing is how you manage those important tasks. WorkBoard has two features on the Workstream that allow you to see a Timeline of Activity by an individual as well as Recent Activity to view all of the changes/updates to Action Items.
Timeline
Pull up the timeline view to see who's working on what in a timeline view. When you click on the blue bar for that user, the Action Items they're working on appear. The longer the line, the longer it takes for someone to complete that/those Action Items.
Look at the Timeline:
In the Board View click on Timeline in the upper right-hand corner.
You can filter by Days, Weeks, Months, or Quarter and sort A to Z by the person's name

Calendar
The Calendar lets you view all of the Action Items on your Workstream that are due by date. This is a great way to see what's coming up for each week on your project. For Project managers holding weekly meetings with stakeholders on timelines, this view is stellar.

Recent Activity
Beyond using the Timeline, you can see all the recent activity updates on all Action Items for the entire Workstream by navigating to Recent Activity. This is available for all users, regardless of Team Permission. You'll see the Recent Activity Tab on the same line with Board View, List View, Calendar, and Files.