Overview
1on1s can be set up with your direct & dotted-line reports in WorkBoard so you can provide feedback using the PACE meter, and easily review your reports' OKRs.
Set up 1on1s
You can schedule recurring or one-off 1on1s with your direct & dotted-line reports, or those that you report to.
Navigate to the Meetings dashboard
Click the New 1on1 button



Alternatively, o

n the right side of the Meetings dashboard you'll see all of the folks with whom you can set up a 1on1.
Hover over anyone where it says "Next: None"

to set up a 1on1.
Click

Setup new 1on1.

Select the time, cadence, and location of the 1on1



(Optional) Choose a Workstream for follow-ups to be added to

Select Create
Prepare the Agenda
Add any topic you'd like to discuss to the agenda. Use the smart bullet to organize your agenda and highlight risks, ideas and FYIs.
Use the buttons at the top of the agenda to add action items, workstreams, objectives, key results or files to make sure you can spend your 1on1s removing roadblocks and staying focused on results.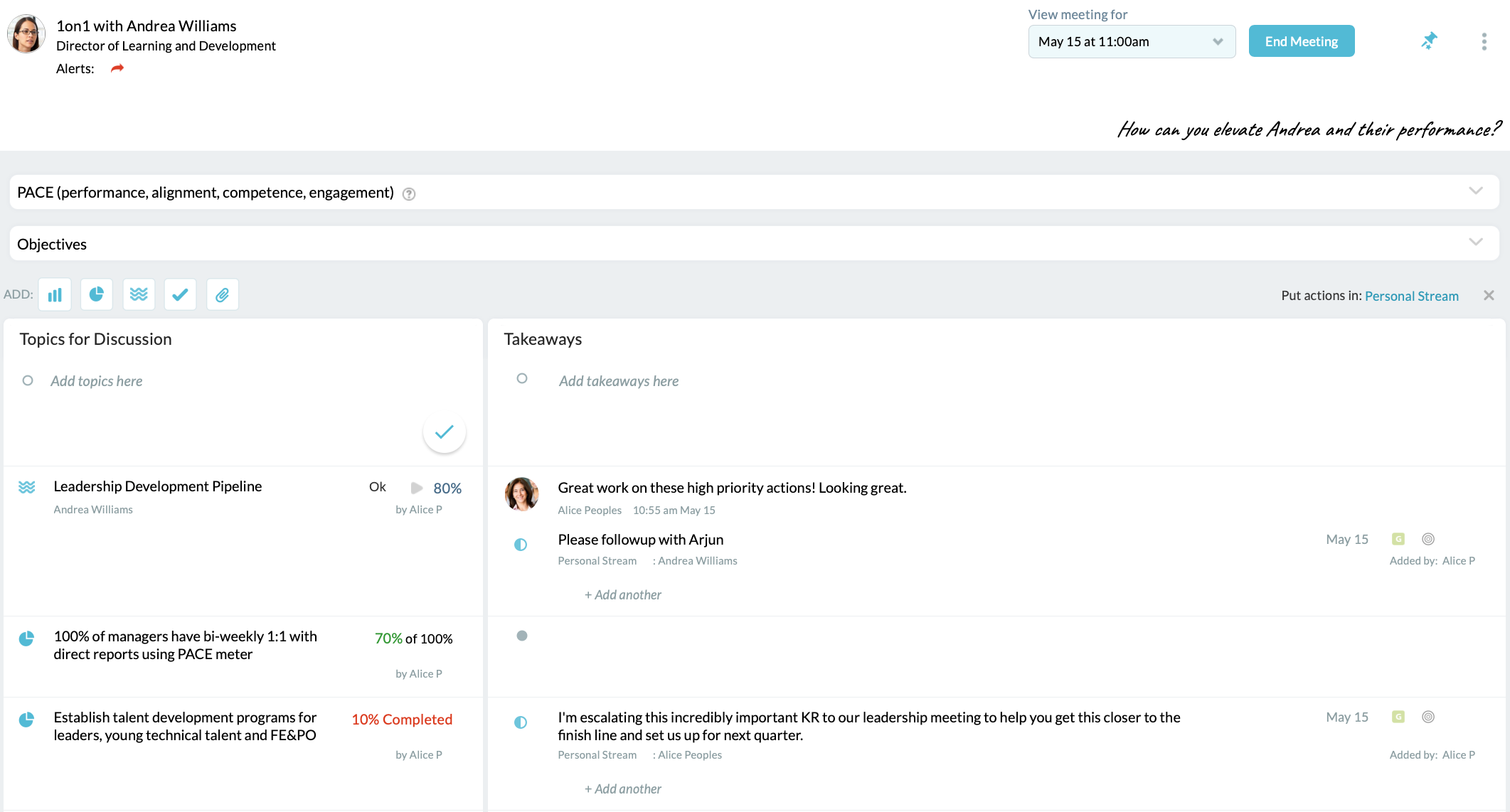 Use the PACE Meter
Learn more about feedback and alignment using the PACE meter.
View the Manager & Reports Objectives
The Objectives dropdown (located just below the PACE meter dropdown) in 1on1s lets you easily discuss your strategic initiatives.

Add Private Topics to 1on1s
All topics added to a 1on1 agenda are visible to both people by default. You can make a note to self on a 1on1 agenda that is not visible to the person with whom you are having the meeting.
In order to make a 1on1 Topic private, you must first add it, which means you should do so when they're not in the 1on1 Meeting.
Look at the avatars at the top of the page. If the other person is on the agenda at the same time, you'll see a green circle and dot on their name.

If they're in the meeting now, wait until they've checked out to add the topic.

Add a topic to the agenda.

Hover over the row, click the

three dots icon

(kebab menu)

.

Select

Make private so this topic will now only be visible to you.
End Meeting to Close a 1on1
Closing a 1on1 gives you the option of sending a summary of the topics and takeaways to both participants.