Overview
If another team member is already tracking a result that is relevant to your own objective, you can easily mirror it on your own OKR.
Synchronized Updates on these changes:
If the key result name is changed

If the key result target & measurement type is changed

If the key result is updated with data

When comments and narrative are added
To link to another key result, give your result a name, then click "Advanced Options." When the side pane appears, click the "Mirror one key result" button.
Steps
Type in your Key Result name and then select Advanced Options
Select Mirror One Key Result under Other Key results or objectives

Note: With the addition of KR Owners, you will now have the option of setting a Business Result Owner for any Key Result including a Mirror. This allows this individual to update/change the KR if necessary. For more information about Key Result Ownership please see Owners for Key Results.

Search for the Key Result you wish to mirror and select Save.
Your team member's updates and comments will be instantly reflected on your objective.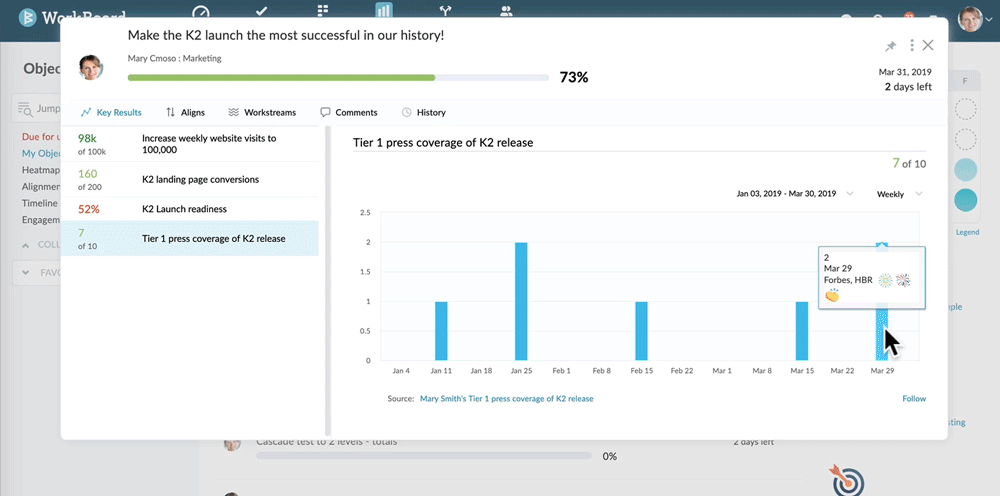 Note: When mirroring a Key Result with restricted view permissions, ensure that you also modify the view permissions of the subsequent Objective and/or Key Result, so the result is shared with the correct audience.