Overview
by Sameera Moinpour, Director of Client Services, WorkBoard
In my work as an OKR coach, I get to work with teams across industries and at companies large and small. I may be the OKR world record holder, having facilitated over 1,000 OKR working sessions over the last few years! I love coaching teams on how to define and align OKRs, bring them to fruition and learn from their outcomes and I'm lucky to be a partner to some pretty amazing teams.
The best performing teams aren't great by accident; they get better every quarter at:
Agreeing on their best possible outcomes at quarter start.
They are ambitious and have real conversations on where the most value is created so they make good trade offs
Aligning laterally to drive the best organization outcomes.
The opposite of fiefdoms, these teams seek out alignment and set joint OKRs that cross the org chart
Leaning into insights with intellectual curiosity and honesty.
They are seeking improvement rather than credit, and egos and politics don't impede the team
Focusing their time and capacity on their key results.
They recognize that their results are singularly tied to their time and have the guts to avoid distractions and stay dialed into their results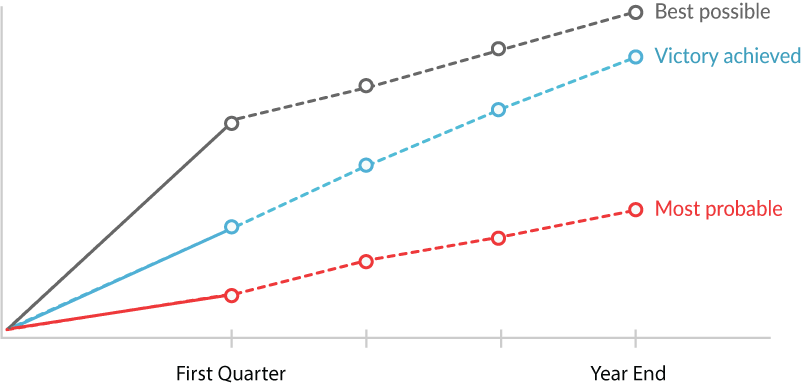 Over the past month, I've worked with dozens of teams to reset their OKRs for the new quarter. As teams run their Reflect & Reset sessions, there is a distinct pattern in what the strongest teams celebrate, observe or learn, and decide to improve each quarter — and it's how they get stronger over time.
"We just proved that when we put something out there for key results, we actually achieve it!"
Here are some of the insights from recent team Reflect & Reset sessions, that might help your team achieve its best possible this quarter:
Celebrate
We came together as a team to decide what mattered most!
Personally satisfying to see progress and trajectory to results
When we focus on key results, we really achieve them
Alignment transparency is awesome
WorkBoard reminded us to update OKRs weekly, which kept us focused
It was cool to see our impact!
Good, focused and valuable cross-team discussions done while trying to clarify OKRs/what are we trying to achieve
Constant focus on a stable target and alignment of everyone on the same target
Staying focused on Key Results meant we achieved a lot!
Drove consistently positive behaviors from the leadership team
Sharing with my team provided excellent context across our large org that they had been missing.
OKRs aligned our Objectives and solidified the team
Even when we didn't reach a Objective we had good conversations on how to adjust moving forward
WorkBoard gave me awesome insight and drove focus
WorkBoard drove accountability for me
Gave line of sight on what everyone needed to do to achieve the outcome
Iterative process to course correct
Increasing focus, particularly as quarter went on
The transparency of our progress throughout and the fact that we followed-through with our objectives. As aspirational as many of them seemed at the outset, we've made good strides accomplishing them
Observe and Learn
Need more operational rigor and to use our meeting time on discussing KRs
Embrace the interdependencies we have and use more joint OKRs to get alignment
Too many OKRs – we can focus more
Be more accountable to each other by better utilization of WorkBoard to measure KRs, and their workstreams and tasks
Improve what we can measure
These need to be front-and-center!
More group sessions to discuss progress/challenges over the quarter
We pushed through to 100% in many cases - 70% supposed to be ideal - so did we aim too low?
Resolve open items (who owns the KR?) and conflicts (we can't achieve that) earlier!
More discipline in paying attention to OKRs weekly
Need to improve on our ability to define leading indicators of progress, and measure on a more frequent basis (weekly)
More executive communication on the importance of KRs & operating cadence on how we track our results
Some parts of business less represented - need to ensure inclusive
Everyone update their own KRs
Avoid binary stuff that stays at nil until something is complete
Get all OKRs defined and aligned before quarter starts
Define the primary owner of KR vs. everyone supporting it
"Align more broadly on fewer KRs."
Improve
Improve operational rigor. Develop more discipline in paying attention to OKRs weekly so we identify risks and blockers earlier
Improve what we are measuring – are they truly KEY result? Do we have a way to measure? Do we need to baseline measurement this quarter? Do we need to instrument the measurement?
Take cross-functional alignment to the next level
Resolve misalignment earlier in quarter
Product OKRs should include sales, CX, dev and product management
Executive communication on the importance of results and operating cadence
Integrate to WorkBoard more to streamline updates
"We need to localize this further into our org to really achieve our best."
To help teams with retrospectives that move them forward, we use a couple tools. You can find them here – they include the questions to ask in the retro, a post-it team exercise for what you'll celebrate, learn and improve, and my personal favorite, the Time Pie team exercise. Each of the retro tools help teams reconnect with their shared aspirations and achieve their best possible results together.
Success is a team sport and champion teams practice to improve their game (and they tap good coaches to help them along the way!).
Sameera Moinpour is the Director of Client Services at WorkBoard. She works closely with enterprise leaders and their teams to define, align, measure their strategic priorities, and drive real time alignment. She facilitates the transition to the OKR methodology and enables a fast start and continued acceleration with WorkBoard. Sameera has facilitated and coached over 1000 teams on setting, aligning and achieving OKRs and leads the OKR Coach Certification Program at WorkBoard.