Overview
By integrating WorkBoard to Microsoft Teams, you and your organization can share, chat, and meet on strategic objectives and collaborate on the work to achieve key results (OKRs) in Teams with WorkBoard.
Bring WorkBoard Business Reviews and data about strategic priorities, metrics for success, and roadblocks into daily conversations in chat, voice, and video. Align and achieve your strategy with the convenience of chat.
Integrate with Microsoft Teams
You can setup the integration easily from Microsoft Teams by following the steps below. Alternatively, you can enable the integration from WorkBoard as well. Either way, you'll immediately be able to take advantage of the fantastic WorkBoard Microsoft Teams integration!
Set up the integration from Microsoft Teams
1. Click on the three-dot menu on the main menu in Microsoft Teams.
2. Type 'WorkBoard' and select it.
3. From the pop-up page in the middle of the screen, select Add.
4. From the WorkBoard app chat, select Connect to WorkBoard.
5. If you're logged into WorkBoard in your browser then you're done and your integration has been completed.
Set up the integration from WorkBoard
1. Go to the WorkBoard Integrations page
2. Click the "Add to Teams" button

3. Select the Microsoft Teams account you want to integrate (if you have MS Teams open in another browser tab, it should pick your existing account automatically)
4. Go to your Microsoft Teams tab and click on the "Store" icon at the lower left side of the screen.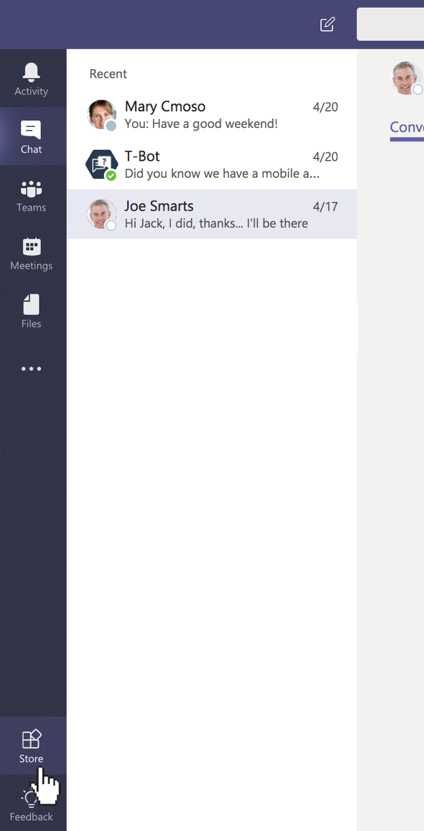 5. Search for "WorkBoard" and click to install the app.

6. You can now start a direct chat with WorkBoard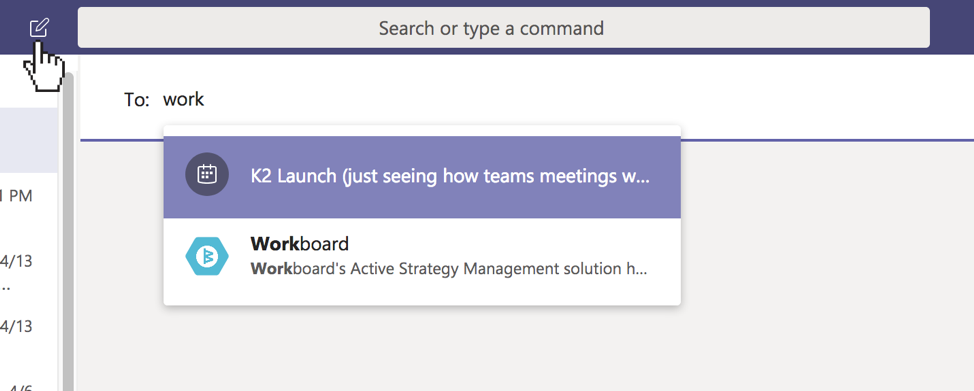 7. You can also call on WorkBoard to post objectives in a chat with a colleague by clicking the "..." icon under the chat box and selecting the WorkBoard app.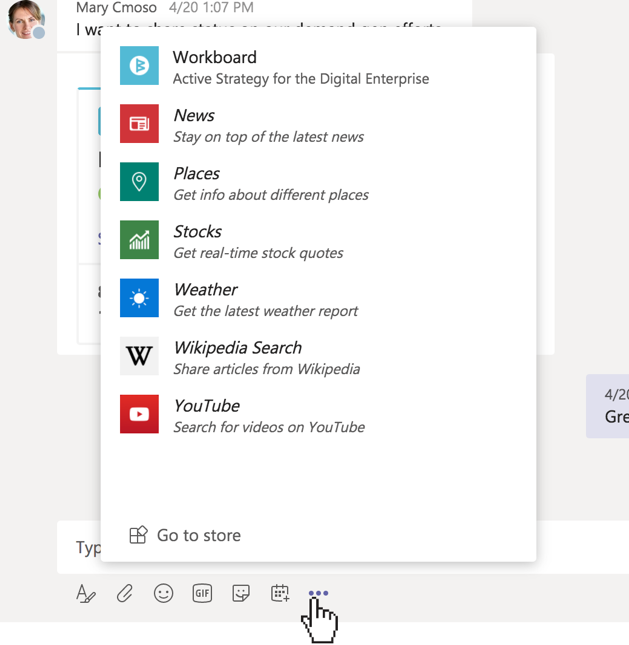 8. From your chat with WorkBoard, you can also view your My Work This Week and personal Running Business Review