September 2023 Release
We're excited to announce our latest product updates and improvements for September!
WoBo Canvas
Reactions: Introducing Sticky Reactions! With Sticky Reactions, users can now express their appreciation for ideas with ❤️, 👍, and 💅 emojis, making it not only an enjoyable interaction but also a seamless way to cast your vote. Give it a try today

Gen-AI Co-Author Fast-Follows: We heard your feedback about wanting Co-Author to feel more conversational and more cohesive. To that end, we have added:

Enhanced Looping Refinement: Co-Author now allows you to refine suggestions in a continuous loop. When you're offered a suggestion, you can refine the suggestion itself, and then refine that suggestion. This marks the beginning of a conversational and iterative Co-Author experience.
Smart Pathways: When you insert a suggested Objective, Co-Author now lets you seamlessly transition into creating Key Results without the need to exit Co-Author.
Optional Input: Providing a "priority" statement to Co-Author is now an optional step. We think this will make it even easier for users to defeat the dreaded "Cold Start" and jump right into ideating.
New Cheat Sheet: We've revamped the Co-Author cheat sheet to be more user-friendly and valuable as you embrace Co-Author's capabilities.

Kudos Column on Retro Shell: Retro templates now have an optional "Kudos" column, allowing teams to recognize and applaud the outstanding efforts of their teammates during the Retro process.
Copy to Draft: You can now easily convert a published OKR into a draft OKR--great for localizing and copying OKRs from previous quarters.
Biz Reviews & Scorecards
Biz Review Enhancements:

Editing Text Trays: Easily edit text trays in-line without a pop-up. Text trays can be edited in View, Edit, Fullscreen or Present modes. Simply click into a Text Tray to edit, then click outside of that tray to save it.
RME Analytics: We've updated the Alignment Gaps by Leader Area Analytics to showcase the Last Quarter, Current Quarter, and Node Alignment. Now you can quickly see how your Alignment has improved from the previous quarter and further breakdown by leader. Contact your WorkBoard CSM for more information.

Scorecards Enhancements:

Publish Power: You can now publish Scorecards to a print-friendly preview and save it as a PDF. This is a great way to lock in your Scorecard updates at a point of time for easy reference.
Integrations
Integrated Key Results Updates: Key Result progress sourced from Integrations can now be overwritten by the Key Result owner to correct historical data. The updates are attributed to the user making the change for an audit trail.
New Courses in WorkBoard Learn
Co-Author OKRs with Generative AI: get familiar with how WorkBoard Co-Author, powered by Generative AI, can simply your team's OKR drafting and brainstorming process.
July 2023 Release
July is an action-packed month: Join our beta to start using Co-Author to generate OKRs with GenAI, gear up for the new Objectives 2.0 page in mid-August, supercharge your Scorecards, and tap into crucial insights from your organization's strategy execution with built-in Analytics! 🚀
Understanding Strategy Execution Trends & Patterns
Every team and organization should be learning from their own strategy execution patterns and behaviors – both those that lead to high achievements, and those that lead to bottlenecks.
WorkBoard's Analytics are designed to help you tap into those crucial insights – so you can repeat winning plays, identify risks early, and drive your strategy with greater speed and agility:
Results Analytics:

 

Take advantage of machine learning to identify results that contribute to top-level objectives, and get a comparison of the current trajectory to historic execution pace.


Alignment Opportunities Analytics:

 

Discover areas of misalignment and non-alignment across the organization, and identify gaps in understanding and mobilization around priorities. 

NEW! Open Insights:

 

Use an intuitive interface to build your own custom reports that answer questions you may have about your organization's overall strategy execution and results achievement.

"Open

 

In

sights is a giant leap forward to drive governance and accountability."

 

–OKR Program Manager of Top 20 US Bank
*If you're interested in OpenInsights, contact your CSM. 
Learn how to use built-in analytics to optimize Strategy Execution in the recording of our July Community Call.
Product Updates to Support Your Strategy Execution Journey
Product updates that are here now:
Make more power moves in Scorecards. You asked – we listened!
See trend of progress and where it's stalled with Sparkline charts.
Push narrative from Scorecards back to Key Results in one click.
Memorialize snapshots with the new export to PDF option for Scorecards and improved Biz Review publishing.
And much more! 


Simplify operational review note-taking

and

review prep

with copy & paste options, and the ability to push text as Key Result comments.

Present more seamlessly by jumping straight into full screen mode

with a single click!

 
New Look & Feel to OKR Shells.  
 
WoBo Canvas just got more user friendly & intuitive! Now you can add OKRs more easily, co-draft OKRs from multiple teams on one canvas, publish right from the shell, and more – all with a spreadsheet view that's ready for executive presentations.
Product updates coming soon!
My Objectives 2.0: Have you tried the new My Objectives page yet? Test drive the Beta experience from the My Objectives dropdown menu – it will automatically replace the previous experience in mid-August. 
With the new My Objectives page: 
Easily see what needs attention or celebration.
Follow and contribute to results conversations. 
See leadership priorities to align your work accordingly. 
Check out the My Objectives self-paced training course to get familiar with the freshly updated interface. 
The magic of Co-Author: Powered by GenAI, it's like having your own personal OKR coach right in the room.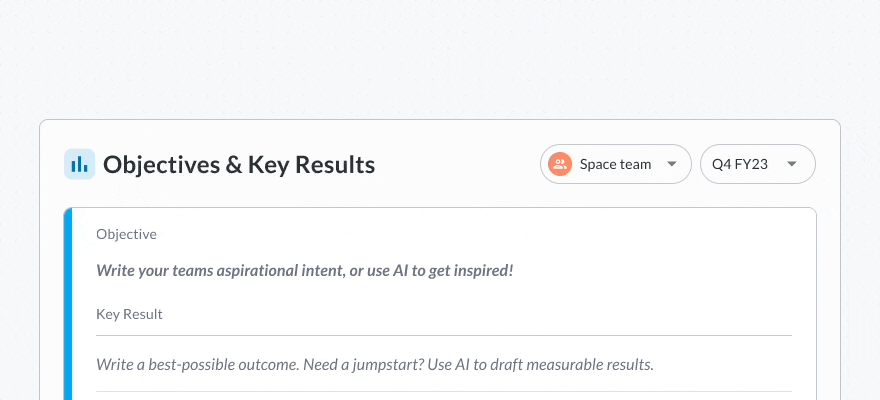 Email us at beta-coauthor@workboard.com to join the Beta program. 
Watch demos of My Objectives 2.0 and Co-Author – and learn more about the Co-Author Beta Program – in the recording of our July Community Call.
New Courses in WorkBoard Learn:
My Objectives: Check out a quick intro course on the new My Objectives 2.0 page to get familiar with the freshly updated interface. ​

WoBo Strategy: Learn how you can connect the Long Range Strategy to the nearer term OKRs teams are driving, including assessing risk, managing assumptions, and documenting investment plans. ​

Advanced Key Results: Dive deeper into the advanced features like using roll ups, cascades, mirrors, surveys, Workstream Key Results, and connecting data from external apps, so you can automate progress across teams.​
June 2023 Release
Visualize Strategy Relationships 
Long Range Strategy users can now see how strategies across the organization are interconnected, identify alignment opportunities, drill into strategy progress & take action on what needs attention most.
Learn all about how to use OKRs to drive predictable Strategy Execution — and how to connect them to your long-range strategies — in the recording of our June Community Call.
More Ways to Build Your Strategy Execution Expertise
April 2023 Release
Scorecards: More Tools & Flexibility 
Thanks to your feedback, WorkBoard Scorecards keep getting better.
Here's just in:
More formatting control

 to reflect numbers in your Scorecard as 

percentage, currency or numeric data.
Lean into the red by highlighting actuals based on RAG color, so you know right where to focus efforts based on a quick visual.

Add or modify text and narratives for Scorecards embedded in Biz Reviews

 — capture notes on the spot during presentations and discussions.

Now you can export any Scorecard to CSV format into Excel, Sheets, and PowerBI to have Scorecard data as reference, or if you need further manipulation.

Simplify MBR and QBR Follow Through
Set your team workstream as the default for the AI Tray in your team Biz Review — Now you don't have to select the assigned workstream every time you create Action Items during team meetings.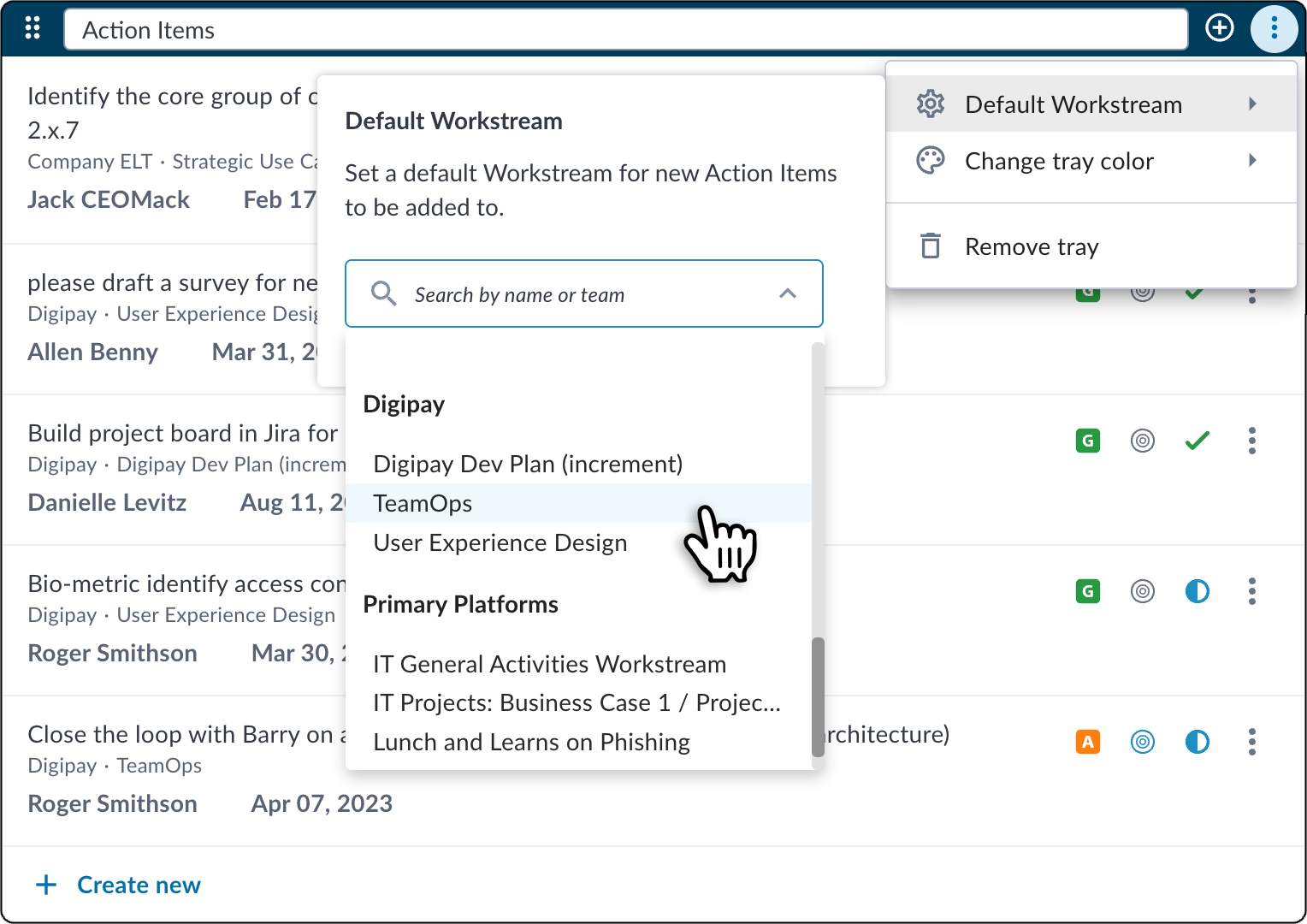 More Measurement Control
New addition: Set result targets where you aim not to exceed or fall below a range; so you can get better signal on risk to plan.
Learn more about all the ways to measure results. 
Learn more about these recent updates and how to establish a weekly rhythm in our April Community Call replay.
March 2023 Release
Share Insights and Stay Focused in MS Teams 
WorkBoard in MS Teams make it far simpler for people in your organization to share insights, stay focused on the results that matter week over week, and provide facts that unblock decisions.
Stay up to date with notification right in MS Teams when you're @mentioned in Objective, Key Results, or Action Item comments; go to the conversation or reply right from within Teams.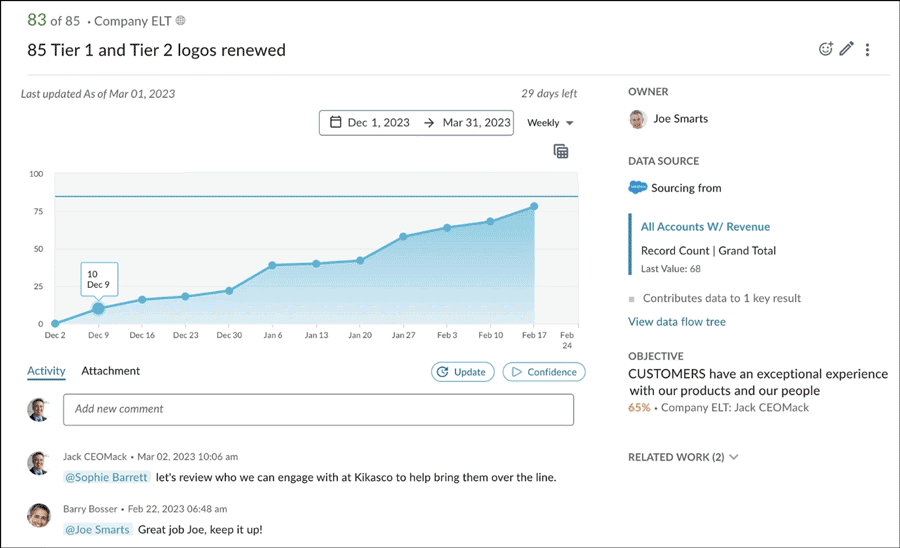 Learn how admins can turn on the integration for the entire organization with just a few clicks. 
Transparency and Visibility with WorkBoard Scorecards
WorkBoard Scorecards allow you to spend less time preparing for business reviews & debating data integrity, and more time driving progress on business outcomes.
Scorecard updates — You asked, we listened:
Bring critical results to the top with the new

sort by column

feature; select any column to drive the sort order of the results on the scorecard.

Delight update:

Set the row height for all rows

in your scorecard to control and tailor your table view.
OKRs provide transparency into priorities and keep teams focused on the right things.
Now you can directly set quarterly key results of varying time periods under annual objectives to map out your results journey for the whole year, making it a breeze to track progress against yearly priorities and keep the team aligned and accountable.
Learn more about quarterly key results. 
Learn & Engage
Looking for resources to build your OKR, strategy execution, and WorkBoard platform expertise? Check out these new courses:
Advanced OKR Coach Certification: Take the next step towards becoming an expert influencer driving the success of your organization's OKR program by enrolling in this 2-day, instructor-led course.
Maximizing Product Value and Outcomes: This new course designed for Product and Engineering teams details how to use OKRs to focus on what matters most for the product roadmap and business value realization.
Welcome to WorkBoard: Newly updated for 2023, this self-paced training course provides the basic overview you need to start achieving your OKRs with WorkBoard.
February 2023 Release
Drive Results with Focus on Headlights
We've all done it... set lagging Key Results we measured once at the end of quarter, only to find out we missed the mark when it's too late to adjust course.
To drive with urgency and agility, set leading or headlight measures to help the team stay focused. Use the new summary view of Key Result progress to quickly understand your trajectory to plan and where to focus as a team week over week.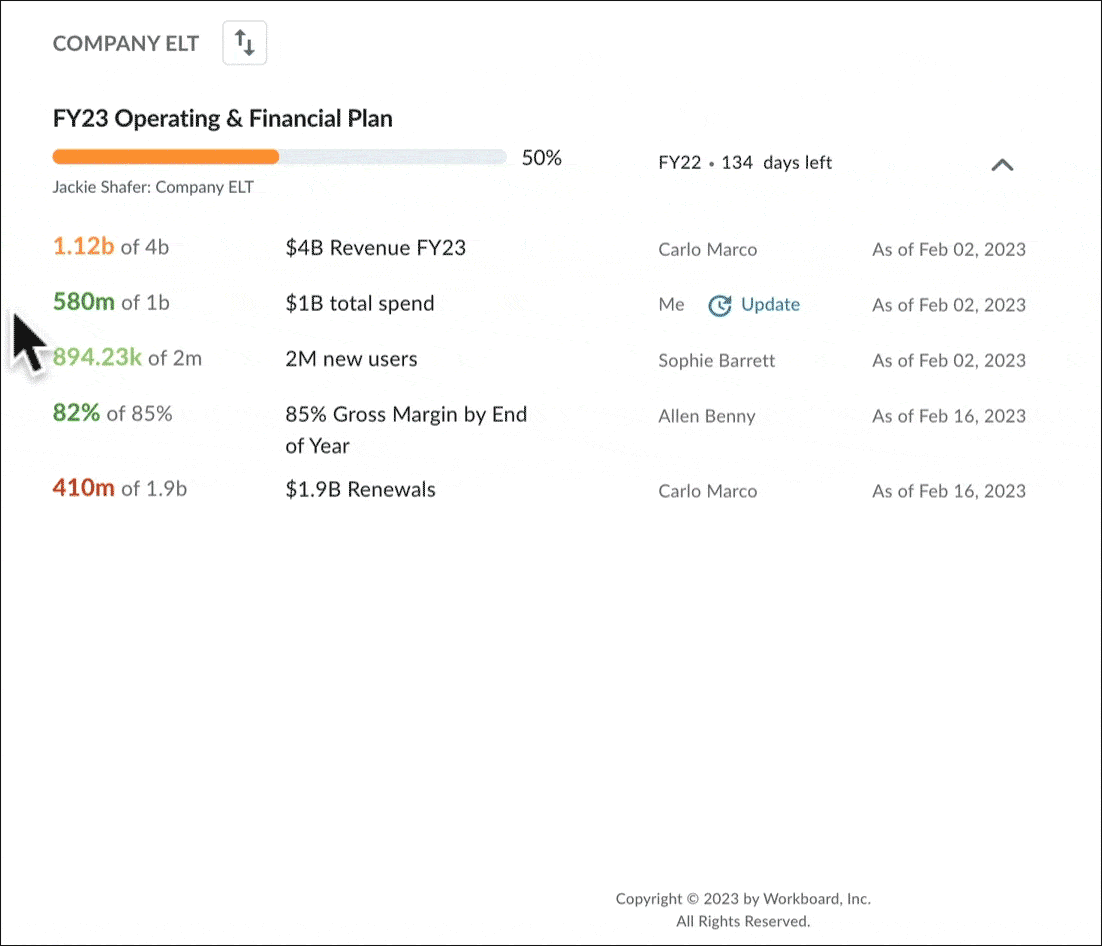 Get Empowered with Holistic Data
Want better results? Analytics for Results Management Executives (RMEs) are curated insights into alignment and OKR adoption patterns to help Strategy Execution and OKR Program Leaders champion better alignment and focus execution across the organization.
Our data shows that customers who use our analytics see an increase in average result achievement by 14% — organizations with 150+ teams see an even greater lift.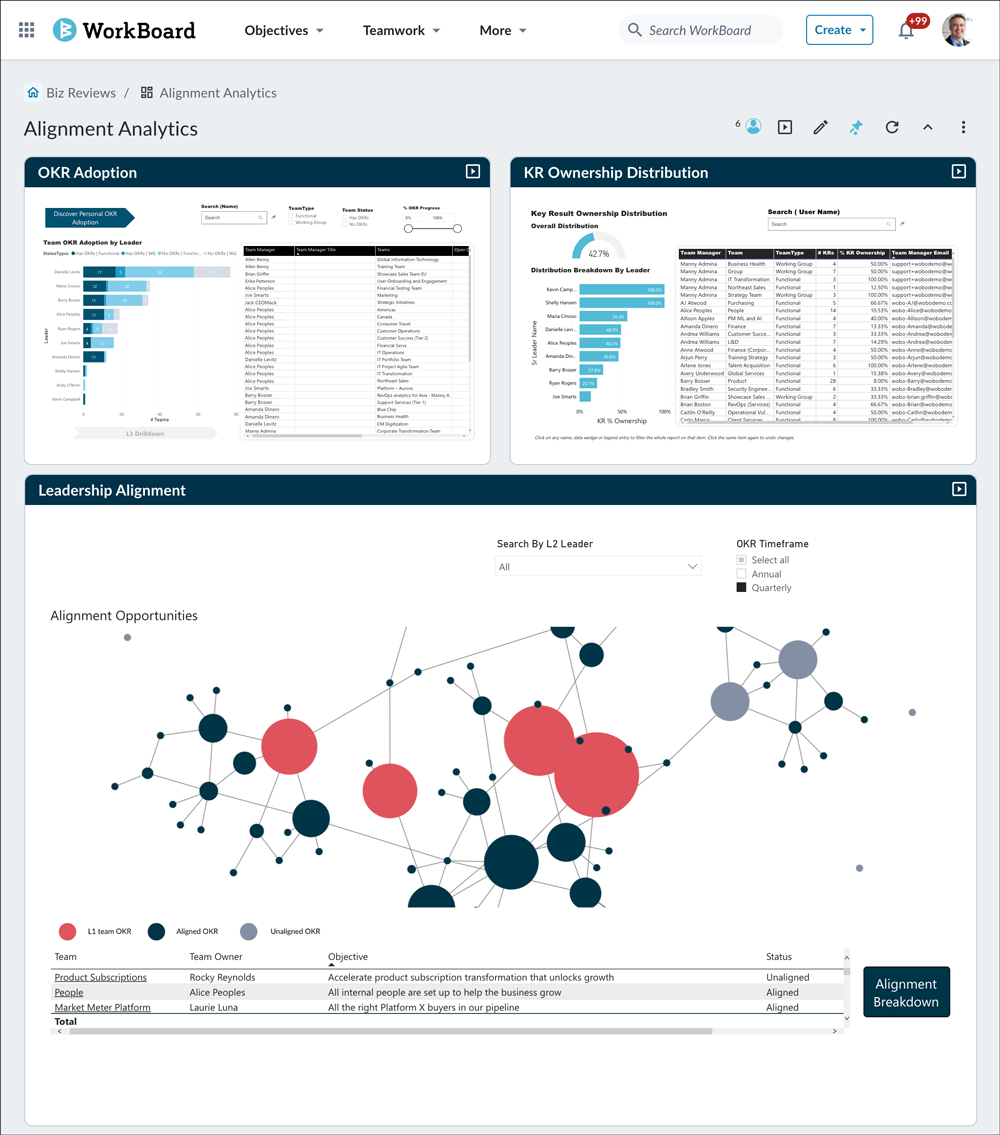 Learn more about analytics for RME. 
Focus on What Matters Most
Want to stop asking the question, "Wait, why are we doing this?" 
Cue: *WoBo Strategy. 
When long-range strategy is top of mind, teams are better positioned to help drive daily and weekly strategic choices. With WoBo Strategy you can:
Codify & align Multi-year strategies for the business, products, and key initiatives so everyone knows the strategy.
Create a shared understanding of the strategy pillars, long-range outcomes and progress. Track underlying assumptions and whether they're untested, proven or disproven.
Connect long-range outcomes to quarterly results. Align OKRs to each strategy pillar, bring long-range strategy into OKR sessions and OKRs into strategy refresh sessions.
Here are some new options in WoBo Strategy: 
The ability to view your entire Strategy in one compact page, complete with surfaced insights to understand where to steer attention, a comparison of long-term outcomes to connected active Key Results, and the option to drill into and adjust pillars. 
Automate outcome progress in your strategy by connecting Key Results to long-range outcomes, and quickly see how Objectives are aligning to strategy with a visualized indication in your OKRs so you can make informed, strategic decisions.
Increase transparency by sharing your strategy with anyone within your company, to keep all stakeholders in the loop.  
*WorkBoard Strategy is a separate add-on product. If you're interested in WorkBoard Strategy, contact your CSM or sales representative. 
January 2023 Release
You asked, we listened!
The key to a great MBR and QBR is the ability to drive focused discussion on progress to plan and path forward. Now you can tell the story that needs to be told, the way you need to tell it – with ease and the fewest clicks possible.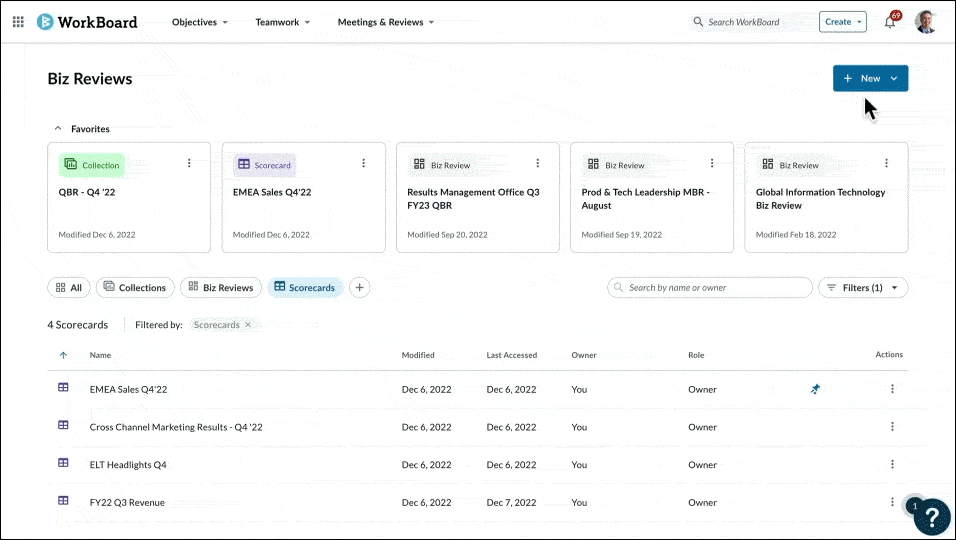 In your next MBR, display a completely customized, one-slide-view of the numbers alongside your narrative supported by OKRs, key result charts, descriptions, and images together in one place.
Easily include any Key Result data captured in WorkBoard without recreating the wheel, copying data, or getting out of sync with the truth.
Build one Scorecard and easily reuse it for every MBR, and use custom colors to align to your brand style guides.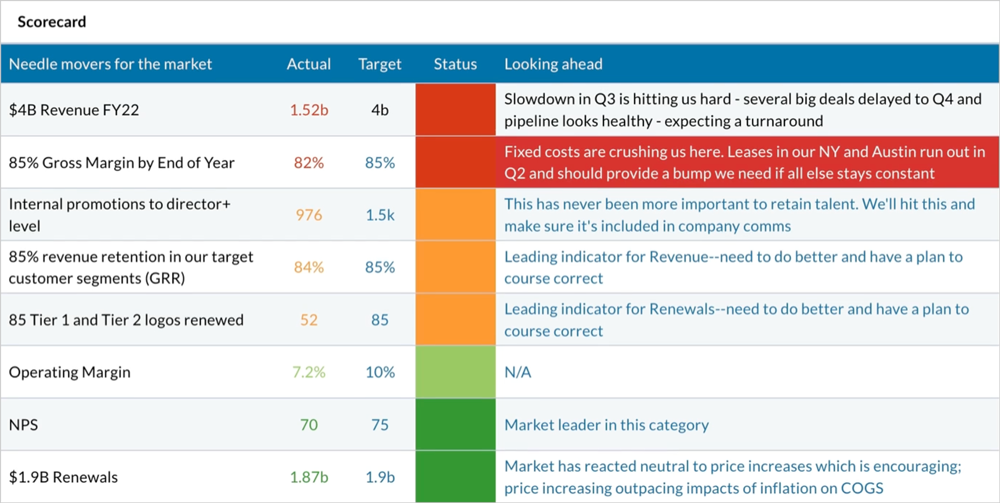 Learn more about Scorecards.
Presenting Just Got a Lot Smoother with Biz Reviews
Whether you're presenting one or multiple Biz Reviews, easily transition between reviews in a collection or quickly jump across slides, for a flawless presentation experience.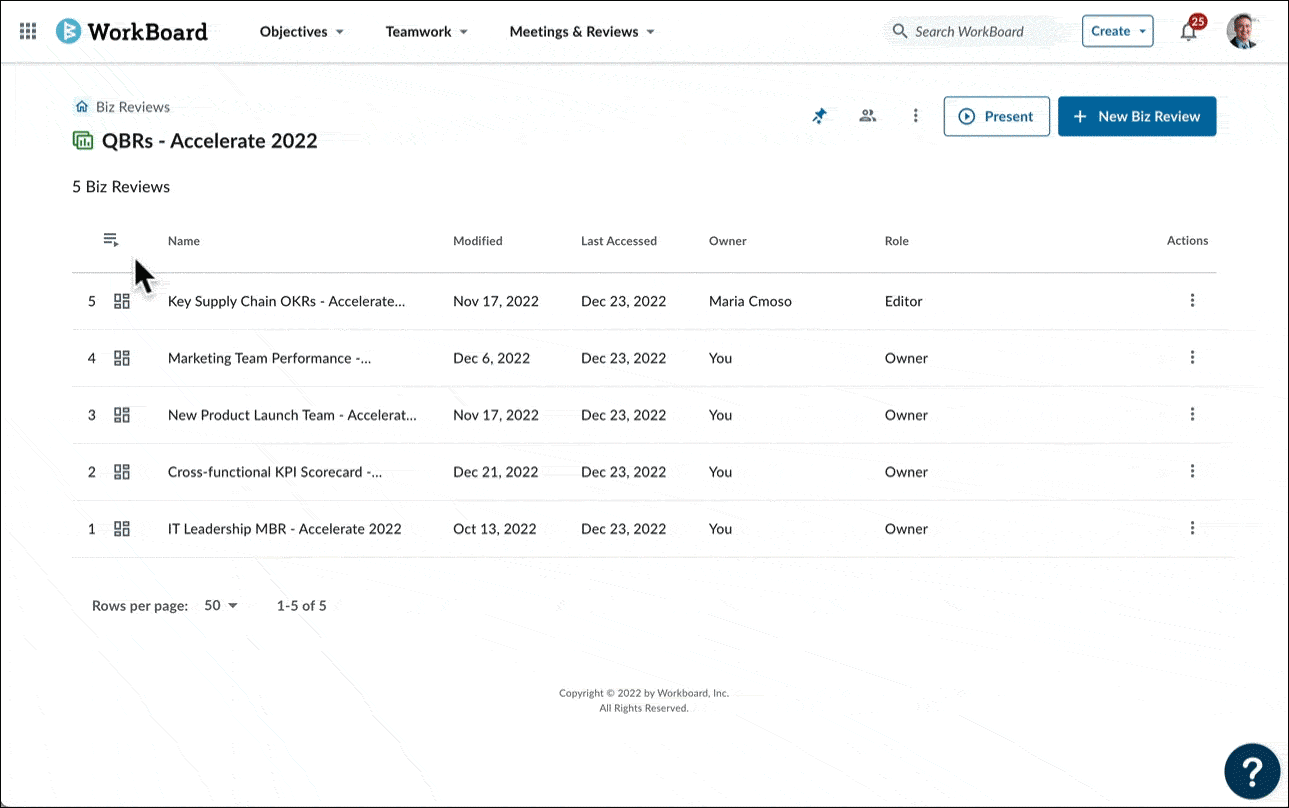 Learn How to Bring It All Together
Watch the recording from our most recent Community Call for a demonstration of how to pull together your Biz Reviews, Scorecards, and Collections for the most seamless MBR and QBR experience. 
---
December 2022 Release
We wanted to leave behind some year-end gifts that we hope will set you up for power moves in January!
Smooth Transitions Between and Across Biz Reviews with Play All tool
Package and manage the order of multiple reviews into one collection, then seamlessly present your entire collection as one Biz Review in your next MBR with the Play All tool.
Whether you're presenting one or multiple Biz Reviews, easily move between reviews in a collection or quickly jump across slides, for a flawless presentation experience.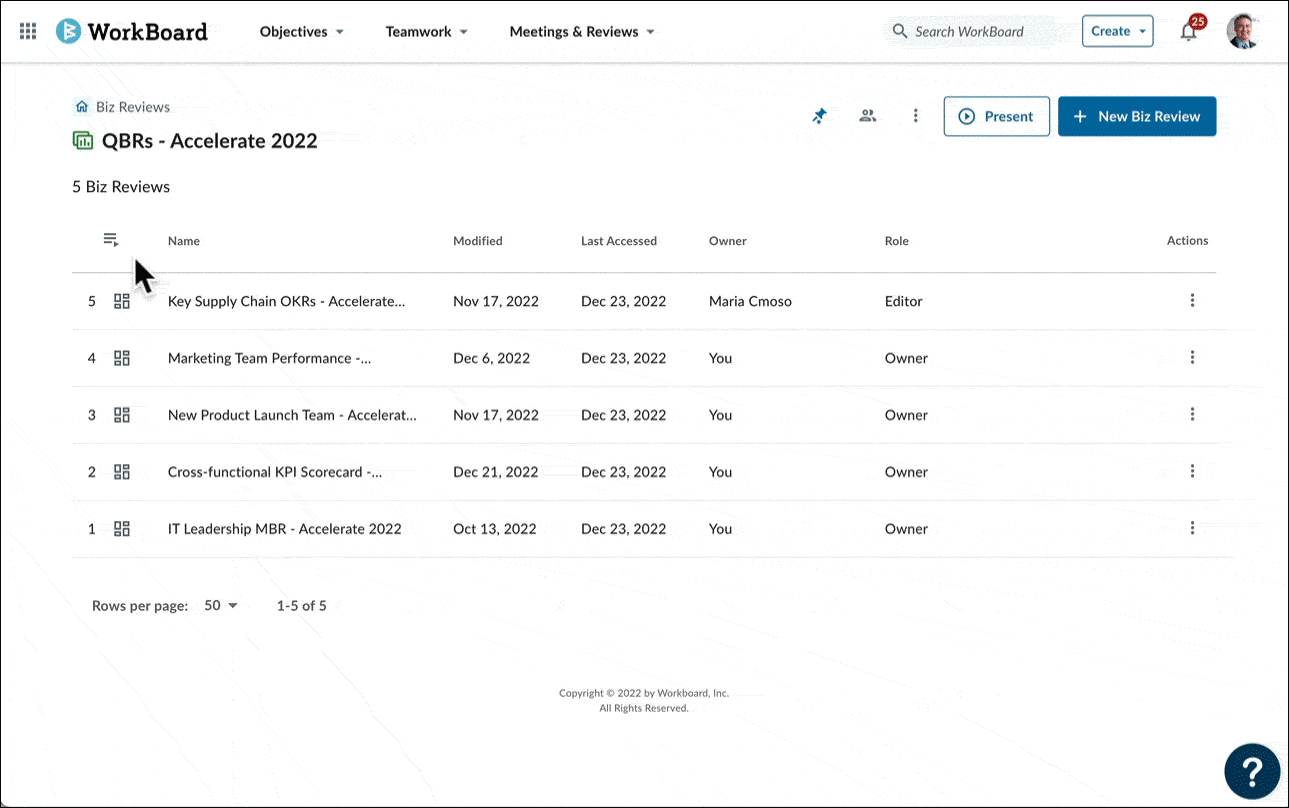 WoBo Strategy: Thread Key Results Progress Through Long-Range Outcomes
It's the right time of year to think about how what you're doing now impacts your future. Create tighter alignment between your strategy outcomes and annual/quarterly Key Results with direct, automated data flow between your near term and long-range strategies.
---
November 2022 Release
Let's take a look at our November Product updates in WorkBoard!
This month is jam packed with exciting updates, including improvements to our MS Teams integration, a new way to manage team membership, Biz Reviews sneak peeks, and more!
Before we get into our product details…
Simplified Navigation Experience
Chances are, you're already using the simplified navigation experience!
If you haven't yet, you can always give it a try before it's live for your organization by going to your Profile Photo, then selecting Switch to New Navigation.
We want to make sure you're ready (and excited) for the new look! Learn more about all the simplified navigation has to offer.
...What about Admin and power tools?
To find Admin Tools, WoBo Strategy, and OKR Canvas in the new navigation, click the 9 dot menu on the upper left-hand side of the page.
Now let's check out our Product updates for this month:
Get the Information you Need Without Leaving MS Teams
You'll receive a notification right in MS Teams when you're @mentioned in Objective, Key Results, or Action Item comments. Bonus: Click the notification link from the WorkBoard app channel to go right to WoBo.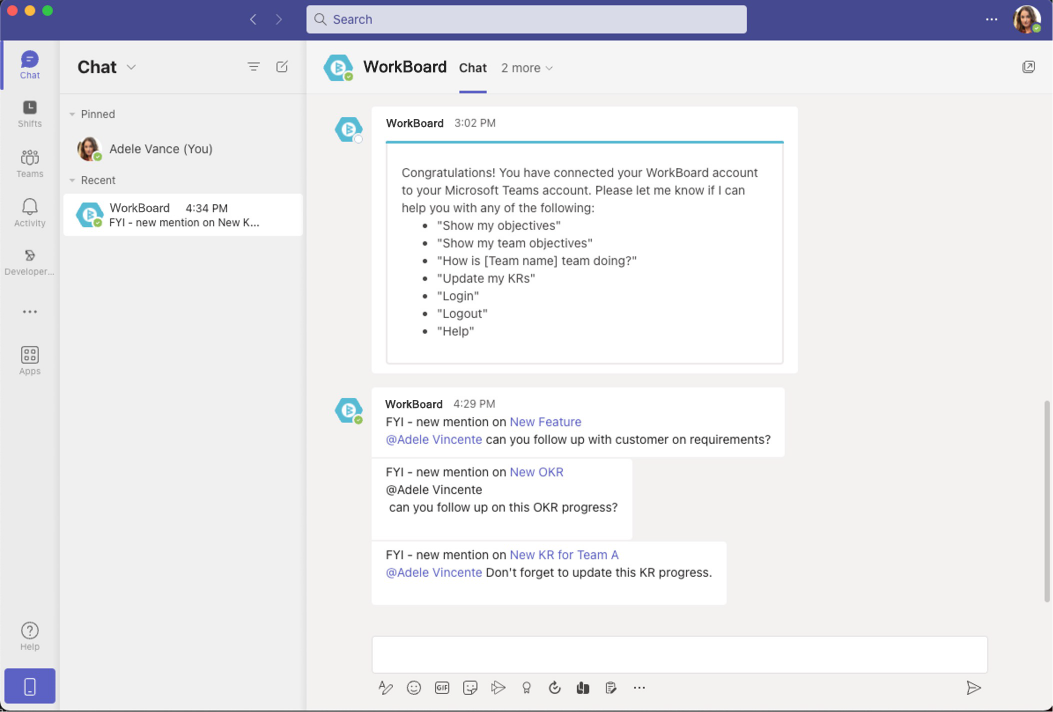 Add Your Mission, Vision, and Values to Strategy
Now you can capture and publish the mission and vision behind your strategy, and the values and principles that will get you there with new entry fields and template options.
The New Way to Manage Teams
Team management just got a whole lot easier. Users can now request to join a team and admins can help managers approve or deny requests to lessen the approval bottleneck. Contact your CSM if you'd like to enable this option for your organization.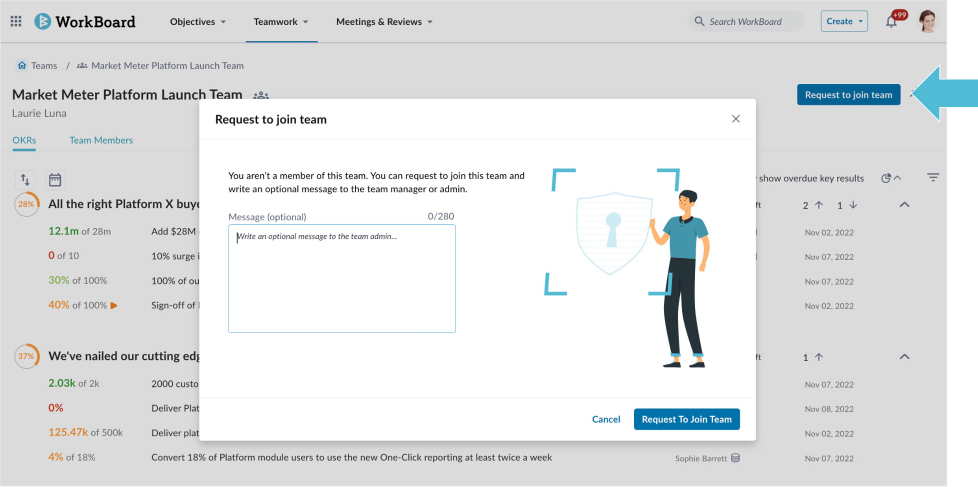 Coming Soon to Biz Reviews
Set the agenda for your upcoming MBR – sort and present a Collection as a single Biz Review. High-quality presentation controls allow you to seamlessly transition between, and jump across or within Biz Reviews.
Other Mighty Updates
We know every organization has unique processes and reporting needs. Custom fields in OKRs allow you to centrally define custom reporting fields, capture key information required across teams, and create more fine tuned reporting across the org.
Don't worry about losing your hard work or ideas to the void. Track note changes in Action Items and revert to any previous versions as needed.
Send a quick message to notify everyone in the loop with an @here in an Action Item comment.
Analytics and Insights
We've been making updates and improvements to our Analytics and Insights, including:
The Objective Alignment Analytic is renamed to Alignment Opportunities to better reflect the intent of the analytic, and has new filters to focus on selected L2 leaders and timeframes.
The OKR Adoption Analytic now contains L3 Leader Breakdown Views for More Granular Visibility.
The Key Result Calibration Report has new additions to better view if Key Results are being updated according to desired cadence with an Org level and a new L3 Leader Breakdown. 
---
October 2022 Release
Let's take a look at our October Product updates in WorkBoard!:
Set Long-Range Strategies with WoBo Strategy
With WoBo Strategy, teams have the power to:
Create and manage multi-year strategies for the company, business unit, product, or any team across the enterprise!
Converge long range strategy and quarterly OKRs to drive near term execution.
Publish and communicate the strategy elegantly to all stakeholders.
If you're interested in WoBo Strategy, reach out to your Customer Success Manager.
Analytics and Insights
Have you given the analytics and reports a try? Get all the help you need here.
Integrations on the Horizon
Github & ServiceNow Key Result connectors are here! Let us know if you'd like to join the early access experience.
Find and Discover Teams on the New Navigation
Find teams with quick filters and explore groups across the organization using sort and search on the Teams Landing Page on the new navigation.
Take actions directly from the Landing Page to curate your list of favorites, grab a team page link, or manage your team membership.
Improved Action Items Popup
Action Items have a snazzy new look! You'll notice new features as you work through your to-do list, like more formatting options as you take notes and add comments, a streamlined workflow when you copy action items, better tagging capabilities, and much more!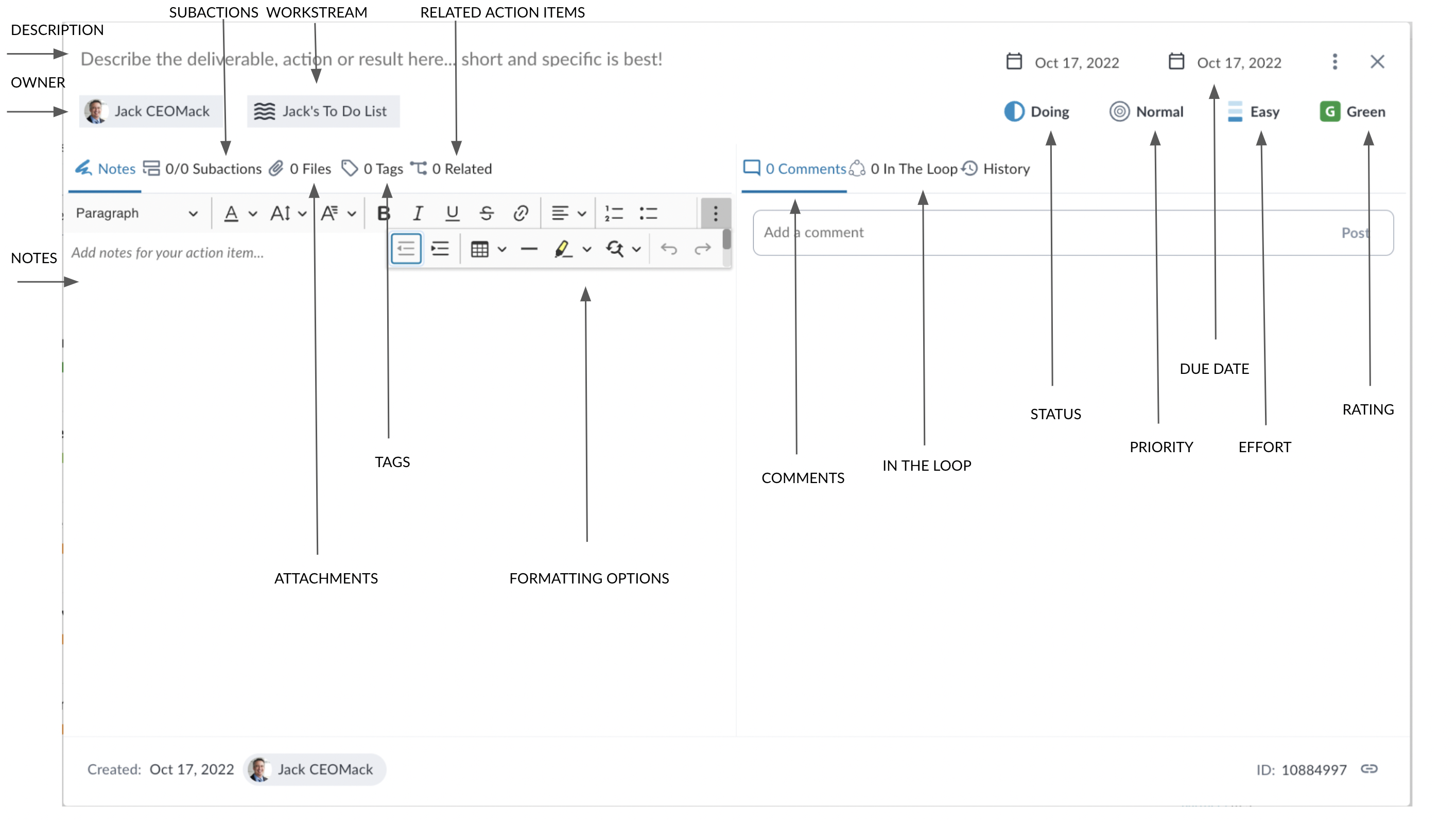 ---
September 2022 Release
Let's take a look at our September Product updates in WorkBoard:
Drive Alignment with Better Visibility
New Objective Alignment Analytics identifies and highlights alignment breakdowns across the organization in a single view, so you can have better visibility on the opportunity to close execution & capacity gaps!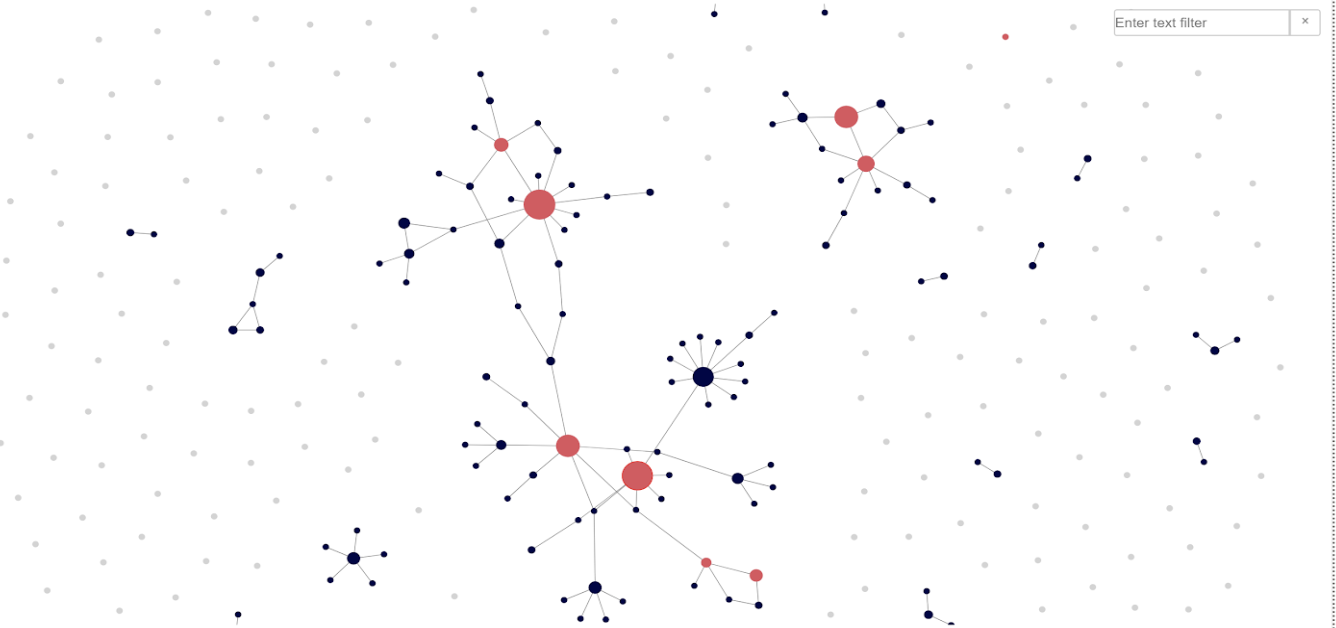 Biz Reviews News
Customize the look and feel of your QBRs – choose your colors for specific trays, sections, or an entire Biz Review to match your brand.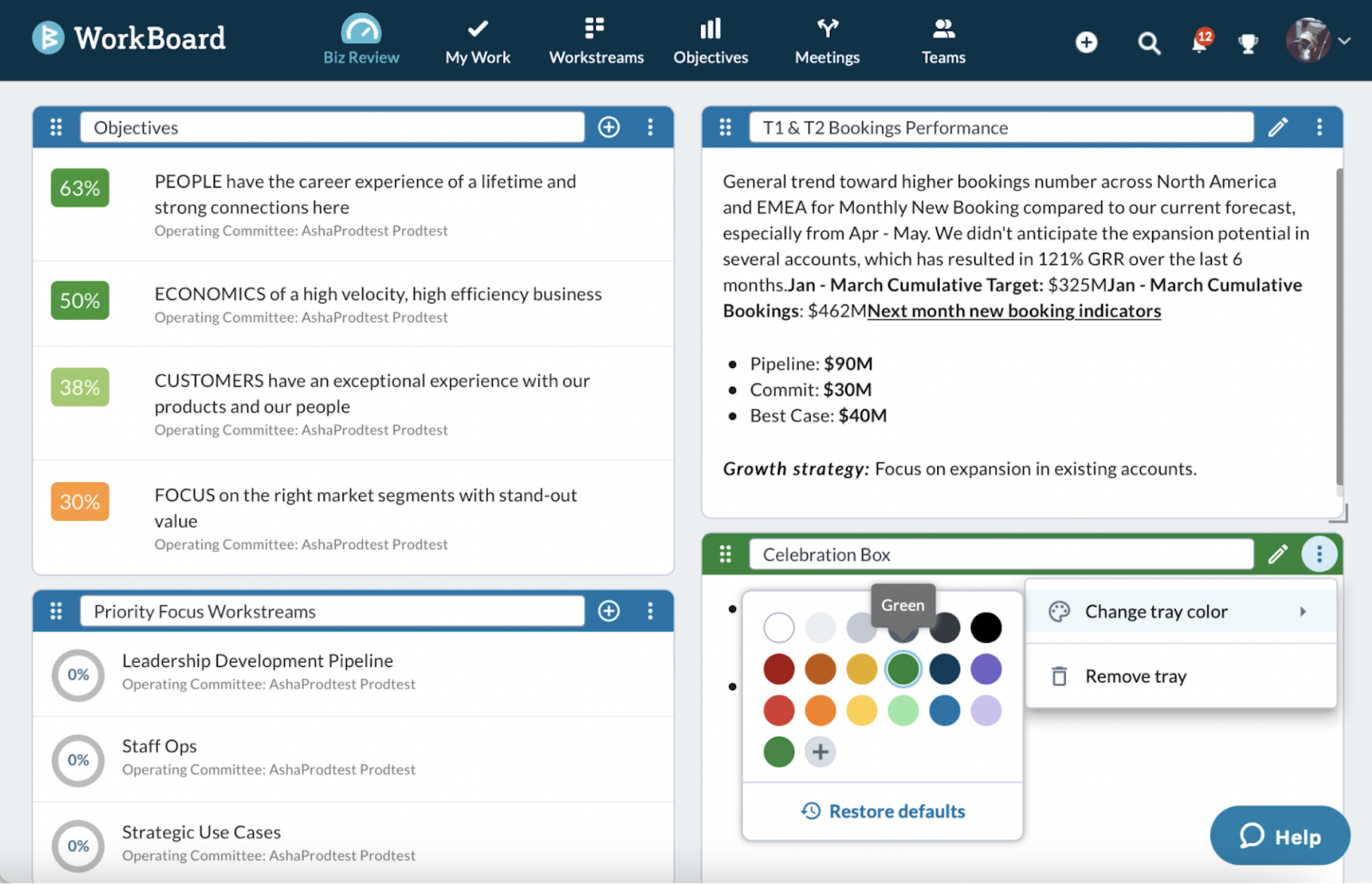 Streamline the Data Flow
The Tableau connector has been improved so you can automate results from Tableau Metrics.
Pulling data from Excel and Google Sheets

 is easier with better visual references when you're working with large spreadsheets, or using automation support for workflows where files get replaced.

Coming soon:

Github

&

ServiceNow

key result connectors! Let us know if you'd like to join the early access experience.
More Delights
Set custom time periods for your OKR Canvases to reflect the unique needs of your business.
You're the artist and canvas is… your Canvas. Introducing options to drag & drop or copy & paste multiple stickies at once.
On the Horizon
The Action Items popup is almost ready to debut its refreshed look, complete

with better formatting options as you take notes and add comments, and many other user experience upgrades."
---
August 2022 Release
This month, we released more analytics and better insights, new & improved data connectors, and customization changes in OKRs and OKR Canvas. Let's take a look:
More Analytics & Better Insights
Pave the way for onboarding and activating users with the new User Activation Analytics report, to get a better sense of the breakdown of provisioned and activated users across different leaders.
The OKR Adoption report paints an overall picture of all OKRs in flight across teams. Now, it also includes the added lens of adoption breakdown of personal OKRs.
New & Improved Data Connectors
Try the new GitLab data connector to automate key result updates.
Check out more robust measuring options across connectors including story points from Jira, projects from Asana, and Reports from Smartsheet, and a more delightful and simplified setup and authentication experience.


OKR Updates
Automate progress updates on your annual and quarterly key results with more measurement options like mirroring or rolling up other key results, or directly connecting workstream progress and integrations.
By popular demand, there's a new customization option to exclude specific quarterly results from your overall annual or quarterly progress.
Team Experience Changes
Working groups have been renamed to dynamic teams to unify how we refer to them across the product; new visual cues and tooltips help distinguish between functional and dynamic teams.
New team visibility settings lay the foundation for private spaces, as WorkBoard invests into bringing visibility and transparency into the overall network of teams across the organization.
Learn more about these updates to the Teams experience.
Delights Here and There
Co-Managers;

stay in the loop with proactive messages

from Microsoft Teams and Webex

on where to calibrate and what to celebrate to help drive a weekly results ritual.

Move items in bulk as you organize your thoughts and space on OKR Canvas.
---
July 2022 Release
This month, we released big improvements to the Biz Review experience. You'll also notice delight updates across the platform in OKRs, OKR Canvas, and Meetings.
Without further ado, let's take a look at our newest product offerings:
Big News in Biz Reviews
OKR Alignment Suggestions
WorkBoard's Machine Learning algorithm will now surface thematically related OKRs – these in-the-moment suggestions make it easier for you to align your Objectives! You'll see the suggestions in the OKR wizard, as soon as you add in your Objective.



Automate progress updates for annual Objectives and quarterly results with Salesforce, Snowflake, and other integrations.
More improvements to annual objectives and quarterly key results:

Calculation upgrades help you measure averages across quarters, like averaging a deal size across a period of time.
You can also assign specific owners to quarterly results for better accountability.
OKR Canvas Enhancements
If you've been busy canvassing, you can now find the one you're looking for, fast. The new search and filters allow you to speedily sort through canvasses and jump straight to OKR drafting.




Use the new keyboard hotkeys on the OKR Canvas toolbar to add sticky notes or insert shells in a flash.
Meetings Delight
We made a few small changes to help you stay on top of your meetings and spot those that still need an agenda. The list auto scrolls to your next meeting, and the red line visual marks where you are in your day.


And more…
Thanks to your feedback and input, we made improvements to the powerful Results Analytics:
Slice and view insights using the new annual lens
Insights refresh daily for faster, up-to-date execution
Managers from deeper in the organization can now leverage analytics (all the way to managers of managers). Reach out to your CSM for more information on how to turn this on


---
June 2022 Release
Happy June! The Summer Solstice is around the corner, and many of us are prepping for our next quarter cycle. This month's releases are just in time to support planning and brainstorming towards our best possible.
Let's take a look at our new offerings:
Ask Away
Get help on the spot with 24/7 in-product support. Click the blue question mark on the bottom right of any product page, then select Get Help, and a Product Expert will be right there.
OKR Canvas Enhancements by Popular Demand
Interact with improved tools and shortcuts so it's clear when you're panning yourself around the canvas versus moving and placing items. Move around the board with the left mouse button while holding Space bar.
Keep track of contributions to the discussion with names on stickies.
Have a big idea? Expand your sticky notes so they match the scope of your concept.
Learn more about using sticky notes in OKR Canvas.
Biz Reviews Updates
Don't let your most important follow-throughs slip away during an MBR. Capture an action item in a Biz Review and assign it right to the owner's to-do list.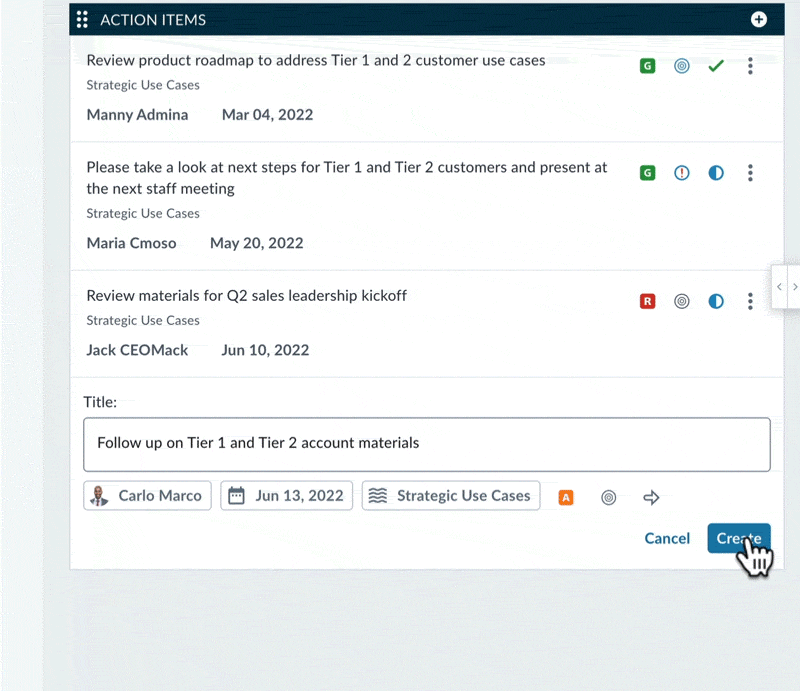 Watch the replay of our June Community Call to see demos of these new capabilities!
---
May 2022 Release
We're happy to share our May feature releases, including updates in OKRs, OKR Canvas, and more. Let's take a look at these new offerings:
OKR Enhancements
@Mention individuals or teams in Key Result update narratives as you put a score on the board to give kudos for a job well done, solicit input from co-workers, or notify your team of an update.
A little formatting goes a long way in supporting your narrative. Use bullet points, charts, line breaks, and links to give color to your confidence ratings and OKR descriptions.

OKR Canvas Improvements
Drive tighter alignment conversations by inviting non-team members to a Canvas.
Create stickies as fast as you think by duplicating them using the Control+C and Control+V hotkeys.
Use text headers to add additional instructions or group and cluster your stickies as themes emerge during brainstorm sessions.
Lock object positions in place — including templates, sticky notes, and text headers — for an all around smoother experience as you collaborate on the canvas.
Performance Improvements
We're always working to make the site faster and more responsive. Here are a select set of improvements from the last 90 days:
61% improvement in web requests that allows for faster page loads all around!
Page loading should feel 42% faster with improvements to how we sequence what we load.
32% faster load time

 

when opening the My Objectives pages so you can quickly get to your results.
---
April 2022 Release
The April Feature Release is sure to enhance your WorkBoard experience, with stellar updates across Biz Reviews, OKR Canvas, Integrations, and more. Let's take a look at these exciting releases!
Biz Reviews Updates
Introducing the Quick Action menu for Biz Review shortcuts. Right click to copy or move Objects or Key Results across trays. You can even duplicate trays and sections! Learn more about Quick Actions in Biz Reviews.
There's now the option to create multiple Action Item or Hotbox trays in Biz Reviews so you can partition how you track risk and follow-ups.
Delight Updates in OKR Canvas
We've been incorporating your feedback on OKR Canvas into our updates, and we think you're going to like the improvements.
Bring OKRs From Any Team into OKR Canvas. Simplify lateral alignment by bringing cross functional OKRs into OKR Canvas. Search by Team, KR name or KR tag to find and pull OKRs from any team and time period. Learn how to bring OKRs into OKR Canvas.
OKR Canvas Text Headers. Organize your brainstorming using customizable text headers.
Coming at the end of April:
Add New Contributors. Invite members of other teams for cross-functional collaboration.
Lock Object Positions. Lock shells in place in OKR Canvas.
Copy Sticky Notes. Want to riff on an existing sticky note? Just make a copy and go from there!
Data Connector Updates
Automate Key Results with Trello. Connect your Trello board status to Key Results in Workboard, and choose to automate your updates based on count or percent completed.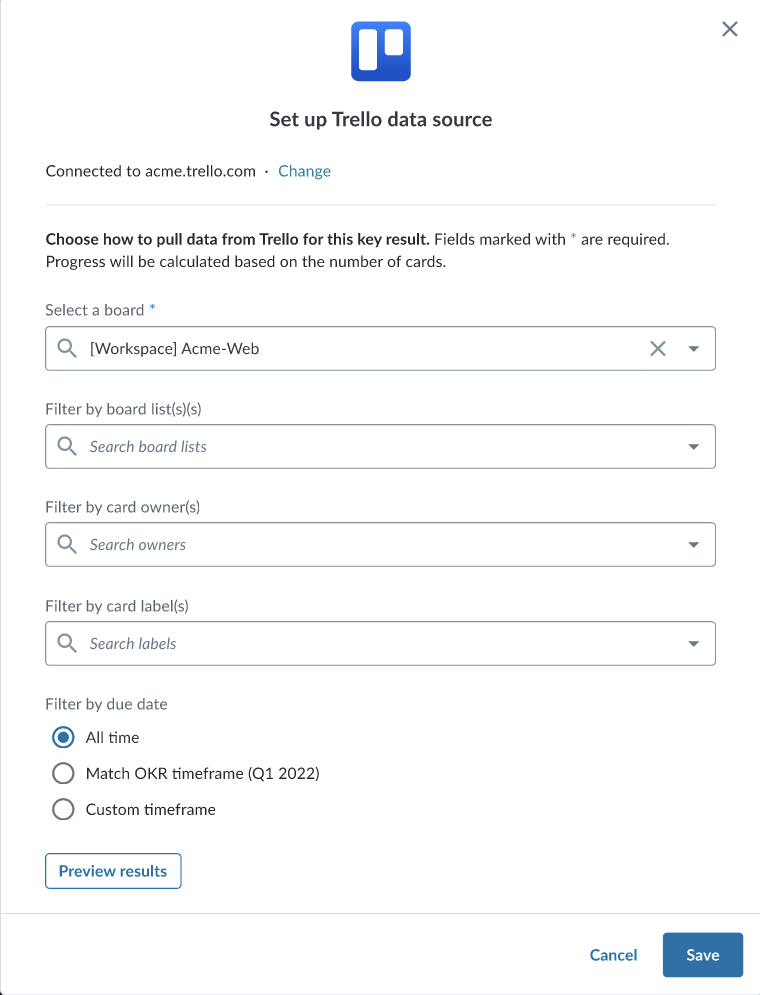 Get started with the Trello Key Results Data Connector. 
New Sign in Option for Tableau. For users whose organizations leverage SSO, you can login using a Tableau Personal Access Token.
Learn about the Tableau Key Results Data Connector. 
Power Moves with OKRs
Move KRs Across Objectives. Move KRs from one team to another, or duplicate a KR so two teams can measure the same results, separately. Learn how to Move KRs across Objectives.
Filter your Alignment Tree. Drum roll please… Filter on annual, quarterly, or past OKRs in the Alignment Tree and narrow to the information you need.
Updates Across the Platform
Meetings Dashboard Upgrades. Use the filter to customize your dashboard and remove meetings where you won't need an agenda, like personal and declined events. Learn more about configuring your Meetings Dashboard.
Timezone Selector Simplification. Time zone selectors have been updated so you can search and select for your zone using PST, EST, etc, rather than searching for a city near you.
Microsoft Teams Updates. Search for an objective by name, team, or owner, and clearer status of objective progress.
Performance and Speed. We fixed an old and hidden bug in the cache, so the average response time is now less than one second, and throughput increased by 16.5%
---
March 2022 Release
Spring is in the air! With spring comes new Key Results Data Connectors, Two-Level Alignment Views, and delight features across the platform.
New Data Connectors for KR Updates: Snowflake and Google Sheets
We continue to add new data connectors so you can choose where to pull information to update your key results! Save time and improve transparency of team progress by connecting your Key Results to Snowflake or Google Sheets, coming at the end of March.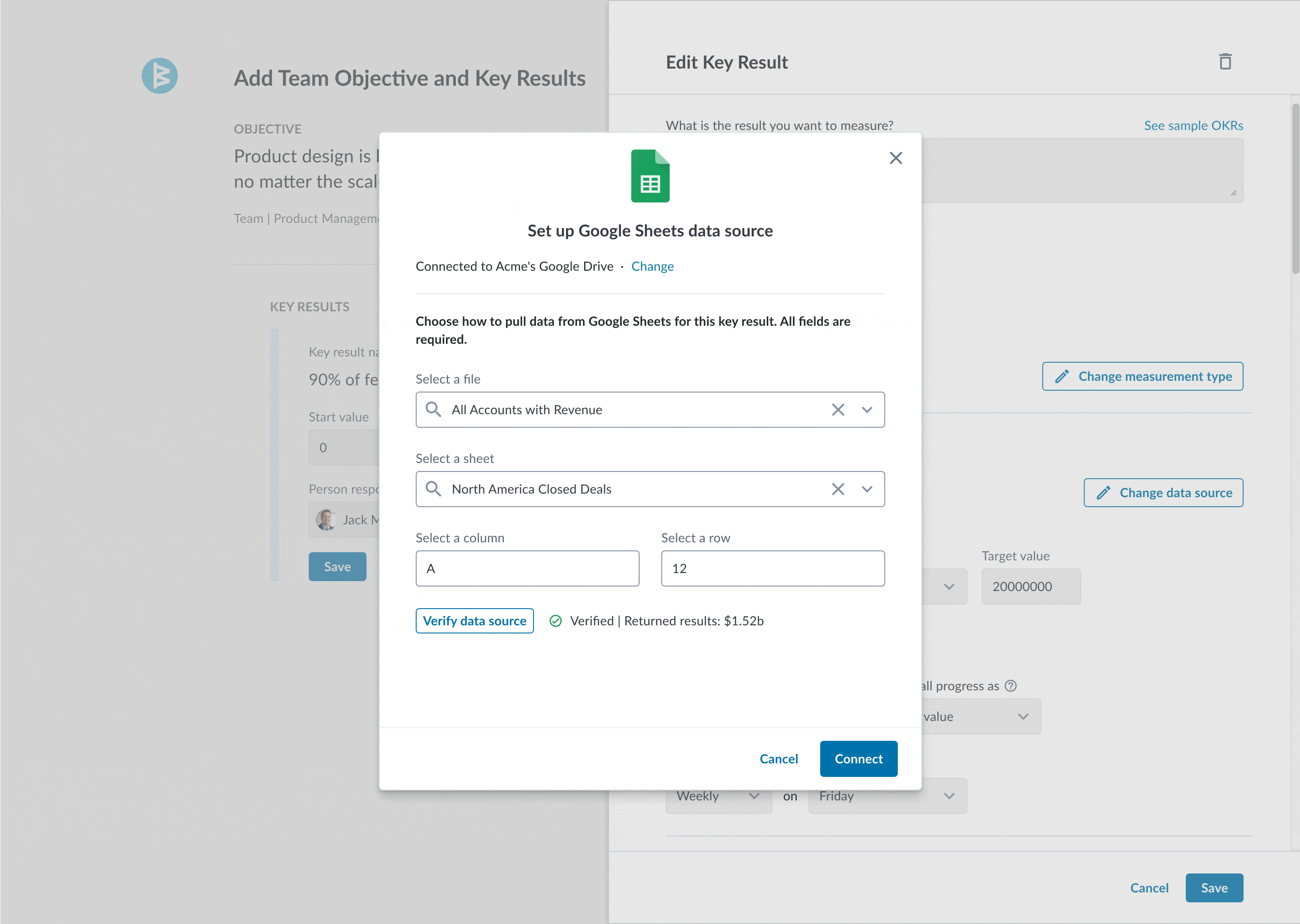 Learn how to connect with Snowflake, or Google Sheets once they're available.
Two-Level Alignment View
Alignment isn't a quarterly task—it's a non-stop job. ​Resolve alignment and progress gaps faster with a two-level OKR view available instantaneously for staff meetings.
Locate the view right in your My Objectives page with one click. Then, easily share your page view organized by Objective using the unique URL.
Achieve your strategy faster by tracking cross-functional progress on each objective.
Use for executive staff meetings, or as a consolidating reference for managers of managers.
Review during team tie offs to spot areas of misalignment.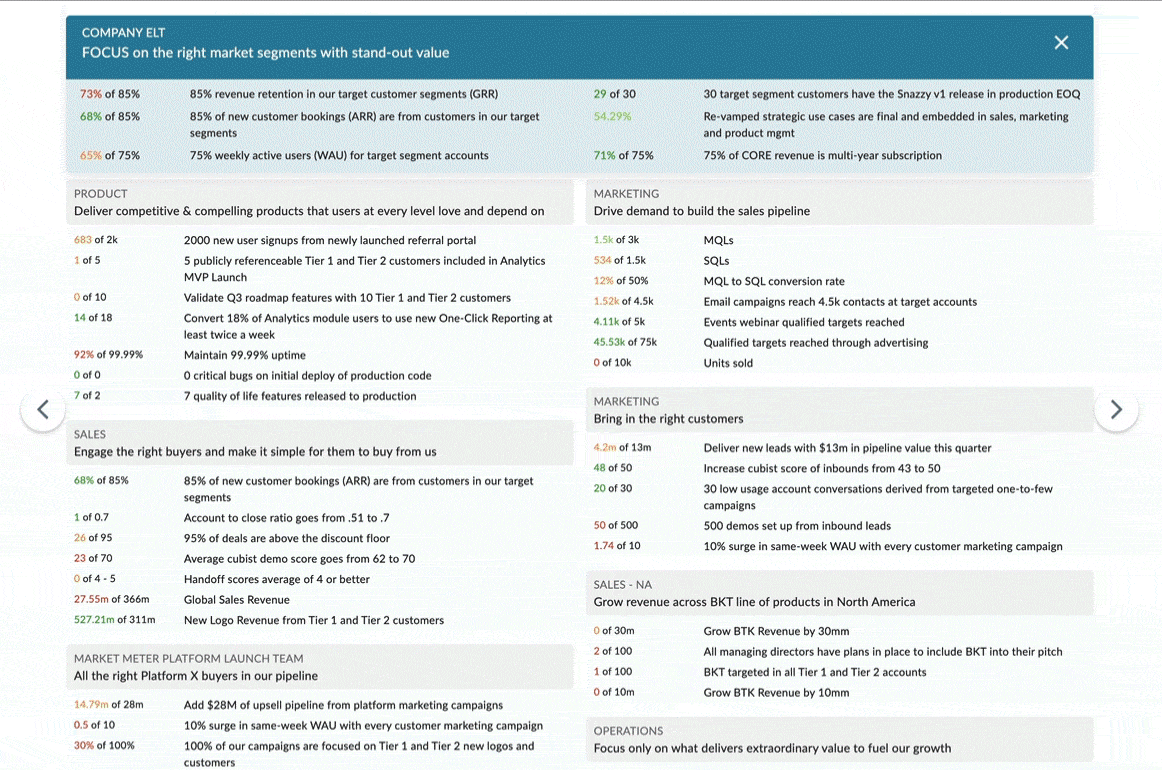 Learn how to use the Two-Level Alignment View.
Easier to Manage Meetings
Gone are the days of chasing your follow ups. Within your meeting agenda, you'll find the "Last meeting actions" icon. Select this to view action items from your last meeting and bring them to your next meeting, keeping the team on track! ​
Want to test it out? Navigate to your Meetings page.
Delight Updates in Biz Reviews
Up your game with Biz Reviews with these new power moves:
Moving a KR from one tray to another in your monthly Biz Review? Just right click a KR in a tray, then copy and paste across KR trays. Less clicks, easy curation!
Now you can update action items directly from the tray (e.g., change owner, change status, raise flag, change due date).
Ready to get started? Head to your Biz Review page.
---
February 2022 Release
February is full of new features – mobile, integrations, and OKR Canvas oh my! Check out all the highlights below.
WorkBoard Mobile for iPhone & Android
As some of us return to the office, we wanted to refresh the way you can stay on top of priorities, meetings and OKR progress on the go. Now you can get a head start to your day whether commuting to work or drinking coffee at home.
Scan your meetings and add an agenda item as it comes to mind
Give yourself a reminder AI or delegate to a colleague
Check in on KR progress and update it directly from your phone

Ready to get started? Head to the App Store or Google Play and search WorkBoard to download the latest!
New data connectors for KR updates: Tableau, Smartsheets & Excel Online
Watch out because updating your key results is about to get a whole lot easier. Save time manually updating your Key Results and improve transparency of team progress by easily connecting to your Key Results to Tableau, Smartsheets or Excel Online in under 2 minutes.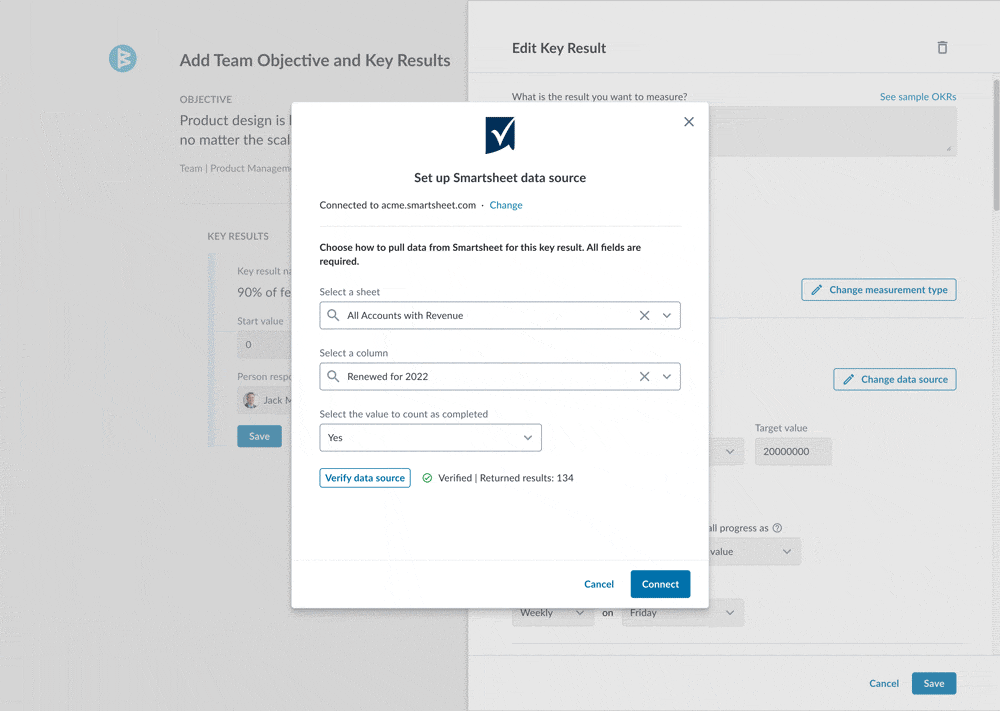 Ready to get started? Head to to Settings > Integrations to connect with Tableau, Smartsheets, or Excel Online today.
Note: Due to Tableau limitations, the integration is only available if not accessed through a company SSO. Reach out to your CSM if you have questions.
Calibrate & Celebrate for Webex Messaging 
Responding to management-by-interruption consumes management capacity, and the facts come in too late to quickly course correct. Receive automated alerts on progress to plan and top risks with Calibrate & Celebrate notifications in Webex Messaging.
Effortlessly see what needs attention 
Nudge where it's needed   
Use Friday's "celebrate" notification to recognize and motivate the team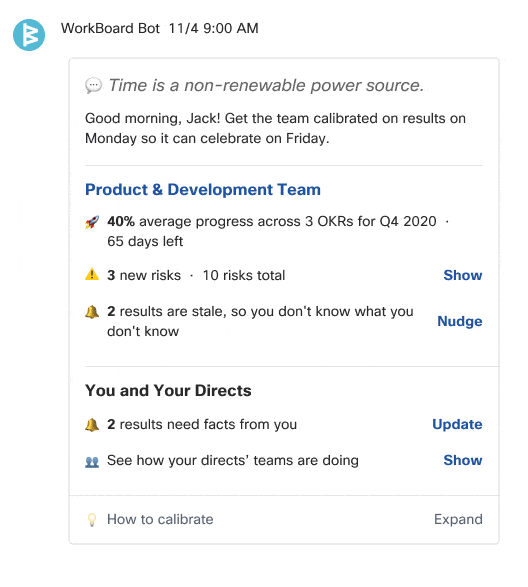 Ready to get started? Enable the Webex integration under Settings>Communication>Webex. Then go to Settings>Preferences and select your preferred updates under Calibrate & Celebrate.
Set and align great OKRs the first time around with OKR Canvas


Live February 22nd
Get ready for a whole new OKR writing experience! We've taken our 8 years and over 2 million hours of OKR coaching experience and built OKR coaching right into the WorkBoard platform. OKR Canvas is a team whiteboard experience that makes setting OKRs easier, more fun, empowering, and impactful.
Set and align great OKRs the first time around, with embedded coaching at each step
Reflect and reset smarter OKRs each quarter with data and insights from previous OKRs and a Lookback and Learn template
Save time typing drafted OKRs into your platform with an automated publish feature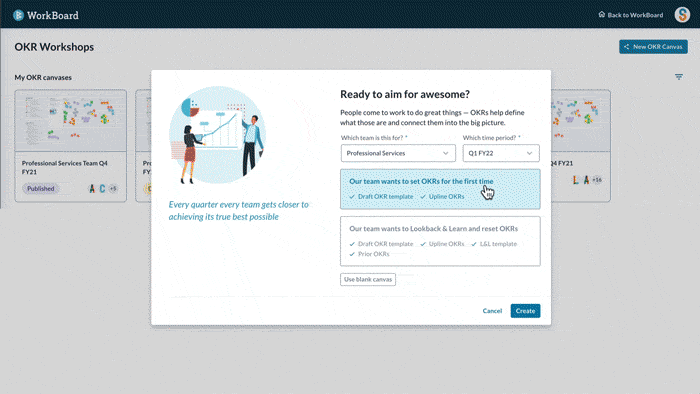 Ready to get started? Beginning on February 22nd, head to the Objectives tab and select OKR Canvas from the left-hand side menu. To learn more, join one of our customer webinars outlined below:
Program leads: Improving the OKR Experience with OKR Canvas
Team managers and members: Running Great Team OKR Sessions in OKR Canvas
OKR Coaches: Next Level Coaching for Teams on OKR Canvas
Cross-platform updates: 
KR measurement autocomplete. Writing KRs just got easier. When you include two values in your KR description (e.g., 40 to 90%), the values will auto-populate into the KR measurement details (starting & target value), and Unit of measurement (e.g., $, %).
@ mention teams. You can now @ mention teams in WorkBoard and each member of the team will receive a ping on Slack or Webex!
Keyboard shortcuts! Get where you're going faster with shortcuts for Macs and PCs – Ctrl+G for Global Search and Ctrl+O to open an Action item.
---
January 2022 Release
To kick off 2022, we're rolling out a group of delightful feature updates to elevate your experience in WorkBoard.
OKR View updates:
OKR links: Have an exciting new objective or key result to share with your colleagues? You can now send it to them with a direct link! Use the drop-down menu next to any objective or key result and select "Copy link." Share away!
Mirrored KR update: Ever try mirroring a mirrored KR? You may have run into a wall – that's on us. You can now mirror any KR, whether it is an original KR or a mirrored KR.
Biz Review updates
Dynamic text. Monthly Business Review updates are paired best with a narrative for context. Get ready because your text is about to get whole lot more dynamic! We've introduced a rich text editor so you can format your narratives any way you like. Change the font and text color – sure! Include a chart – you got it!
Enhanced descriptions. Like the text updates, Biz Review descriptions have enhanced functionality – you can now format text & include links.
Flexible cover slides. When embedding a Powerpoint or Google Slides in Biz Review, the default image is the top slide. But what if you have a killer slide 5? Now you can embed the full deck and show any slide as the main image.
Change the Owner. Change ownership of any Business Review to any other Editor.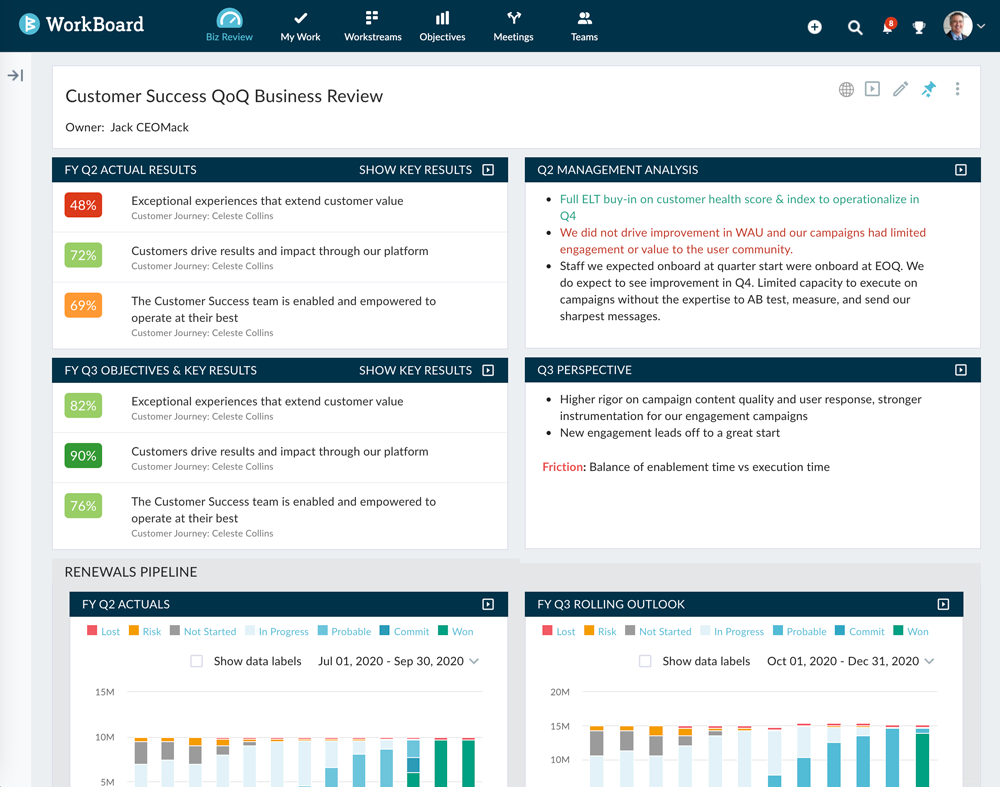 ---
November 2021 Release
Analytics for Results Management Executives
Are you managing your department or organization's OKR program? You can now access the insights you need to accelerate OKR adoption and empower teams with Analytics for Results Management Executives.
Improve time to value in your OKR program with access to enterprise-level OKR adoption & distribution data
Better identify where OKR support is needed with status data on when Key Results were last updated
Improve OKR alignment across the organization with data on what % of OKRs are aligned over time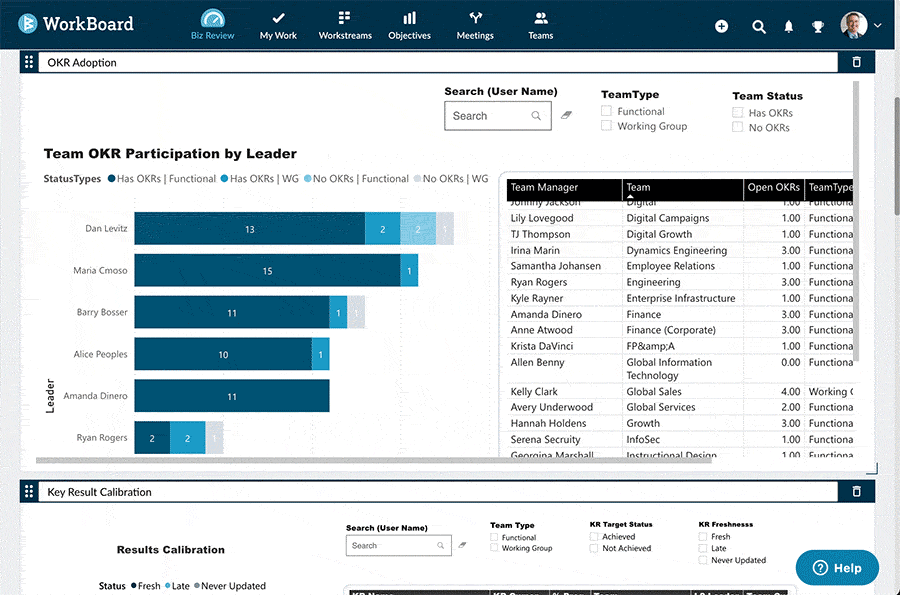 Ready to get started? Roll out for this feature is scheduled throughout November and December 2021. For more information, reach out to your WorkBoard CSM.
Webex native integration
Bring strategy into weekly focus in Webex by Cisco! It's now easier than ever to incorporate OKRs into your digital operating rhythm – access your favorite WorkBoard features right where collaboration and conversation take place in Webex Messaging and Meetings.
Incorporate objectives and progress towards them in your weekly meetings with WorkBoard meeting agendas, now directly accessible in Webex Meetings
Easily access your team and organization's strategic priorities with everything you love about WorkBoard now accessible in Webex Messaging
Get started here with Webex Meetings and Webex Messaging.
Enhanced Jira integration
Improve the accuracy and ease of KR tracking in Jira with story points and Query Builder:
More accurately capture your KR completion by measuring progress by story points
Effortlessly connect Jira work to your OKRs with an easy-to-use Query Builder
Learn more about these enhancements and the WorkBoard Plugin in Jira here.
New data connectors: Rally & PowerBI
Automate updating your Key Results with the new Rally & PowerBI data connectors:
Make tracking KR progress easy and save time with automatic updates
Improve transparency of team progress in Rally and PowerBI with visual progress status in WorkBoard.
Elevate individual understanding of how their work in Rally & PowerBI contributes to the team and organization's strategy
Get started with the new Rally and PowerBI data connectors today!
Performance and speed improvements
Performance is a top priority for us, and we are continuously working to make WoBo snappier! Here are some of our latest stats: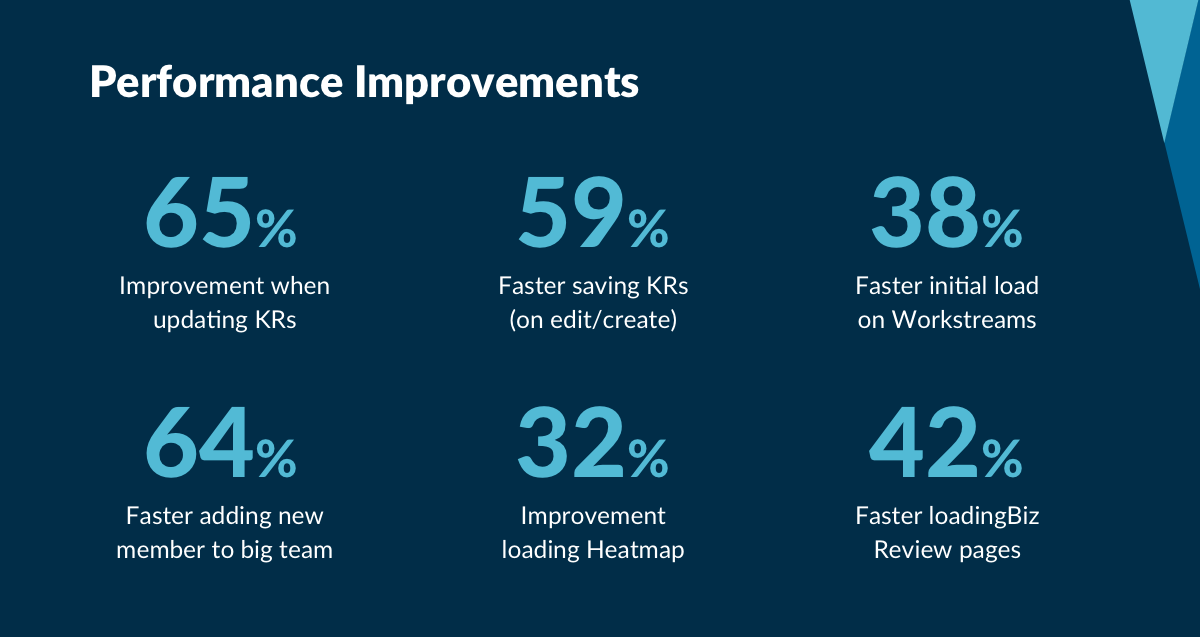 ---
October 2021 Release
Calendar sync that, well, syncs
We've improved the calendar integration for WorkBoard meetings so it's driven from your existing calendar as the source of truth. Your meetings page view now reflects all your meetings for the week—easily add agenda topics to each meeting so everyone's time is purposeful and productive.
Not using WorkBoard meetings yet? Check out what you're missing here!
Roll out for this feature is scheduled through December 2021. For more information, reach out to your WorkBoard CSM.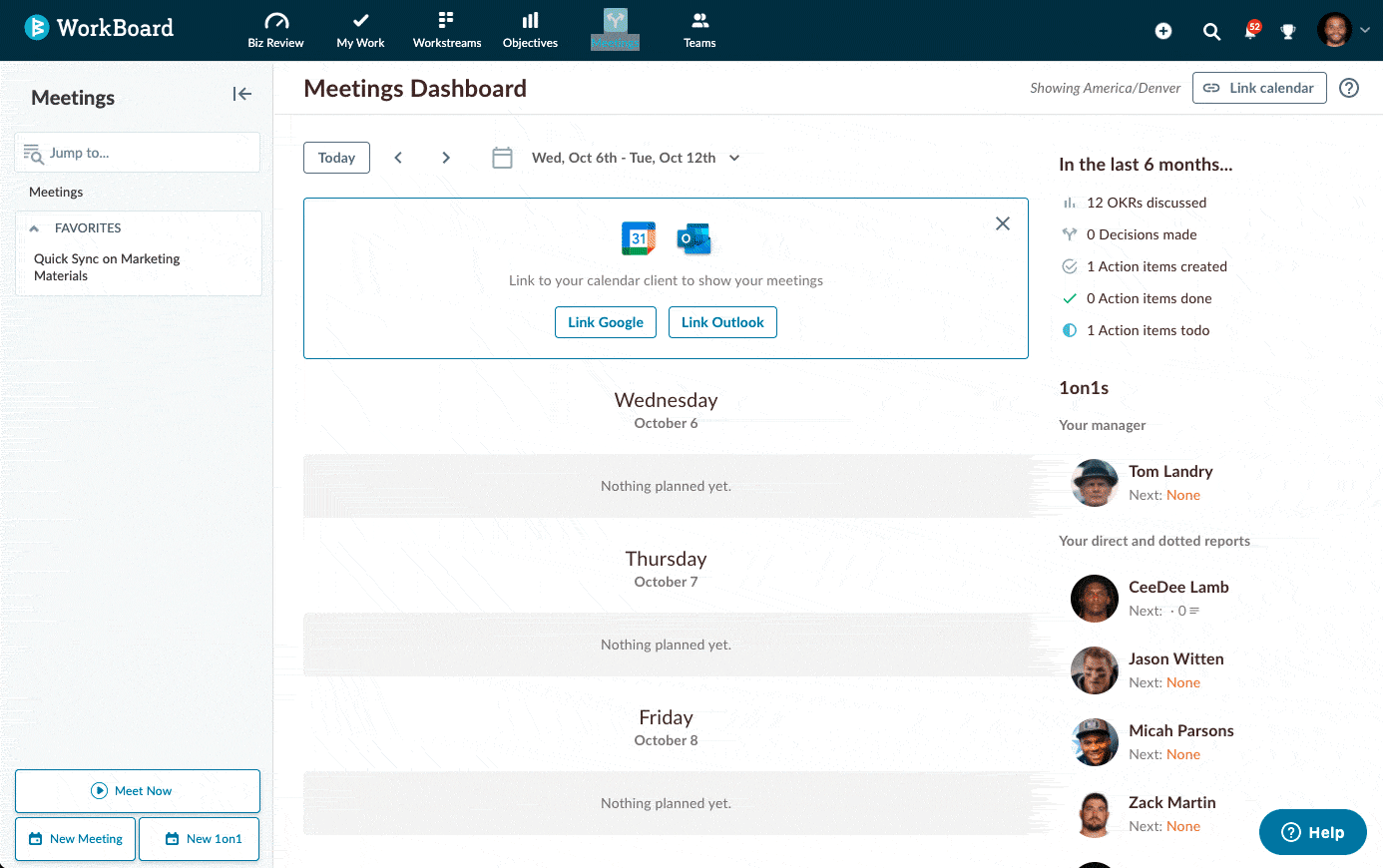 Flexible 'nudges' in Microsoft Teams
We've fine-tuned the Calibrate & Celebrate cards in Teams so leaders can nudge wisely: See the list of stale key results and use your judgment to select who to nudge in your Monday calibration. 
---
September 2021 Release
Much Easier Salesforce Integration
Source results from Salesforce more easily and often with the new self-service integration experience!
As users create key results, they select Salesforce as the source and can choose existing reports and totals to feed actual progress to WorkBoard automatically – no need for technical assistance. Key result owners can also "sync data now" to pull data in real-time, which is awesome toward the end of the quarter and results changing quickly!
Choose your update frequency. Pull key results updates daily, weekly, monthly, or quarterly, by key result.

Source from Salesforce reports. Key results can be mapped to 'totals' and 'sub totals' in Salesforce reports.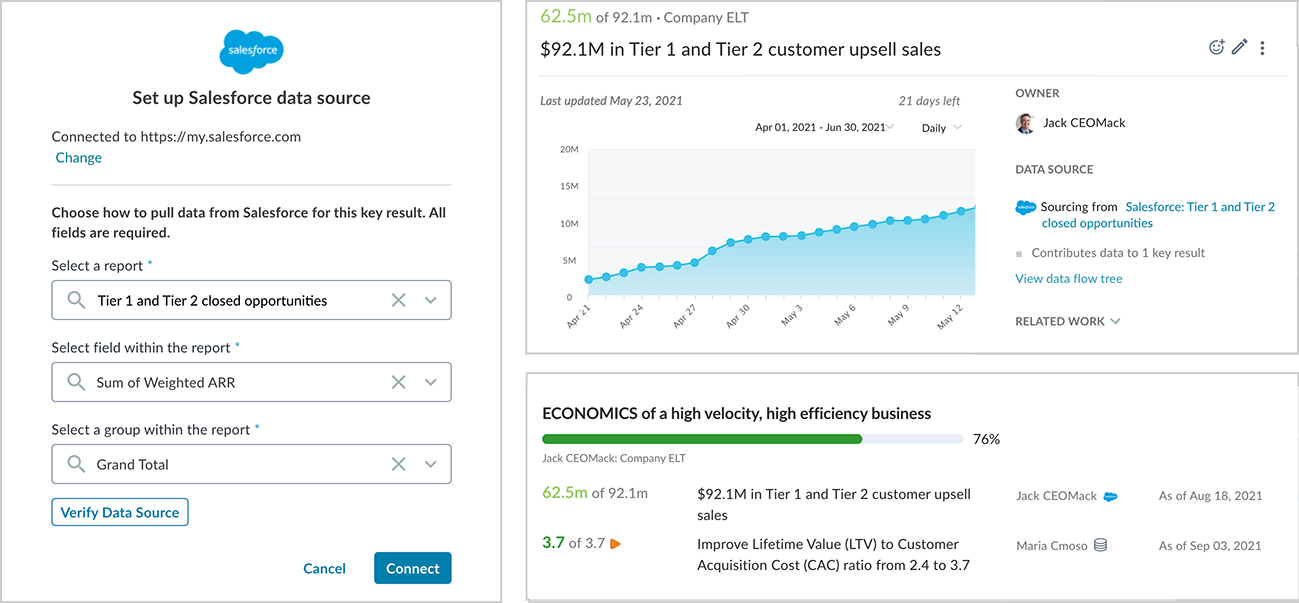 Pin WorkBoard to Microsoft Teams Sidebar
The latest update to the Microsoft Teams brings WorkBoard to the surface in the Microsoft Teams app. Pin WorkBoard to the Teams menu to make it even easier to:
Bring your OKRs, Heatmap, automated Biz Reviews, and Results Analytics right into your Microsoft Teams environment for seamless access to the facts you need every day.

Calibrate on your OKRs on Mondays and Celebrate Your Victories on Fridays! Team leaders are automatically notified of progress, and areas requiring attention, making it refreshingly easy to manage at your best.

Use Smart Agendas with OKRs, KPIs and topics on agendas then get action items and decisions as takeaways so everyone is on the same page. Minutes go out automatically and the actions from last meeting are teed up for the next meeting.
See how John Nisi, GM and COO of Microsoft's US Cloud and Enterprise Business, uses WorkBoard in Teams in this 2-minute video.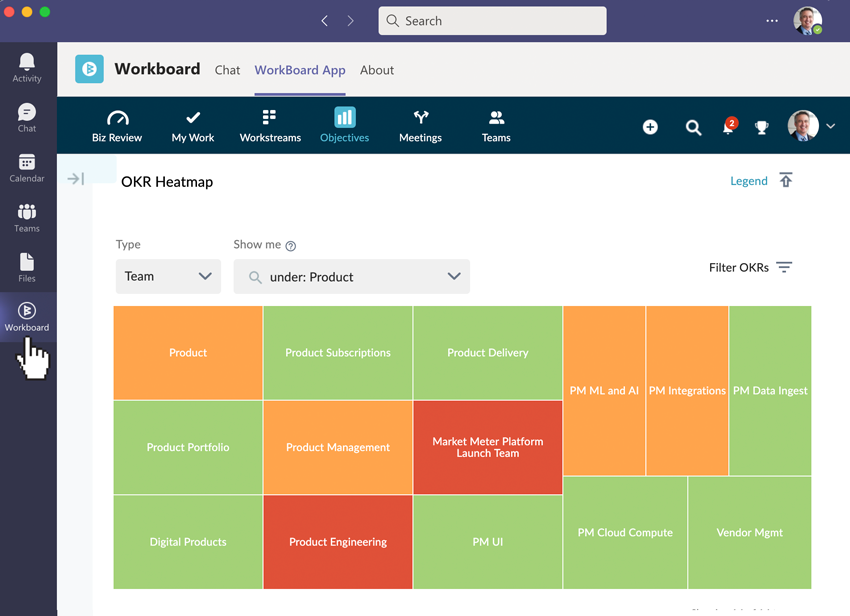 Faster Performance
Performance and quality are as or more important to us as feature enrichment – there are four dedicated squads working in parallel to improve speed and quality and your overall WorkBoard experience. The latest platform performance improvements include:
Up to 65% improvement on average when updating key results and putting scores on the board!

Up to 59% faster experience on average when saving key results

Up to 38% faster initial load on average of workstreams

Up to 64% faster experience of adding a new member to large teams
Better Biz Reviews
Biz Reviews just got even more powerful! We have added a new annual objective with quarterly results view and implemented several collaboration improvements. The latest update includes:
New OKR view. Annual objectives with quarterly results added to Biz Reviews to better align with your OKR operating rhythm.

Full screen support makes viewing Biz Reviews a more immersive experience.
---
July 2021 Release
​
Create Annual Objectives with Quarterly Key Results
Simplify OKR creation where the objective remains constant and the KR targets are varied over the year – and get a more cohesive view of QoQ progress.
Define quarterly key result targets for your annual objective

Choose whether quarterly key results should sum, track to a total, follow a custom results trajectory or track independently

Visualize all KRs under one annual objective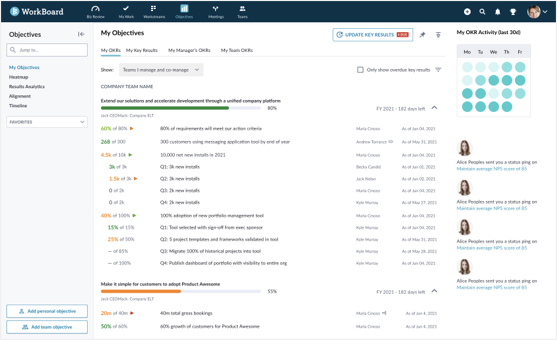 Note: This capability will be made available on an opt-in basis for early access. Please contact your CSM or administrator if you would like it enabled for your organization.
WebEx Integration
Bring your conversations in WorkBoard into WebEx!
Now @ mentions in WorkBoard will send you a real-time notification in WebEx.
Notifications will be enabled for Action Items, Objective Comments, and Key Result Comments.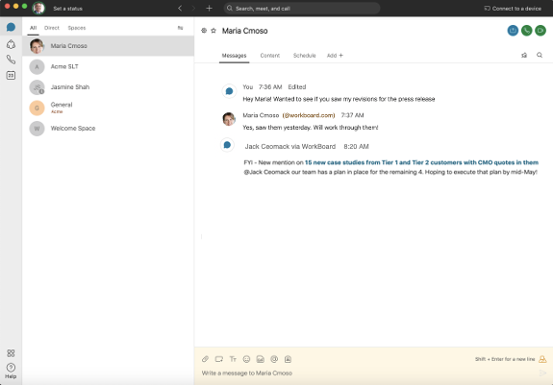 Note: Integration must be enabled at the org-level. For notifications to flow, both sender and recipient must have enabled integration. Please contact your CSM or administrator if you would like it enabled for your organization.
Confidence Ratings Enhancements
Spot and elevate your confidence on results throughout the platform:
1. Mirrored key results show the confidence rating from the source key results throughout the platform.
2. Confidence ratings and the corresponding comments are included in all key result exports.
---
End April 2021 Release
Calibrate & Celebrate in MS Teams 
Calibrate and Celebrate in Microsoft Teams brings your OKRs into your line of sight on Monday mornings, shows you where to focus for the week (including risks and where you're waiting on data) and  highlights the wins to celebrate with your team on Fridays. Simple but powerful messages mean you don't even have to leave your Teams chat to keep your team focused on the results that you all wanted to achieve. If you're a team manager, you never leave the conversation, but you crush your team's objectives and results all the same!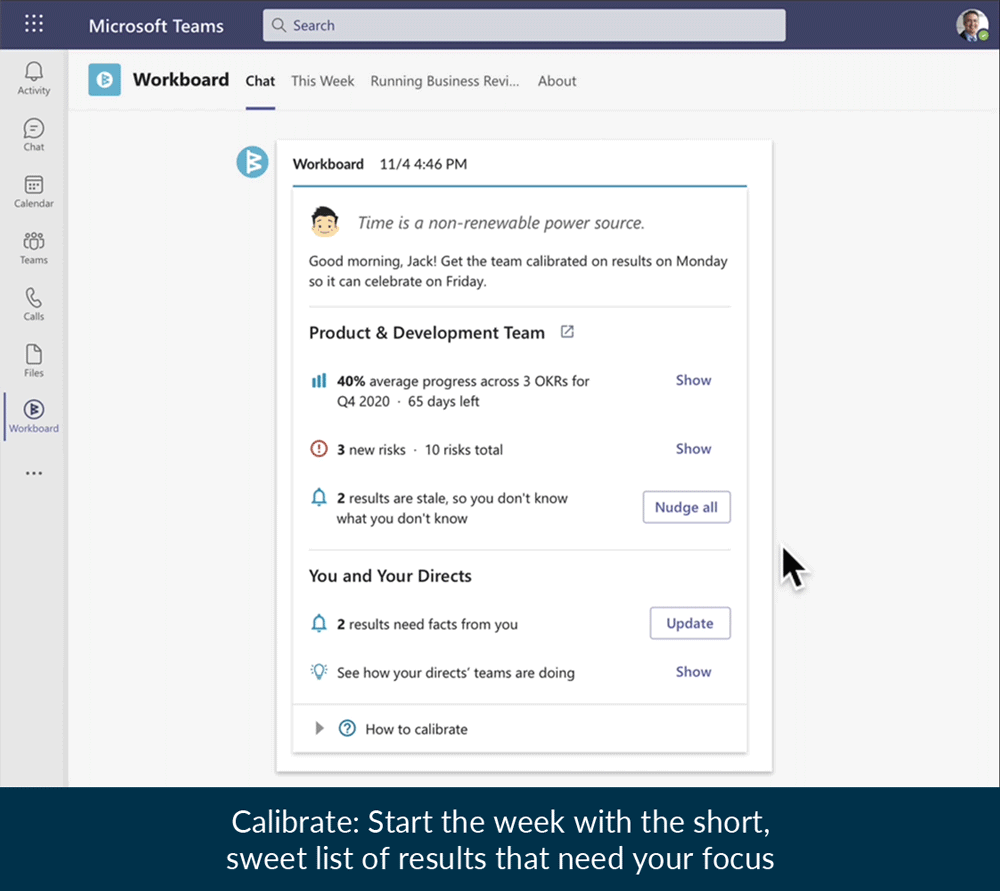 Committed Key Results
Distinguish between best possible and committed targets with a new option in your Key Result setup. With committed key results, your RAG status will follow a more aggressive curve and at the end of the quarter will only be green if you achieve 100% of your target. This is helpful for financial targets, SLAs, or similar targets that you have a commitment to hit.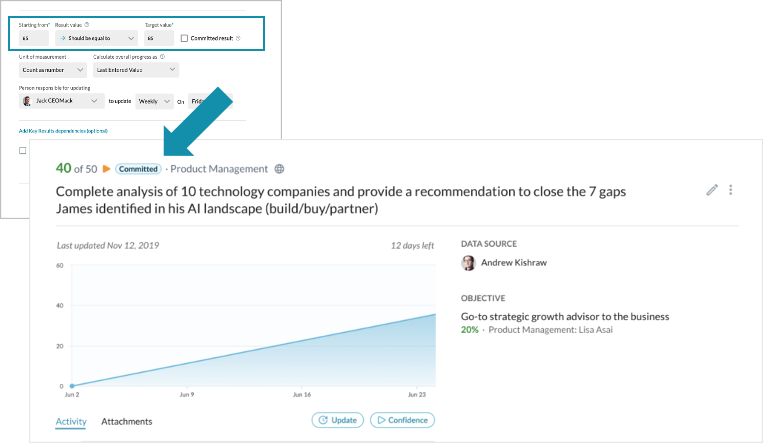 ---
Early March 2021 Release
Key Result Predictions
Key Result Predictions plot your results trajectory over the course of the quarter so you can see where you are likely to land at current course and speed; these simple headlights give you and everyone else intelligence on where you're on pace and where to pick it up.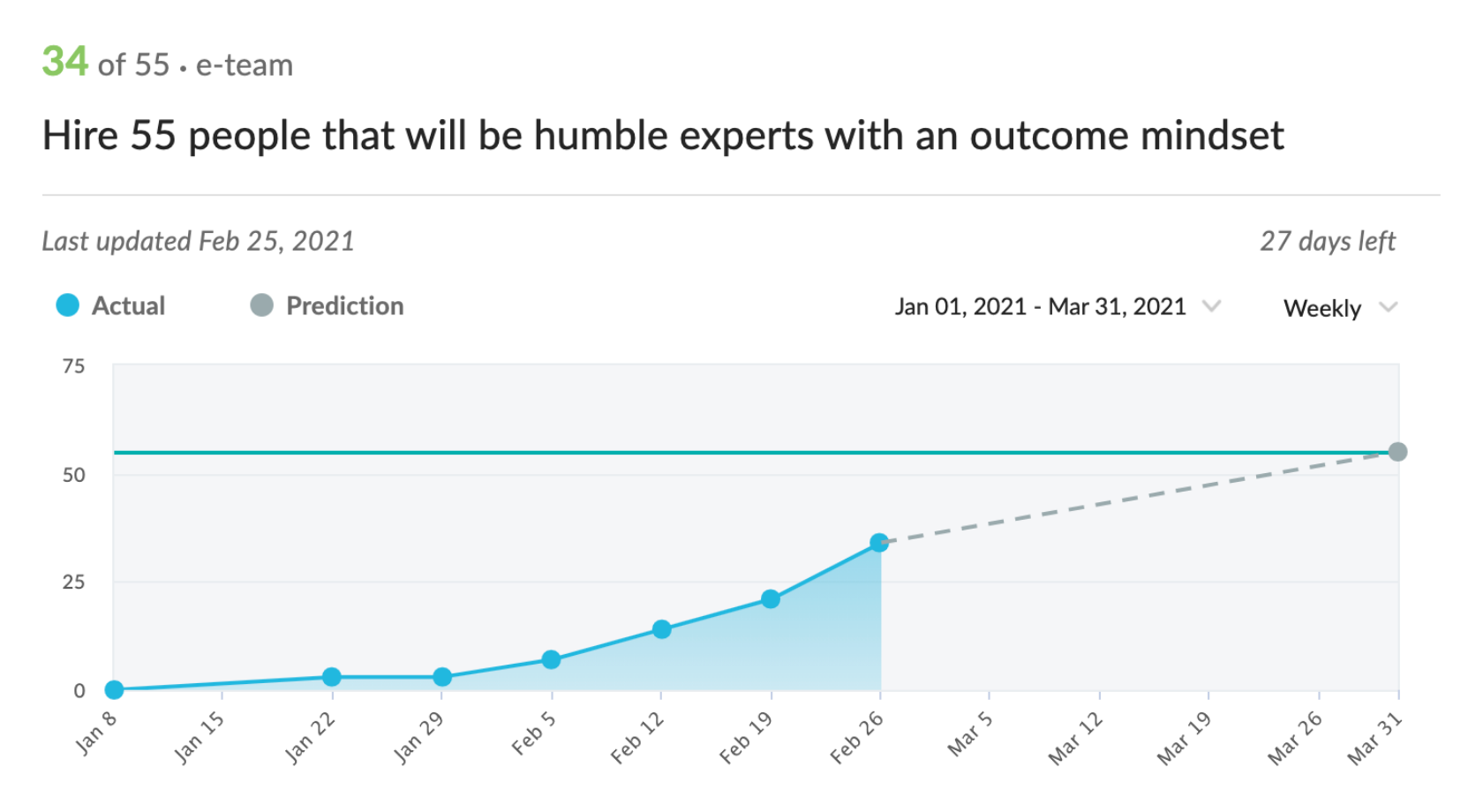 Note: Predictions will be plotted for key results updated by a person with at least two data points, and aren't yet being calculated for other key results.
Results Analytics Enhancements for Team Engagement
Enables senior leaders to use Results Analytics to easily send messages to the top and lowest scoring teams in an organization, teams with 0% progress, and teams with 100% progress to encourage teams to stay focused on their best possible results.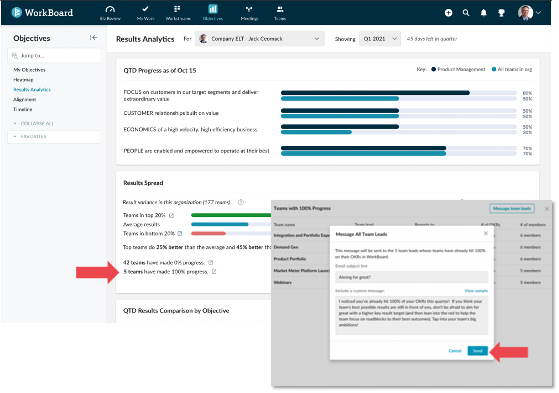 Note: If you do not have Results Analytics enabled for your senior leaders, contact your CSM to get started.
Unification of OKR Filters Across OKR Pages
Filters have now been unified across all OKR pages, including My OKRs, Teams, and the Heatmap page. This means you will now also be able to filter by category in pages beyond the Heatmap.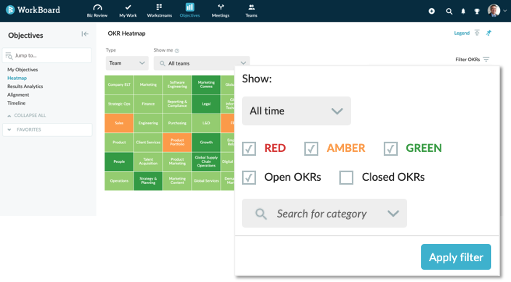 ---
January 2021 Release
Confidence Rating on Key Results
Enable confidence ratings and narratives on key results to take transparency to the next level for everyone in the organization.
WorkBoard's objective RAG colors highlight whether a key result is tracking to plan based on current course and speed, given progress to date and time remaining.
Draw attention to hidden risks or opportunities earlier in the quarter with Confidence Ratings that tap into a more subjective perspective of trajectory to plan based on institutional knowledge of risks and recovery initiatives.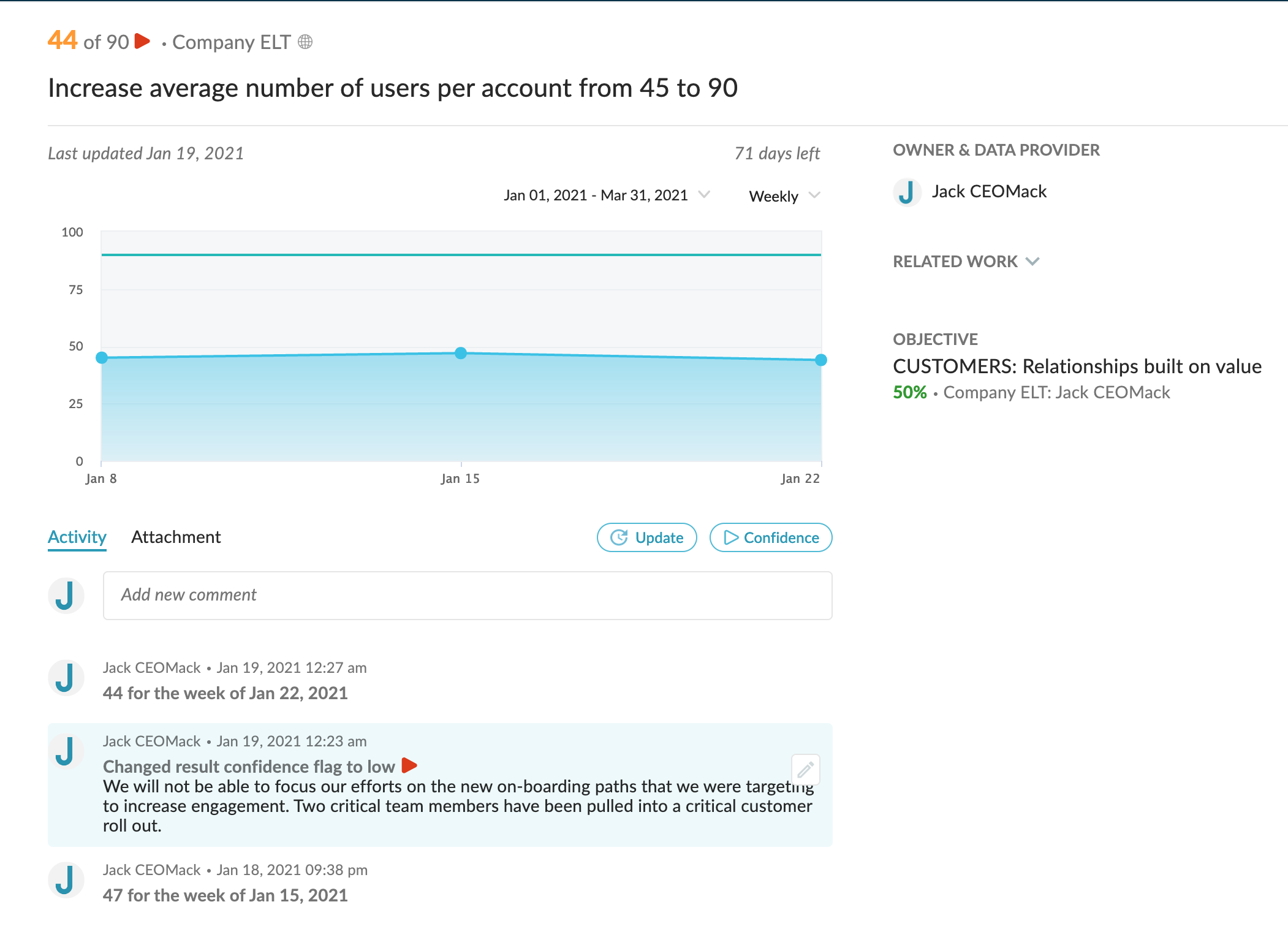 Add more...
Performance improvements for Updating Key Results
API support for Team Archiving
Accessibility enhancements for Login paths, Top Navigation and My OKRs page
---
October 2020 Release
Add key results to meetings or 1on1s from anywhere
Add results to your meeting agendas on the fly, right from the My OKRs, Team OKRs, or Heatmap views, or from the results details page kebob.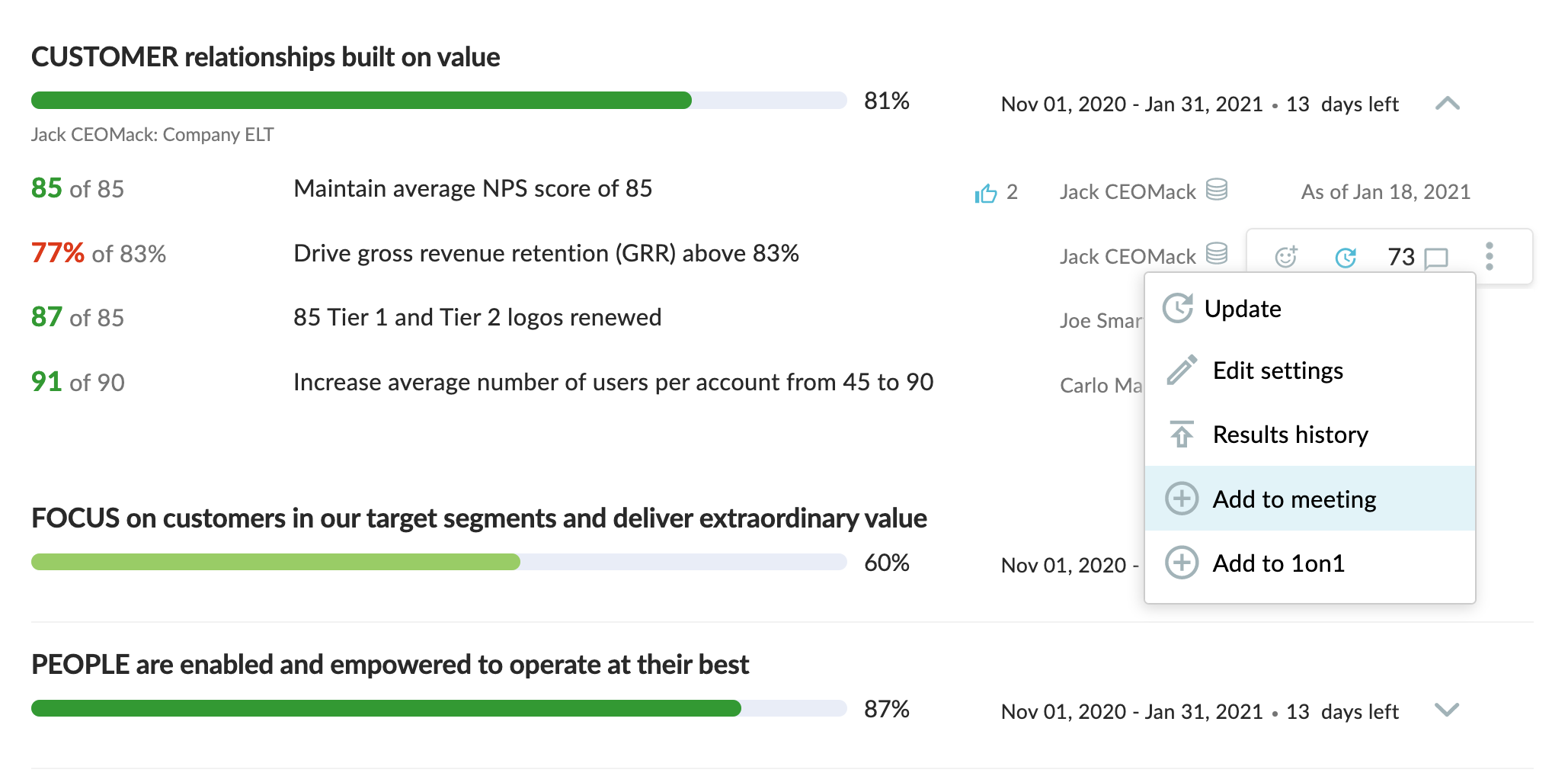 Sort and share team OKRs in a preferred order
Sort team OKRs to communicate priority or keep related objectives in order for everyone who is viewing the Team's Objectives!
Team managers, co-managers and admins can drag and drop the team's OKRs into a preferred order – that order will be saved and displayed on the Team OKRs pages, Heatmap, and Alignment view for everyone else in the organization.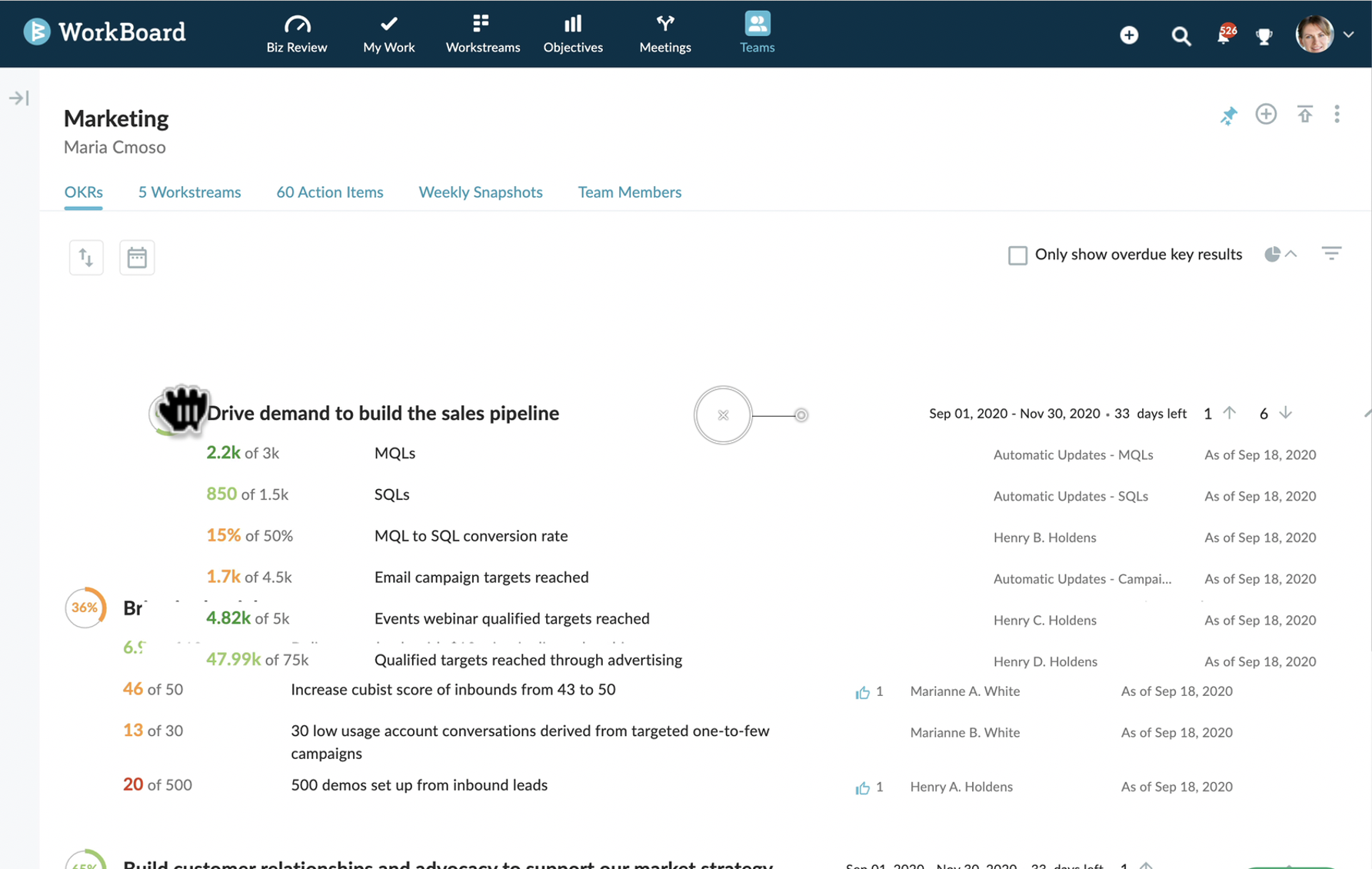 ---
September 2020 Release
Our September 2020 release is packed with cool new capabilities that make it easier to connect execution to results and drive greater accountability.
Watch the replay of our August Community Call, where we previewed the features in this release.
Boost transparency by linking results to related work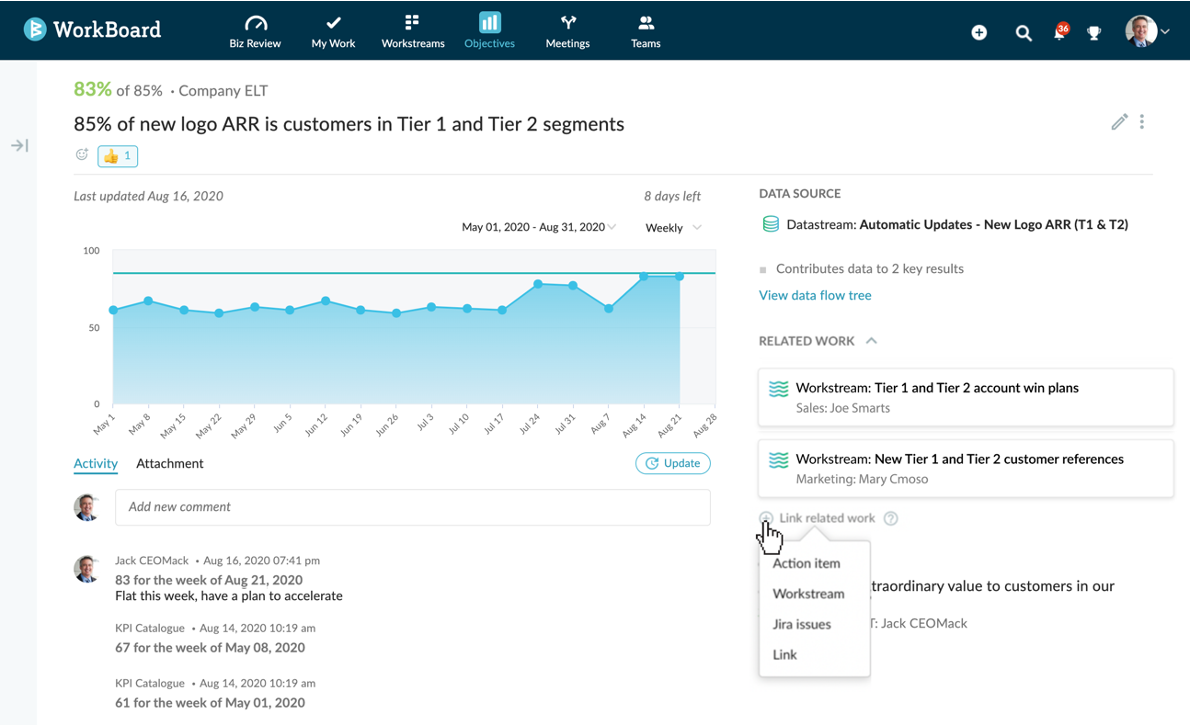 It can be challenging to bridge the gap between strategy and execution. How can you best increase the visibility of the work that drives progress on your key results, especially when that progress is not being automatically calculated from the completion of work? In our latest release, team managers and comanagers can link directly from key results to the related workstreams, Jira issues, action items or other links that are driving result outcomes.
Streamline results management by archiving defunct teams or working groups
OKRs accelerate alignment and results by making it easier to align cross-functional working groups with corporate objectives. Yet dynamic teaming can clutter your results tracking after those groups disband and reform on other projects. In our September release, you can now archive teams after projects complete. Archiving keeps historic results and activities available for future reference while also clearing older projects from your current workspace.
Assign Key results owners for easier accountability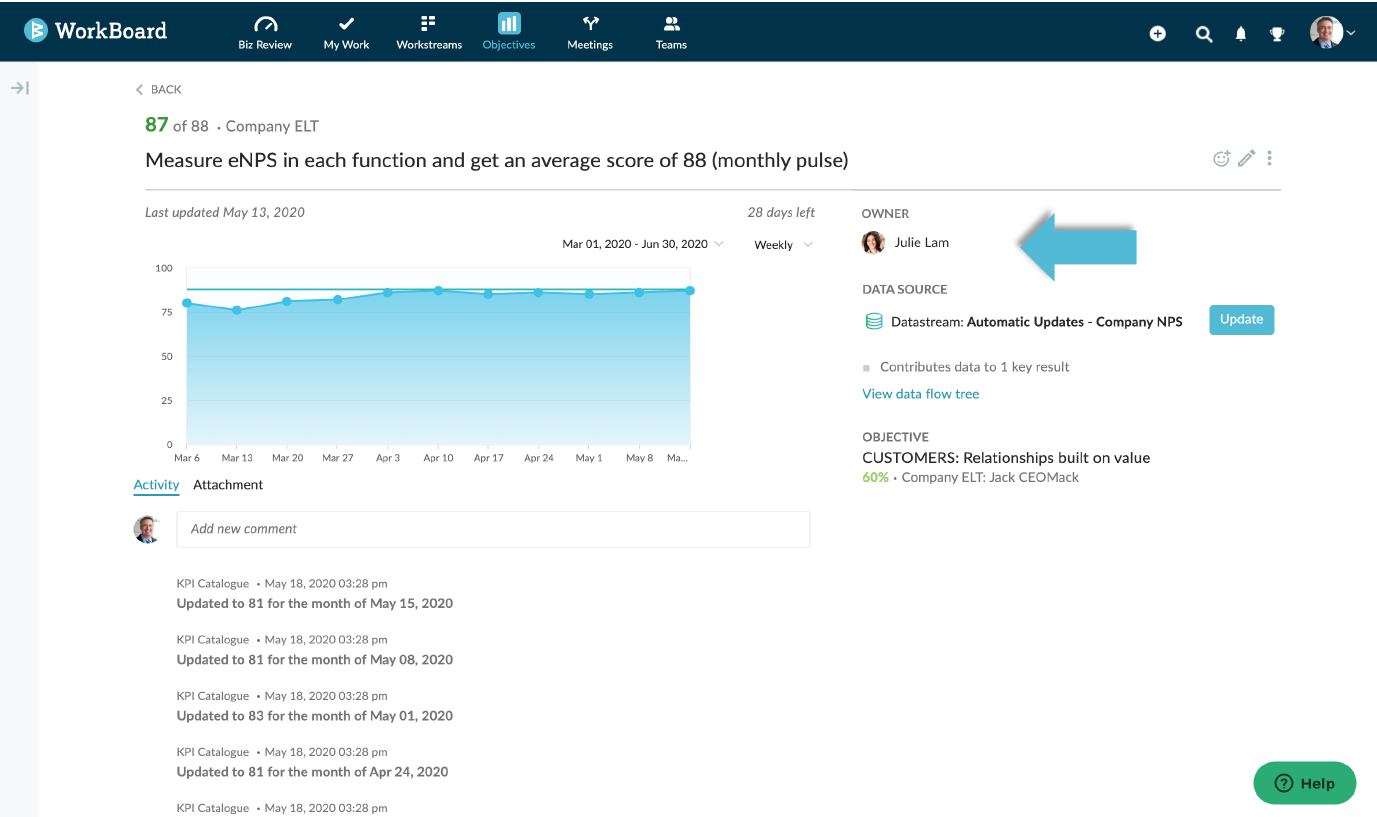 Make accountability easier for the team's shared outcomes. Identify result owners even where the data source may be workstreams, other results, external business systems, or even other team members closer to the data. Owners will be visible on KR list views, business reviews, and the KR details page. Learn more about key result owners. (Work with your organization's OKR coaches and project team to decide how and when to take advantage of this capability.)
On demand refresh of integrated key results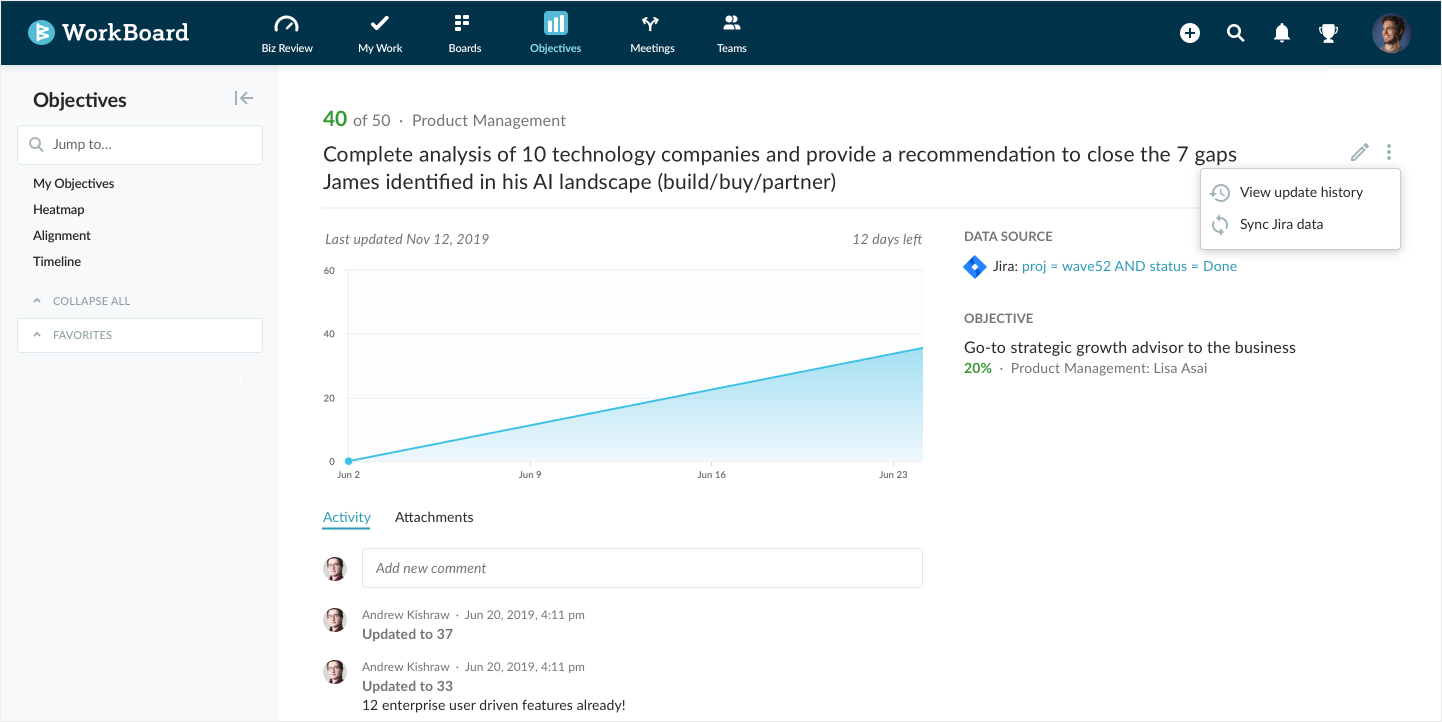 Sync integrated results on demand from key result pages to refresh the data on demand for key results integrated from Jira Cloud, Azure DevOps, MS Planner and Asana. WorkBoard will still run scheduled nightly syncs for all integrated key results.
Export OKRs to Excel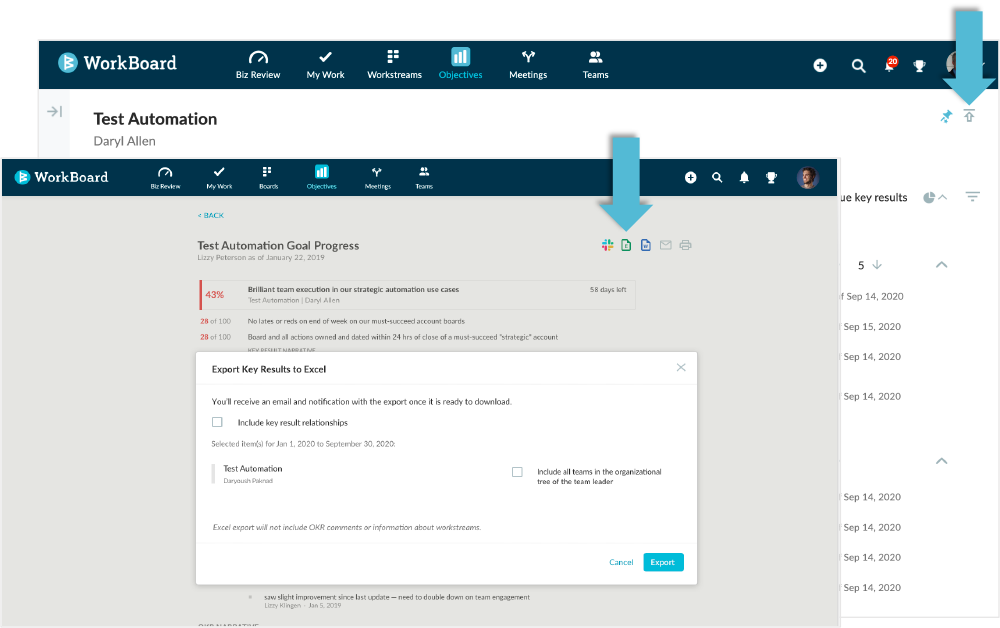 Export OKRs to Excel for one or more teams for further analysis or audits. Use the option to export OKRs of all teams under a leader for an export of localized OKRs in a specific part of the organization. (Work with your organization's OKR coaches and project team to decide how and when to take advantage of this capability.)
See visibility restrictions on Key Results
Quickly see if a Key Result has visibility permissions restrictions, and understand who else it is shared with.
Result ownership highlighted on OKR exports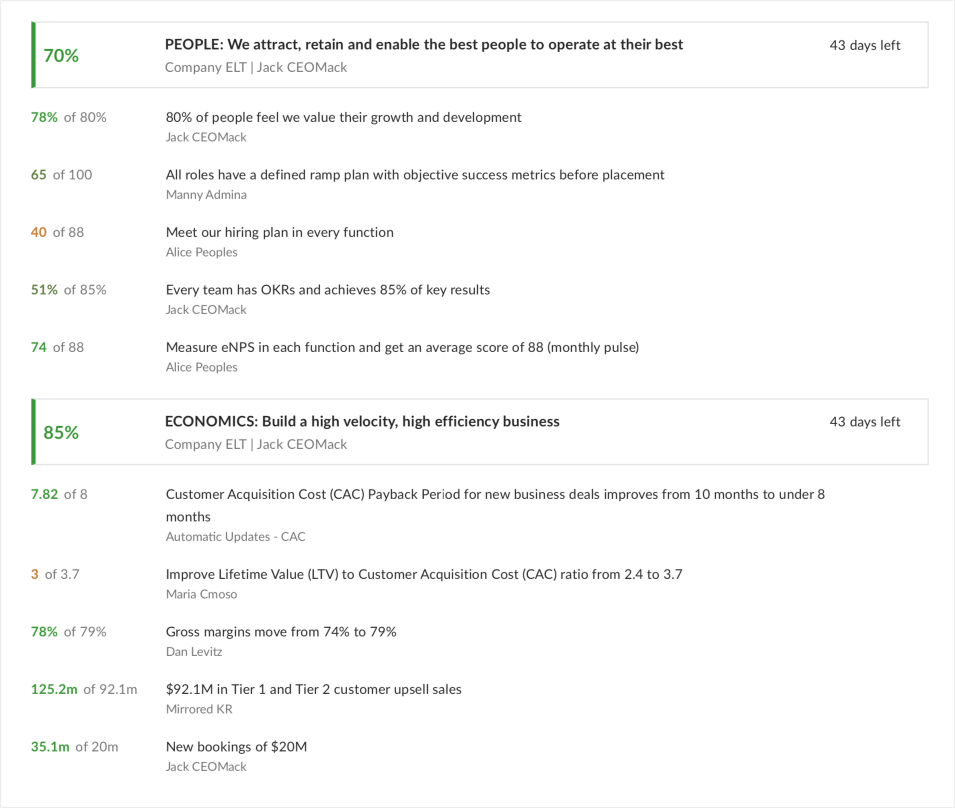 OKR publish views to Print, Email and Word will all include details of key results owners.
And more...
Key Result update notifications will now include achieved value against target
Quarter and Fiscal Year will now show on OKR views
Performance and usability improvements
---
July 2020 Release
Our July 2020 release is packed with cool new capabilities that make it easier to use your meeting time effectively to share and drive results.
Watch the replay of our June Community Call, where we previewed the features in this upcoming release, as well as additional capabilities coming over the summer.
Include narrative on Biz Review charts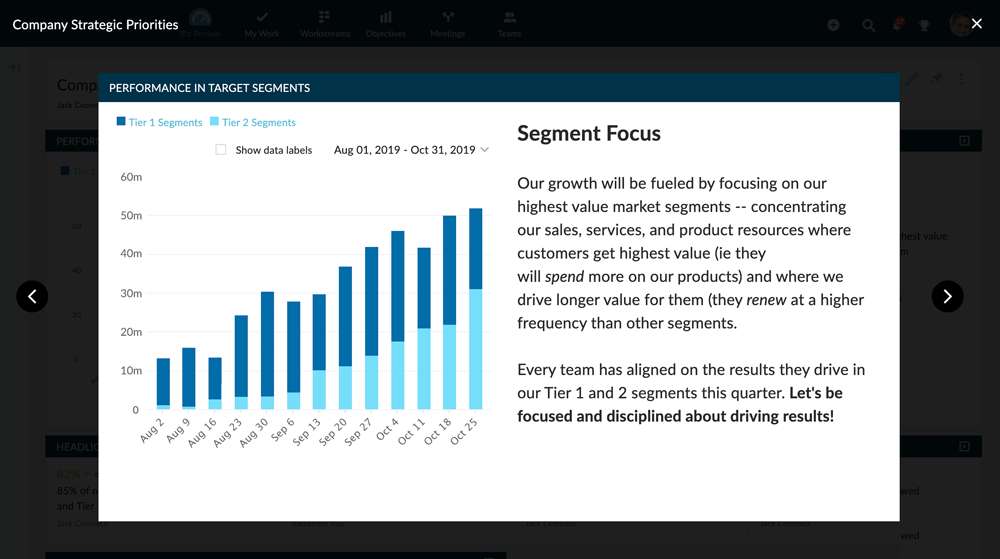 Tell your results story in your next meeting by presenting your biz review charts alongside a narrative or bullet list.
Template and copy Biz Reviews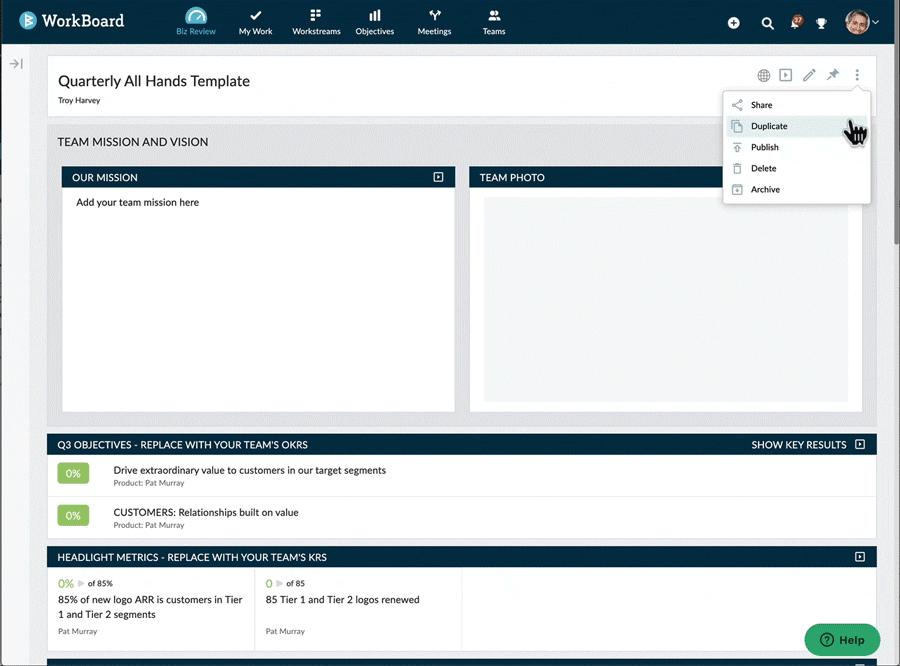 Save time by copying existing business reviews and modifying them as needed. Drive uniform operational processes with Biz Review templates that can be duplicated and utilized by other teams in your org.
Click into item details from Biz Review slideshows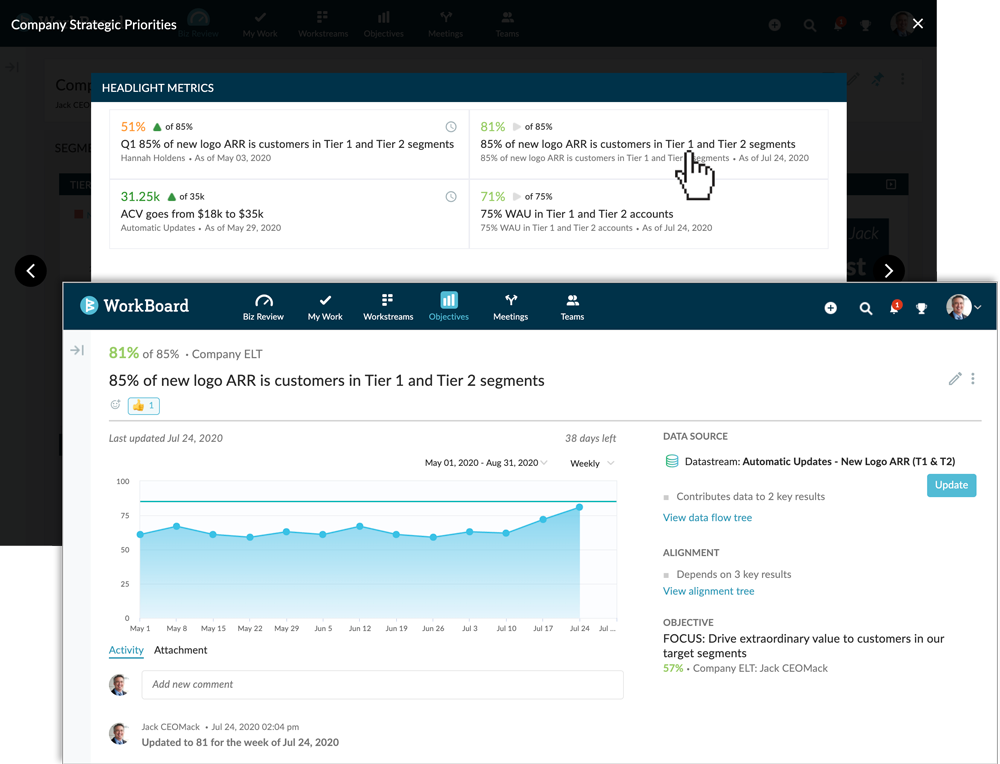 Drill down to the relevant details during your next meeting. Click directly into OKR, workstream, or action item details without disrupting your Biz Review slideshow.
Format meeting topics and takeaways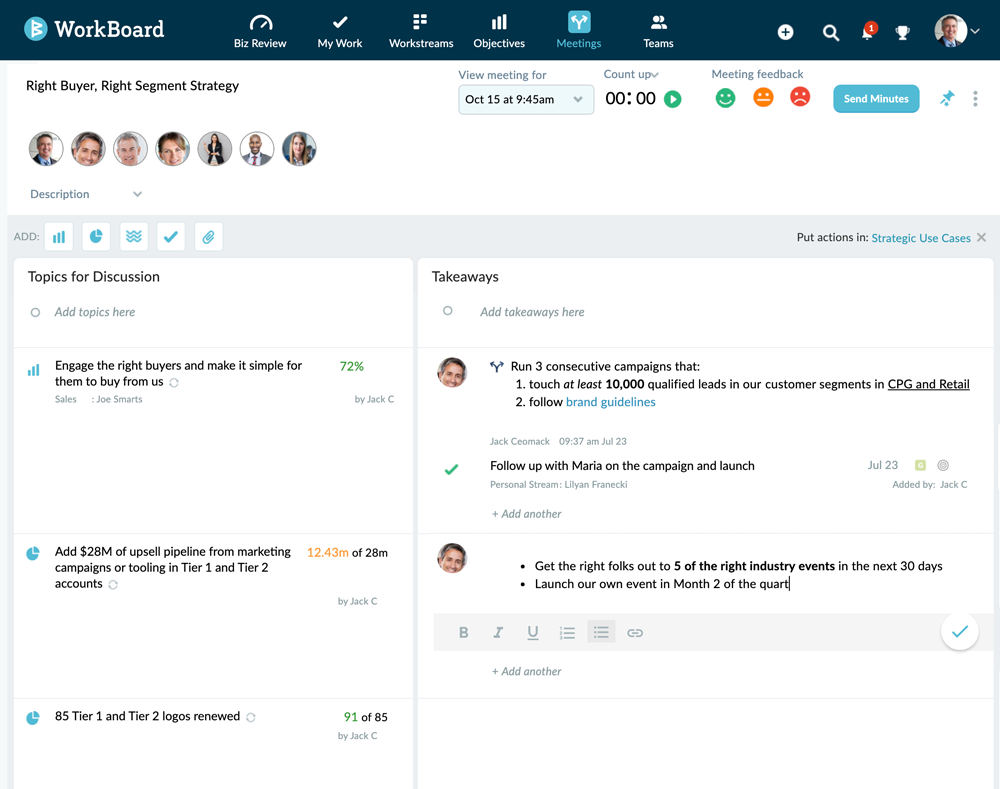 Use numbered lists, bullets, or bold text to make your meeting takeaways easier to scan and absorb. Combine with smart bullets for maximum readability!
---
June 2020 Release
Faster loading Biz Reviews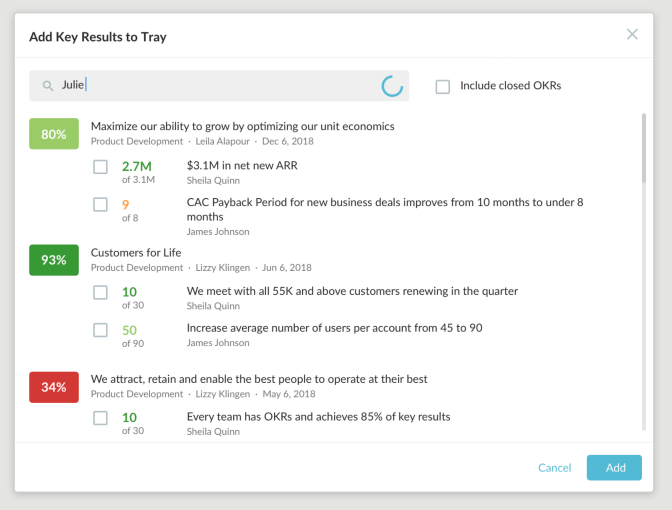 We've improved page load times for your biz reviews, and improved search and relevant content suggestions as you add objectives, results, and other items to your dashboards.
Simpler user administration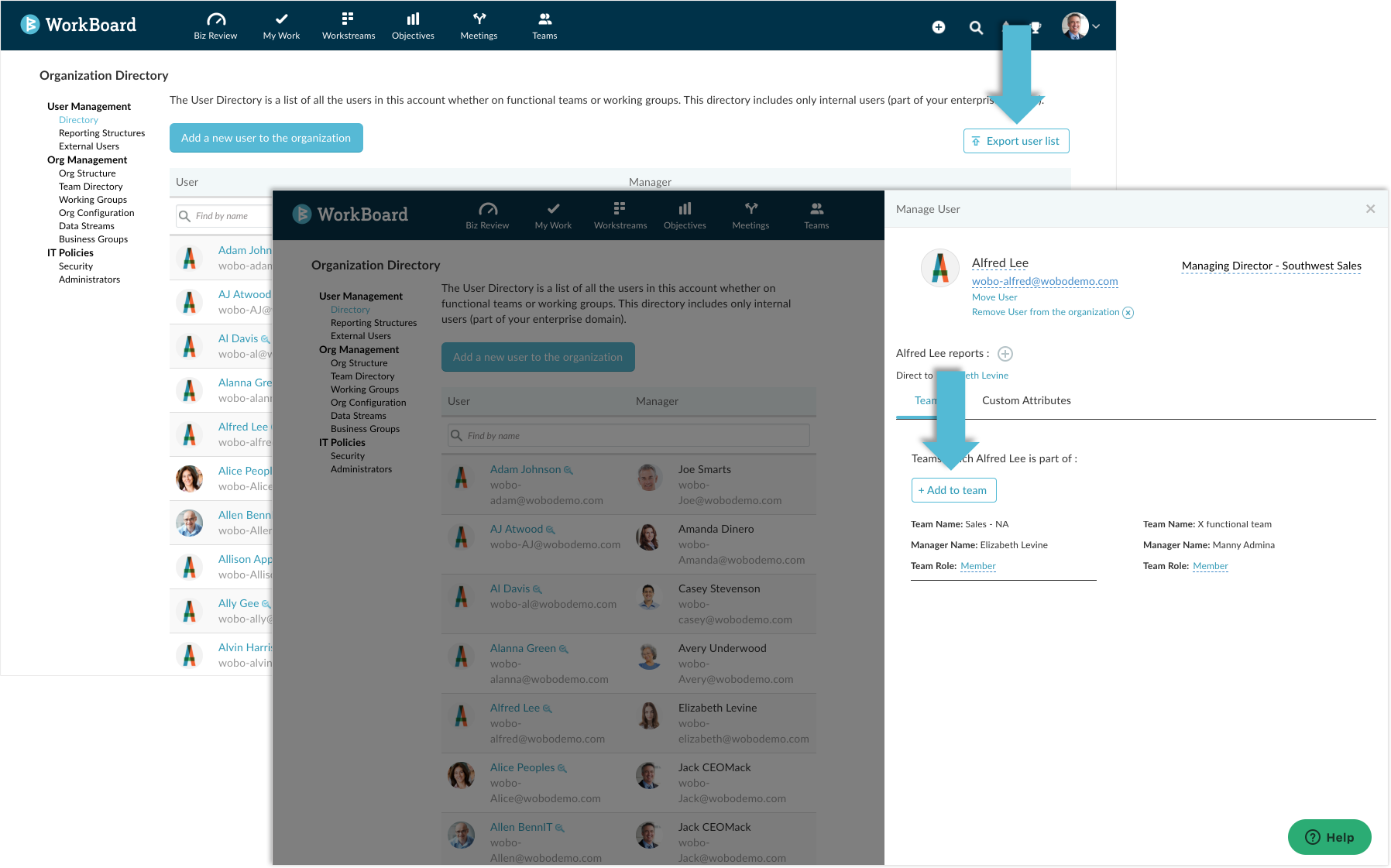 For org admins: export a list of provisioned users to Excel. Edit a user's name and team memberships from the user's profile page in the administrator tools.
---
March 2020 Release
This month's release includes several cool new capabilities that your team and others requested, as well as enhancements to make it easier to get to the data you need. Download the release notes, and watch the replay of our March Community Call, where we previewed the features in this upcoming release.
Full flexibility to sort, size, and customize Biz Review trays
Resize your charts, images, and iFrames to be half- or full-width to tell the story your dashboard needs to tell. Move your OKRs and hotbox to the top, or add a narrative section next to your charts.
OKR alignment tree reflects team names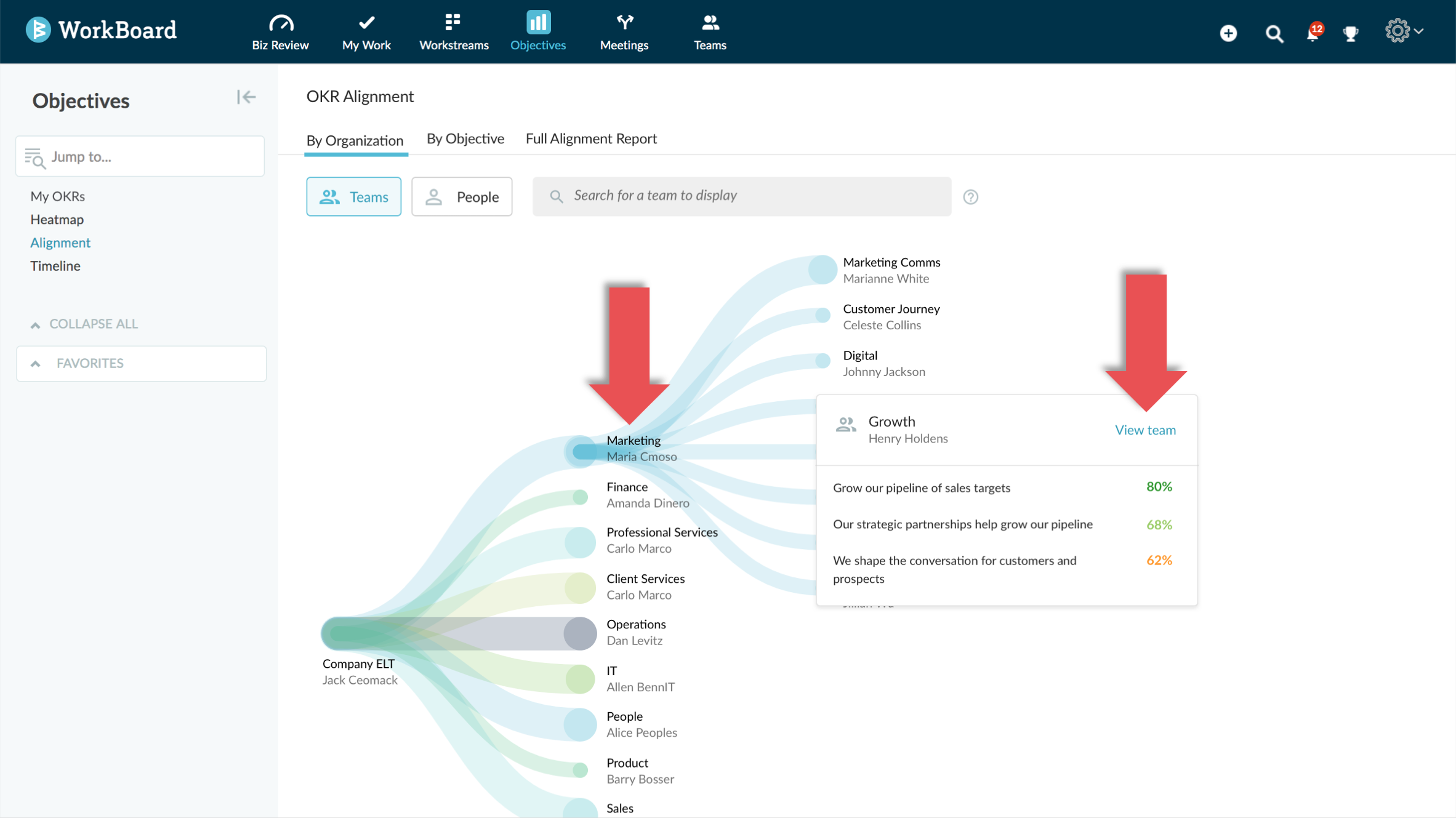 Explore alignment by teams, and jump to a team's OKR report right from the alignment tree.
Aggregate OKR progress on company objectives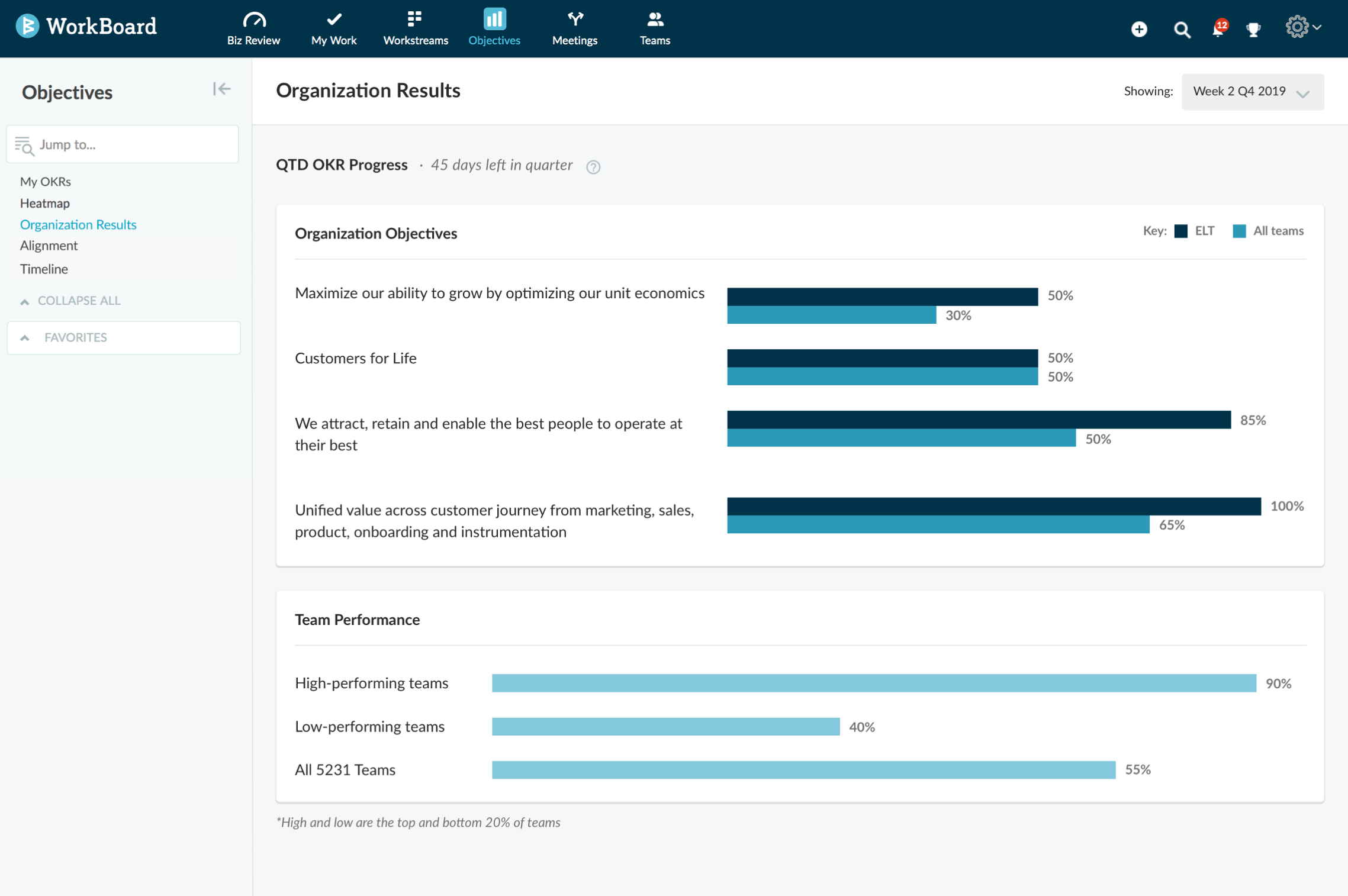 See overall progress for the quarter to date on top-level objectives and aggregate progress of all aligned objectives, as well as the high/low results spectrum compared to the average.
Quick actions & reactions on key results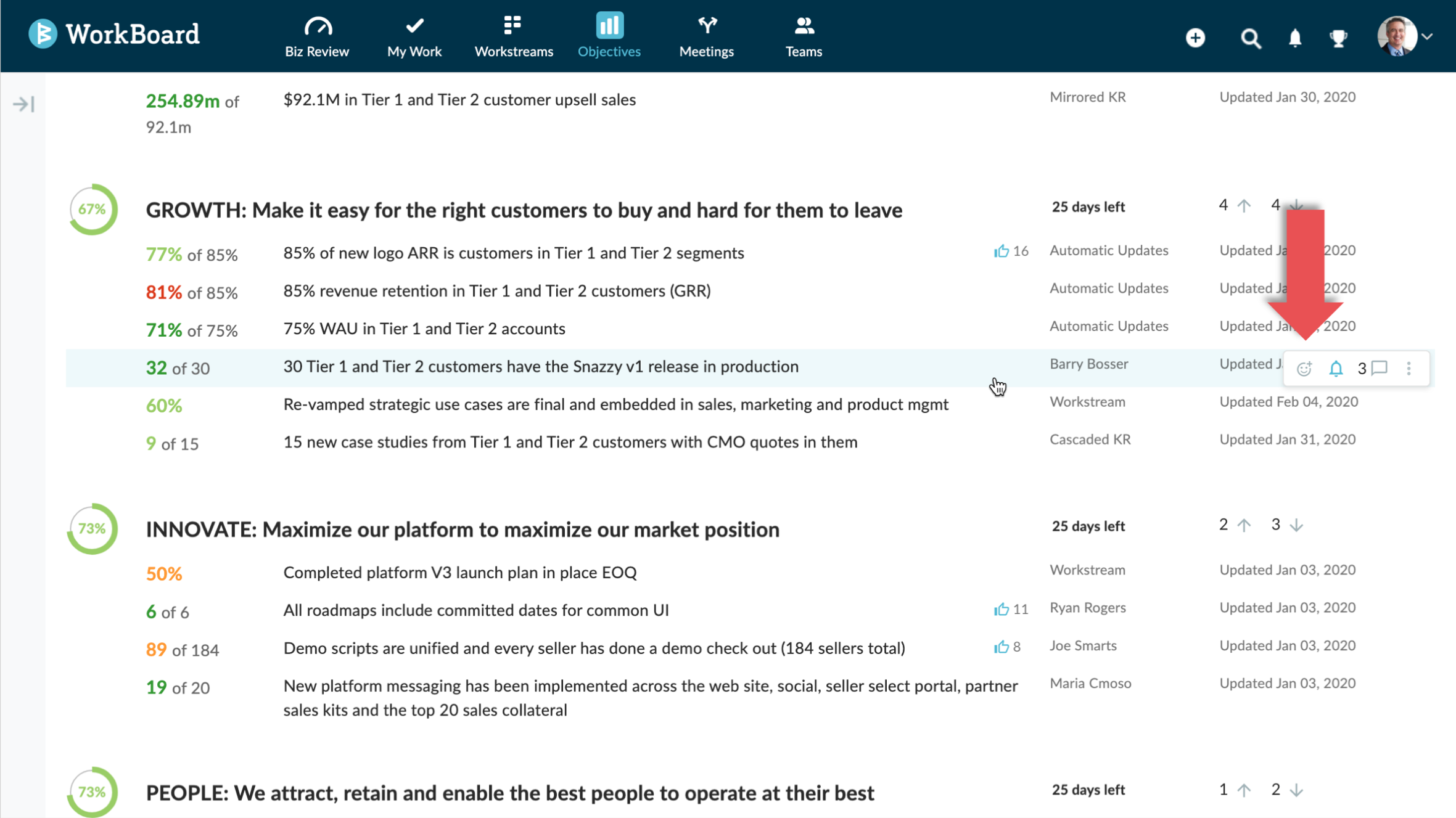 Update data for results you own, add emoji reactions, ping for updates, or join the conversation right from any OKR list view.
Quick access to two-level OKR view & QoQ report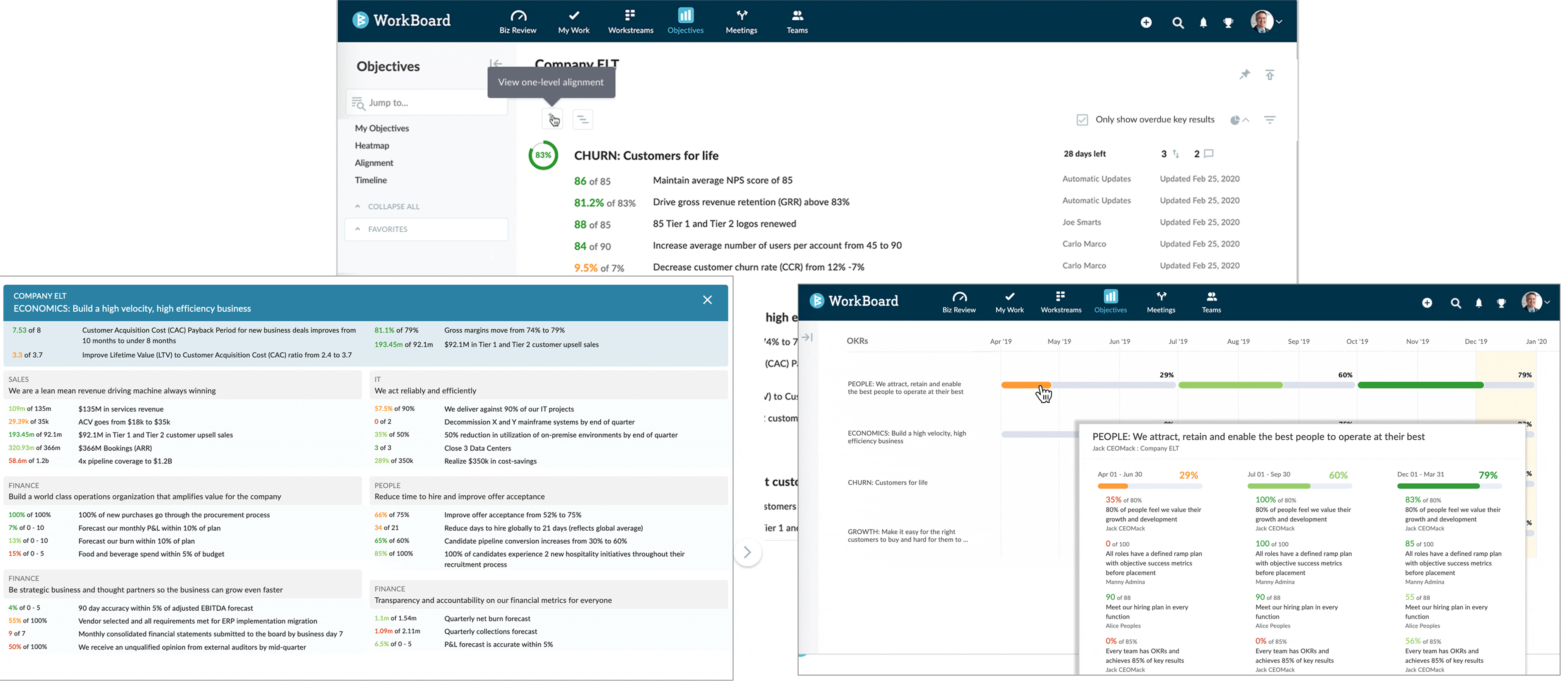 Use quick links to easily access the Two-level OKR view and Quarter-over-Quarter OKR Timeline.
Tune your OKR pages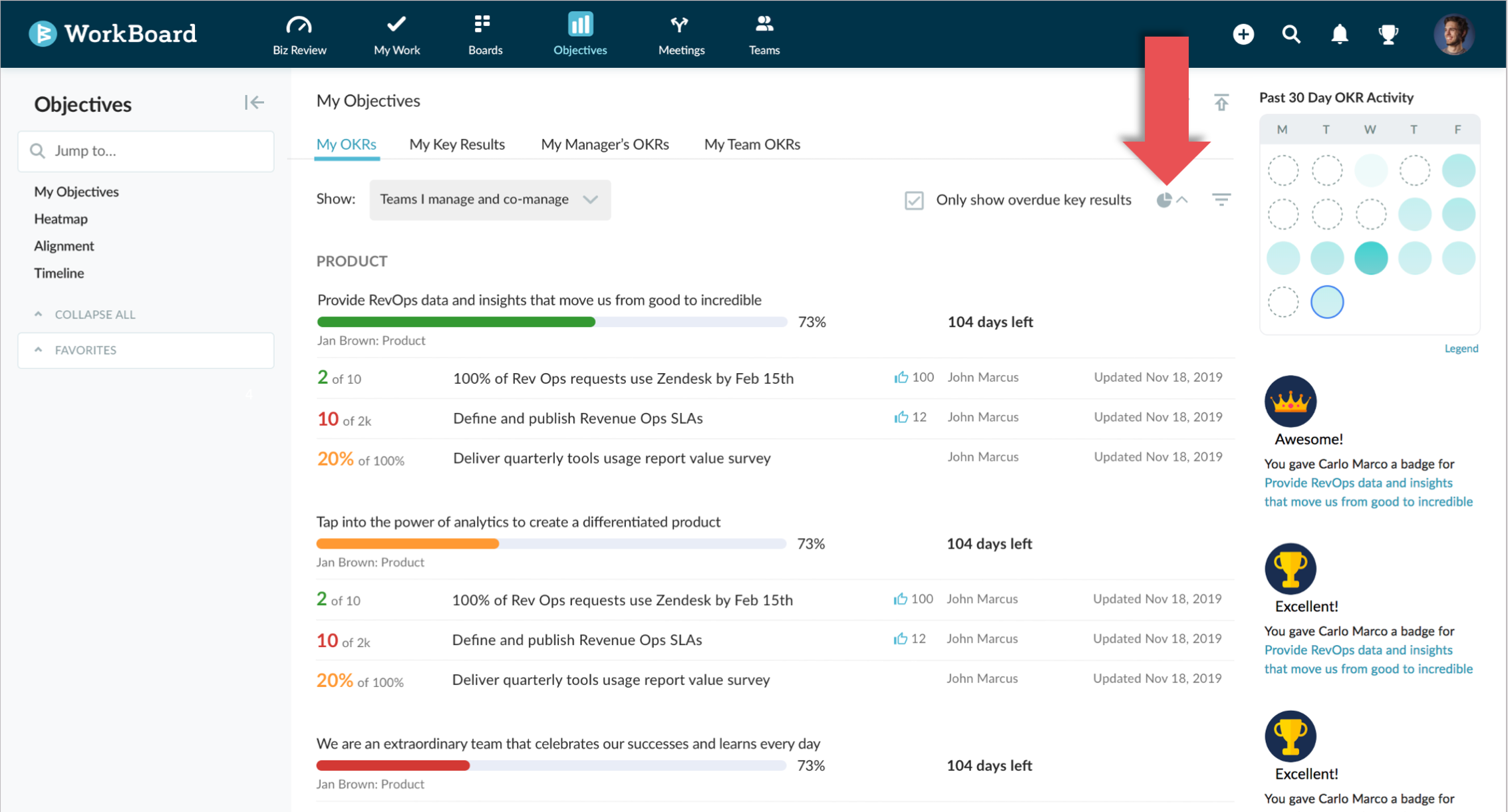 Toggle to hide or show results, or filter to show only past-due results.
New Page with "My Key Results"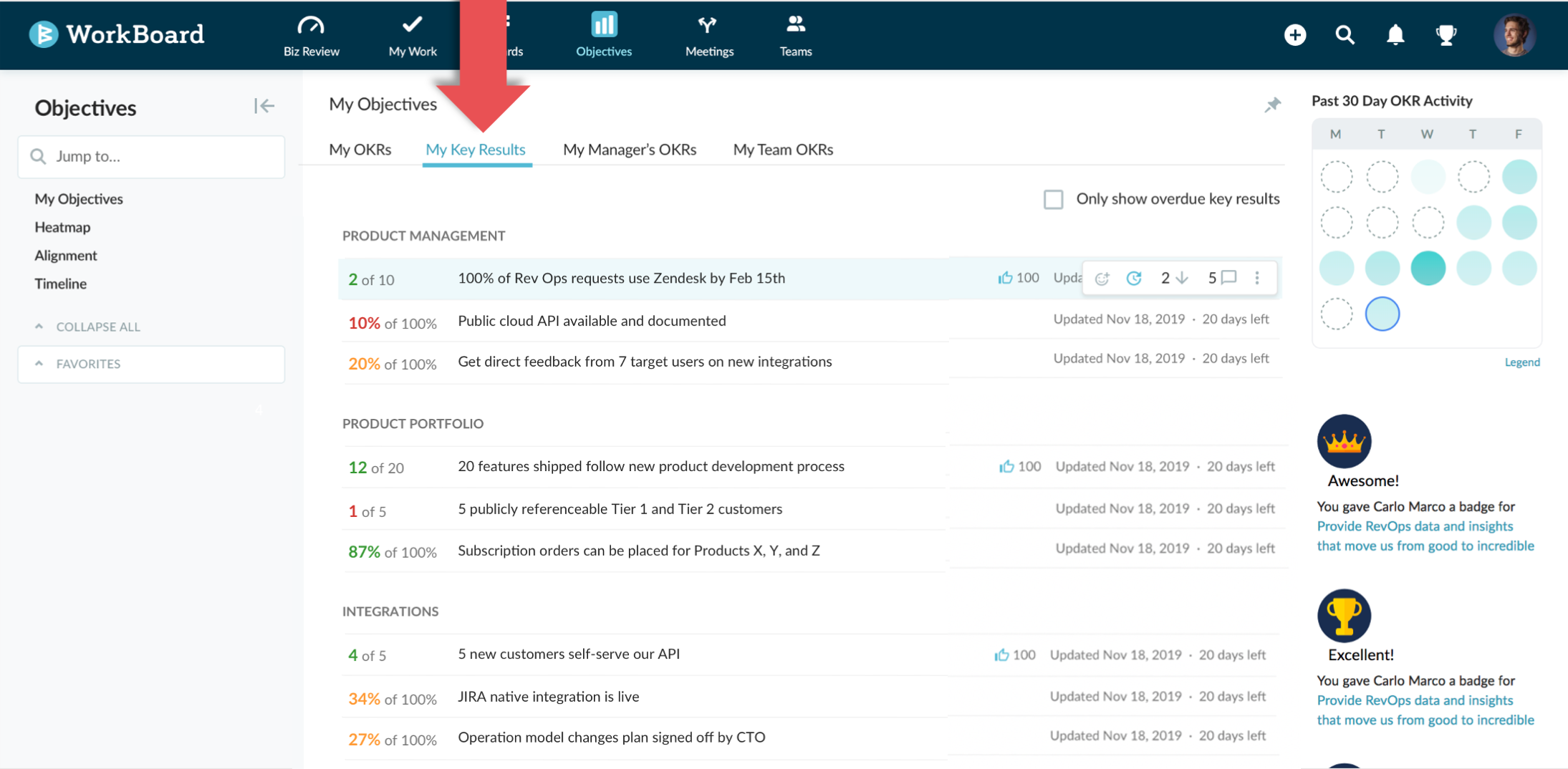 We've cleaned up the view of your key results, grouped by the teams they contribute to.
Quick link to see all KRs owned by an individual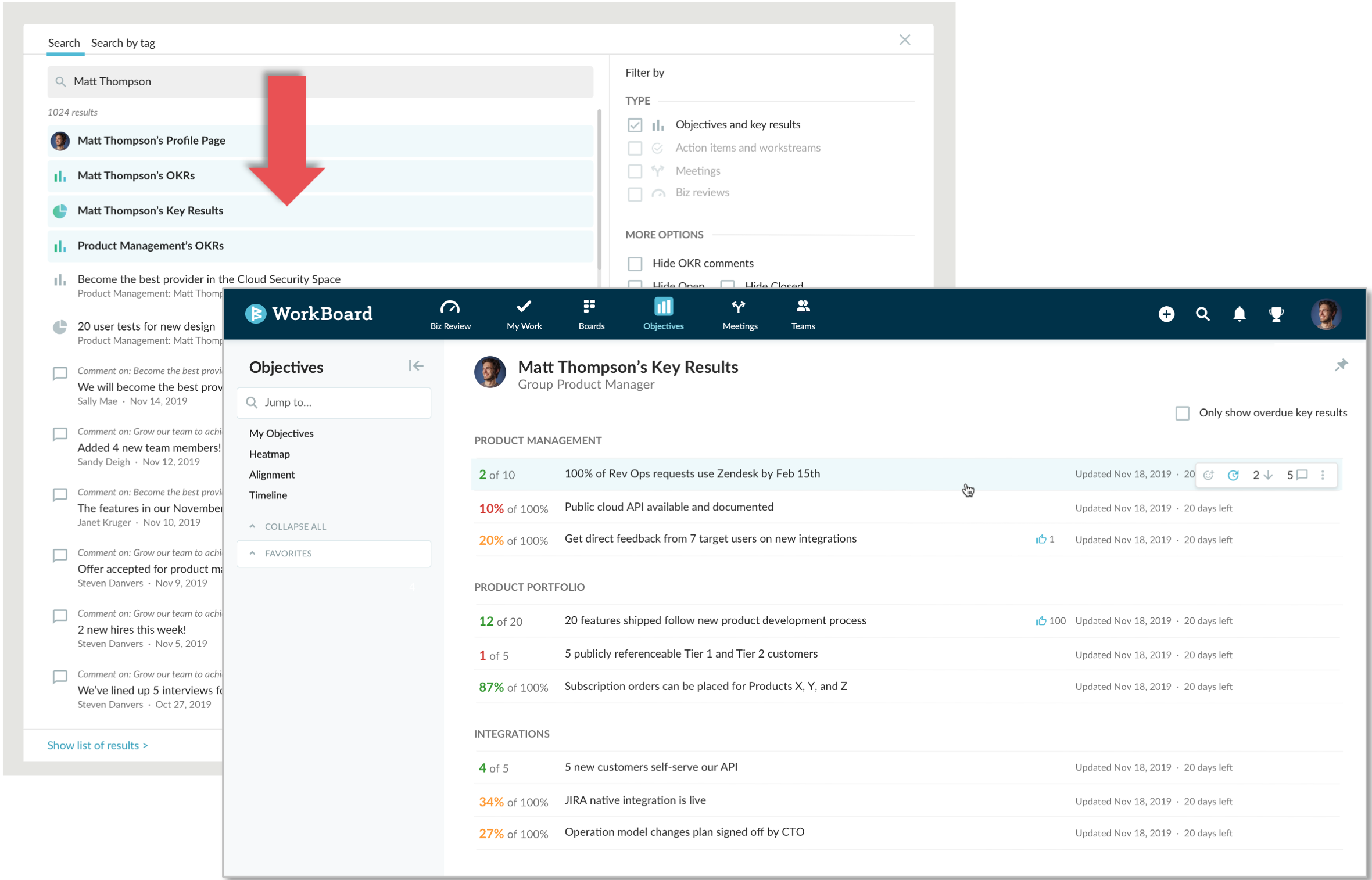 See how someone is driving results across functional and cross functional teams; add comments, cheer on results, or ping for updates from the same view.
Manager view of OKRs and KRs for their directs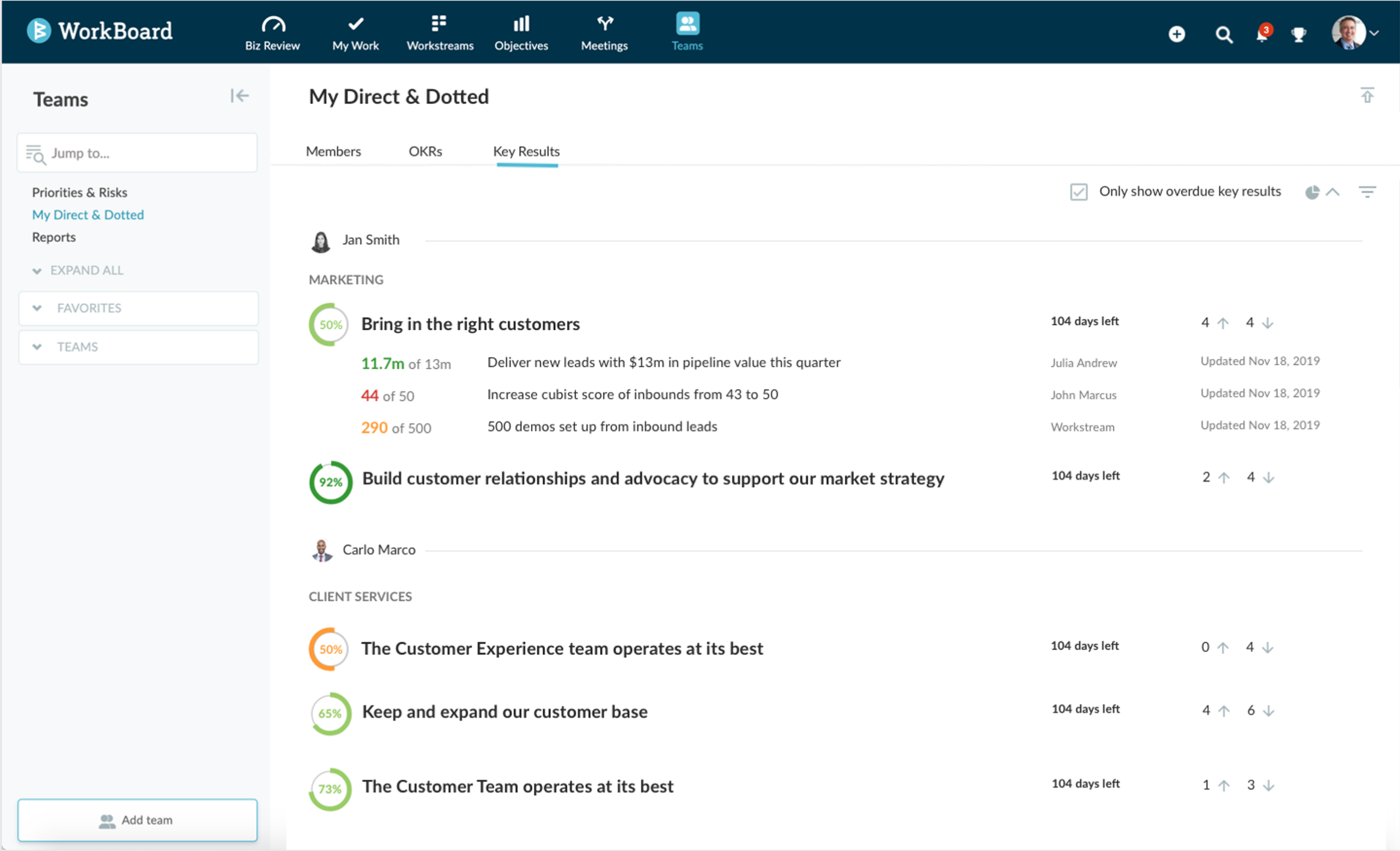 See all the OKRs that belong to your direct and dotted line reports in a single view -- quickly spot and address risks or filter to results that are past due.
Reminders to close and reset OKRs
Team managers and co-managers can close and reset or archive OKRs that are past their end dates with one click.
---
Jira Plugin Update - March 2020
We've updated our Jira plugin to make it easier to see how key results are tied to work in Jira.
See key results connected to work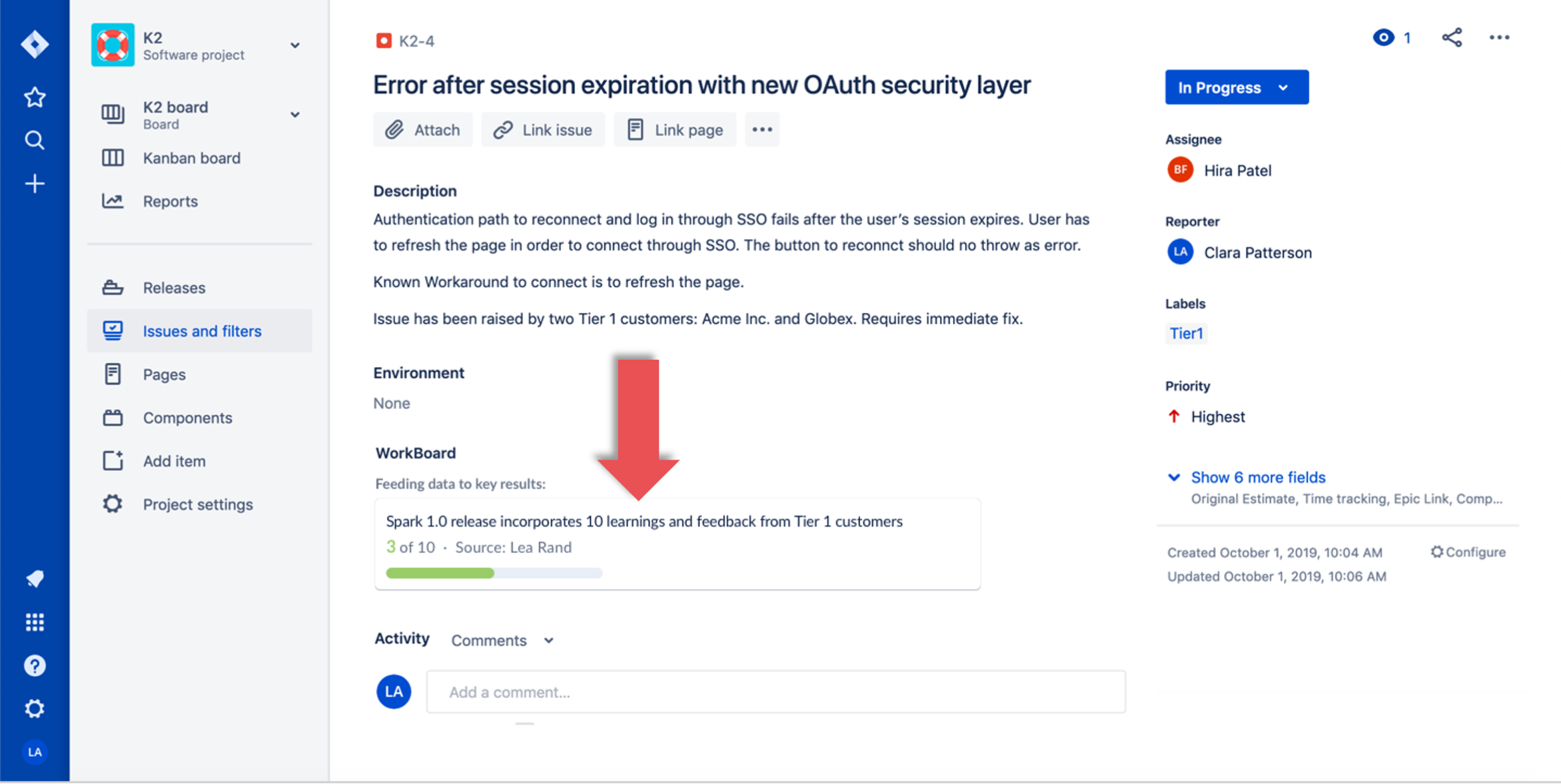 Jira issues will display key results they are contributing to, so the team working on issues in Jira can see how their work is moving the needle on strategic priorities!
Search for work in Jira driving Key Result progress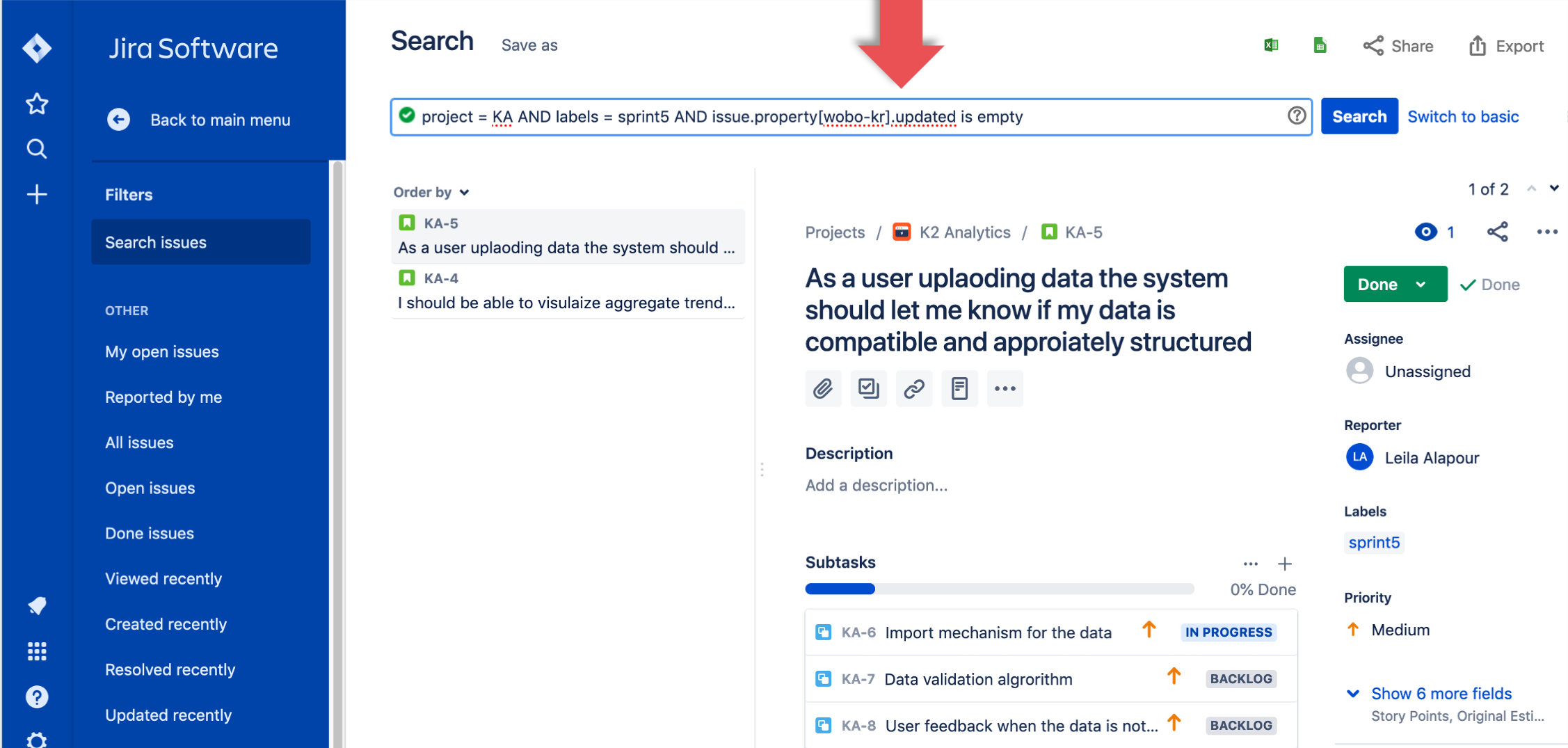 Issues contributing to key results can be queried through JQL, making it possible to quickly search for issues that are contributing to strategic priorities.
---
January 2020 Release
Sharper Team OKRs Report
We've spruced up the design of your Team OKRs pages to make them easier to read and project. Click on any key result to get to its specific details fast!
New Key Results Detail Page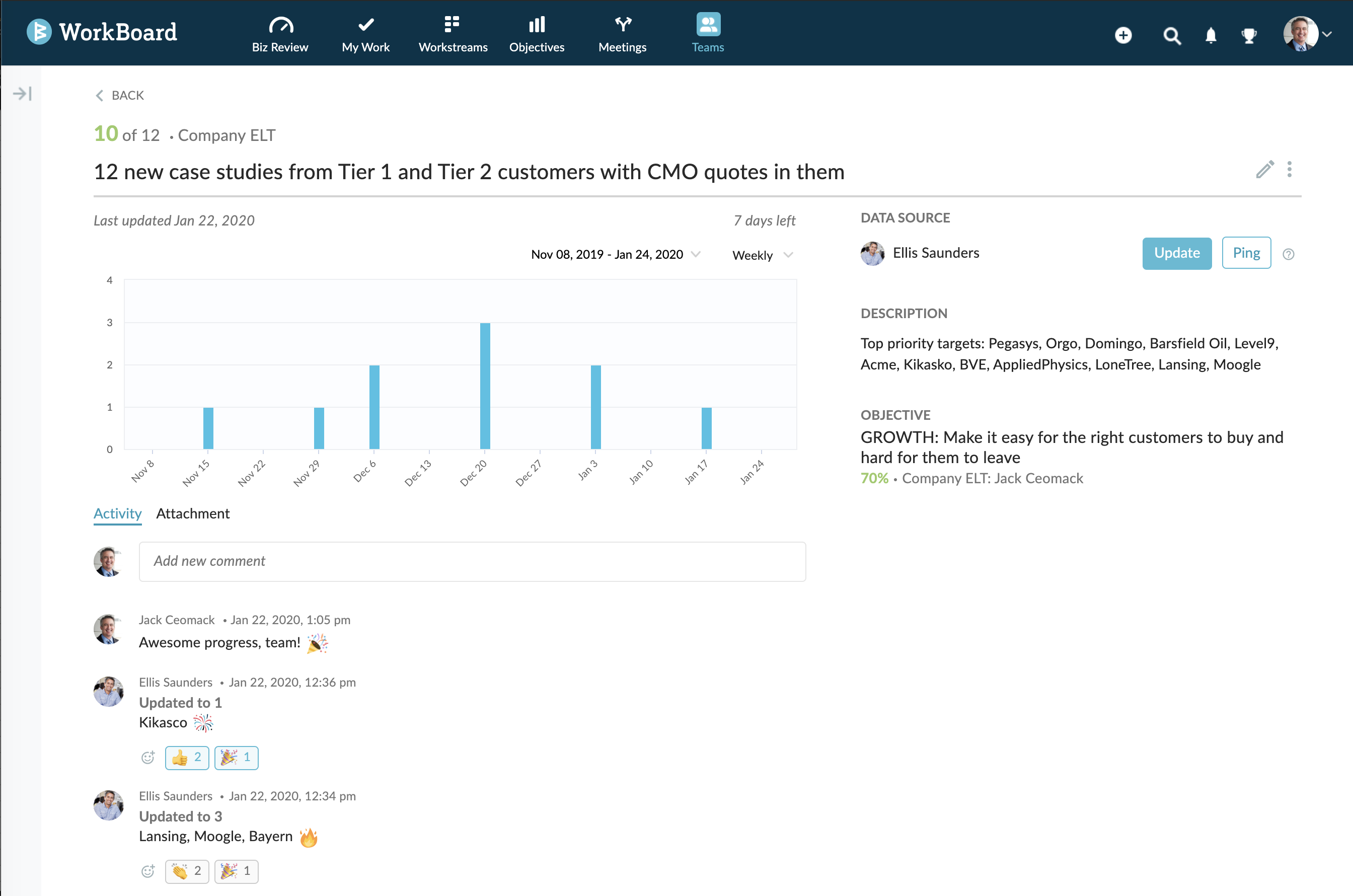 Get all the details about an individual key result in one convenient view, including progress, comments, data source details, and more.
Cheer Progress with Reaction Emoji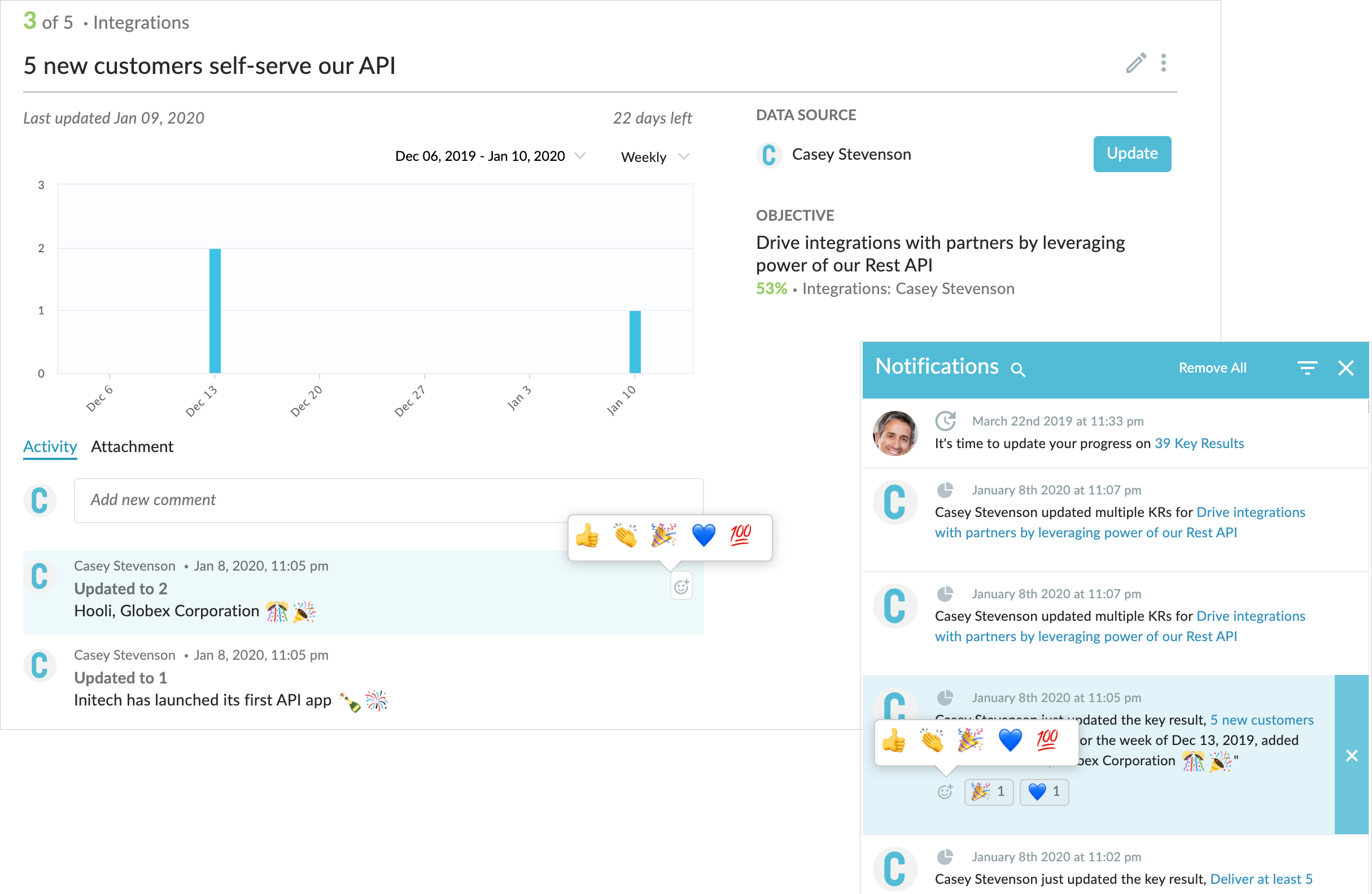 Add fun reaction emoji each time a team member updates a key result. Reactions can be added on the key result detail page or directly from your notifications window. You'll get notified each time someone adds a reaction to one of your updates, via in-app notification and by email.
Enrich Results Knowledge & Detail with Files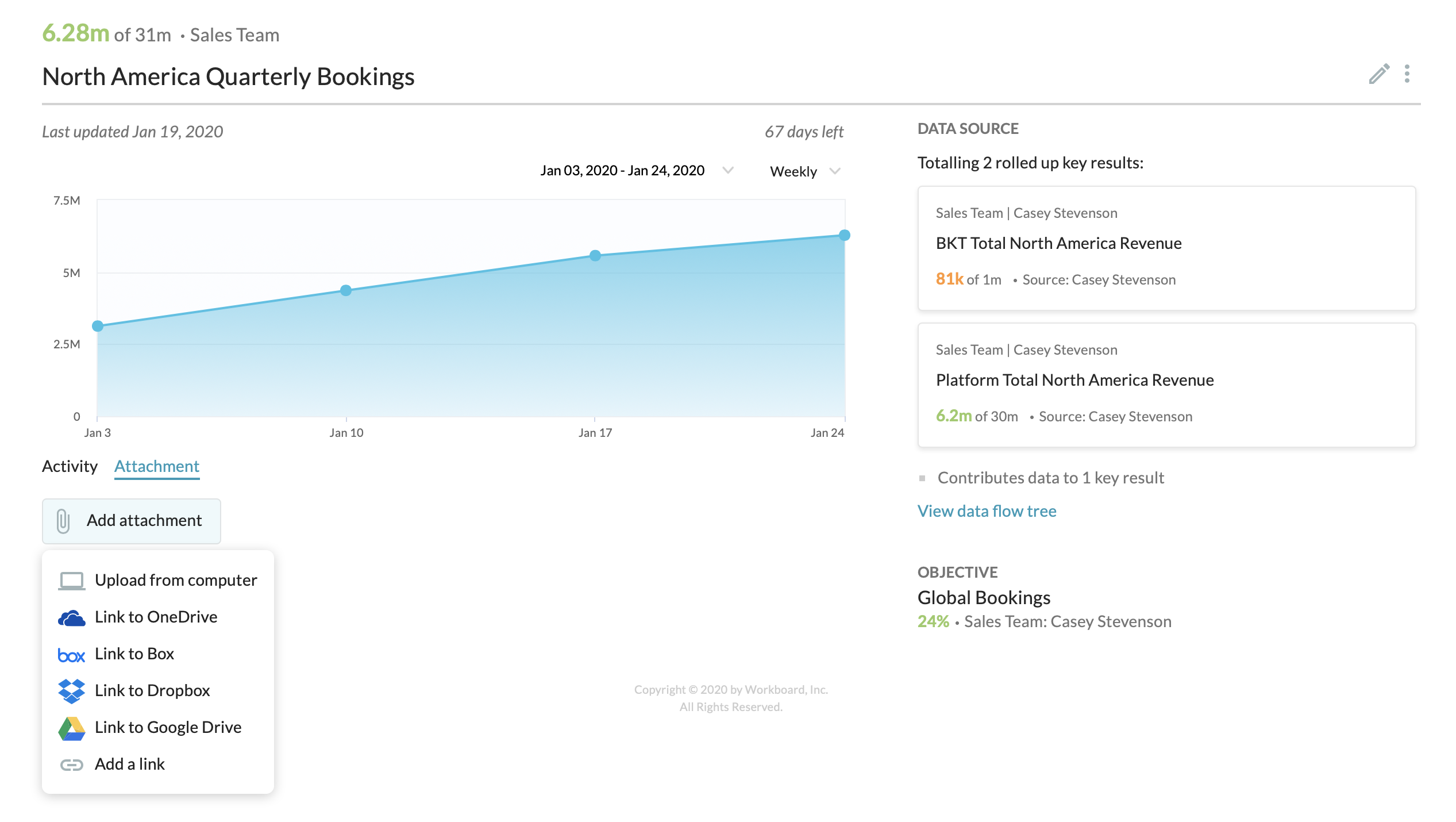 Add documents and images to support a result. Upload from your computer or link to OneDrive, Box, Dropbox or Google Drive.
See the Sources for a Key Result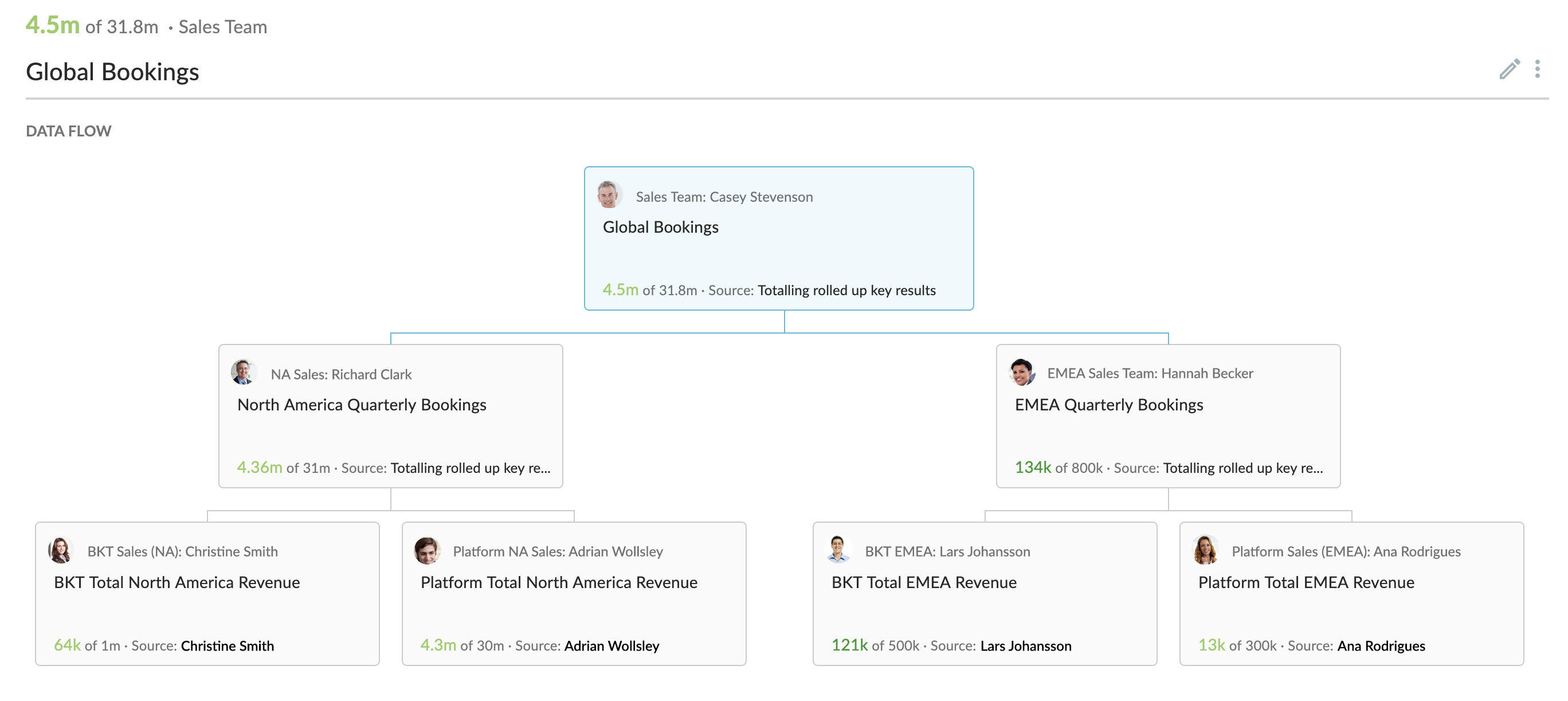 See a full tree of cascaded and rolled up key results to understand the data flow and quickly spot red flags.
Align Individual Key Results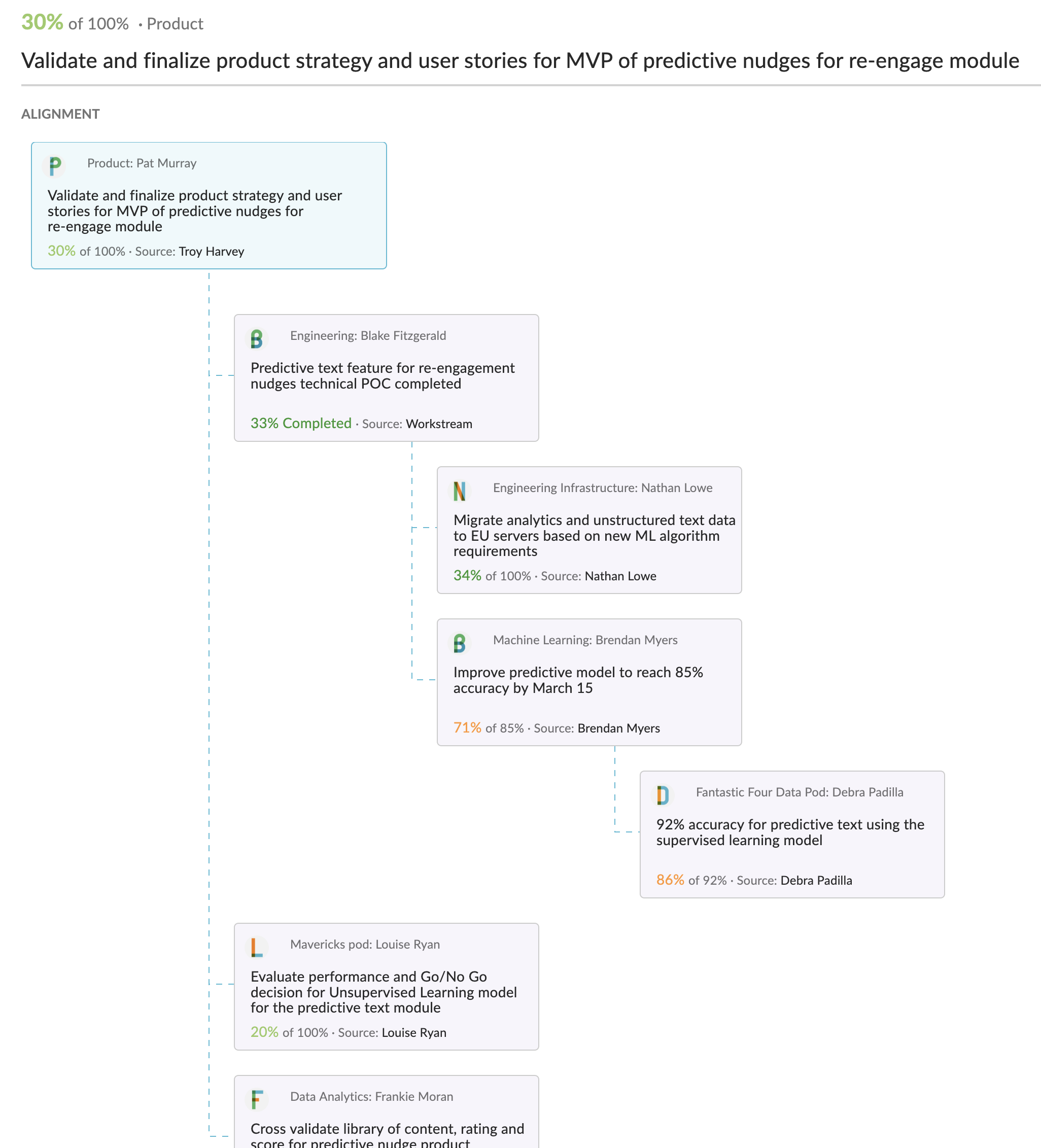 If your organization has a complex initiative involving dependent results spread across numerous dispersed teams, you can define key result dependencies and then use our new Alignment view to quickly visualize those relationships.
Work with your organization's OKR coaches and WorkBoard Expert project team to decide how and when your team should take advantage of this capability.
---
December 2019 Release
Native Key Result Integration with Azure DevOps
Use the native Azure DevOps integration from the OKR wizard to create key results that are automatically updated based on the completion of work items​ in ADO. Learn more here!
---
November 2019 Release
More powerful Search
WorkBoard's global search function is getting a facelift! Find an individual team's OKRs, a person's teams, objectives, results or 1on1s, and more. We're also introducing more powerful filters and surfacing metadata about each item to help you find the results you want.
View OKR statistics by Business Group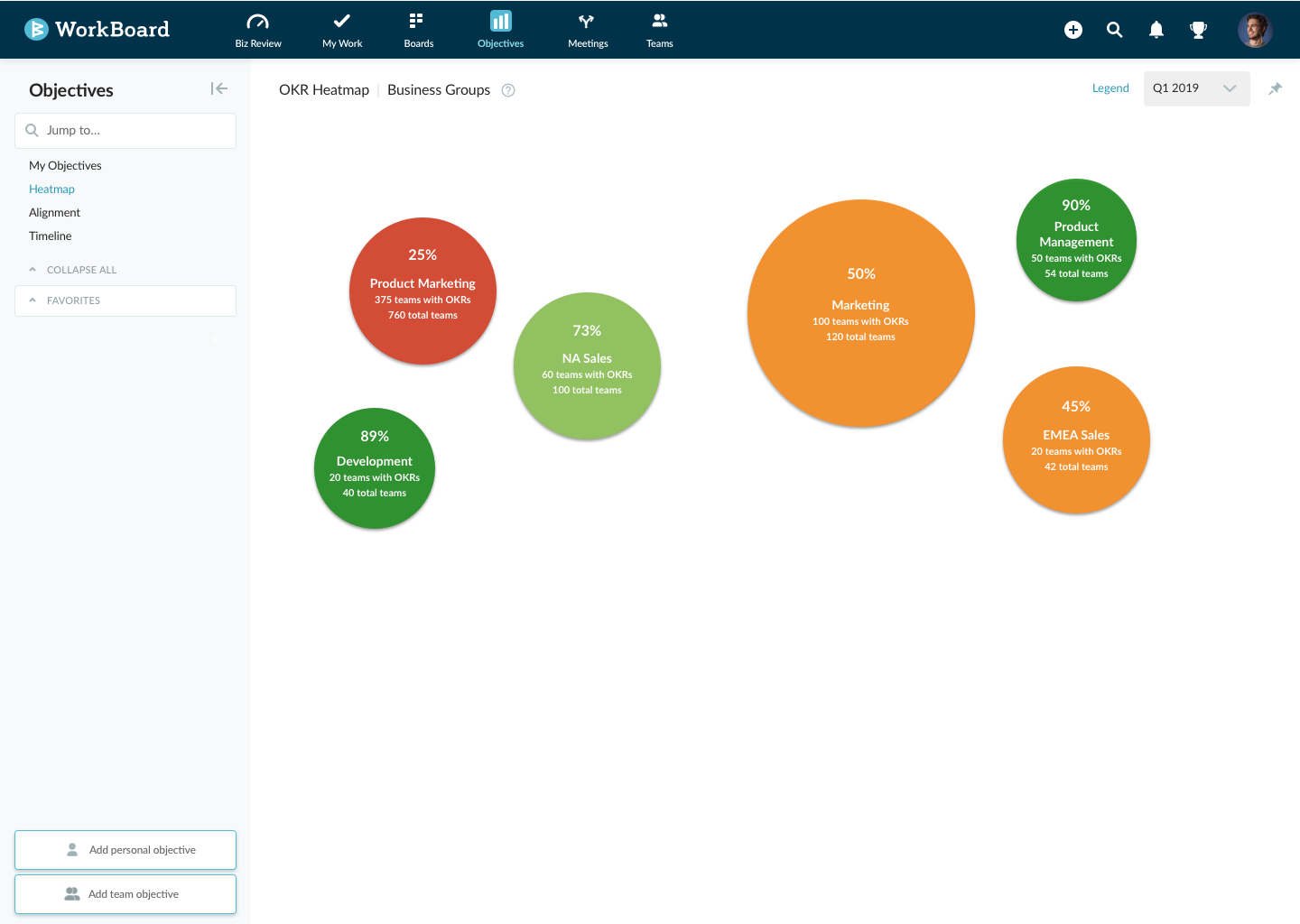 Organize functional teams by Business Group and get a new Heatmap view surfacing high level statistics on OKR achievement and scope of OKR roll out. Drill down to see all teams under each business group. Business Groups are configurable by your WorkBoard org admin.
Heatmap enhancements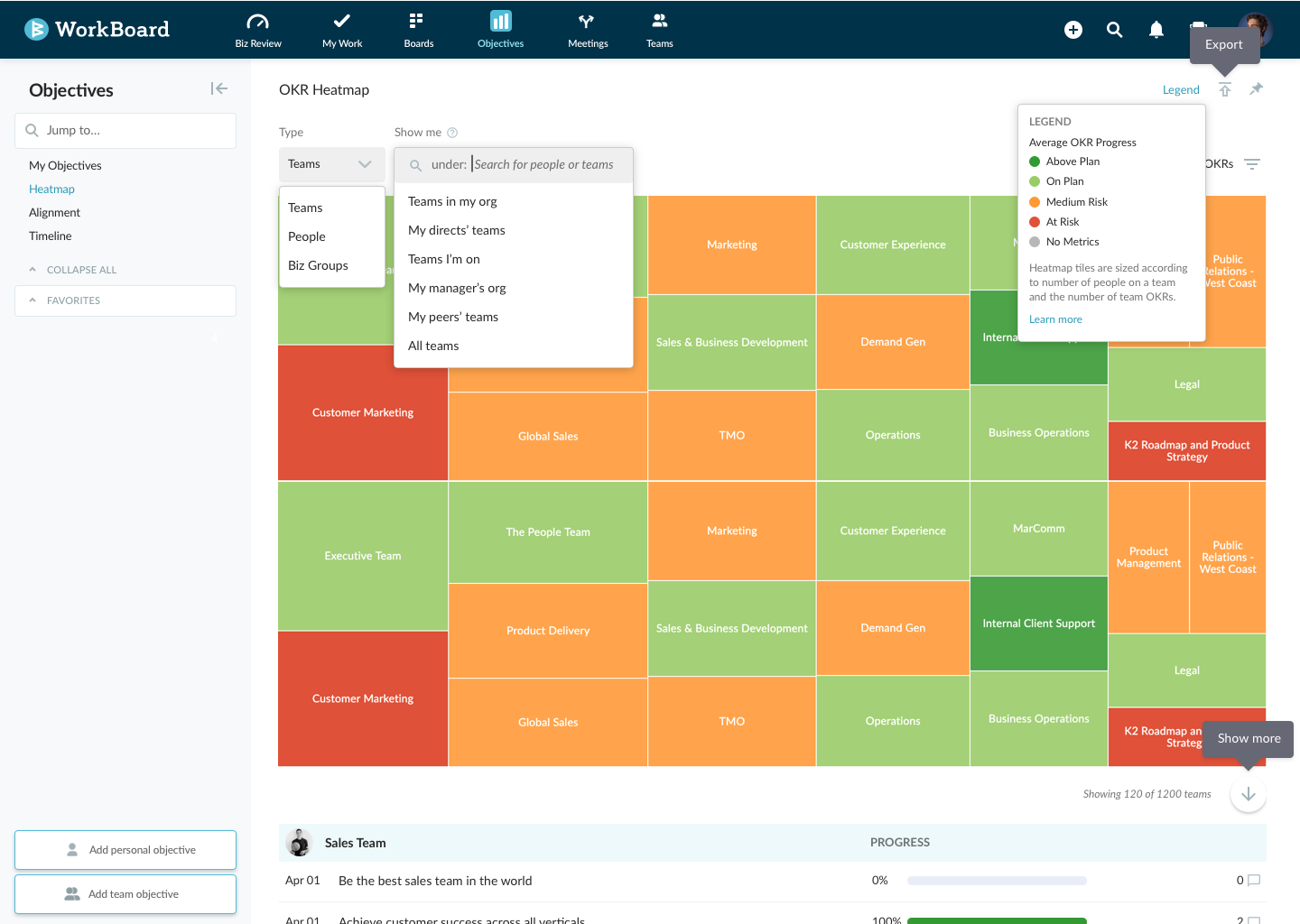 Search for a person or team and see all the teams under that part of the business, or use predefined filters to zoom in or out to the org level you want to view. The height of the heatmap will now expand to accomodate views with large numbers of teams.
Comment on individual Key Results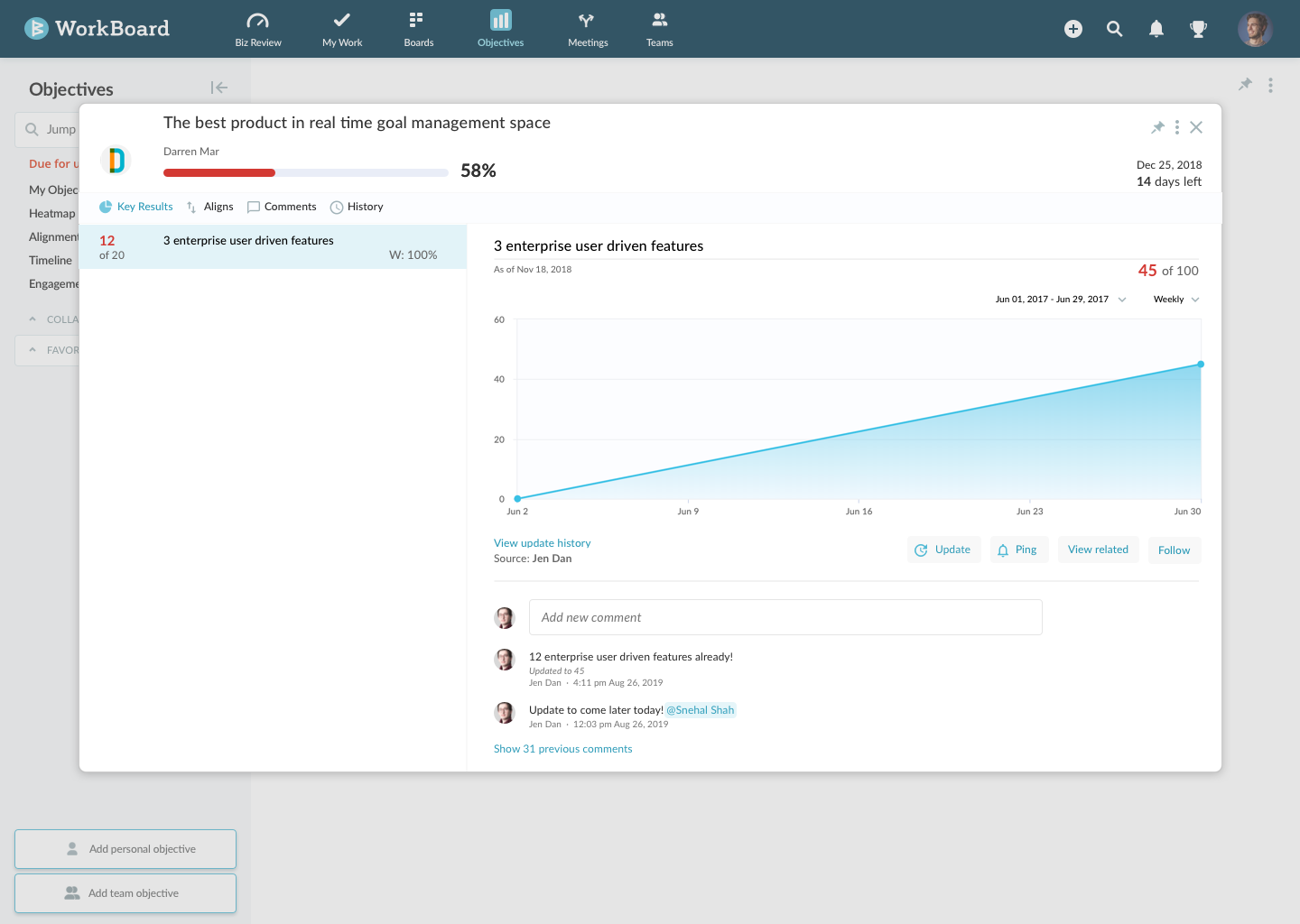 Drive great outcomes with conversations on individual key results. @mention colleagues to ensure they get notified, and easily view the discussion and update narrative for an individual result.
Improved navigation and functionality on Teams pages

Jump to any team in the organization that has OKRs you have access to. Create workstreams and OKRs for a team, right from the team's page.
And more...
Displaying the owner of key results on Running Business Reviews & RBR slideshows
Clickable hover over tooltips that display the source data for mirrored, rolled-up and workstream key results
Solve for Group Result issues with Scale and Yes and No survey key results (ability to survey Once)
Planned vs. Actual charts with Multiple Interval Target key results on Biz Reviews
---
October 2019 Release
Take faster action in your meetings
To streamline the creation of follow-up actions in meetings, WorkBoard's machine learning algorithm will identify and highlight meeting takeaways that are well suited to immediately hit someone's to-do list as an action item!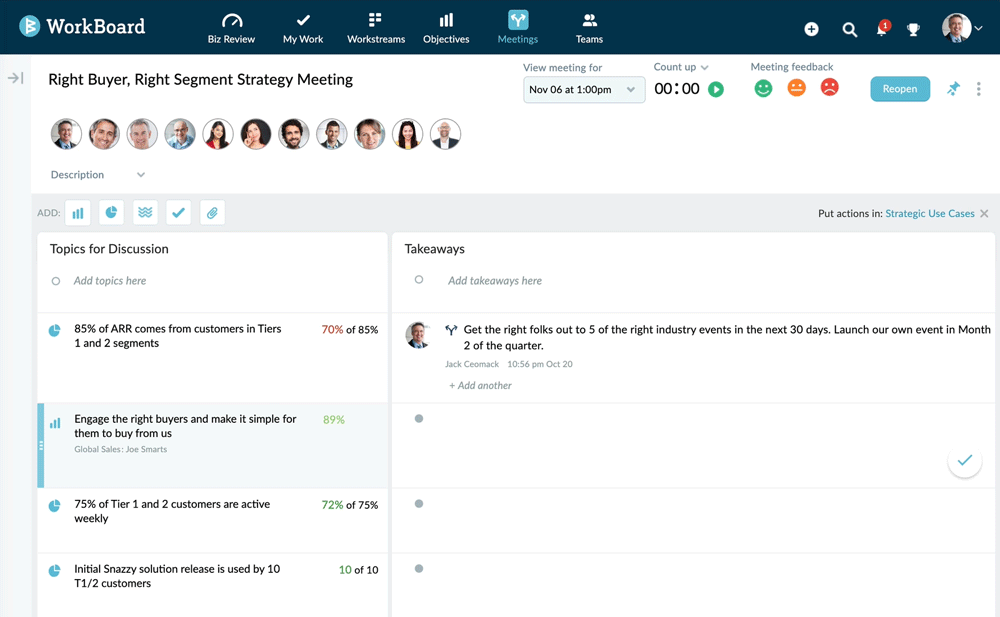 Update KRs from multiple Jira instances automatically
Now, choose more than one Jira instance to update KRs in your objectives. You don't need the new Jira plug in to auto-update your KRs, however it is a very handy way to see KR progress across all your Jira instances!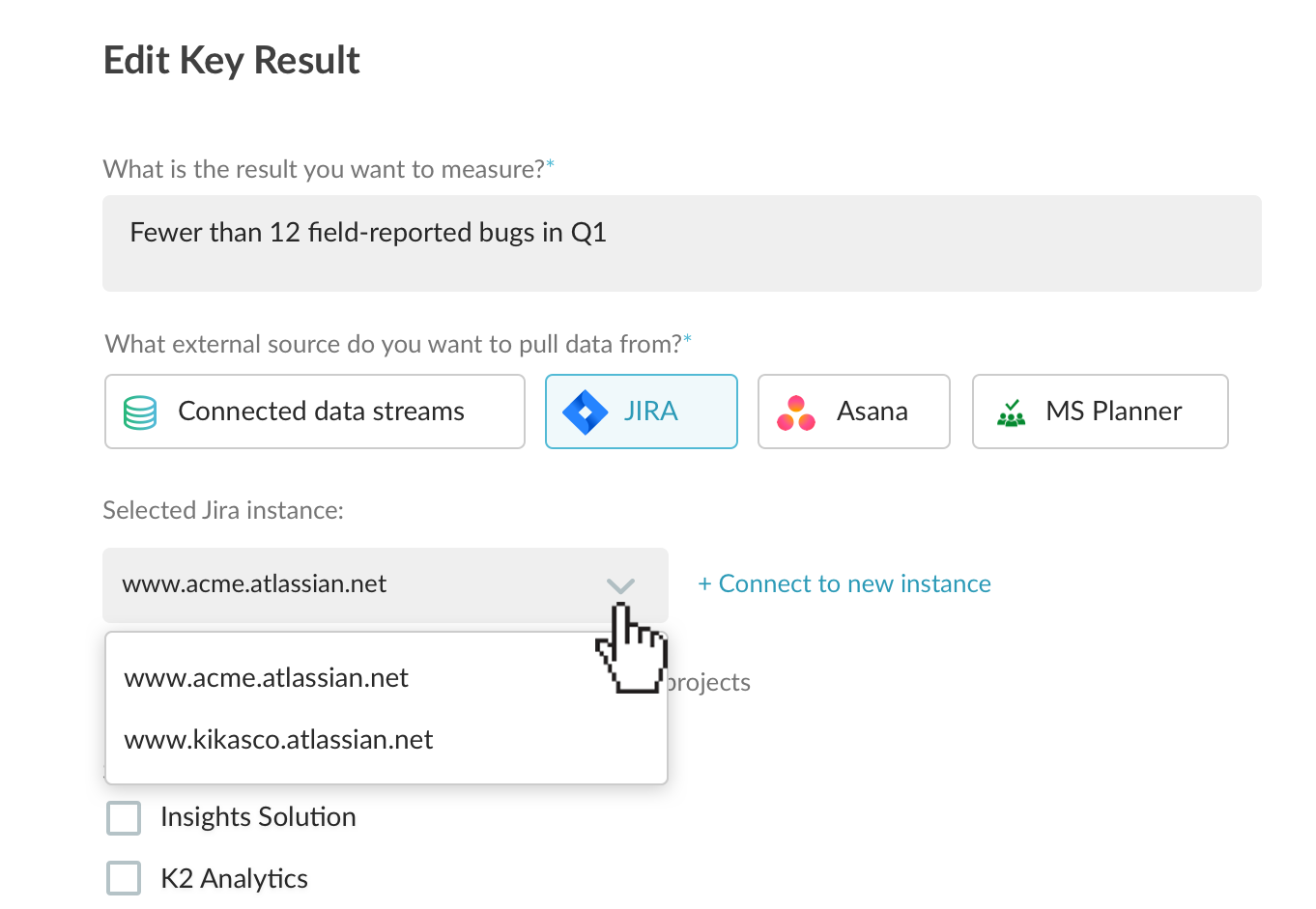 ---
September 2019 Release
JIRA Plugin
The new Jira capability will bring WorkBoard OKRs into your Jira experience. Whereas today you can source your key results from Jira and see them in WorkBoard, the new integration will bring your WorkBoard OKRs right into Jira -- you can see them without leaving Jira.
The JIRA plugin will also allow the ability to integrate JIRA to get data for your key results from On-premise versions of JIRA. Contact us to participate in the beta release for the Jira Server Plugin and Jira Cloud! Learn more about the Plugin here.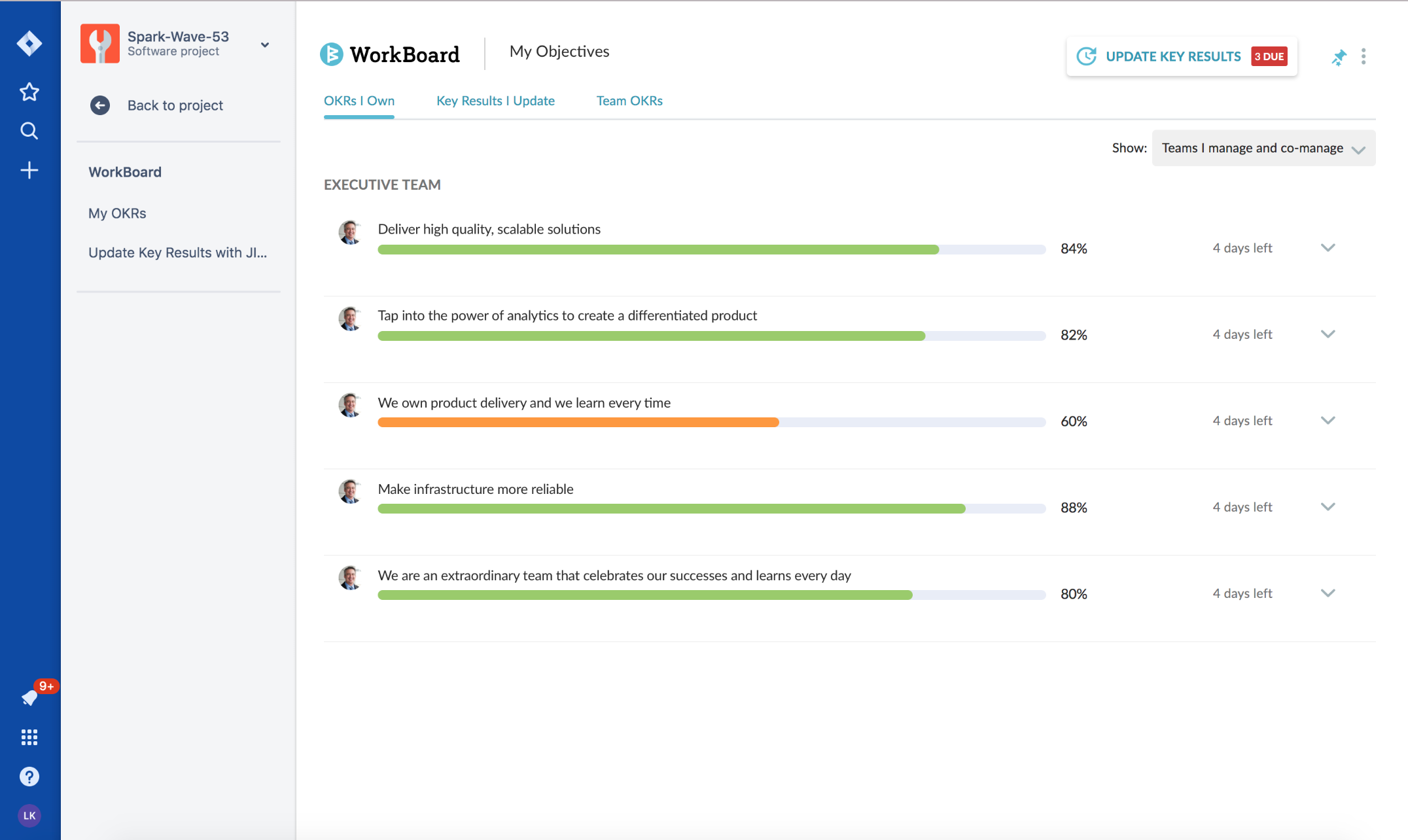 New options for automatically measuring work progress
In WorkBoard, you can tie key result progress directly to completion of all actions in a workstream. In our September release, we are adding the capability to set key results that measure the completion of a subset of those actions, by optionally selecting individual columns within a workstream as sources for results progress.  Learn how to set key results that measure workstream progress here.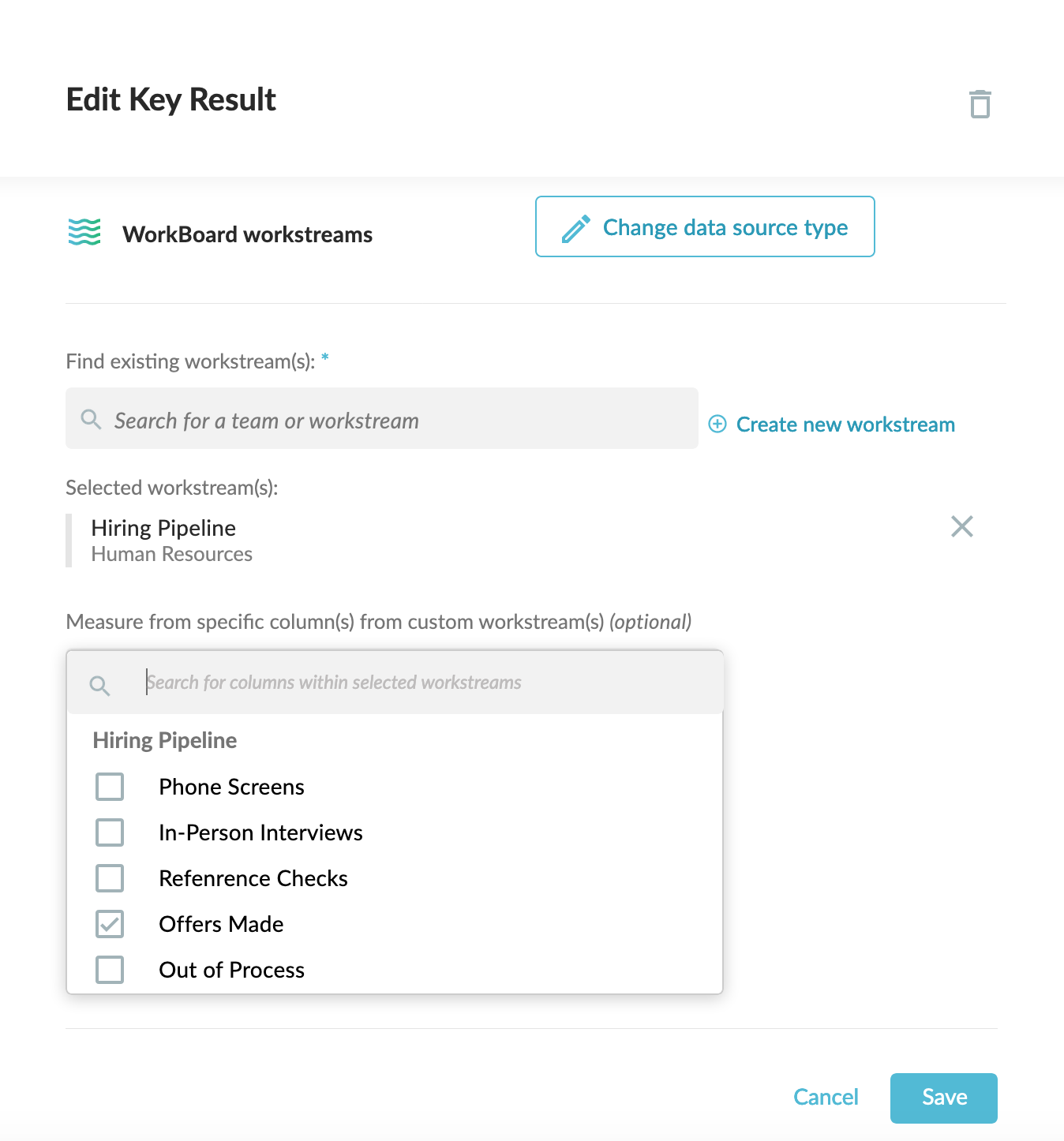 Narrative for Key Results sourced from integrated business systems
Add comments to Key Results that get their data from the KPI catalogue or Datastreams to give color on peaks and valleys in the data. Learn more about creating integrated key results here.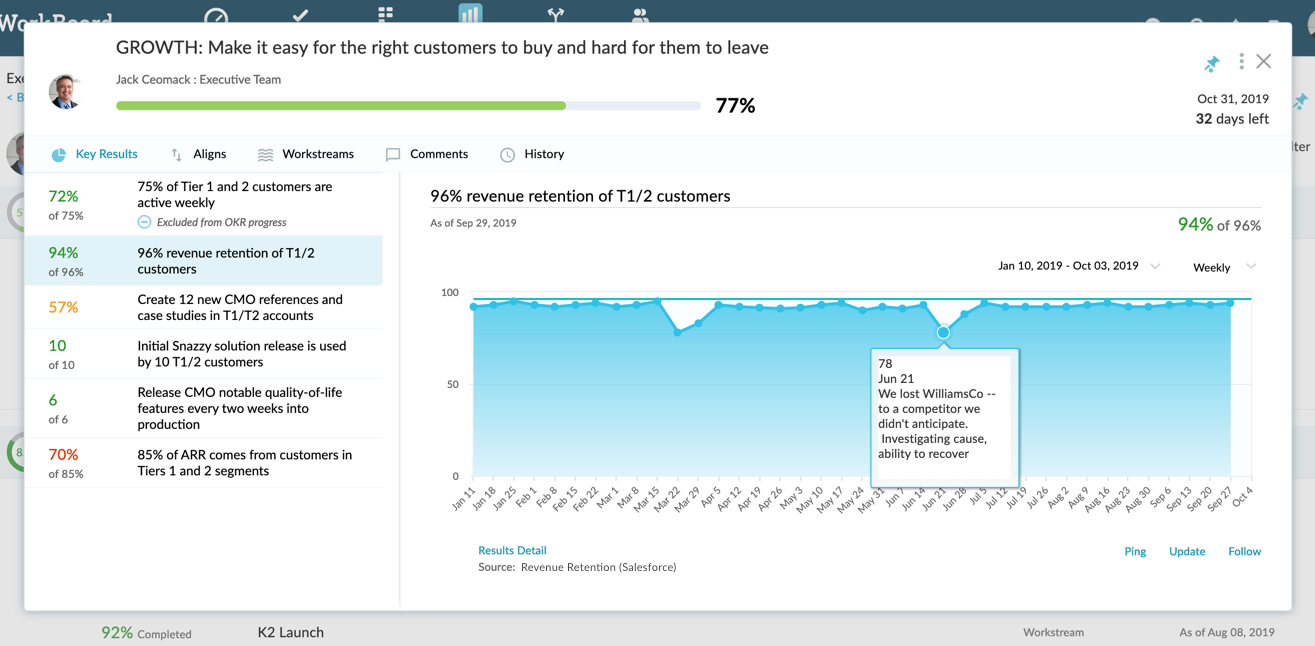 Convenient quarterly d rop-downs  and filters 
To make it easier to quickly create same cadence objectives across the organization, and filter views to see objectives for specific quarters, we are introducing quarterly drop-downs on the following interfaces.
Objective Wizard (creation & editing)
My Objectives page
Team Objective pages
Organizational Heatmap
If your fiscal year is different from the calendar year, submit a ticket so we can configure the correct quarterly cadence for your organization!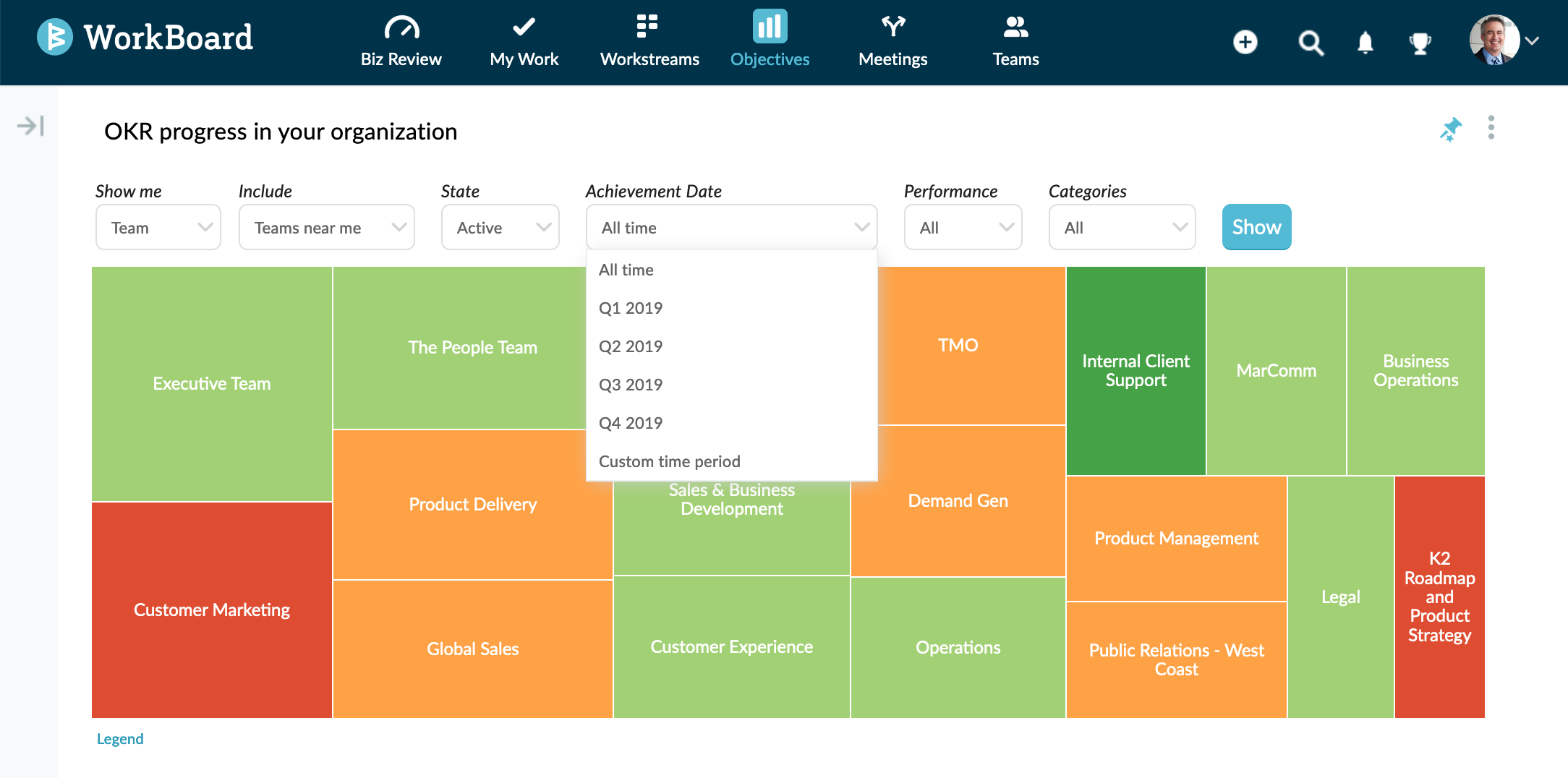 Extending OKR Privileges to Team Admins
Going forward, Team members with the Team Admin role will be able to create, edit and make updates to the team's Objectives and Key Results. Learn more about Team roles here.
And more...
The OKRs tab will be the first and default tab on the Team pages.

Convert personal Objectives to Team OKRs from the More Options dropdown of the Objective wizard

Receive in-app notifications when Key Results are delegated or cascaded to you.
---
August 2019 Release
One full level alignment in one sweet view
This handy report is the brainchild of a Cisco chief of staff — see one full level of alignment in a single page in slideshow mode to review and tie in staff meetings. Page forward to see how the whole team aligns objective by objective to a top level set of OKRs. To access this cool new view, start at the Alignment tree, click "Full Alignment Report," then select "One-level alignment."
Even better meetings with even better Biz Review slideshows
Now slideshow mode on Biz Reviews cycles through every block on the page. On the objectives block display, you can quickly click to see the KRs under the objective. Fun fact: Our CEO runs her board meetings right from WorkBoard so there's no slide prep and there's no gap between board expectations and team focus.
See where the numbers come from in one picture
See the provenance of a rolled up key result in one quick visual! You can spot the risk and the heroes in a blink.
Filter your OKRs by quarter
Need to check how you did on a key result 3 quarters ago? Filter your OKR by open/closed status or date range. If you need to make any updates to a closed OKR, easily reopen it from the kebab menu.
Linking to an Existing Key Result for Cascade Updates
Pick up a request for a cascaded key result, and select and search and select an existing key result as the update source for the data.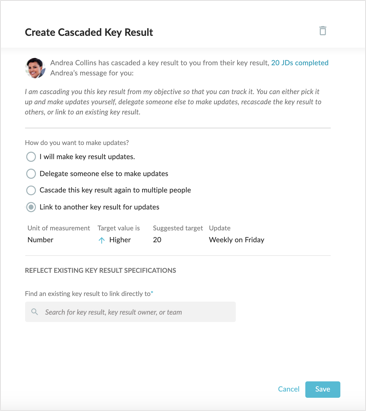 Example: Jamie already has a  key result to track the completion of critical JDs.
When picking up the cascade request from Andrea, she can select the option Link to another result for updates, and search for her key result. As she updates her own key result, Andrea's KR will be automatically updated. 
And more...
Put your best face forward! Optimize the cropping on your profile picture right in WorkBoard.
Compare up to 8 results on Biz Review charts (up from 7)
When creating Key Results with Multiple Targets, select from pre-filled quarterly and monthly options
Ability to roll up the percent progress made across multiple key results to get an average of the progress made across all of them

 
---
July 2019 Release
In this video, WorkBoard CEO and co-founder Deidre Paknad previewed WorkBoard's newest and upcoming capabilities - including:
Use of machine learning to capture intended meeting action items
Bringing WorkBoard and your Key Results into JIRA
Single view of a leader's Objective and all the OKRs that align to it
---
June 2019 Release
Planned vs. Actuals on Biz Reviews
Select the planned vs. actual chart type on Running Business Reviews to visualize progress made on key results against the targets the team set out to achieve.
The graphs will display the key results actuals over time to showcase the progress trajectory. Learn how to add these charts to your Business Reviews here!
Quick access to all your Team OKRs
See the OKRs of the teams you are a part of and contribute to directly from the My Objectives page. The objectives will be grouped by teams, and will show objectives from both functional and cross-functional teams.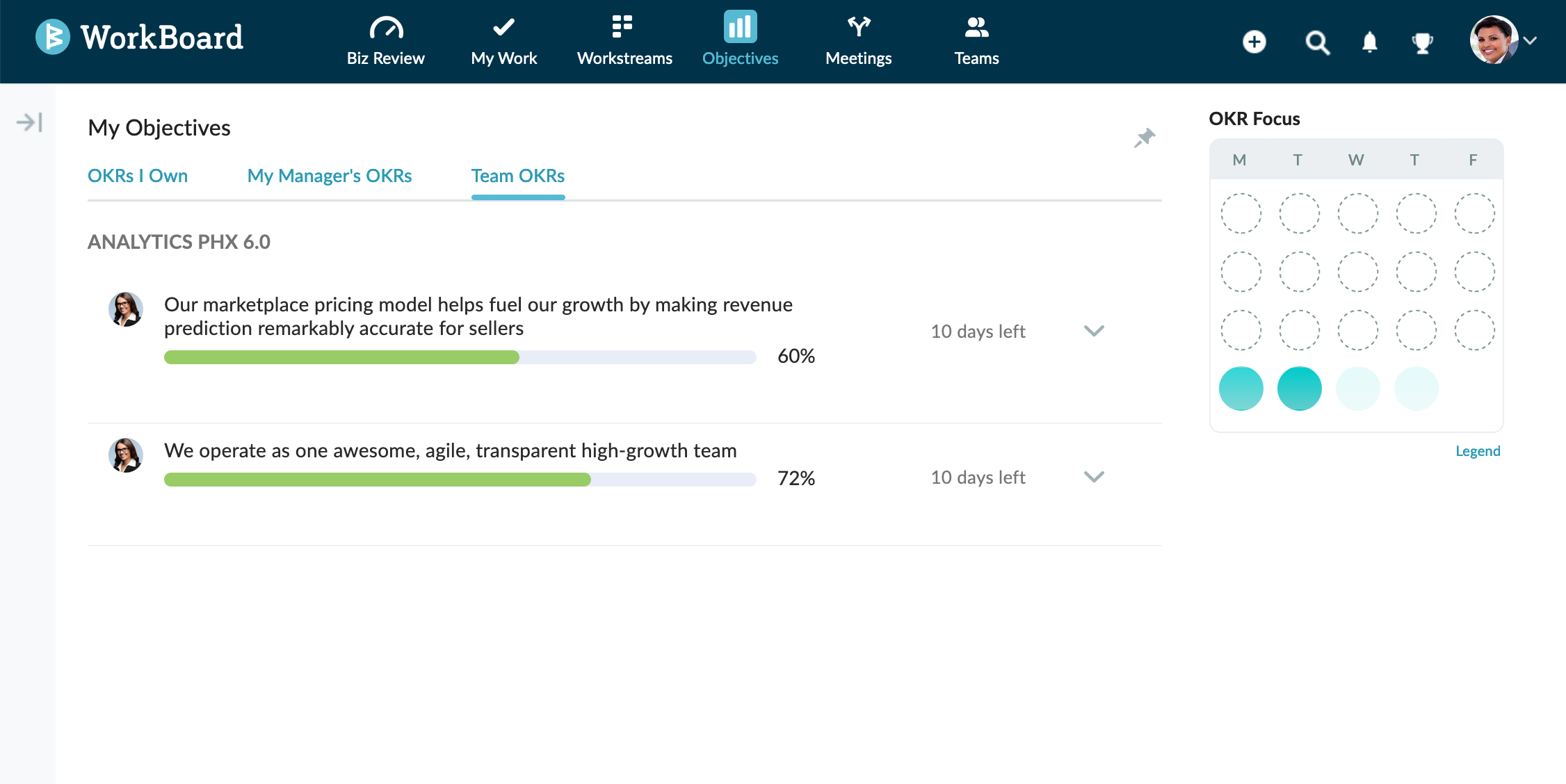 Key Results with multiple targets over time
Create and visualize quarterly objectives with targets for each month, or annual objectives with targets for each quarter.
Example: Annual objective with a key result: New bookings of $1.3M for Snazzy Solution in 2019
A target can be set to measure performance per quarter, while generating an overall view of progress towards the annual target.
New bookings of 200K for Q1
New bookings of 230K for Q2
New bookings of 220K for Q3
New bookings of 650K for Q4
Learn more about how to create these key results here!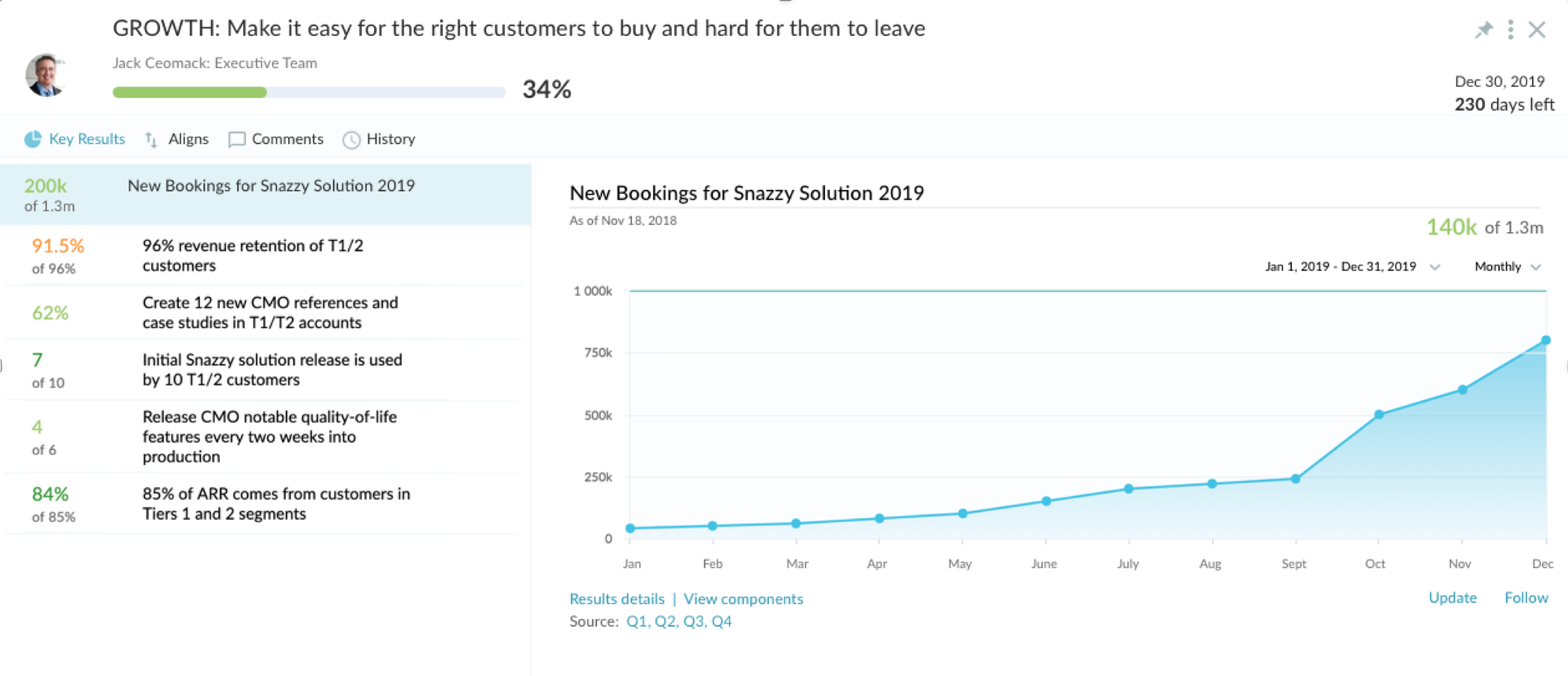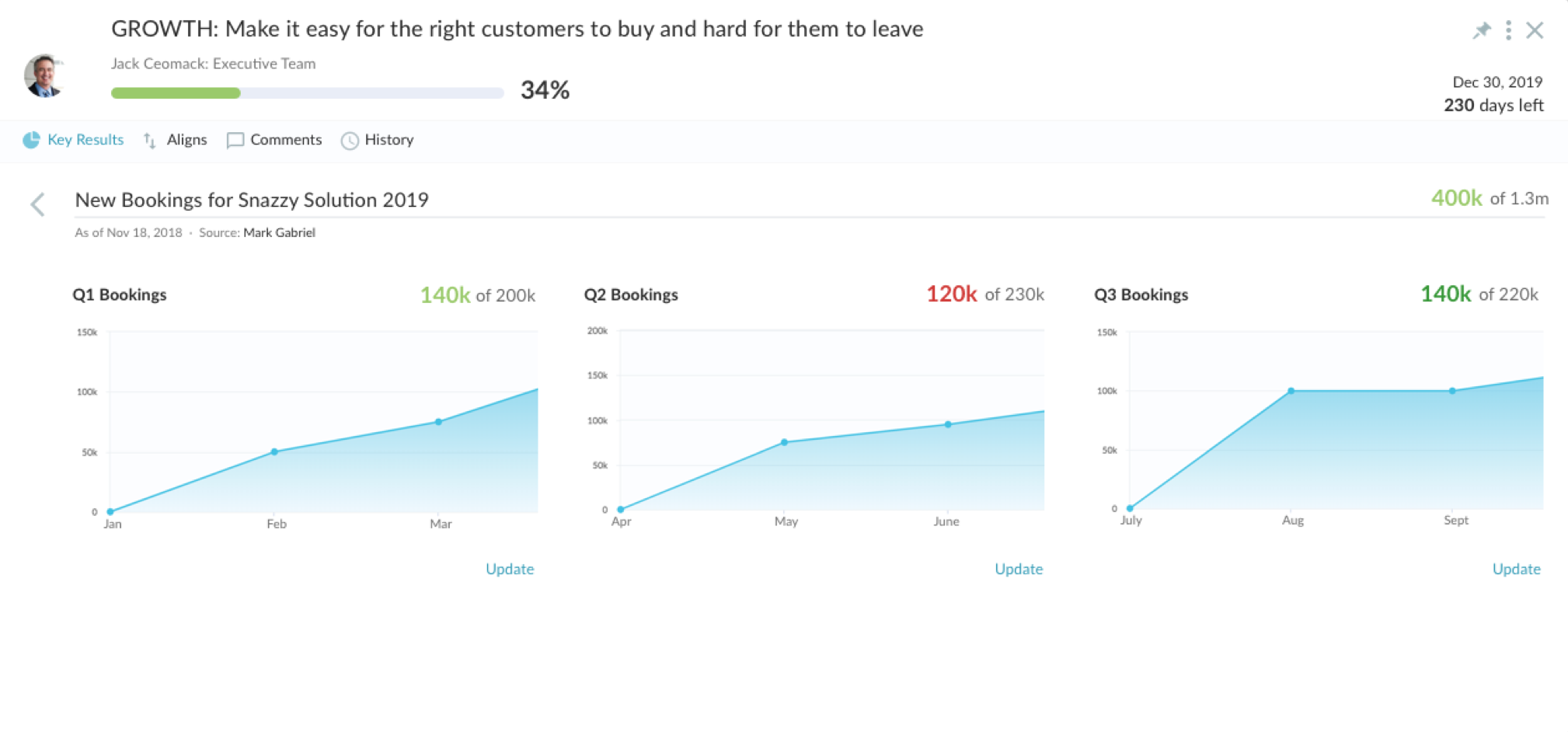 And more:
Group and organize your objectives and workstreams on your Running Business Reviews by topic or category.
Enhancements to viewing and updating your Objectives
A few enhancements to the My Objectives page to make it easier to tune into your OKRs and focus on the results you and your teams are trying to drive:
New "Update Key Results" button

 – Brings your focus to the Key Results that require data from you. Update your key results with a few quick clicks, so you can spend more of your time calibrating on your results.

Edit a single Key Result

 – Now you can edit your Key Results directly from the "OKRs I own" tab. Click

 the kebab menu next to the Key Result you want to edit and select "Edit Settings". 

 You no longer have to edit your objective to edit your key results :)

OKR Groupings

 – If you manage or co-manage multiple teams, you can view your OKRs by team. Your Personal OKRs are grouped at the bottom of the page. 

TIP! Sort OKRs within a Team grouping.

 
Team Filters

 

–

 

Filter your Team OKRs by teams you Manage, or teams you Manage & Co-Manage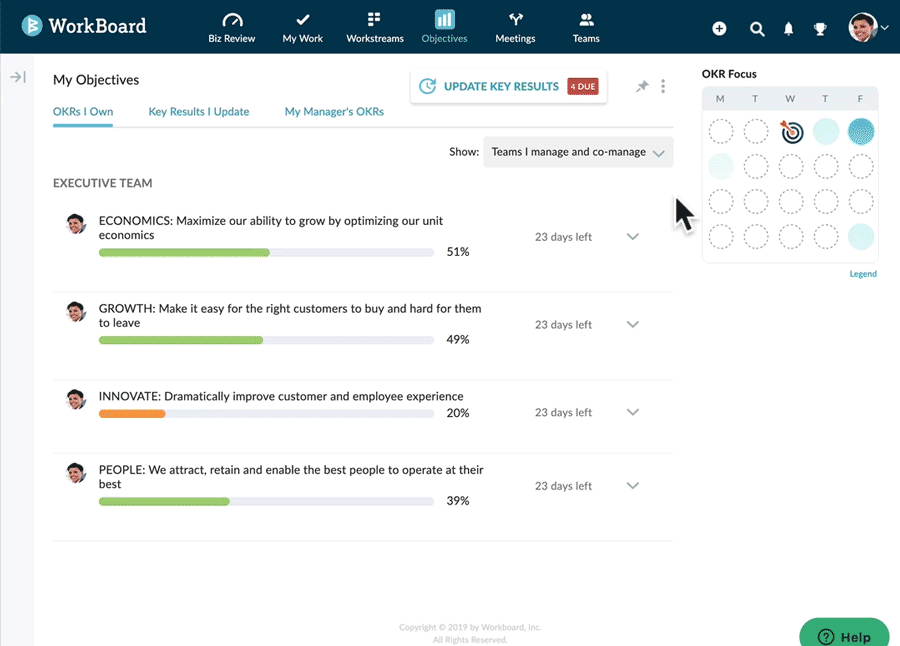 Notification Filters
Review your notifications with more intention! Filter notifications by action items & @ mentions or OKR notifications. The filters are not sticky so each time you view your notifications you won't overlook anything important.

May 2019 Release
Organizing your week just got easier with the new My Work Dashboard! See the results you're driving and the work you're doing to get there all in one view.
Your New Weekly Dashboard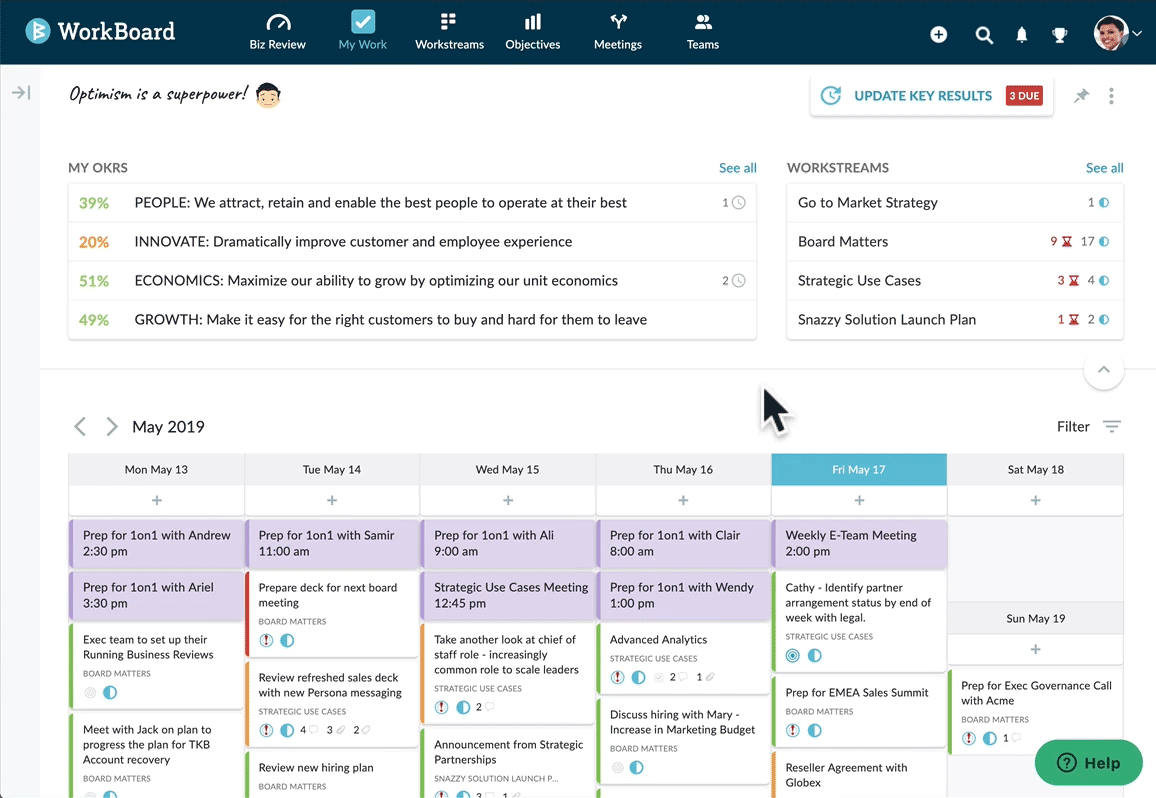 Plan your week around your strategic priorities — your OKRs and top initiatives are always in view. Filter your weekly list by status or workstream and focus your efforts where you can make the most impact! You can even update your key results right from here.
Showcase Your Results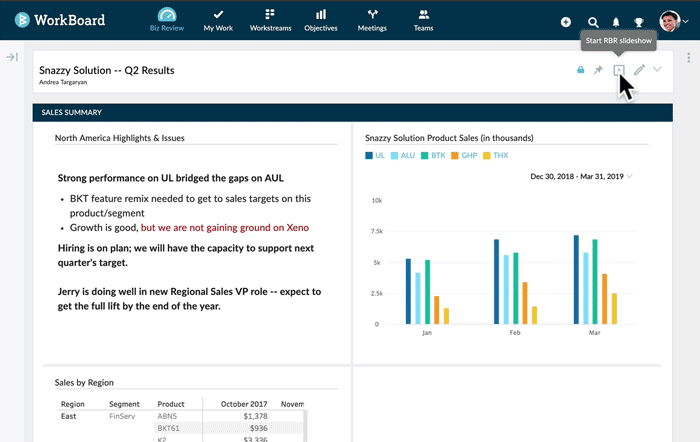 Present your Running Business Review in slideshow mode during your next meeting. Easily highlight your charts and OKRs.
Publish the Latest Results Narrative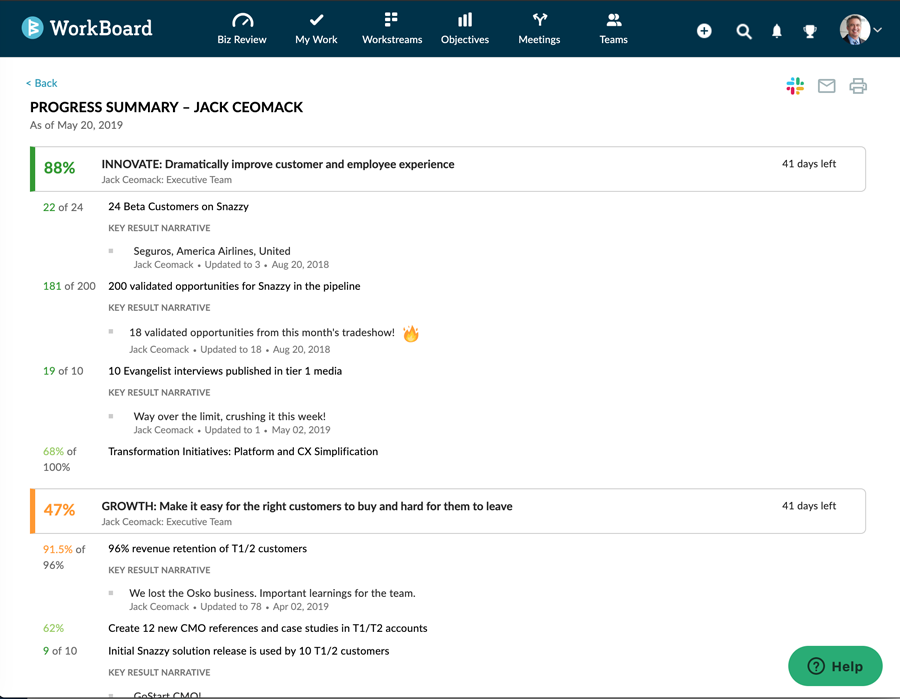 Include the latest comments inline on your results when you publish your OKRs to email, print, Slack or Microsoft Teams!
---
March 2019 Release
Create and edit OKRs fast with a conversation-style wizard. Your quarterly reset just got easier!
Watch this video for a quick tutorial:
The OKR Wizard includes the following new and refined capabilities:
Easily mirror a key result from another objective — you'll get instant updates, and any comments made on the original will be visible on your own OKR. You can mirror any key result you have permissions to view.
Roll up key results more easily: Quickly roll up results and display total or average progress on your objective. Include any key results you have permission to view, as long as they share the same unit of measurement (number, percentage or currency).
More efficient key result cascades: Set individual targets for each recipient, or let them set their own targets. Recipients can create their own KR in a single click, and choose to update data themselves, delegate updates to another user, or cascade the result further to multiple team members.
Change objective owner: By default, team OKRs belong to the team manager, but you can change the owner to any team co-manager.
Smart date ranges: When you create a new OKR, the start and target dates will auto-populate with the start and end dates of the current quarter (you can still change them as needed)
Greater transparency control: By default your OKR will be visible to the entire organization. Choose to restrict visibility to the upline management chain of the team manager and objective owner, or to the objective owner's direct and dotted reports. You can also define specific teams that can see your OKRs — ideal for controlling access to sensitive business data.
Change key result source type: If you change your mind about how to update a key result (via an individual contributor, workstream, integrated business data system, and so forth) you can easily change the source type. The result name and target information will be transferred to the new result. (Note that data from prior updates will not be carried over if the source is changed).
Create custom workstreams during KR setup: When adding a key result sourced from a workstream, choose to create either a custom or completion workstream.
Faster Comments on IOS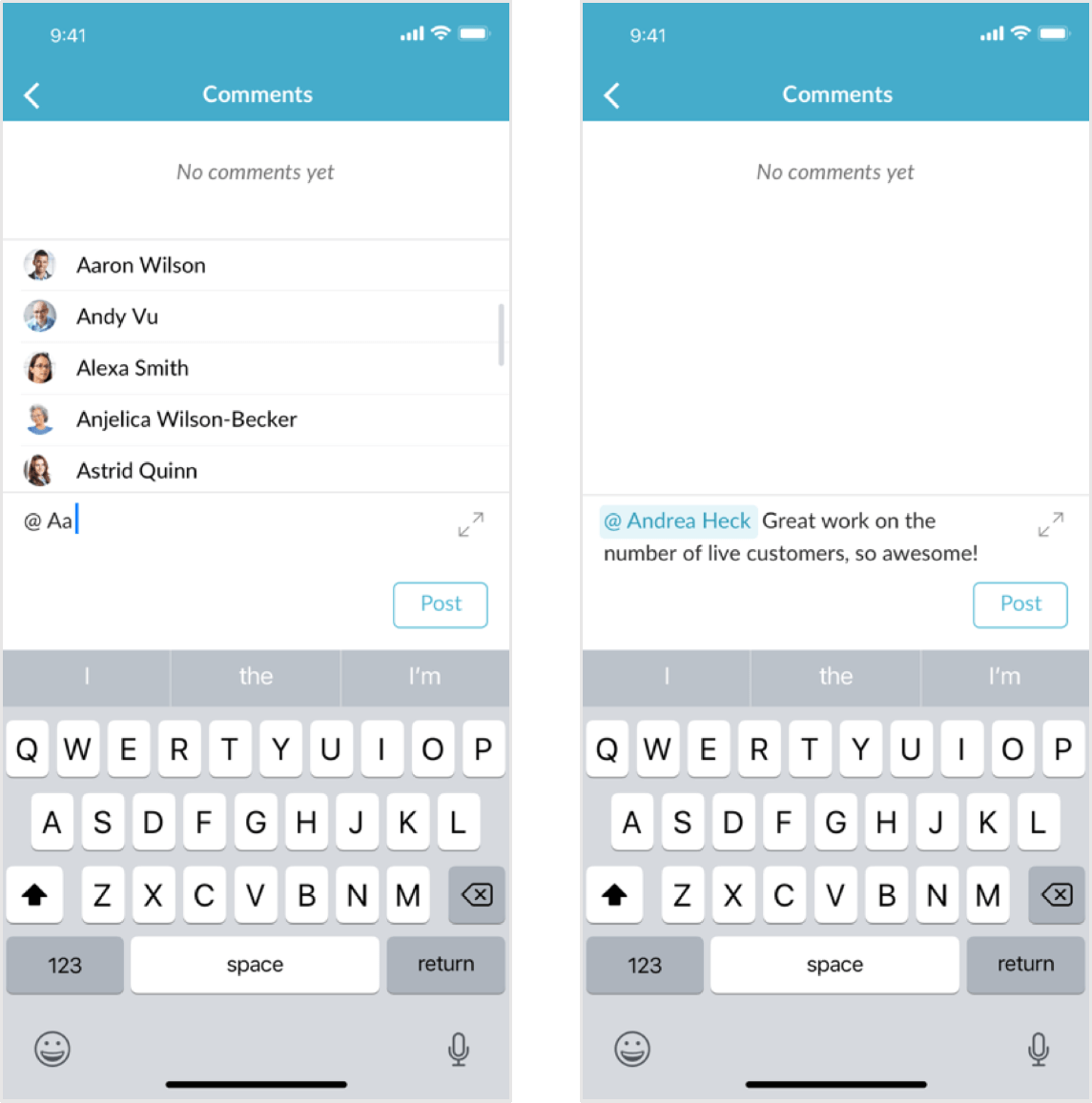 Keep the conversation flowing — @mention colleagues while collaborating on action items or OKRs on mobile coming soon!
Performance Enhancements
We are continuously working to make WoBo snappier! Our latest optimizations enable:
Faster page load times
Quicker search responses
Faster data entry and updates
Smarter dropdowns
Learn more about this release by listening to our Q1 2019 WorkBoard Community Call!
---
January 2019 Release
Get better visibility on your team's results and your organization's strategic alignment with better business reviews and a clean alignment view.
Organize Your Key Results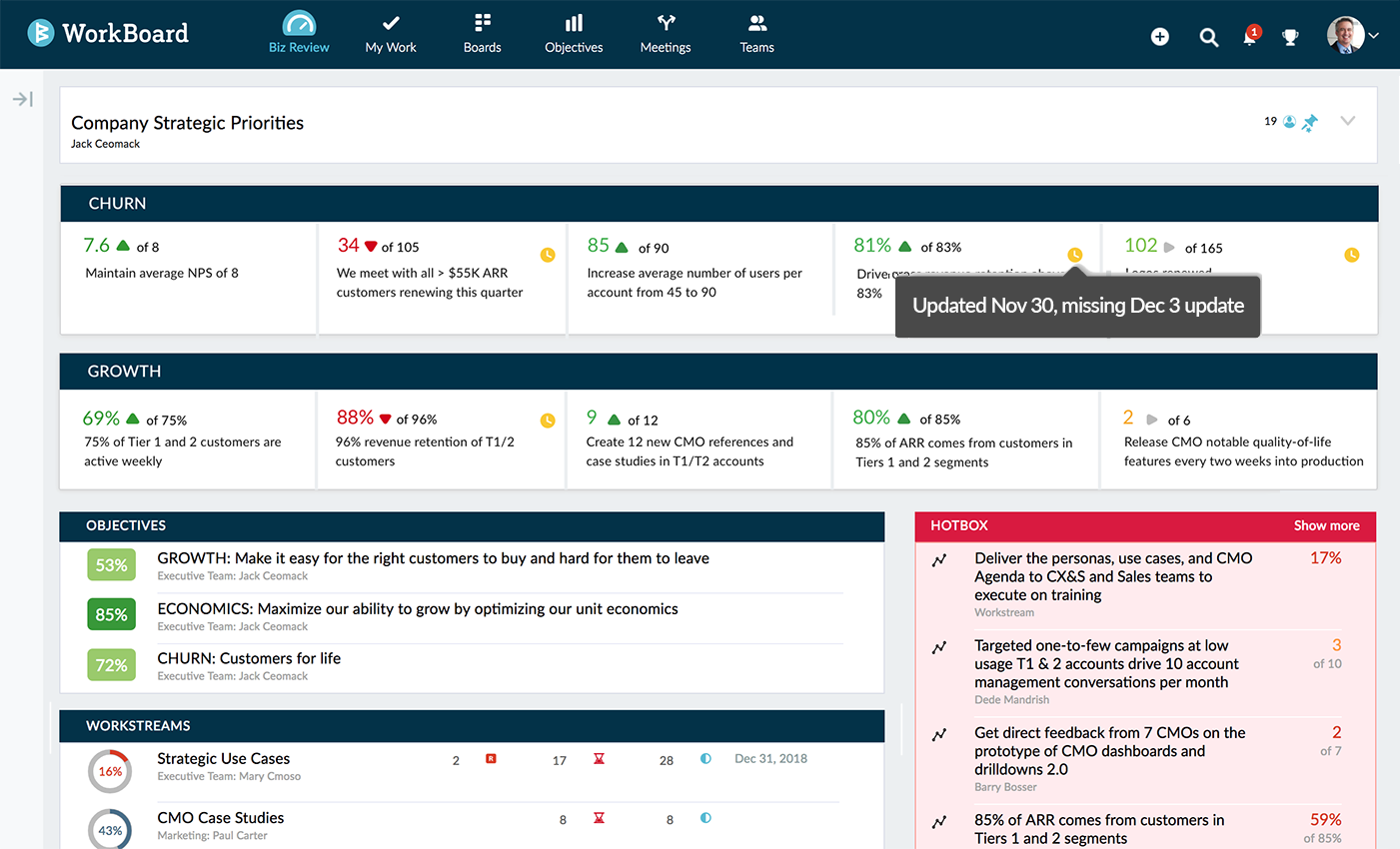 Organize key results on your Running Business Reviews by topic or category, and see at a glance what's falling behind.
Get Clarity on Alignment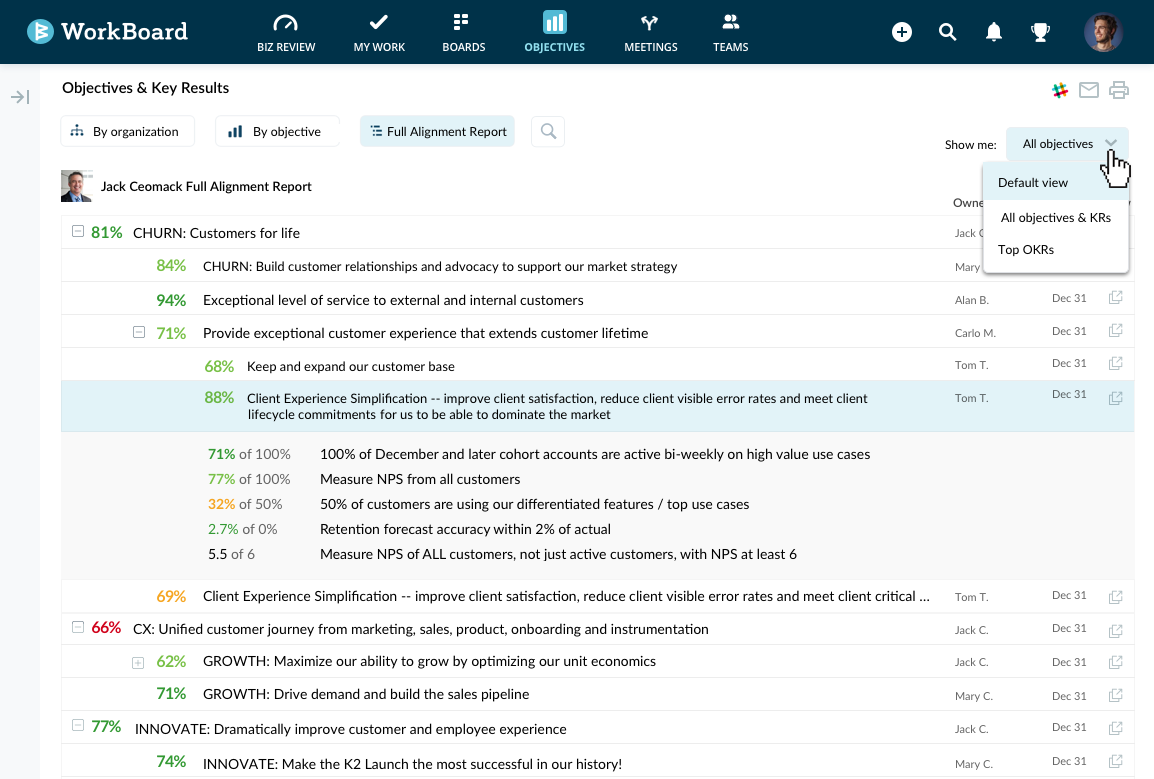 We've spiffed the Full Alignment report — open and close downstream objectives more easily, choose whether to show or hide key results, or get a quick view of just the top level objectives. Now it's easier to visualize how your organization's strategic priorities are aligned!
Customize your Progress Boards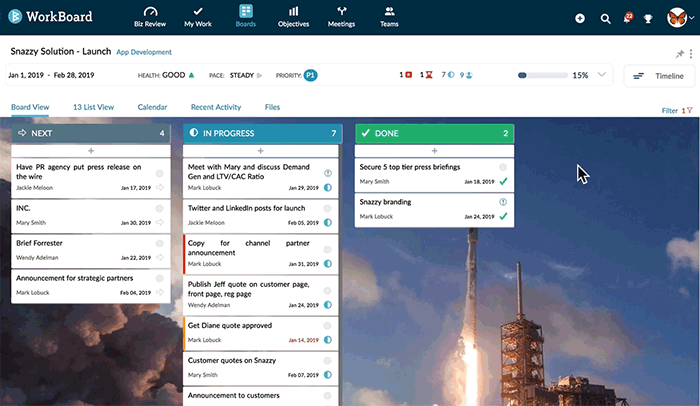 With one click, convert an existing progress board (with columns for paused, next, in progress, done) into a customizable workflow board. Add as many columns as you need, and use automations to change action item states or owners as you move them between columns.
Keep the Focus on Key Results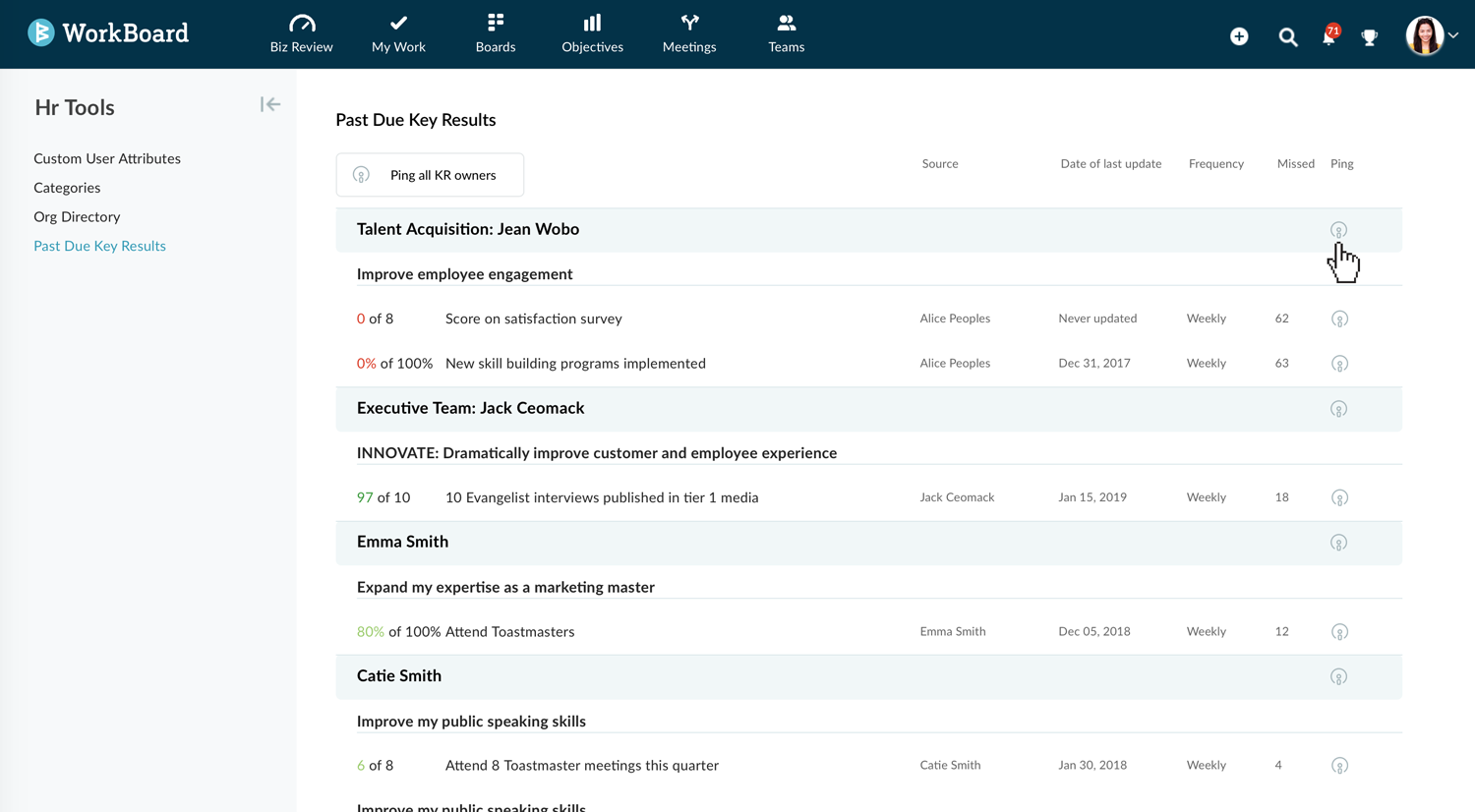 Remind an individual, team, or the entire organization to update overdue key results with a single click.
To request access to this feature, chat with your Customer Success Advocate or contact us.
And more
Opt out of "Update KR" notifications once you've hit your target
Access your Profile from Settings
Crop your Profile header photo
UI spiffs on OKR details alignment tab
Change the date of an individual Team Meeting or 1on1 in a recurring series
Add multi-line topics to meeting agendas
Reorder Chart and Key Result groups on Running Business Reviews
---
December 2018 Release
New IOS and Android apps with search capabilities
Search for OKRs, action items and past meeting notes and decisions from the mobile app! This release also includes support for our EU data centers and connectivity in addition to a few bug fixes. Download the iPhone app or Android app now.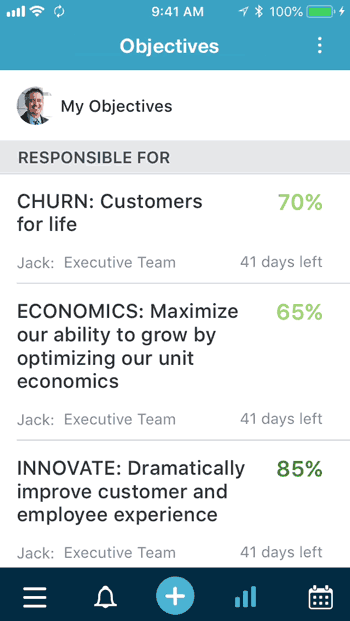 And coming soon...
Gmail add-on
Create quick follow up action items and easily manage your to-do list with the new Gmail add-on! Delegate actions items, place them into workstreams, and even add people to the loop right from your inbox.
November 2018 Release
Member profile page
Show off your impact on the organization's strategic priorities, personalize your page with your favorite photo, and get and share insights on your contributions! Your new personal profile page includes:
The dynamic and functional teams you are engaged on with a visual for the intensity of activity in each
Your social feedback and badges
Current quarter results you're responsible for
The OKRs you are contributing to
Insights about your impact over time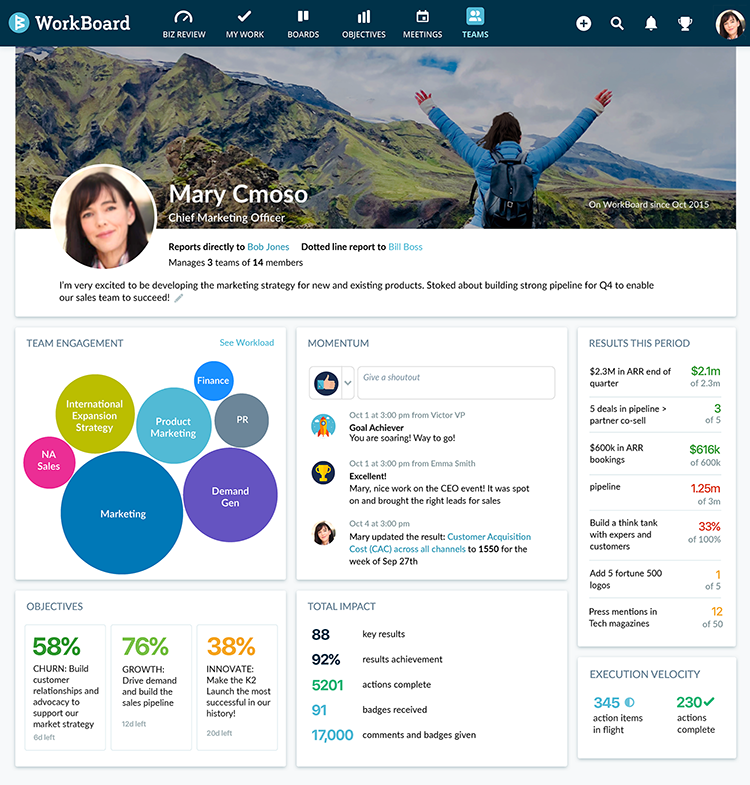 Jump straight to a team's OKRs
The Jump To search in the left navigation is getting smarter! Search for any team or OKR owner and jump to a handy summary view of all their OKRs.
Board improvements
Ever wanted to quickly scan a Kanban board and understand how work is distributed? Each column will now show a count of the action items in that column, so you can better gauge your workflow.
---
October 2018 Release
Weighting on Key Results
When you are working to achieve an objective, some key results may be more critical to success than others. With key result weighting, you can now add a multiplier to increase or decrease the relative weight of each KR in the calculation of the overall progress of the objective. You'll still see the actual progress of each key result on the OKR detail view.
To turn on key result weighting for your organization, chat with your Customer Success Advocate or contact us.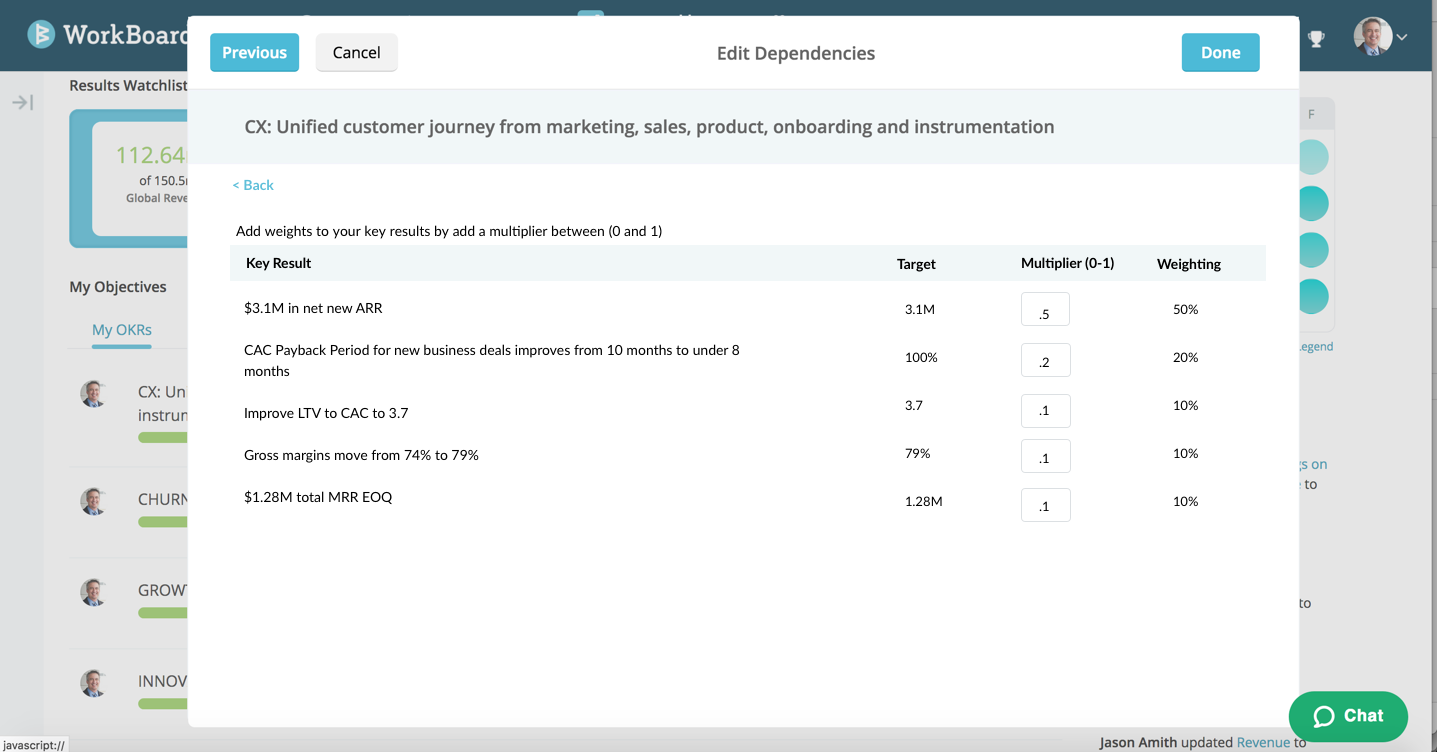 OKR History views
Get a full history of all changes made to an OKR after its creation. Users with permission to view the objective can click the new History tab on the OKR details to see when results were updated, targets were adjusted, owners changed, dependencies were added or removed, and much more. For audit purposes, Org Admins can also view the history of all changes made to the organization's objectives on the OKR History page in the Administrator Tools.
To turn on OKR History views for your organization, chat with your Customer Success Advocate or contact us.
Board improvements
View the full history of changes in a workstream on the Recent Activity tab
Filtering a board by multiple tags will return action items that match ALL the selected tags.
Use column automations to clear the due date or send an email notification when an action item is moved into that column.
Action Item date options: If you manage or co-manage a team that uses workstreams to track items that do not have specific due dates, configure your settings so that new action items are created without start and end dates. (You can still add dates to individual action items as needed).
Meeting improvements
When you move a topic from one recurring meeting to the next, you can choose to move any associated takeaways and notes as well.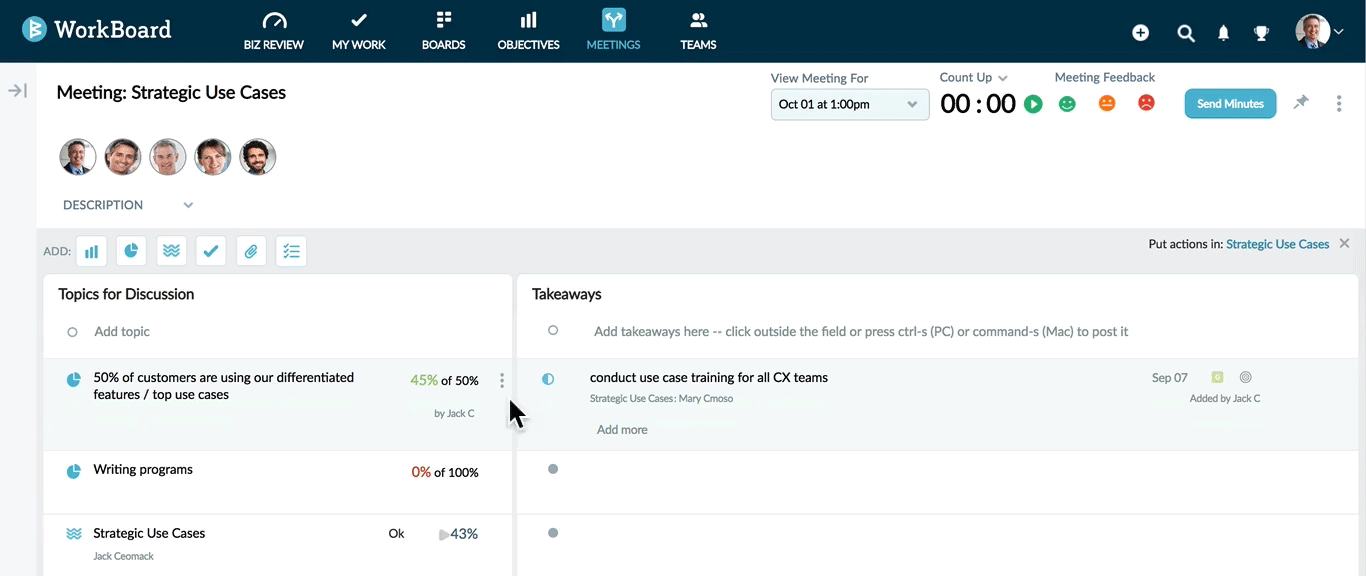 Notification enhancements
Search your notifications
New email and in-app notifications when key results are updated (whether or not the update includes a comment)
Opt out of OKR update email reminders on your preferences page
Jira integration enhancements
When you create a workstream that is automatically sourced from Jira:
Map Jira issue statuses to Workboard's action item statuses (Paused, Next, Doing, Done).
See a sample of the issues that will be pulled based on your JQL query
Simpler SSO login
If your organization has enabled SSO, you will no longer be prompted for a password when logging in.
Manage work belonging to former team members
If an employee leaves or changes roles, team managers or co-managers can now easily transfer their action items to another member as they remove them from the team.
Define progress ratings for your organization
Every organization defines success differently. For a team that sets aggressive stretch goals to drive best possible outcomes, a 70% success rate may be outstanding. On the other hand, if your organization sets targets that absolutely must be met, objectives with anything less than 90% progress may be at risk and in need of urgent attention. Define the progress ranges at which objectives should show as being at risk or on track based on your own organization's needs. You can also replace Workboard's default RAG colors with your own organization's progress rating color scheme.
To define progress ratings and colors for your organization, chat with your Customer Success Advocate or contact us.
Enhanced domain security
Organizations can restrict access to action item attachments to a defined set of IP addresses. Users accessing Workboard from an unapproved location or device will not be able to download attachments.
To turn on download restrictions for your organization, chat with your Customer Success Advocate or contact us.
---
August 2018 Release
Better business reviews and slick meeting improvements are here! Have data driven meetings and run your business for results. Check out the family photos below and watch the August Community Call replay to hear more.
New Charts on Tidy Running Business Reviews (RBRs)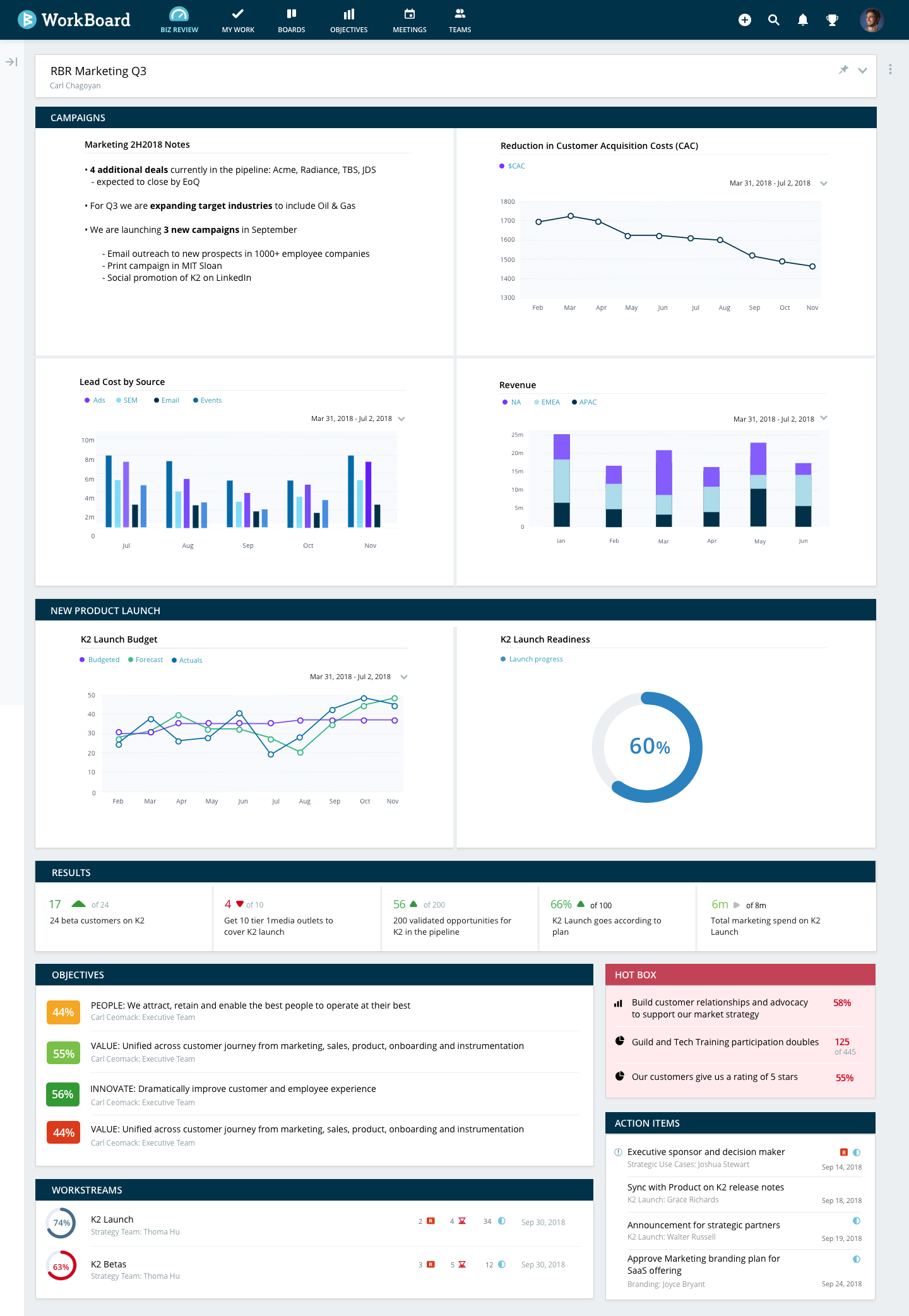 Organize charts by topic or category, display data as a donut or stacked bar chart, and choose your own chart and table colors. Publish as a pdf with graphs included!
Connect Meetings with Workstreams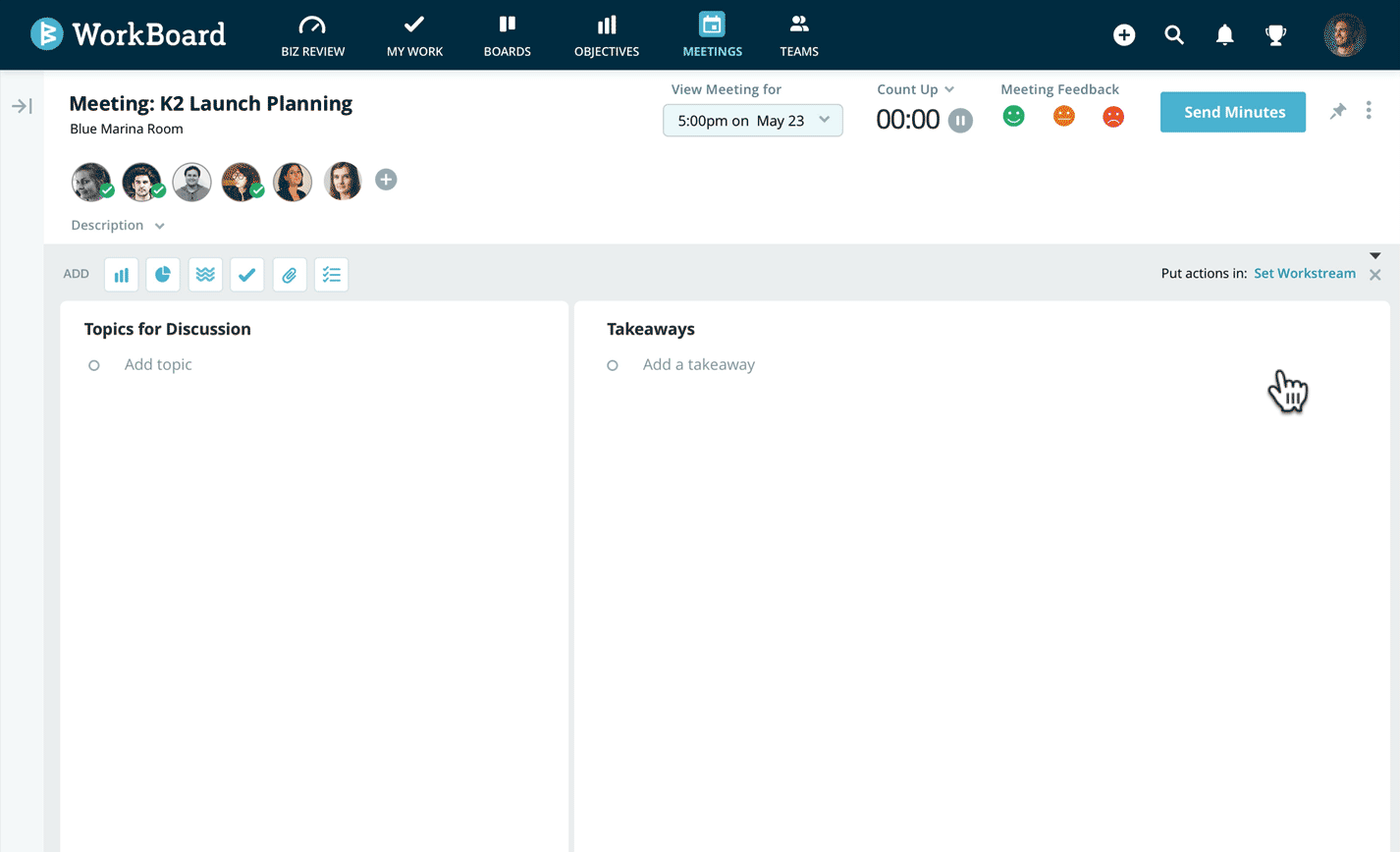 Link all meeting takeaways to a workstream! Quickly see a list of last meeting actions to include one or more in this meeting. And we've fixed saving your notes ☺
All Your Boards Now on Mobile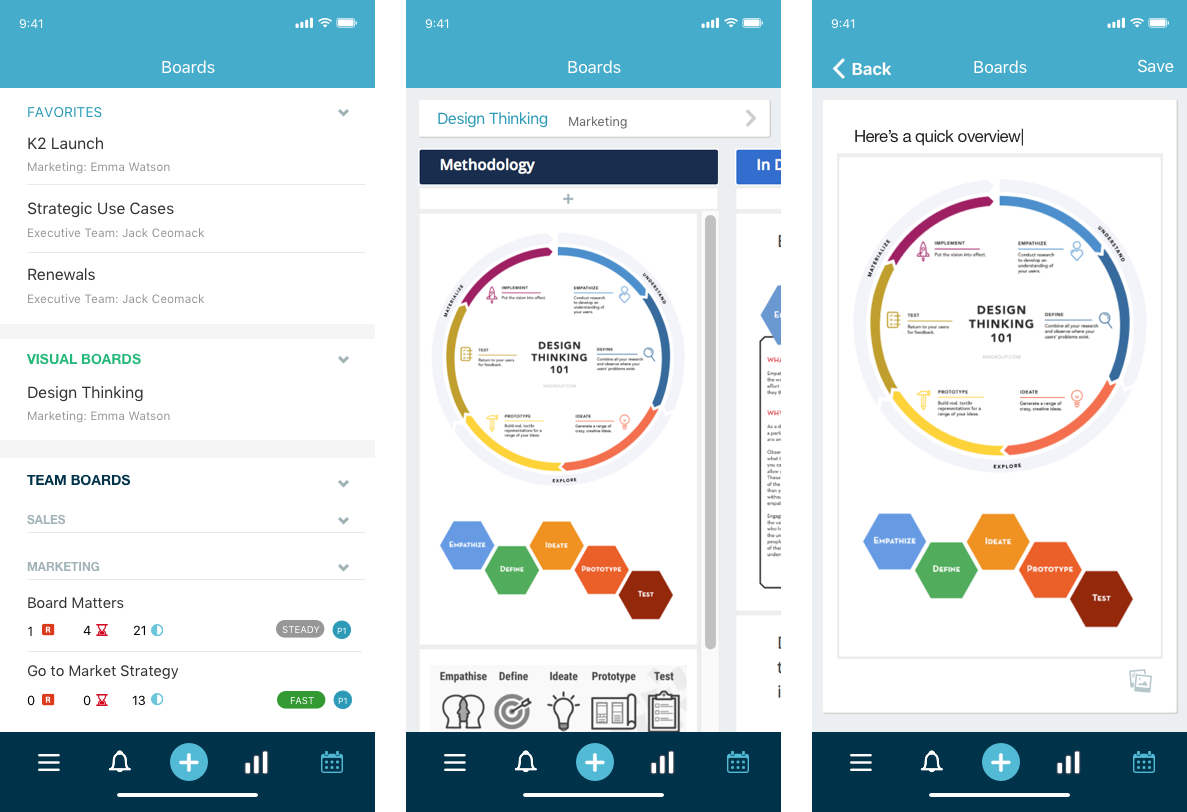 Browse and access all collaboration and visual boards from your phone!
And more
Customize your JIRA integration
SSO on mobile
Run the app in a browser on iPad with full capability
Categorize and sub categorize your objectives
---
July 2018 Release
Add Tables and Text to Your Running Business Reviews (RBRs)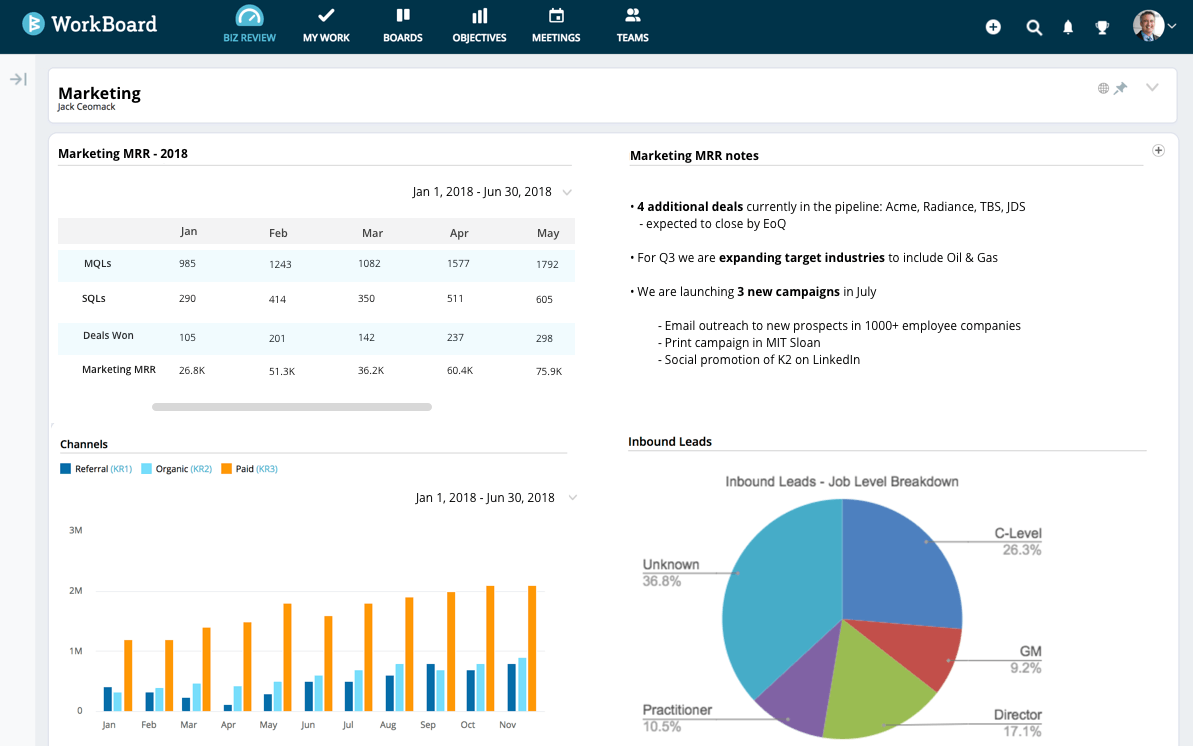 Sometimes you need a bullet list next to a chart and sometimes a chart isn't the ideal way to present your data — now add free text to your RBR and show your results in a simple table. Goodbye slide formatting!
​New Outlook Calendar and Email Plugin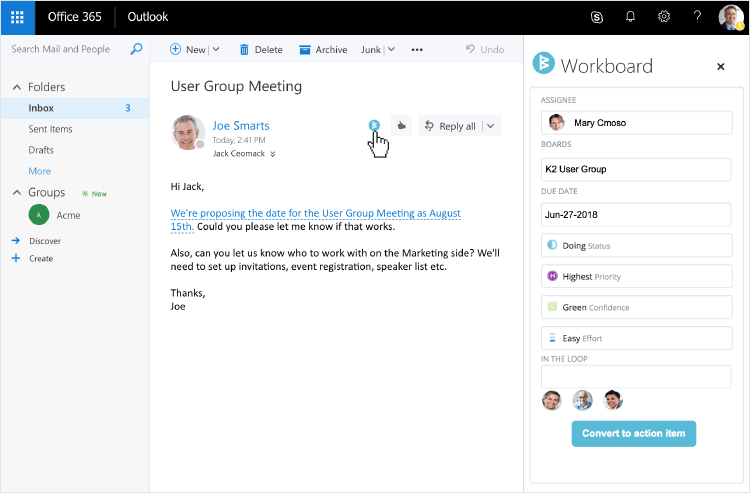 Schedule Workboard meetings or add action items from Outlook with one click! Install the plugin!
Filter boards by owners, priority, risk, status or tags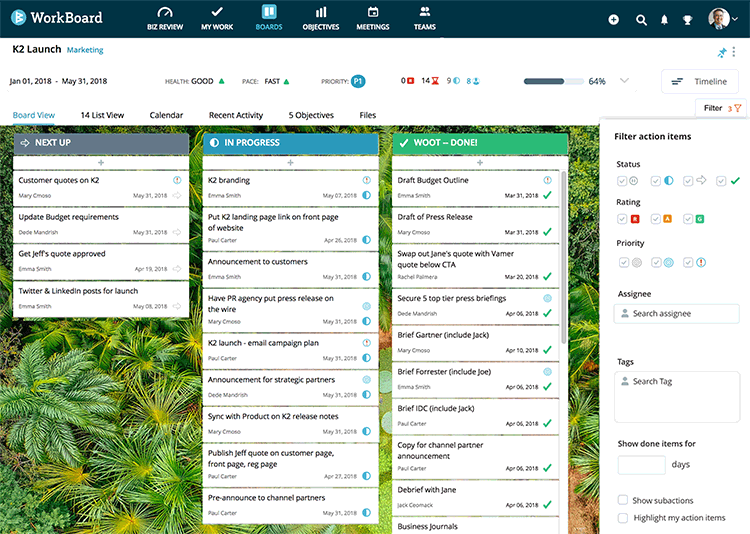 Track and manage work more easily by viewing what's most important. Show only at-risk items, or tasks belonging to a particular team member.
Create Action Items from Slack Messages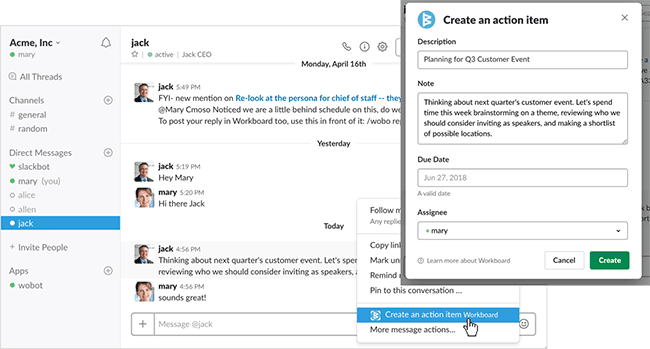 When an actionable idea comes up during a Slack chat, turn it into a Workboard action item with one click! You'll be able to share status and collaborate on execution without searching through old conversation threads.
Community Call Replay: See What's New and What's Next
Get a high level overview of all your projects with "super boards," add action items right from your Chrome browser, chart data from your other business systems on your Running Business Review dashboards — see all this and more on the June Community Call Replay.
---
April 2018 Release
The April 2018 release includes new web navigation, full Microsoft Teams integration and much more — log in now to check it out!
Pin Favorites to Top of Menu in All-New Navigation
A sleek new menu bar moves to the top of the page and displays what you recently used so it's all one click away. Pin favorite objectives, workstreams, and actions to the top of the menu list. Jump to specific workstreams, objectives and items from a much-improved left panel navigation.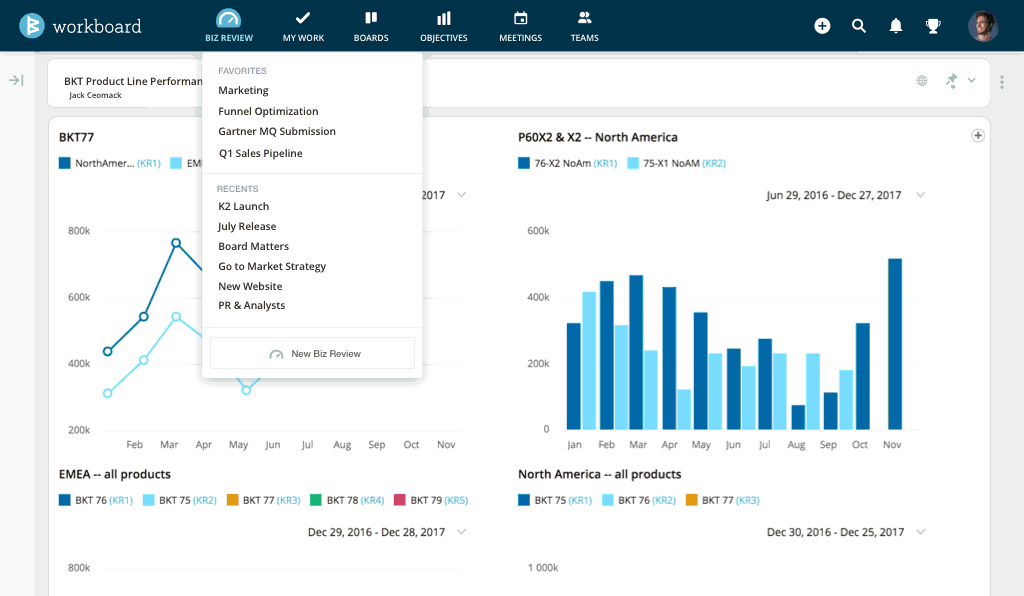 ​Display Data from Other Sources on Business Reviews and Dashboards
Take your Running Business Reviews to the next level by adding graphs, charts, images, and videos from other business ​systems. Now the top of your Business Review can include graphs of your key results, charts from Periscope or Tableau, and images of product or team — anything with an iFrame.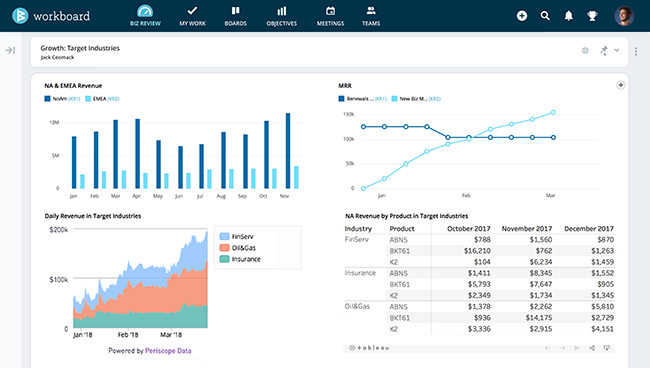 Workboard in Microsoft Teams
We are super excited about this powerful integration: ​Chat with Workboard in Teams to get or update results, grab Workboard data and charts to include in a chat with colleagues, and view My Work and Business Reviews as tabs within Teams. Enable the integration now!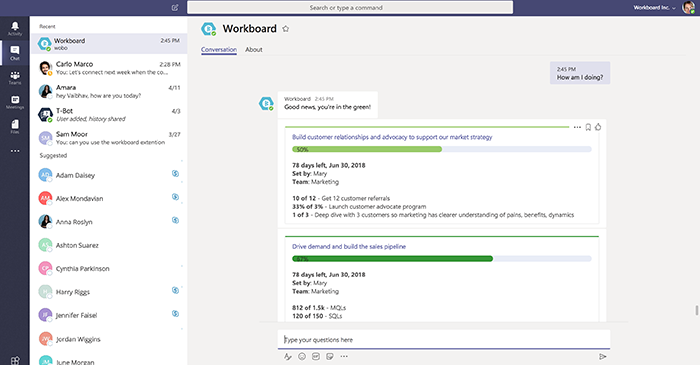 Meetings 3.0: Track Along & Get Feedback
Check calendar availability as you plan the Workboard meeting. As you move down the meeting agenda, the topic being discussed is highlighted so it's easier to follow along. And we've made note taking even easier. After the meeting, ask for feedback ​on the meeting itself so your team get smarter about its time!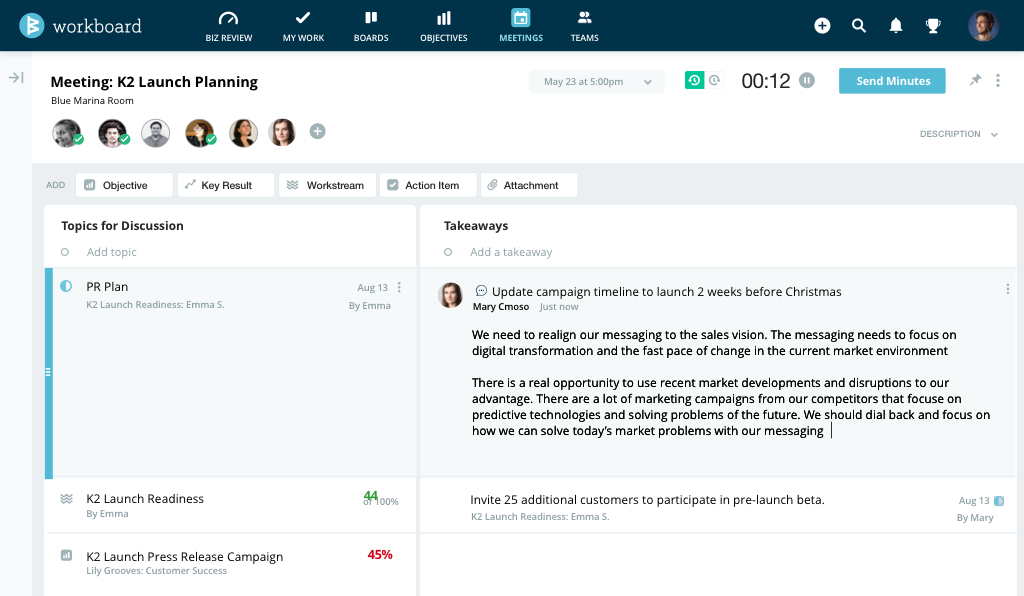 Get an overview of the new features in our April 2018 Community Call
---
February 2018 Release
Now you can add automations to your Workboard kanban boards and assign meeting actions more easily! We've cleaned up some inconveniences as well that you'll notice by their absence.
Automate Workflows
Set automatic actions for each column on your board to change status, owner, priority or other attributes every time an item is dragged into the column. Skip steps and updates to save time! Use custom boards to create your own columns and automations to tailor your own workflows. ​It's perfect for managing approval flows, or moving projects from draft through design to production. Learn more.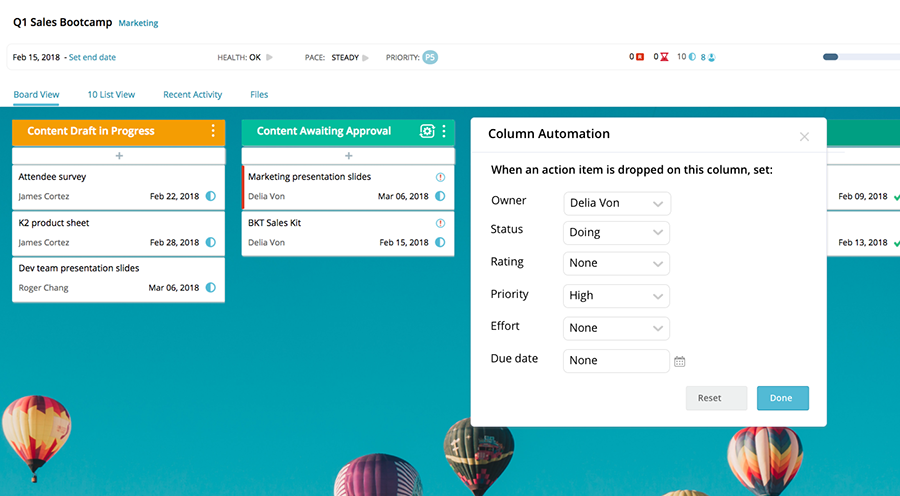 Assign Meeting Actions Faster
Use social quick conventions to capture, categorize and assign action items faster in meetings. Use @ mentions to assign action item owners, "#" to add ​the item to a specific workstream, ​and ​put an exclamation mark ​"!" ​in front of the day/month to set a due date​ (Good move @Developer Don #newrelease !02/28)
Insights & Roadmap Review
Check out the improved navigation and more coming in March and April in our February 2018 Community Call
---
January 2018 Release
Our January 2018 release helps you rock the new year! Add charts to your Business Review dashboards and trick out your boards with photos and more. Log in now to take advantage of these new features:
Chart Your Success!
Add charts to your Business Reviews to trend and compare results. Combine up to 5 metrics on a chart to compare product, sales, business or team performance over time; add as many charts as you'd like. Remember you can create as many Business Review dashboards as you need and share them with colleagues. This may just be the end of powerpoint reporting!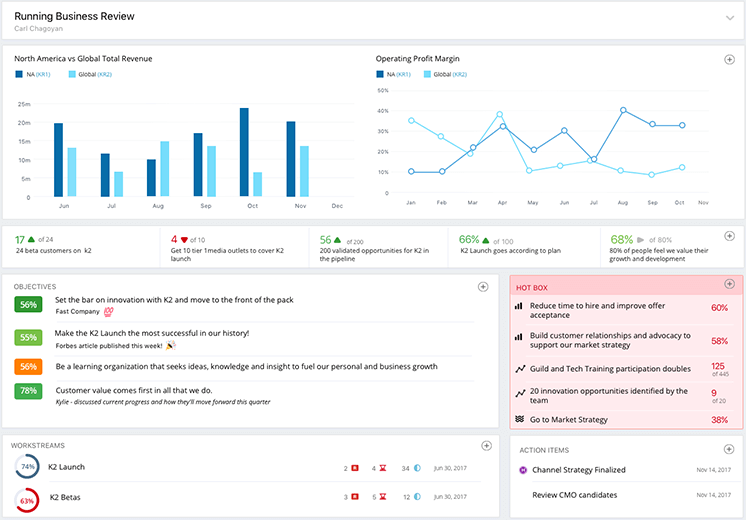 Trick Out Your Boards!
Spice up your team's boards with photo backgrounds and color coded columns. May your work be more distinctive and fun in 2018!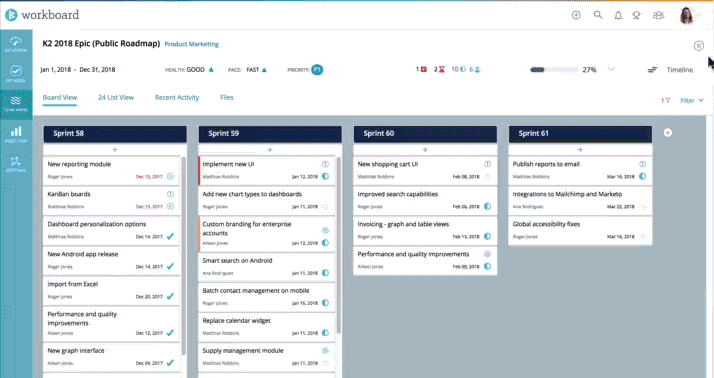 ---
November 2017 Release
Our November 2017 release includes several capabilities that help you communicate team outcomes and execution with colleagues: Share your business reviews, sync data in other Dev or tasks systems easily and get kanban boards on Android. Log in now to take advantage of these new features:
Customize Team, Product or Business Segment Dashboards
Create multiple Running Business Reviews (RBRs) for each part of the business, product line or organization.
Invite others to contribute items to a shared RBR and use for huddles, management reviews or group dashboards.
Publish dashboards to individuals, teams, or the entire organization.
Include and exclude the elements you want (objectives, key results, workstreams, or action items).
Learn more in this 5-minute video!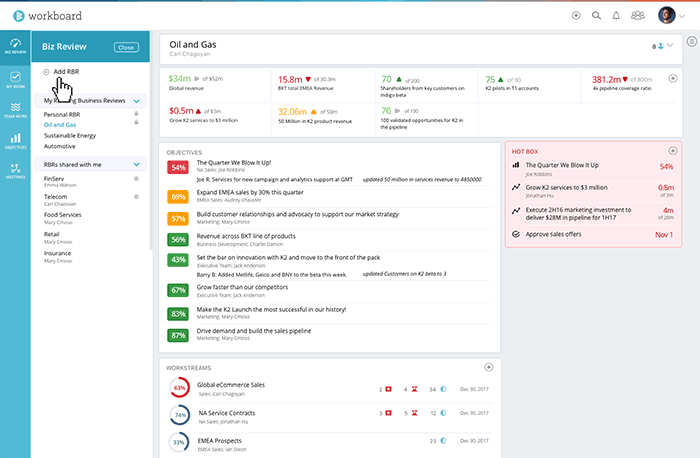 Source, sync and share work in JIRA, GitHub and Asana
Whether your team just needs to have a clearer connection between strategy and objectives and their work or you're trying to get a unified view of work across too many apps, it's easier now!
Pull JIRA, GitHub, or Asana data and its status into Workboard automatically
Decide what to include (issues, tickets, stories, tasks, projects) and how much detail (items or stats like completion % or count)
Use work data in Jira, GitHub and Asana in your RBRs, metric and key results, execution dashboards or meeting agendas
Learn more with this short video!
Watch the replay of our November Community Call to get all the details. (You can also download the slides.)
---
October 2017 Release
Our October 2017 release includes several new capabilities that will make life easier, meetings better and your impact bigger!
Have Smarter Meetings
Takeaways are now aligned with their topics — it's easy to connect the two. Quickly add OKRs, workstreams, action items or files to the agenda to facilitate data-driven decisions. Plan meetings right from Slack, or start unscheduled meetings anytime using the Meet Now button. Take long notes more easily and get detailed minutes via email following the meeting. Get all the details!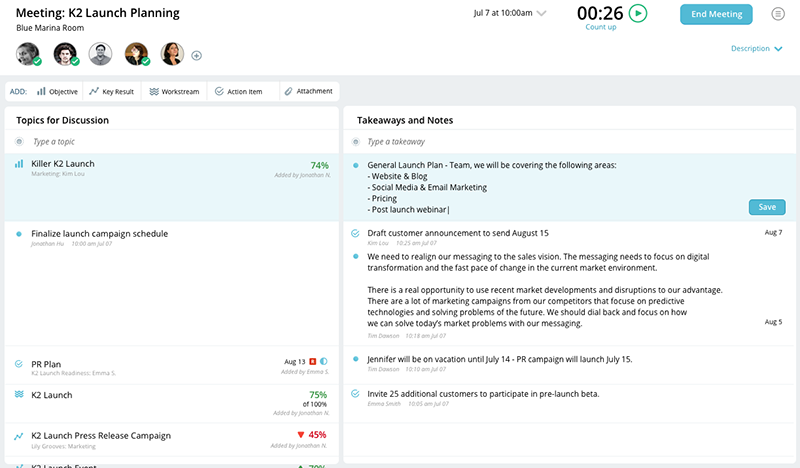 Plan Project Timelines With Interactive Gantts
Select a time scale on your Team Work Gantt charts that fits your project horizons — days, weeks, or months. Sort workstream timelines by priority, start or end date, or alphabetical order. Color-coded Gantt bars show project health at a glance. Plus, the Workstream summary status is back on its own dashboard — neat, tidy and the way you liked it. See a preview!
Maximize Team Impact with Workload and Bandwidth
Use the new Workload and Bandwidth view to help the team do the work that matters. See and compare team members' workloads, and find available capacity for new projects. Visualize team time allocated by priorities, projects, and OKR-aligned work. Learn more!
Watch the replay of our September Community Call to get all the details and benefits from these and more exciting new capabilities coming to Workboard over the next few months:
Create and share multiple Running Business Reviews
Let data flow more easily with native integrations to JIRA, Asana, GitHub and other apps
Share workstreams with everyone in the org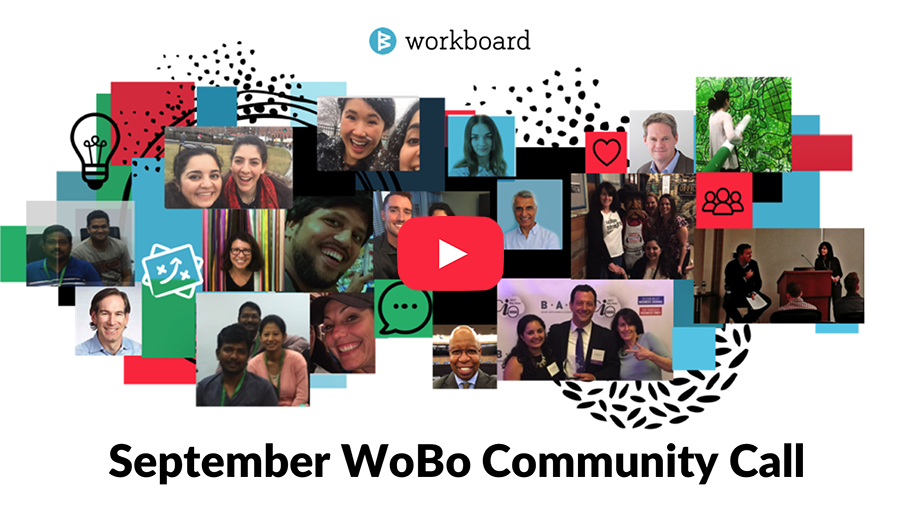 (You can also download the slides).
---
August 2017 Release
Our August 2017 release includes several new capabilities to help you drive results and execute more efficiently.
Organize your boards any way you want — Manage a product roadmap with columns for each quarter, or track relationships with multiple key clients using a column for each customer. Include as many columns as you need, and group related tasks into columns regardless of their status.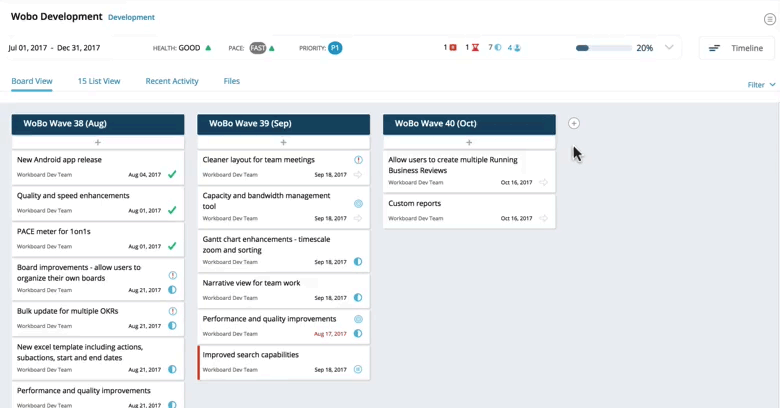 Batch update dozens of objectives and key results all at once — Post monthly revenue numbers for hundreds of products, or weekly expenses from dozens of cost centers. Transform the spreadsheet you export from your transaction system into trendlines in Workboard that help you predict whether you'll hit your targets — and give everyone visibility. (This batch update capability is a nuclear superpower! Reach out to us to get your finger on the button...)
Import project templates for a fast launch — If your projects tend to be similar — such as onboarding customers or managing release cycles — create the actions and subactions once in an Excel template and import them as needed into Workboard. Simply update start dates, due dates and action owners prior to import, and in moments everyone will have their own to-do list that they can work and collaborate on from web or phone.
Learn how to take advantage of these enhancements in the recording below.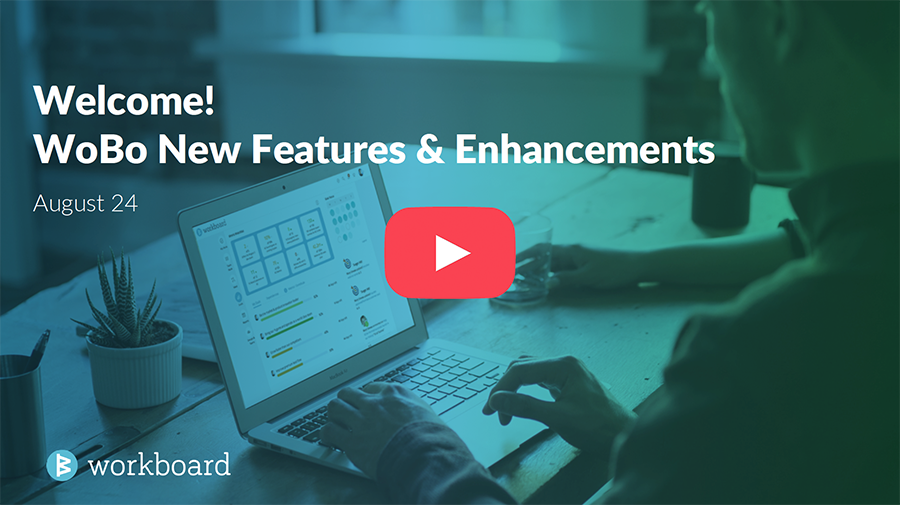 And watch the replay of our August Community Call to get all the details and benefits from more exciting new capabilities coming to Workboard over the next few months:
Cleaner meetings layout
Flexible Gantt charts for visualizing project and individual workloads
Create and share multiple Running Business Reviews
Design your own report and status board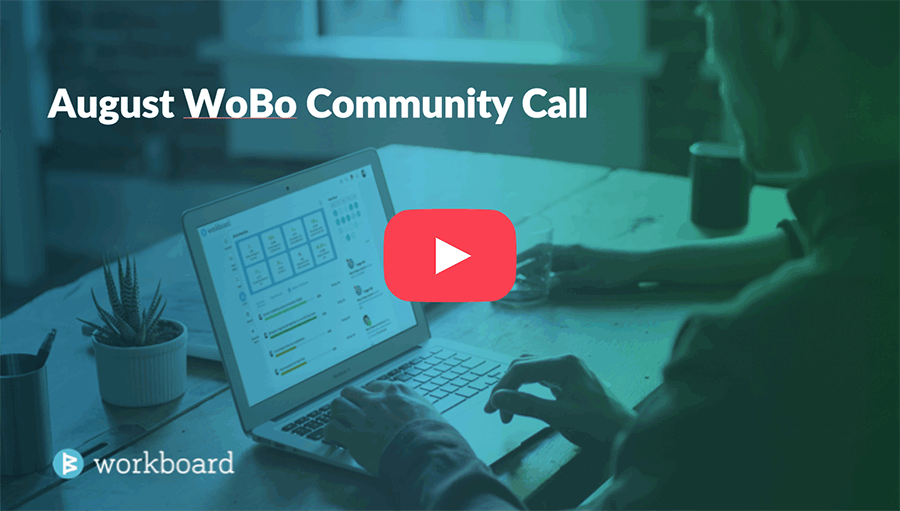 (You can also download the slides).
---
August 2017 - Android App Release
New Android App - Now with OKRs and Meetings! Released on August 8, the Workboard Android app now includes full OKR and meetings capabilities to help you stay connected on the go! View and update your OKRs, browse organizational objectives, update multiple key results at once, and plan and participate in meetings and 1on1s from your phone — including adding takeaways during the meeting.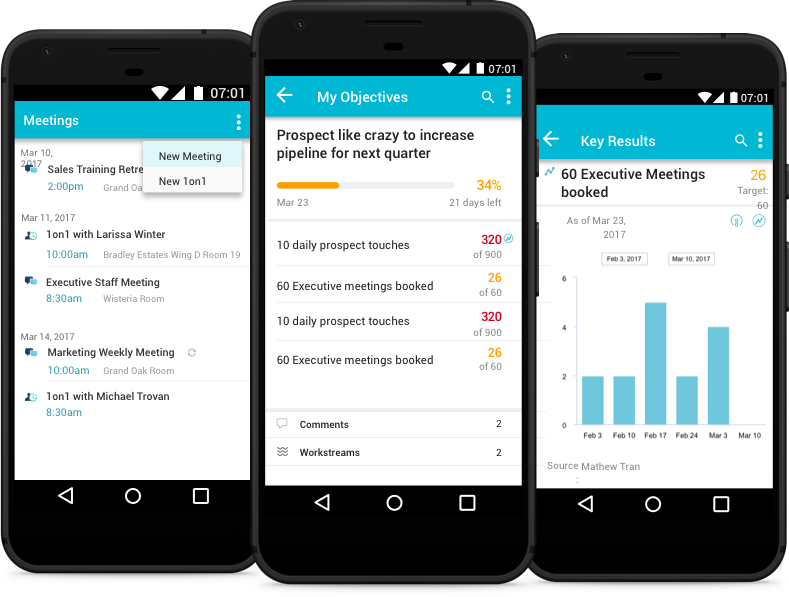 ---
July 2017 Releases
In our July releases, we focused on improving user experience and platform performance to help make using Workboard a much smoother experience. We also introduced enhancements for 1on1s and subaction item importing capabilities.
Quality Fixes
Layout and formatting fixes for readability
Reduced scrolling
Search instead of scroll to complete selections faster
Consistent terminology, date formatting, menu and icon placements across the app
And more!
Performance Improvements
Our July releases have resulted in significant load-time improvements on several pages in the app:
Page
Load Time
June 2017
Load Time
August 2017
My Work - Today
5 seconds
1.9 seconds
My Work - This Week
4.5 seconds
2.8 seconds
All My Work
4.2 seconds
2.8 seconds
Team Work - Board
4 seconds
2.5 seconds
Team Work - List
4.4 seconds
2.8 second
Meetings Dashboard
5.3 seconds
2.1 seconds
Team Meeting
8.1 seconds
3.1 seconds
1on1s Dashboard
6.2 seconds
2.3 seconds
1on1 Meeting
5.2 seconds
2.1 seconds
My OKRs
5.8 seconds
3.1 seconds
Heatmap
5 seconds
3.2 seconds
Alignment
5.6 seconds
3.1 seconds
Timeline
7.1 seconds
3.8 seconds
Engagement
5 seconds
3.1 seconds
Action Item Popup
4 seconds
1.8 seconds
OKR Popup
6.1 seconds
2.2 seconds

1on1s - Add Skill Level to the Conversation
We've added a new dimension -- Competence -- to the graph at the top of the 1on1 meeting page. The PACE meter (formerly known as the EPA meter) allows both manager and team member to rate the team member's Performance, Alignment, Competence and Engagement. By adding Competence to the mix, the meter now serves as a starting point for conversations around skills and skill-building during your 1on1s.

Import Subactions from Excel
It's now easier than ever to create a reusable template or work list for your projects. In addition to importing action items from Excel, you can now import their related subactions as well.
---
June 2017 Release
The June Workboard release makes it easier to manage team capacity, coordinate projects, and set and distribute the key results you need your team to achieve to stay on track. Log in to take advantage of these improvements in driving great results:
Visualize and coordinate team work: Plan team projects more easily with handy new Gantt charts on Team Details — drag the endpoints to adjust start and end dates, or slide an entire project to move it up or push it back. Plus, manage team capacity with the new Timeline view on individual workstreams: quickly highlight each person's actions and see what's on each person's plate in a particular timeframe. Check it out now!


Cascade key results more easily: Flow the same key results through several levels of your org with far fewer clicks (just in time for your Q3 OKR reset!) Learn more…
Team Work Board spiffs: Choose whether to show or hide subactions on your boards, optionally highlight your own actions, and filter the "Done" column by due date. Plus, it's now more obvious when action items have notes or attachments. Check it out now…
And more...

Close meetings before their set start time (yay!).
Closed objectives now appear on Team Work Details.
Manager and member see both sets of OKRs in 1on1 meeting agendas.
In this Community Call recording, Workboard CEO Deidre Paknad previews these June release features, as well as what's coming in July and beyond:
(You can also download the slides).
---
May 2017 Release
In today's accelerating business world, you need fast access to data to make strategic decisions — and with these cool new Workboard features, your data is just seconds away! Log in and take advantage of these 3 big items and lots of small improvements:
Fast KR progress updates: Update all your key results at once from a single page; tab between fields for even greater efficiency. It's easy like Excel, but cuter — and instantly transparent to everyone on the team! Update your results now!


Instant KR history reports: View a full history of key result updates, including the narrative and details from rolled-up results; give a "thumbs up" on updates you love! With one click, publish the story of your team's progress to email or Slack. Try it now…


Team Work spiffs: Subactions are now indented under their parent actions on team work lists — better visibility. Archive, copy, move, or delete workstreams from the Board view as well as the list view. You can also move your entire backlog to another workstream in a couple of clicks — especially handy for agile developer teams. Check it out now…
And more...

Bulk change subactions on the action item detail page.
The interactive OKR alignment report has moved to the Alignment view under Objectives.
We spiffed up the "Results I Contribute" tab under My OKRs: you'll have better clarity into the KRs you own.
In this Community Call recording, Workboard CEO Deidre Paknad previews these May release features, as well as what's coming in June and beyond: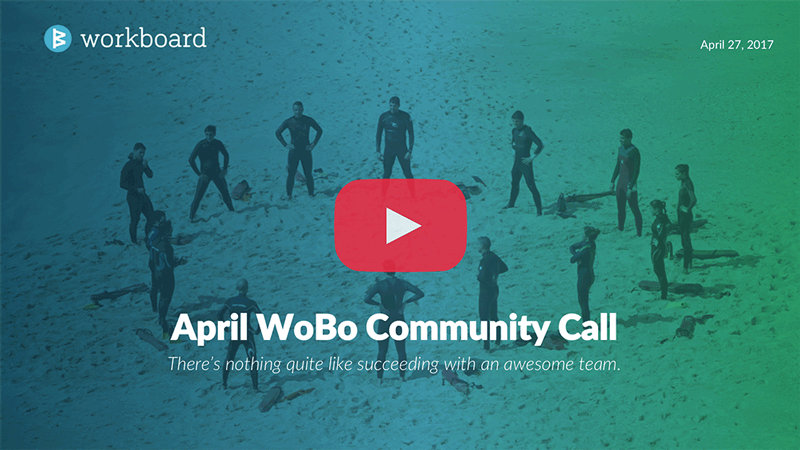 (You can also download the slides).
---
April 2017 Release
With the April 2017 release, take advantage of these 3 big items and lots of small improvements:
Board View of Team's Work. View deliverables and actions in a column format; drag and drop items within a column to sequence work and across columns as they progress from planning to completion. Click any item to get a see the detail. Name your columns, change backgrounds and more (plus, it's blazing fast!!) Learn more…


More Interactive Team Summary & Dashboard. Update workstream priority, health, pace, and narrative right from the dashboard view. Learn more…
Complete Interactive OKR ​Alignment ​Report. Publish a "full alignment" view that shows the entire OKR cascade in report format. Nine layers of OKRs? No problem, you can see it all. Learn more…


And more...

Workboard is now full-screen and will resize as you adjust your browser window
We tidied up the detail view of Objectives and Key Results, improved speed and made navigation a little easier to see.
In this Community Call recording, Workboard CEO Deidre Paknad previews these April release features and more: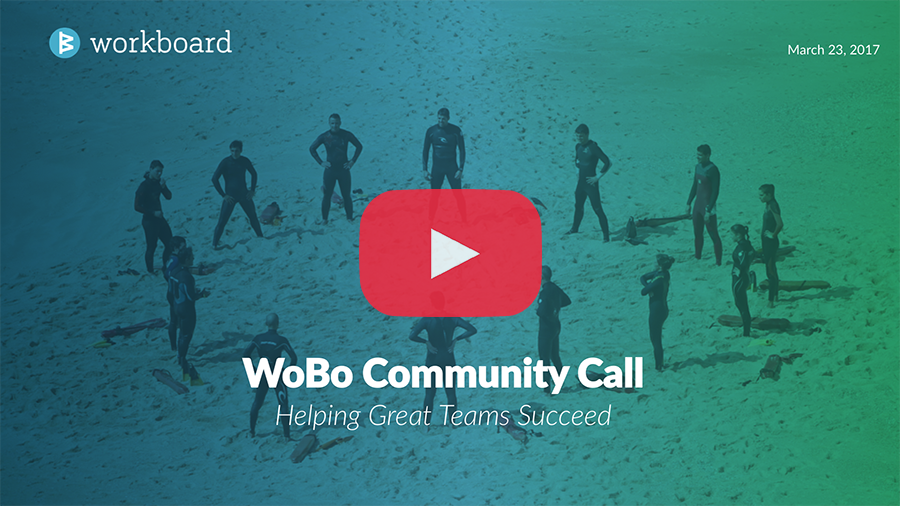 (You can also download the slides).
---
March 2017 Release
With the March 2017 release, we think you'll be delighted with what we've simplified, streamlined and improved! Enjoy these enhancements and more:
Share Business Reviews. Curate and publish your Running Business Review via Slack, email, or print — add a note or narrative at the top for context.


Simplified Menu & Navigation. We've cleaned house a bit, reducing the number of main menu buttons to the ones you use most. My Work and Team Work are easier to navigate. There's a handy list of your directs and dotted line reports at the top next to search and badges. Open and and close all the items in the sub navigation in one click — it's the little things :)
Team Work Works Better. Check out the Team Summary page for a much-improved dashboard of workstreams with an easier view of the actions and objectives they drive. The whole team has access to the weekly snapshot of what changed in the week, including new red flags and what's been pushed back. The teams you manage are light green, so they're easy to spot.


Smoother OKR Creation. Well, this really needed to happen! Now your objective is visible every step of the way and you navigate through set up the same way you navigate on existing OKRs. When you create KRs and metrics, you'll see less complexity and still have all the capability. Surveys are much smarter, and it's easier to step through the whole process.
Better Conversations on OKRs. Search for specific OKRs or OKR categories and share them via print, email or Slack.
While there are many more details in the release, we'll mention just one more: Good emojis on OKR comments!

In this Community Call recording, Workboard CEO Deidre Paknad previews these March release features and more:
(You can also download the slides).
---
February Performance Release
As part of our focus on improving the speed of the app, we pushed the first of two performance-dedicated releases for the month on February 4. This release resulted in significant load-time improvements on several pages in the app:
Page
Load Time
(before 2/4 release)
Load Time
(after 2/4 release)
Heatmap
5.3 seconds
1.7 seconds
My OKRs
3.8 seconds
2.5 seconds
Running Business Review (RBR)
2 seconds
1.2 seconds
Team Work - Workstream
3.2 seconds
2.2 seconds
My Work - Delegated
3.3 seconds
1 second
Action Item Details
2 seconds
1.5 seconds
---
December 2016 Release
This release features the new Running Business Review and other enhancements that will help you finish big this year and get a fast start in 2017:
1. Running Business Review​™ gives you one full view of your world. Skip the onerous reporting cycles and get one cohesive view of your organization's objectives, key results and KPIs, and the workstreams driving outcomes with the new RBR! The RBR will be available on iPad this month, too. If you are an Elite Enterprise customer, activate your RBR here by checking "Enable Running Business Review," then tailor what you want to see on yours.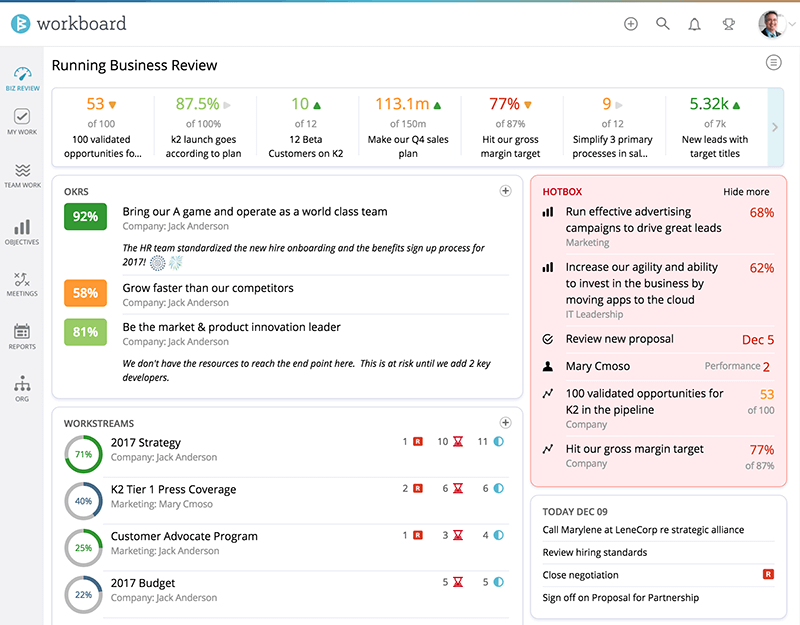 2. New wobo Slack bots give you fast answers. Get your objectives, risks, and activities for the day in Slack using the new bots. Just type /wobo bot in Slack and click what you want to see.

3. Get the right work done faster with these action item spiffs:
Now add images to action item notes.
Page forward and backward from the Today action item list.
​Filter on the overdue list and sub actions.
4. Yay, new badges! Throw around some of our new badges and enjoy the refresh on the originals.

5. ​Organize and publish goals and OKRs more easily. Creating, viewing and updating are now faster. We've re-labeled "Goals" to "Objectives" and "Metrics" to "Key Results" to simplify. Now, drag objectives in the order you want to publish them via Slack, email or print — one-click management reporting! Create enterprise categories of objectives for strategy pillars and filter them in the heat map. Objectives will be added to 1on1s automatically now.
Watch this 30 minute recording for a preview of these features. (You can also download the slides).
---
November 2016 Release
1. Slack a fast goal report. Pick any combination of goals (by goal name, team or user) and Slack a report! Our new Slack bot will even send your at-risk goals and metrics on Mondays so you can slay the dragon before Friday.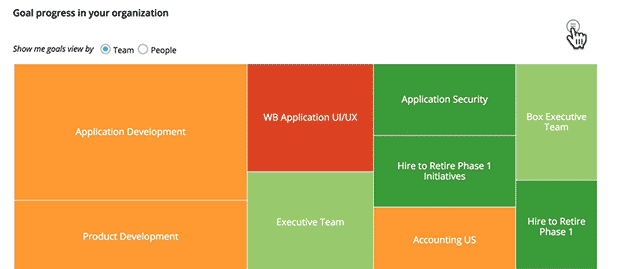 2. Make the most of your meeting time: Put goals and actions on the agenda in any order you want now. Use RAG bullets for takeaways, and see the number of decisions and actions from your meetings this year on your meeting dashboard.
3. Add a descriptive note to goals to let ​people know what you're measuring, how it ties to a multi-year strategy or any other narrative you want to convey. There's always room for more clarity.
4. Metrics just got smarter: measure progress from a starting value to target, multiply metrics by fractions and negative numbers for roll up metrics like gross margin, run rate costs and so on. Go on, get fancy.
5. Your heatmap defaults to your world, so it is immediately relevant; zoom in and out​ to see the whole world. More relevant and it loads faster.
6. Native integrations to Jira and Asana (if you really must use another tool!) to update metrics and key results. Use the public APIs to source metrics from anywhere and send WoBo data to other systems. Learn more »
7. More obvious functional and cross-functional teams with a new user experience for admins (sorry it took us so long to give you a ​nifty visual experience!!). For admins, it's easier to distinguish employee reporting relationships, functional organizations and working groups or cross functional teams. Learn more »
8. New Executive Companion guide and Collaboration Master guides: download as PDFs to make the most of Workboard or help someone else. Learn more »
---
September 2016 Release
Search Decisions​ from Meetings & More
It's crunch time, and you probably need to recall decisions made during the quarter. New search features make it easy to search meetings for decisions and takeaways. Search for goals, metrics, and action items, and filter your results by owner, due date, status and more.
Note that new search means we need to re-index millions of database items. Your most recent items are searchable now, but it may take another few days for the full index to complete and older items to show in results.
Beyond the Goal Cascade, The Goal Roll Up
Get fast score cards for a whole business by referencing goals within a goal. Create a single, top-level goal that automatically rolls up the goals from ​your e-staff​ goals or other goals. The detail view on the parent goal will show the current status of each ​child goal, and you can click into each one to see individual metric details. ​ This is a fast way to derive business unit goals.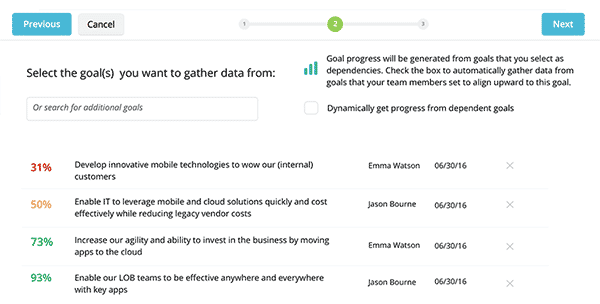 Friendlier OKR Wizard​ to Measure More
Workboard's kinder, gentler OKR Wizard makes it easier to take advantage of the many ways to measure business progress. Not only are metrics easier to set, you can also update them directly from Excel and Google sheets — go to custom integrations on the profile menu.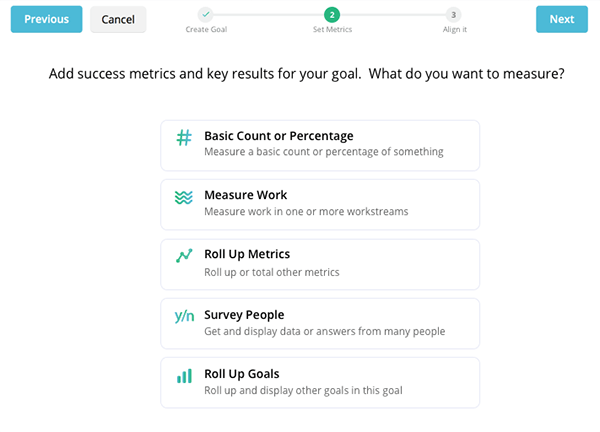 See Actions Your Boss Sent and Boomerang Them Back Faster
Now action items This Week and notifications from your boss are shaded to help you quickly spot​ them. If your plate is overflowing, it's easier than ever to ​catch what's important to your boss. The new "boomerang" feature makes it easy to save, close and return it to your boss (or whoever sent it to you) with one click.
Smart End to Your Week
Check out the spiffy new managers' summary: progress on important metrics in the week, a full view of where you are on goal, and key execution stats neatly delivered in email Friday afternoon.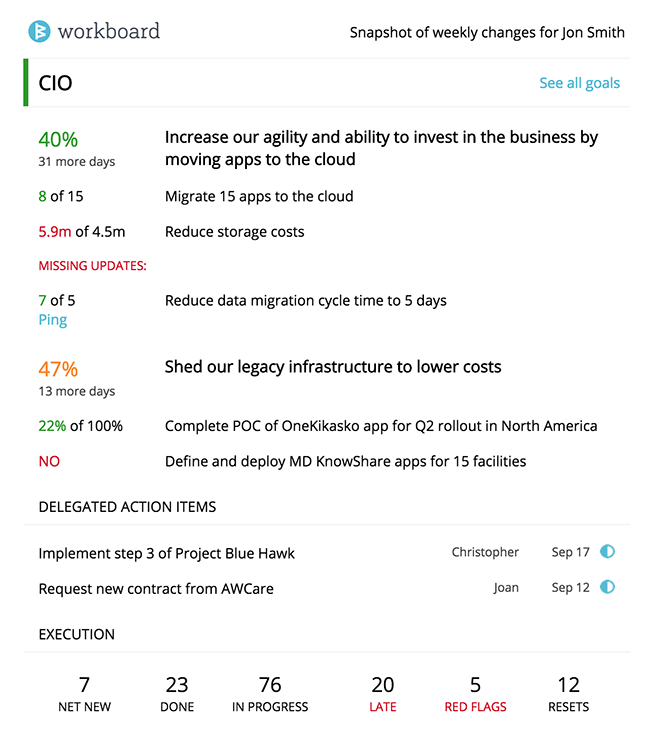 And a few more things:
Close meetings without sending a summary, resend summaries, or send summaries to coworkers not in Workboard.
Heatmap filters ​are sticky now — and September is a great time to watch your heatmap!
Import action items to multiple workstreams and add people to the loop.
Get an instant view of your goal dependencies from the My Goals page.
For more details on this and upcoming releases, watch the September Community Call.
---
August 2016 Release
See Team Progress At a Glance
As you check in on your Q3 goals, click on your team's name in the heat map to get a new, uncluttered view of your team's progress. At a glance, you can see the status of each goal and metric, and an alert will show any downstream goals that are in the red. Plus, you can easily print this view and share it with people outside Workboard — great for quick status reports.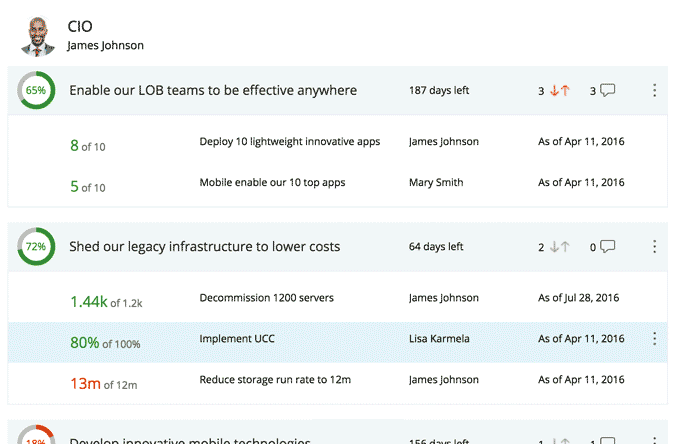 More Efficient Goals and Metrics
We're introducing 4 improvements to make setting goals and updating metrics easier: 1) The enhanced OKR wizard now includes help popups for every field, with usage examples. 2) You can now use one survey metric to gather data from multiple people. 3) If a metric you created at the beginning of the quarter becomes irrelevant by midquarter, you can now exclude it from the overall goal progress calculation at any point during the goal period. 4) Comment on any metric update at any time — or even add a comment without a metric update — to provide more context to the update.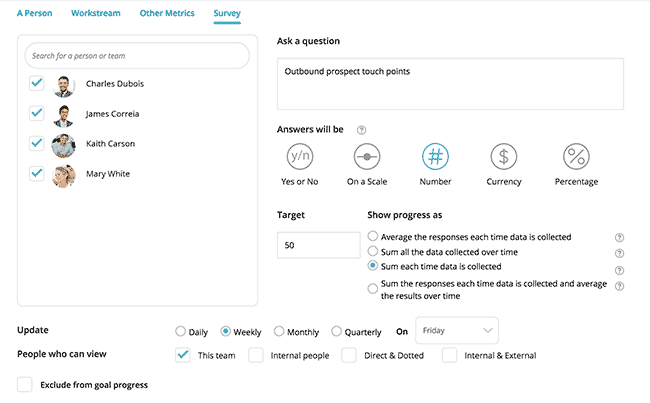 Cleaner Action Item Experience
We've modernized the design of the Action Item detail page to make it cleaner and easier to use. The form is now a popup rather than a separate page, so it both loads and closes faster. Plus, now any changes you make will automatically be saved — fewer clicks and less worry about lost data!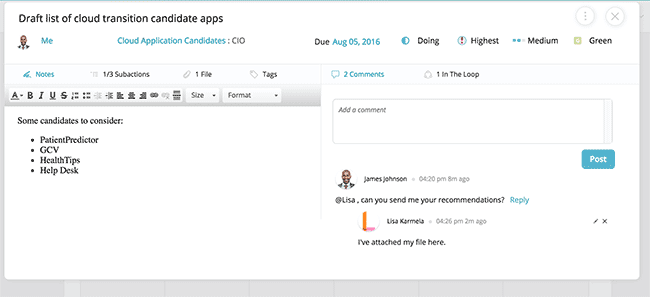 And More...
We've also added a number of other small improvements to make Workboard faster and easier to use:
Give a badge to several individuals at once, or to an entire team.
View a team's action items in a calendar view.
Resend meeting summaries to any invitees.
Move goals from one team to another.
Watch the pre-release July Community Call for more details.