Designating someone as a direct or dotted-line report will allow you to set 1on1s with them, as well as receive weekly check-ins and automatic status reports. Each person in WorkBoard can have 1 direct reporting relationship only. When a team Manager invites a new Workboard user to join their team, that new user will automatically become a direct report to that manager.
A dotted-line relationship is the same as a direct report, but for the purposes of the org chart you are not directly connected. You can have a dotted line relationship with as many people as you feel necessary. If you find you have a dotted line report but don't want to receive their weekly summaries, switch them to an internal collaborator.
An internal collaborator is someone within your organization that does not report to you. This is a good option for project teams when you do not wish to receive automatic reports from team members.
An external collaborator is someone outside your organization. They will not be able to see any of the Objectives inside the organization but will still be able to collaborate on Action Items on the Team they are invited to.
Changing reporting structures
Direct Reporting
Your Workboard account administrator as well as your source of truth via provisioning (Active Directory/Azure Directory Services, Okta, OneLogin, Workday, etc.) directly to WorkBoard, can set and change direct reporting structures.
Dotted-Line Reporting
Dotted-line reporting relationships must be added/updated manually by the Administrator using the Administrator Tools, found under the Settings menu in the upper right of each Workboard screen.
Both Direct and Dotted-Line Reporting Structure changes/updates are reflected in the Alignment View under By Organization > People.
Steps for updating Reporting Structures:
1. Click on your profile and select Administrator Tools.
2. Select Reporting Structures.
Note: The blue half-moon indicates there are people with direct or dotted-line reporting to that person.
3. Double-Click on a user and select Edit Reporting in the side-pane that opens up.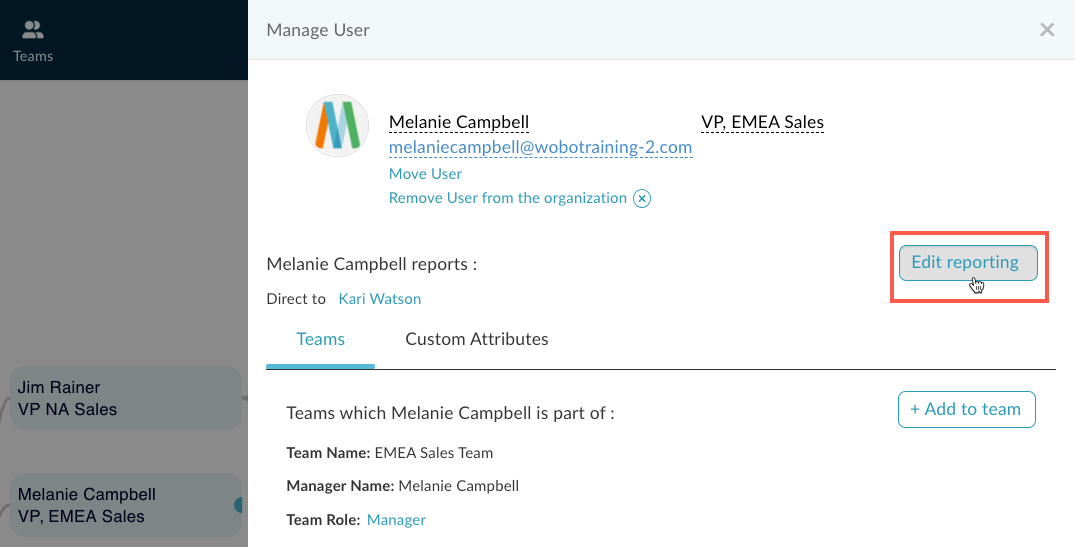 4. Choose to update either Direct or Dotted-Line Reporting and search for and select the user.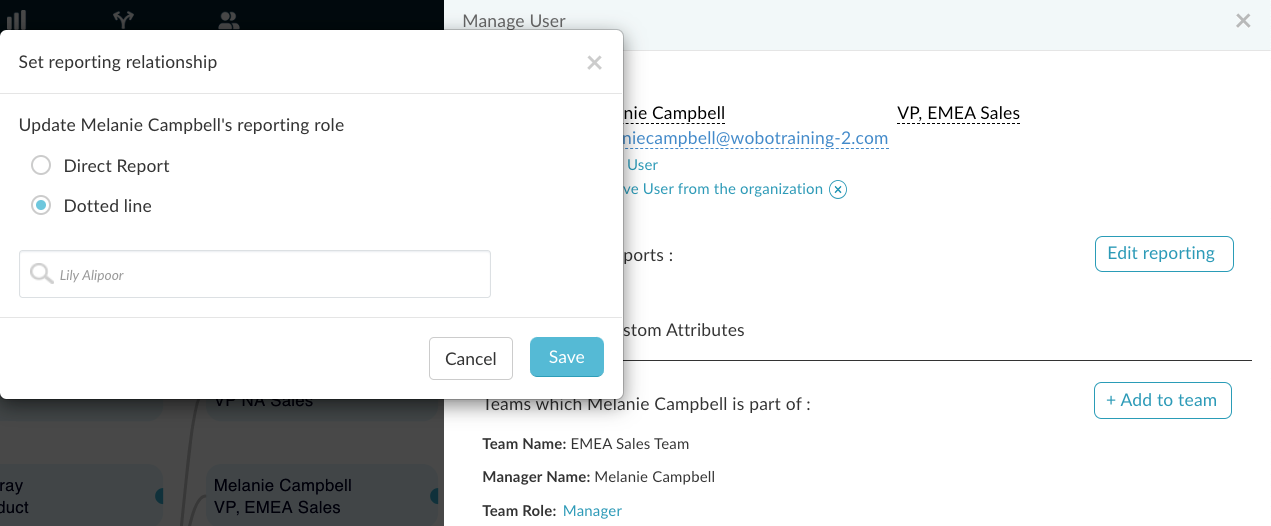 5. Those changes will be immediately reflected in the Alignment View under By Organization > People.