Overview
Teams are groups of people that collaborate on common Objectives and Workstreams. You can set up teams that mimic your formal organization structure, like Finance, HR, IT, and Senior Leadership teams.
View functional teams in your org in the Alignment View, or create dynamic teams to collaborate across departments.
Access Teams
Select Teamwork from the main menu
Click Teams


Navigate the Teams Landing Page
Once on the Teams Landing Page, there are a variety of features available, and quick actions you can take right from the menu:
Quick filters to get to

your teams

, or explore

all teams
Search

from the list by team name or manager

Easily

filter

to narrow down list and get to archived teams

Shortcut

hover over items pin and unpin from favorites, or grab the team link

The three dot menu displays

quick actions

for ease of use

Easy to distinguish between dynamic teams and functional teams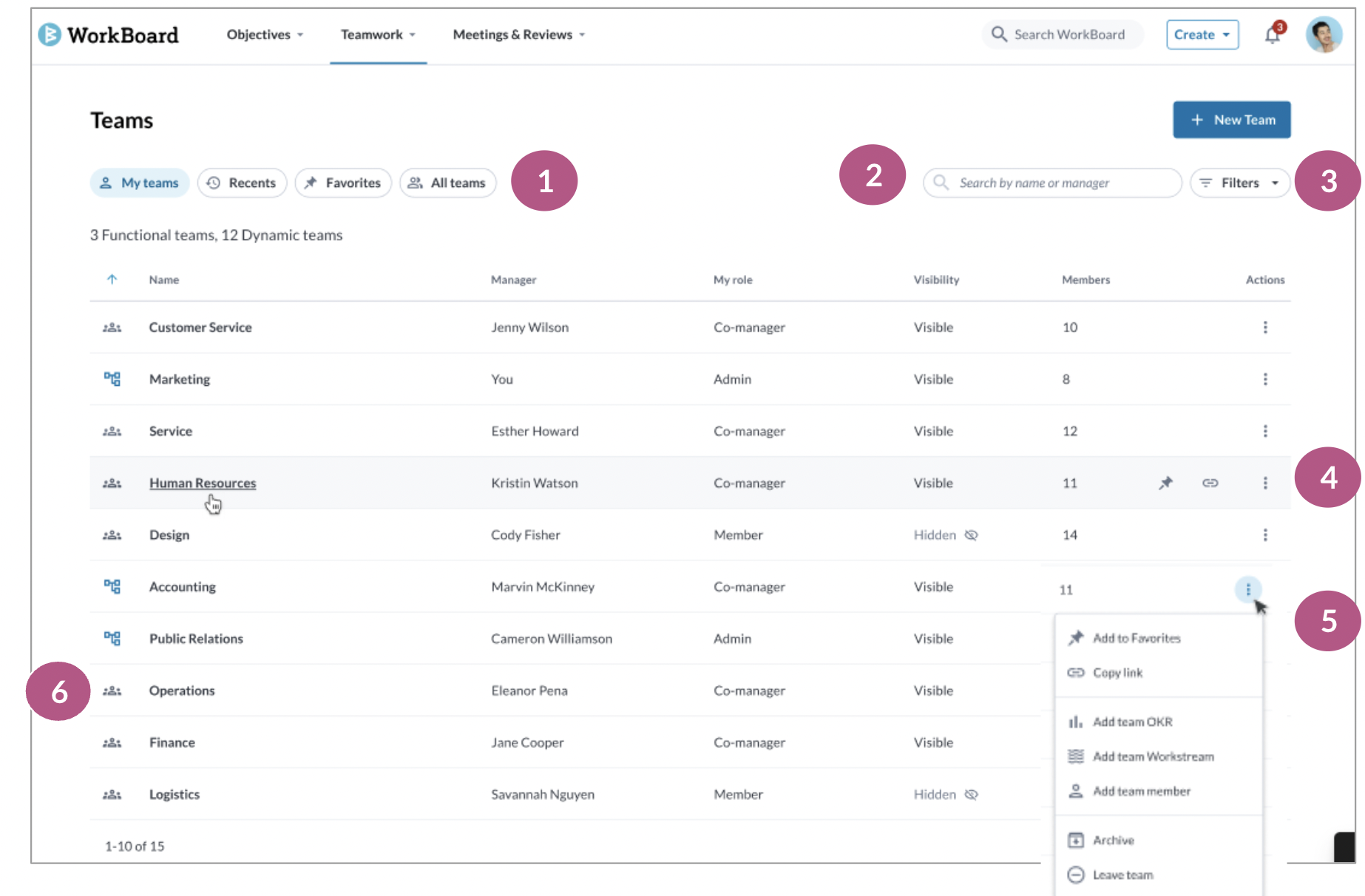 Available Items from the Teams Page
Within each individual team, everyone can see the activity that is shared with them, such as the Team OKRs, Team Members, Workstreams & Action Items.

| | |
| --- | --- |
| Team OKRs | All of the existing Team OKRs will appear on the OKRs tab. If your Team has not created any OKRs, then the tab will not appear. Only Managers, Co-Managers and Team Admins can create, edit and delete Team OKRs. |
| Team Workstreams | Workstreams are a collection of Action Items organized in a completion flow (kanban) type board, or in a customized board tailored to your team needs, such as a project management flow or by the type of work the team is doing. |
| Action Items | The Action Items tab showcases all of the Action Items across all of your Team Workstreams. |
| Weekly Snapshots | Weekly Snapshots displays the teams week-over-week Action Item progress. |
| Team Members | The Team Members tab shows the members of the Team and their existing permission level. |
Teams Page Action Options
Once you've clicked into a specific Team page, there are various actions you can take.
Favorite or Unfavorite Items
To favorite your Team, click on the pushpin . It will appear in the Side-Pane and also when you hover Over Teams (on the main menu).
Add Team OKRs, Workstreams, & Members
Click the Add button and choose an option.
Note: In order to see all three of these options you will need to be a Manager or Co-Manager. See Team permissions to learn more.
Publish and Print
The Publish or Print icon allows you to create report summaries which can include Team OKRs, Workstreams, and show Org-Level alignment.
Edit Team Name
As a Manager or Co-Manager,

click the team's name in the side pane. Then, click the kebab menu icon at the top right of the team's page, and click "Edit Team Name".
Team Details
Learn more about team details, which provides a quick dashboard view of your team's work.