Workstream Basics
A workstream is a body of work or a project -- an easy way to organize work you do or that a group of people does. Workstreams contain action items, and they can have a workstream lead, a start and end date, a long description or narrative, and other attributes.
Workstreams can be ongoing activities like Month End Close for a Finance team, or New EU regulations compliance for short-term projects with specific completion dates. Use Boards to visualize and organize your workstream with the same flexibility as you would organize sticky notes on a whiteboard.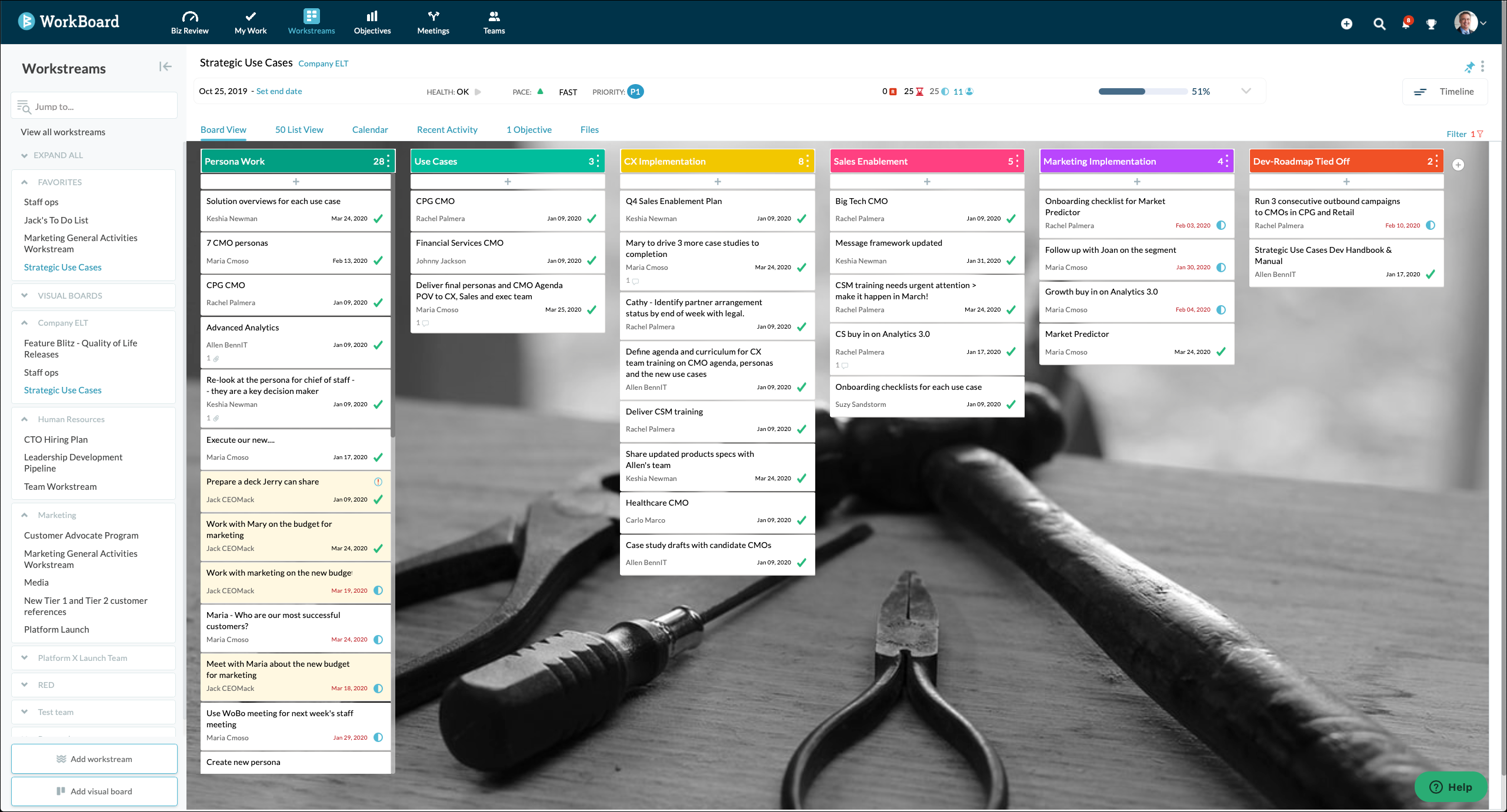 Personal & Team Workstreams
Personal Workstreams
Every user in WorkBoard has a Personal Workstream. When you or another user assigns you an Action Item, without explicitly putting it in a Team Workstream, it appears in your Personal Stream. Many users track their personal to-do list in their personal Workstream so everything they need to do is in one place.
Your Personal Workstream is private and cannot be shared. This means that the columns and the total body of work on your Personal Workstream can only be seen by you.
Your Personal Workstream cannot be deleted.
Users will only know about the Action Items on your Personal Stream that they have delegated to you, or that you've added them in the Loop on, only.
Team Workstreams
When you create a Workboard account, your team will have a default or sample Workstream to get you started. All members of the team can see the action items in a team's Workstream.
See a list of all the teams and Workstreams you're included in from the side pane on the Workstreams page. Re-order the list to what's most convenient to you by clicking and dragging either a team name or a Workstream.
Team managers or creators can change the Workstream name and add more Workstreams; they can enable other members of the team to add shared Workstreams too.
Creating Workstreams
Boards: a customizable view of all the action items in the Workstream. There are two types of boards
To create a Workstream, follow these steps:
Hover over Workstreams and select Add Workstream. Alternatively, Click on Workstreams and then Select Add Workstream in the sub-pane on the left side of the page.
Next provide the following:

Name
Description
For Team(s) - This allows you to create this Workstream for any of the teams you're on OR as a Private Stream. Every time you Add a Team here, you're creating said Workstream for each of those Teams.
Board Type

Completion Flow boards

- A typical Kanban completion flow which automatically tracks action item progress by column status.

Custom Boards

- Full control on status and column names to tackle your project however you wish.

Select Save
Using a Completion Flow Board
A Completion Flow Workstream is assigned to every user in WorkBoard as the Personal Stream. All Teams in WorkBoard also have a Completion Flow Workstream.

As you move your Action Items from column to column, the status of the Action Item Changes.
To change the Name of the columns, background image or convert the Completion Flow Board to a Custom Board, do the following:
Click on the Kebab in the upper right-hand corner
Select Workstream Themes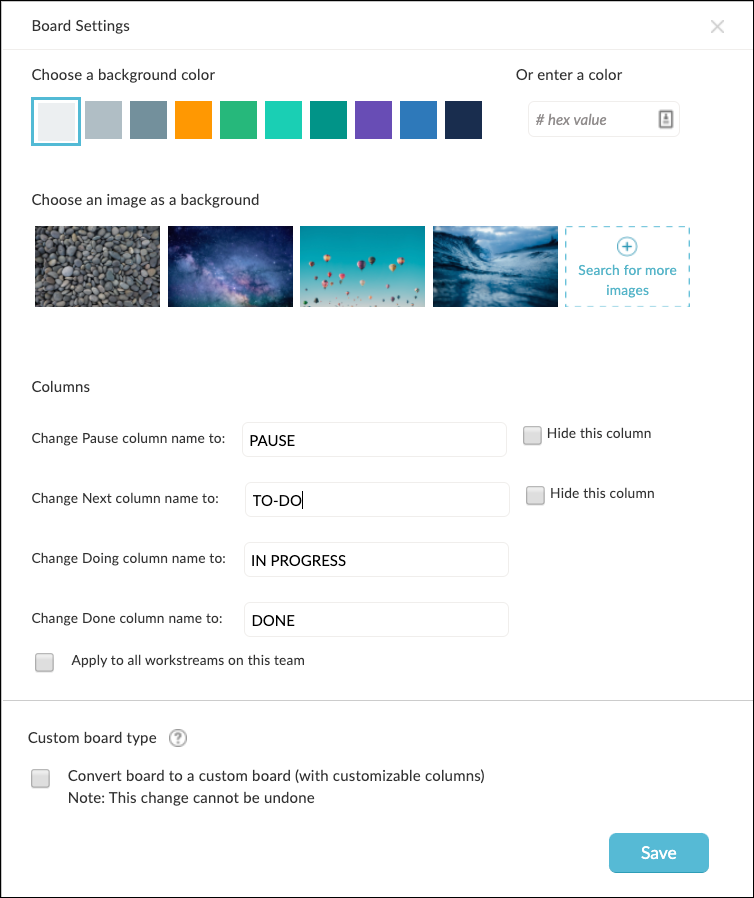 Using a Custom Board
By creating a Custom Board you have full control over status, column names and also automating tasks in your columns.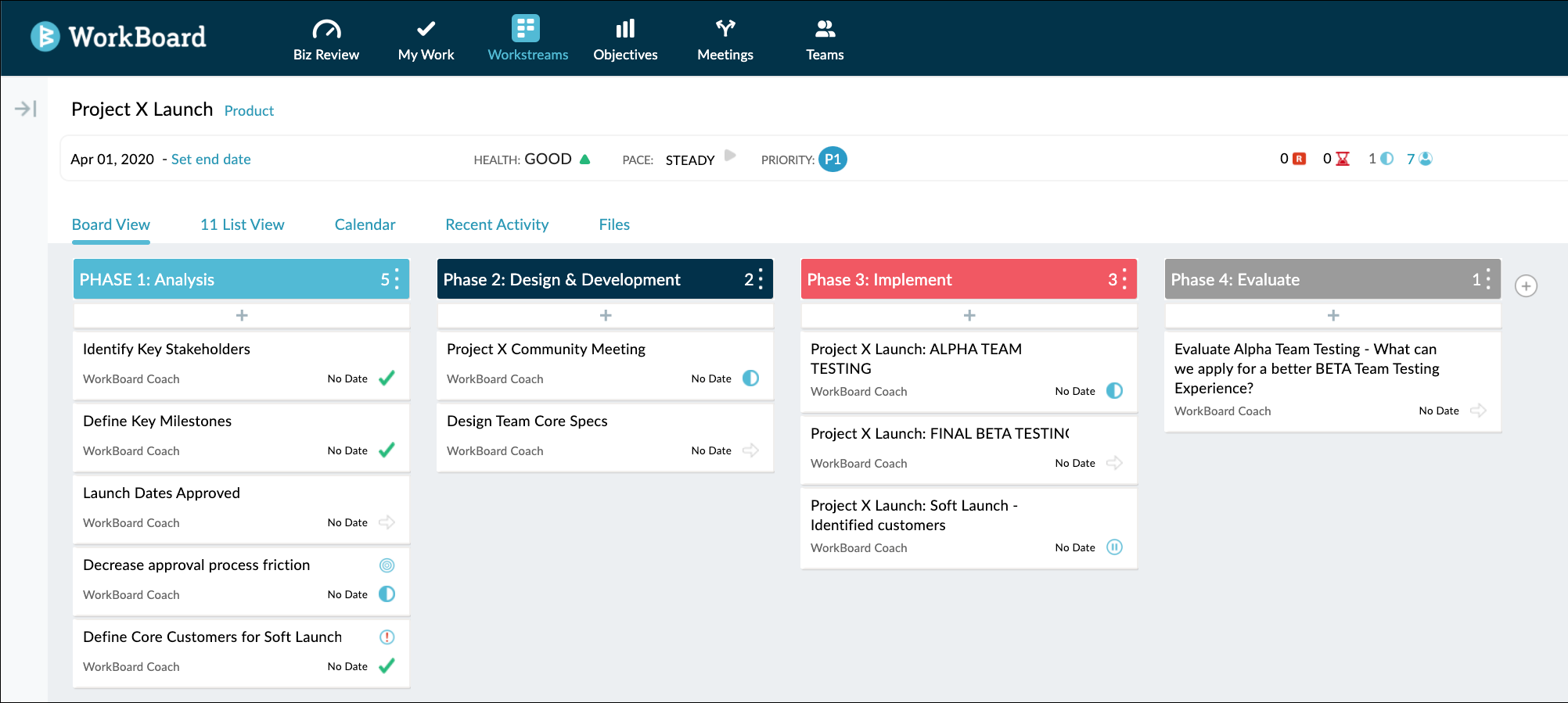 Team Work, Access Team Files, Link Work to Objectives and More!
Use the tabs at the top to see:

List view: a list of all of a team's action items. Make changes inline to individual action items, or use the Bulk Change link to make changes to several action items at once. Sort and filter the list by date, status, priority or owner.

Recent Activity, which is a handy list of who's updated, added, commented or completed something in the workstream.
If your workstreams align to Objectives, you'll find a tab with those OKRs and their status.
Files attached or linked to any action items in workstream are collected in one place making it easy to share files with the team. Don't remember what the doc was attached to? Filter on file type, person or action status to find it quickly. If everyone needs the same template, roadmap or video, just drag and drop to the workstream file area.
If you're the team owner or a team admin with permissions, you have more workstream management options in the kebab (three dot) menu:
Manage Workstream Lifecycle: Close and Archive workstreams when they're no longer active. All the actions, comments and links will be filed away, where you can access them later if you need to. (Managers or someone with team admin permission can close and archive.)
User Permissions: Exclude team members from this workstream, or include other teams or people to collaborate across functions easily.
The Priorities & Risks dashboard which collects all high priority and red flag action items from across all of your workstreams in a centralized place for easy follow up and status updates.
Already tracking work in Excel or a Google sheet?
Moving out of another task or project app? You can import to do items directly into Workboard and the right workstreams. Export the data in CSV format, and import as you would an Excel file. It's fast and easy; here's how.