Overview
There are locations in and outside of the WorkBoard Platform where you can update your KRs (Key Results):
myworkboard.com

WorkBoard Mobile (Android & iOS)
You'll be notified to update your KRs based on the frequency set for each individual KR. 
As you update your KRs, we suggest adding comments or a narrative. This is a great way to capture and share facts, remember what contributed to progress "spikes and valleys", and to answer the same "what happened" question from multiple people.
Note: To learn more about Key Result best practices check out Key Results Overview.
Update Multiple Key Results and Share Progress in WorkBoard
Click on the button

UPDATE KEY RESULTS

on the upper right corner of the page.


Note:

The button will only appear if you have key results that are currently due for an update.
Enter values and comments for each KR due for an update, and tab between fields for even greater efficiency.

Format your Key Result narratives by highlighting the text you've entered and using the options in the floating formatting field.

Click the Update button on the bottom to save your changes.

View and Update Individual Key Results
C

lick on the My Key Results tab. 

Use the dropdown to switch between Key Results you Own, Key Results you Update, or Key Results you Own & Update.

Find the key result you'd like to update

Click on Update

if you're the owner or data provider,

or

hover over the key result, click the kebab, and select

Update

.
Updating Multi-Target Key Results
Multi-target Key Results can be updated from the Objectives module and from the Key Result details page. Data Providers will have the Update icon on the different tabs of the Objectives module, depending on permission. Managers, Co-Managers, and Team Admins will update the Key Result from the Key Result details page shown below.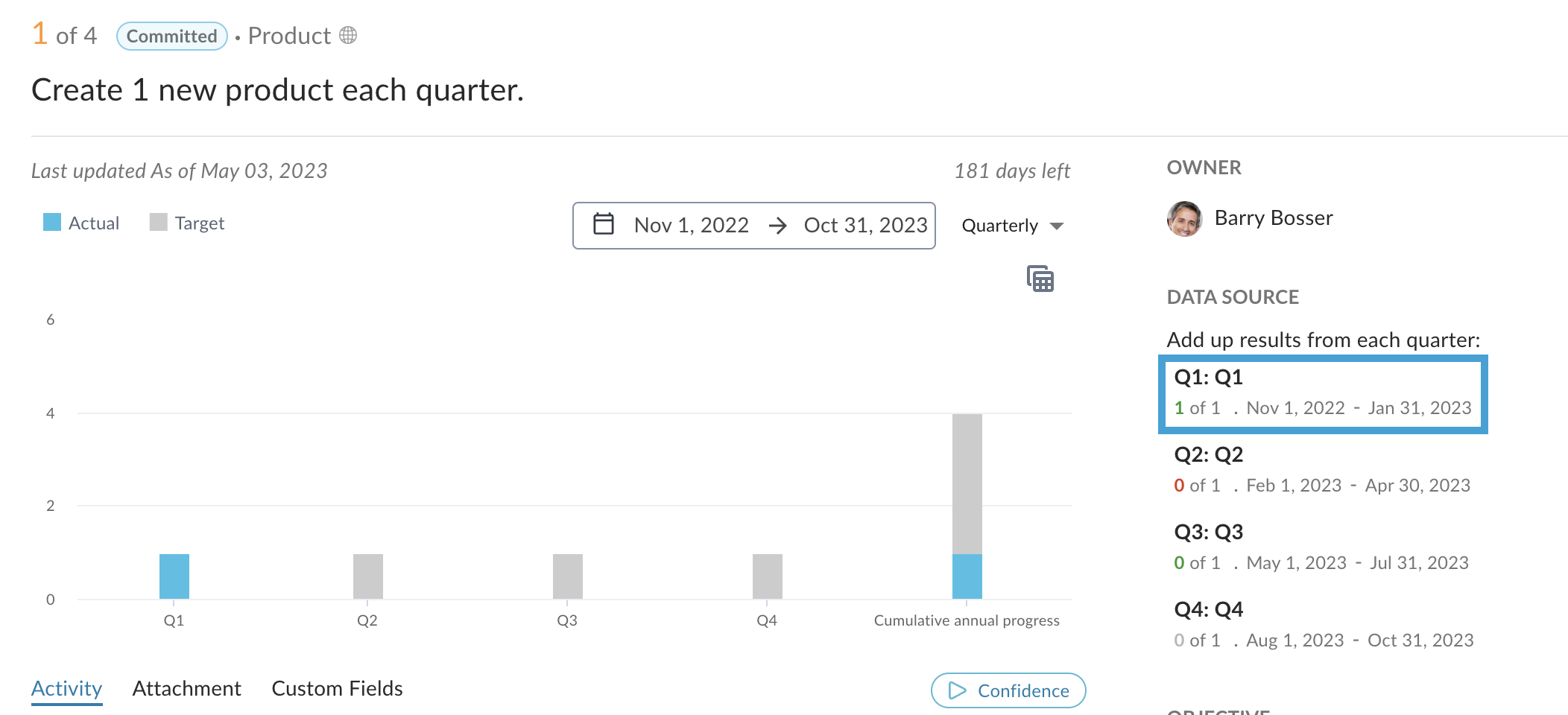 Please note there is no Update icon on the parent Key Result, a target (Q1, Q2, etc.) must first be selected from the right-side menu.

Update Key Results from a Mobile Device
From any Objective Detail page on the Web or iPad, below the results chart you'll see Update for key results you own.
On iPhone, open the objective and tap any key results you own; below the chart click Update the team on progress.
View and update your key results on the go using the iPhone or Android apps.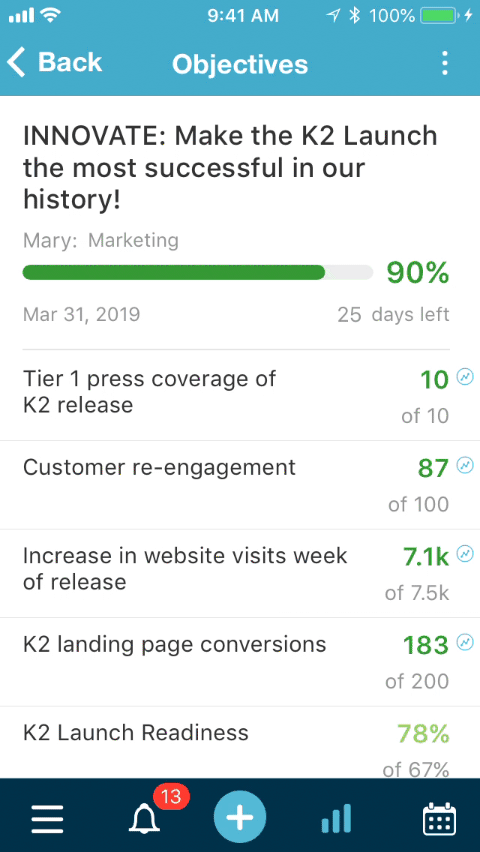 Update Key Results outside of WorkBoard
Slack or Microsoft Teams
Ask WoBot for your OKRs, or those belonging to your teams, to get a quick view of progress. You can update key results, add them to your watchlist, ping team members for their input, or reward your team's progress towards objectives with a fun badge.
Here are some conversation starters:
Can I see my results?"
"Can I update my KRs?"
"Can I see my OKRs?"
"Can I see my team objectives?"
"Can I see my objectives from [team name]"
Learn more about viewing and updating OKR progress from Slack or Microsoft Teams.