Importance of OKRs
Objectives and Key Results keep teams connected, aligned and moving toward results. Teams work in a variety of ways -– around products, functions, and journeys. Alignment is necessary within and across teams to achieve priorities as an organization. OKRs have the power to drive sharp focus, fast growth, and high alignment for organizations of any scale.
Objectives and Key Results provide a common vocabulary and a repeatable framework built on the foundation of transparency. Teams are empowered to articulate and align what they want to achieve, focus efforts on measurable outcomes, and iteratively learn with data over time.
Anatomy of an OKR
Objectives
An objective is a statement of our intent and what we want to achieve.
A great objective helps answer: What are we trying to accomplish and why is that important?
Best practices in crafting an empowering objective include:
Declare the big idea and "why" -- not numbers

Inspire and motivate people with a sense of purpose so they want to be onboard

Range from short or long timespan

Own 3 to 5 per team
Key Results
A key result is a measurement of the most important near-term outcomes.
An outcome focused key result helps answer: How would we know we're successful?
Best practices in setting high integrity key results include:
Define the best possible results, not the most probable ​

Quantify value using numbers rather than action items or opinions​

Focus on quarterly results for faster iterations

Set 4 to 6 per objective
Review examples of great OKRs.
Principles of Objectives & Key Results
ASPIRE & INSPIRE: Teams establish their best possible results in a given quarter, focus efforts on great outcomes, and use retros to learn and iterate.

GLOBAL + LOCAL: Teams localize OKRs into their nouns, verbs, and numbers and enrich OKRs with the team's expertise and insight.

OUTCOME FOCUS: Quarterly key results provide radical clarity on where value is created. This helps teams and the organization drive business impacts faster.

TRANSPARENT: OKRs, alignment, and progress are transparent to everyone so it's easier to collaborate and make good decisions faster.

TEAMS: Teams are the engine of value creation and transparency is the juice of alignment.
The Objective & Key Result Cycle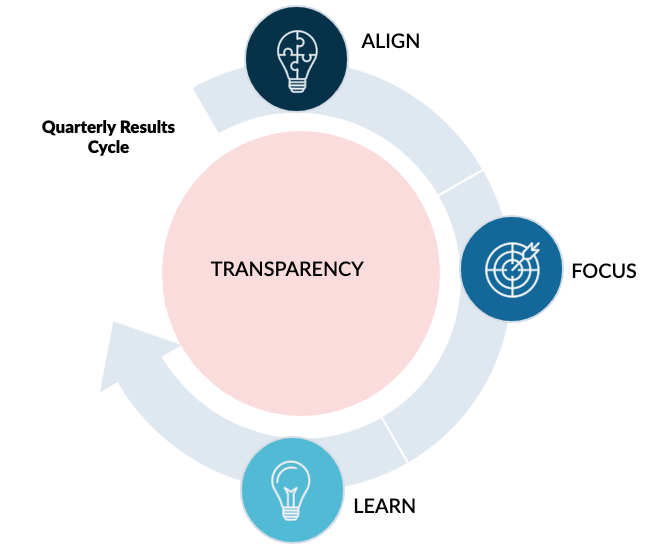 Align
What matters

now

to our customers and company?​

What are best possible outcomes and how do we measure them?​

Which teams do we need to align with for best results?
Focus
Are we focusing this week on results we want to achieve this quarter? ​

How much progress have we made and how much do we need to make?​

Where are the risks to our results right now? ​

​
Learn​
What did we learn about how value is created and measured? ​

What gets in the way?​

What improvements can we make to achieve more next quarter? ​

​
Check out the OKR Enterprise Guide to learn more.