Once you've created your Scorecard, you can easily customize the text, layout, and other elements. If you're looking to reorganize, you can adjust column order or modify row heights to effectively pinpoint Key Results that hold significant importance for your team's progress.
Customizing your Scorecard 
To start, first click the pencil to populate edit mode and then the gear icon to open the settings panel. Within the settings panel, you can adjust various settings like style, sorting criteria, layout configuration, slide dimensions, and more. If you want to modify an entire row or column, simply click on the icon located at the top of the respective column or row header.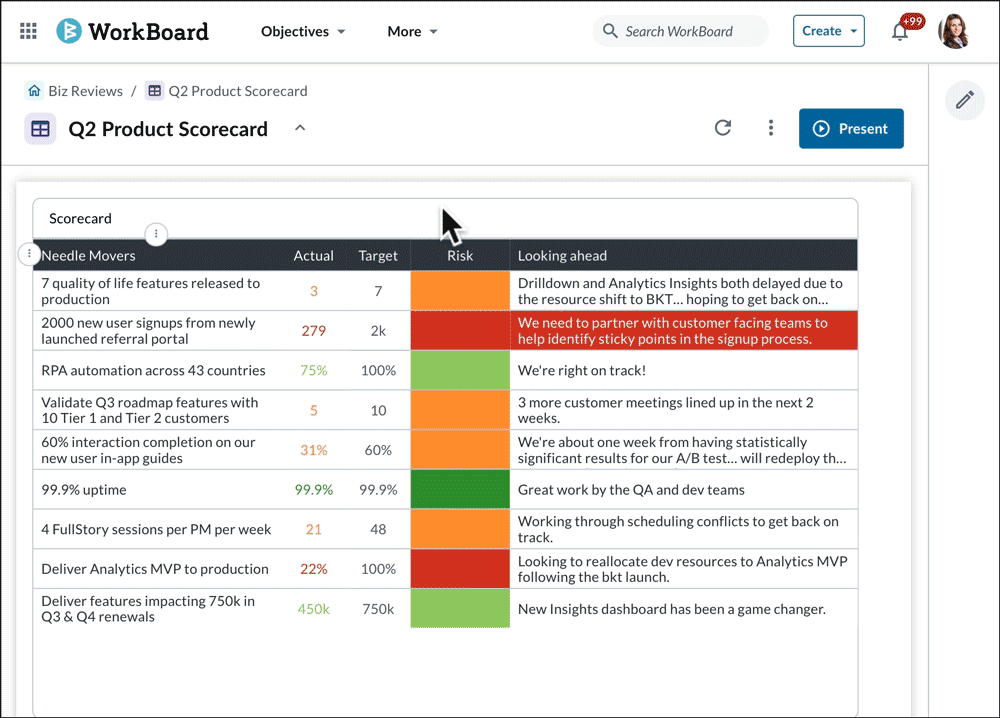 You can customize the following fields in the Settings panel: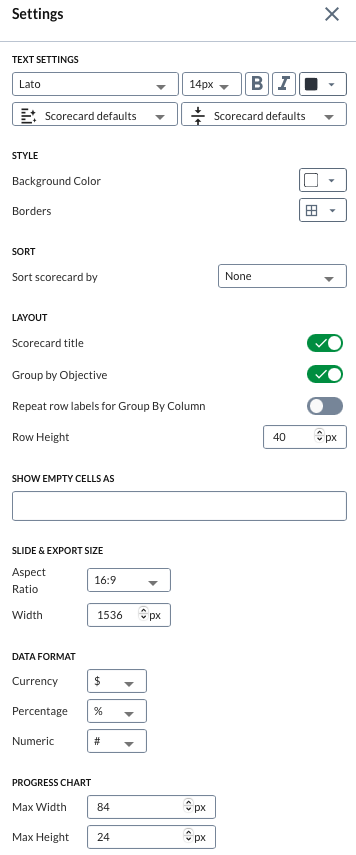 Text Settings: adjusts the text for your entire Scorecard

Modify the text size, color, text alignment, and vertical alignment 

Style: adjusts the background color or borders for your entire Scorecard

Background color: select a default color, or search for a custom hex code by selecting the + icon
Borders: select the fill for your cell borders, or use the pencil to change the border color

Sort: brings the most critical KRs to the top of your Scorecard

In the 'Sort scorecard by' field, select an option from the dropdown (these are the column attributes).
Alternately, select the kebab menu (3 dots) in edit mode next to a column header, then Sort by. From the dropdown, select the applicable sort preference.

Layout: use the toggles to include or exclude certain features in your Scorecard or to modify the row height

Scorecard title: use the toggle to include a title for your Scorecard
Set Row Height: controls the content by setting the height of all rows. Set all rows to the same height with an input (px) or by clicking the up/down arrows. 

**You can still individually adjust any rows to a different height after this is set.

Show empty cells as: any empty cell will default to the input in this field
Slide Size: adjust the aspect ratio or width to display when selecting Slide View in the lower left-hand corner of your Scorecard
Data Format: use this field to format Key Result numbers exactly to your needs to reflect percentage, currency, and numeric data – or convert all items to percentages for easy comparison across results. These preferences affect the Initial, Actual, and Target fields.

Percentage data shows as % (45%)​
Currency data shows as $ ($12.2K)​
Numeric data shows as # (55.2)

Progress Chart: if your Scorecard contains a progress chart column, use this field to modify the width and height 
Please note that Sort By & Group By Objective are mutually exclusive -- only one can be enabled at a time. If you enable Sort By when Group By is enabled, there will be a pop-up to confirm this change. Check the box in the pop-up for Don't show this warning again if you plan on frequently using this feature.
Additional Customization Options
You can further refine the view of your Scorecard by adding free text rows, or by merging cells. Free text rows act as section dividers to help separate and segment your data.
To add a free text row:
Within edit mode, select the Rows tab 
Select Add a free text row at the bottom of the module
Drag this row to your preferred location between KRs to divide them
After dragging the free text row, you can select whether to have the free text row populate as Individual Cells or Merged Cells from the dropdown.

Embed Scorecards in Biz Reviews
When you've finished customizing your Scorecard, you can embed it into a Biz Review to highlight progress and takeaways when presenting in Meetings.
Open the Scorecard from the main landing page
Click the kebab menu (3 dots) in the upper right-hand corner 
Select Copy Embed URL action
Open your preferred Biz Review
Edit your Biz Review by clicking the pencil in the upper right-hand corner
Select +Add then select Iframe
Paste the Scorecard embed URL in the 'Website address or embed code' field
Select Save iframe to lock in your changes
Viewers that access the Scorecard in a Biz Review will be able to edit free text fields by clicking into the free text field and adding text. 
Tip: We recommend the following settings for your Scorecard when embedding them into Biz Reviews:
Keep the width and aspect ratio as is, c

hange font to 12px

Keep font and ratio as is, change to 1700px
Sharing and Exporting Scorecards
Sharing Scorecards
You can share your Scorecard with specific individuals, teams or with your entire organization.
Click the share icon
Search and select specific users or teams, and click +Add. You can also adjust a user's permissions in the dropdown to Viewer or Editor (if necessary)
If removing a user, select Remove in the permissions dropdown
To share a Scorecard with your organization, in the 'General Access' field, select Anyone at organization can view.
Exporting Scorecards
You can quickly export a Scorecard to CSV to capture the current progress in a downloadable format. 
Select the kebab menu(3 dots) on the Scorecard page
Select Export > CSV
You can then import the CSV file into Excel by opening a new Excel sheet and importing the data. 
For Mac users, select File > Import > CSV > Import, then select your CSV file.
For PC users, select Data > Import from CSV, then select your CSV file.