On May 26th, WorkBoard will roll out Canvas 2.0, an upgraded version of WorkBoard's built-in whiteboard that let's teams ideate and collaborate on OKRs and now more!
Canvas 2.0 enables users to:
Ideate any time on any topic.

With Canvas 2.0, you can start a canvas for any reason or no reason -- it no longer needs a team or time frame associated
Bring Action Items onto the canvas

as well as Objectives and Key Results.

See where progress is being made, and where there are blockers.
Create Action Items

from sticky notes. Capture dependencies that need attention or steps the team needs to take.
Include images on the canvas.

Add key context or personalization to your brainstorms.
More easily access Canvas.

With Canvas 2.0, users can access Canvas directly from the global "Create" menu, as well as from the 9-dot menu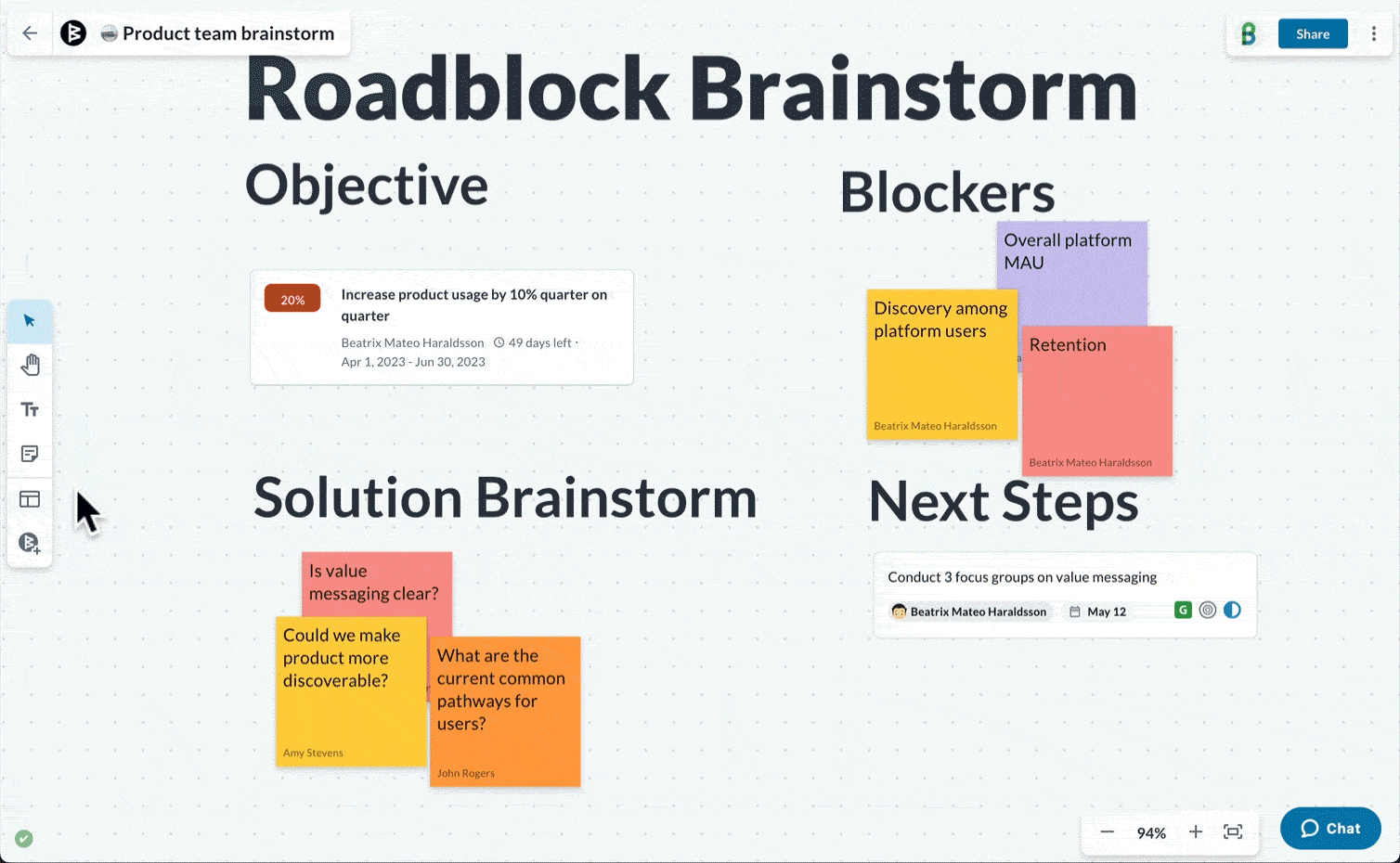 Canvas 2.0 retains all the capabilities that allow teams to collaboratively set OKRs, such as:
Real-time brainstorming

around OKR-setting to surface the best ideas and make every voice heard
Built-in conversation guides

and frameworks to help your team "Set Your First OKRs" and "Reflect & Reset OKRs"
The ability to pull in Objectives and Key Results

from WorkBoard to anchor the discussion
Seamless OKR publishing

directly from the canvas
What to Expect: After the roll out of Canvas 2.0 on May 26th, you will notice a few changes:
Clicking the Canvas icon in the 9-dot "waffle" menu will lead users to the Canvas 2.0 landing page. Any new canvases they create will be accessible and searchable from this page.
You will gain the option to create new canvases directly from the main navigation "Create" menu
IMPORTANT: You can continue to access old canvases from the banner at the top of the Canvas landing page.