Overview
Every WorkBoard organization can have a number of users that have Administrative access to manage the organization's hierarchy and user management, data categorization and IT, and security policies.
Admin role scopes allow you to give very specific admin scope based on need. Individuals can have multiple roles for combined levels of access. We recommend that every organization has at least one user with full org level admin access.
Role Types and Description
| | |
| --- | --- |
| Role Scopes | Description |
| User Management | This role is meant for a user user who is responsible to provision and de-provision users from enterprise platforms; their scope of access is limited to managing users and managing permissions of users on existing teams. |
| Team Management | This role is meant for a user user who is responsible to maintain the organizational team structures; these users can create, edit and delete and archive functional and dynamic teams and maintain the hierarchy of the organization. |
| IT Policies | This role is meant for an IT leader responsible for the enforcement of the orgs Infosec policies |
| Data Streams | This role is meant for a Technical user responsible for the setup of custom data streams integrations |
| Org Admin | This person can recommend users who should be set up with the new granular roles; At least one user should be set up with this super user role. |
Breakdown of Access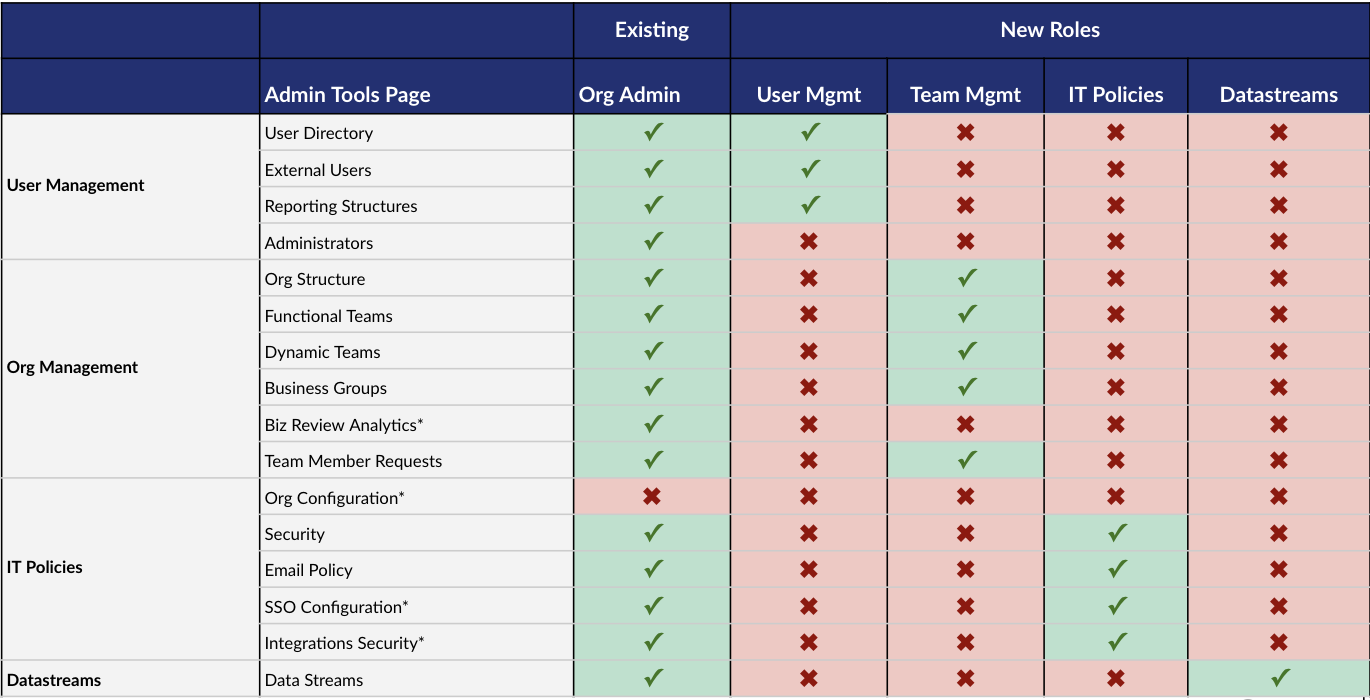 Access Admin Capabilities
Permissioned users with Admin access can get to Admin tools from the 9-dot menu from the top navigation.
Changes to Roles & Access
Org Admins can grant and access for other Org Admins in your organization. For all other changes please reach out to WorkBoard support via chat or support ticket for changes and adjustments.