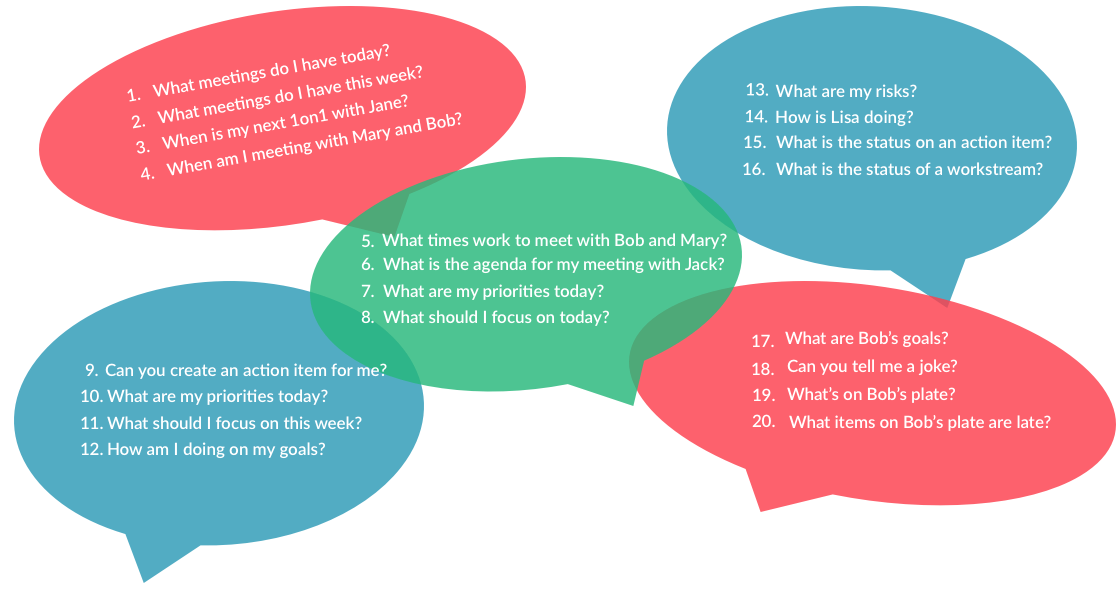 If you're a Slack or Microsoft Teams user, you're in luck! With WoBot, you now have your own personal chief of staff who can anticipate what you need to accomplish, knows what needs your attention, and covers your back on the details. WoBot can grab and update your objectives, key results, workstreams and action items and meetings for you — all at the speed of chat.
To get started, enable Slack or Microsoft Teams integration on your Workboard account. You'll get a success message showing you that WoBot is now enabled for your team:

Now, when you go to Slack or Teams, you can start a direct message channel with Workboard (@wobot). View your objectives, update your key results, check your to-do list for today, and more.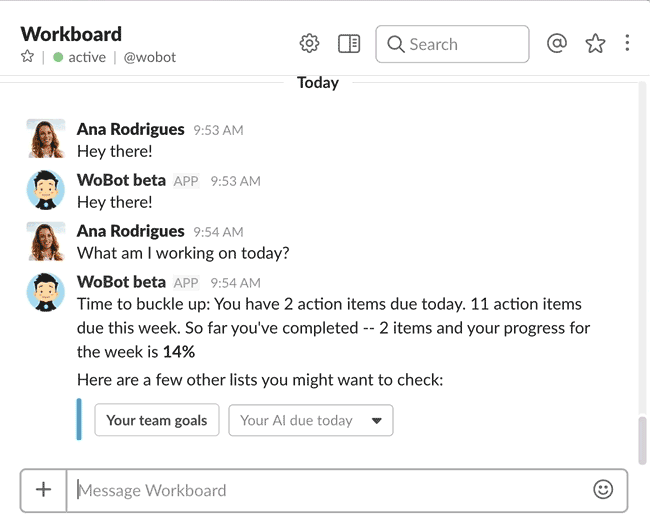 Get the Big Picture
Ask WoBot how you're doing... it will compile a quick overview of your OKRs, workstreams and action items and let you know where you can best spend your time. Drill down to specific teams, workstreams or action items to make updates or ping other team members for status.
If you want to focus on potential trouble areas, ask WoBot to show you your risks. You'll get a list of objectives, key results or action items that are at risk — with a click you can update KRs, get a full progress history, or view the item in Workboard.
Suggested conversation starters:
WoBot Options for Teams
Prompts that WoBot can answer for you in Teams include:
Show my objectives
Show my team objectives
Update my KRs
Login
Logout
Help
WoBot Options for Slack
Prompts that WoBot can answer for you in Slack include:
Can I see my Team objectives?
How is [Person] doing on his/her objectives/KRs/Workstreams/Action Items?
How is [Team] doing?
Show my calendar
Show my 1on1s with [Person]
Reschedule meetings for today
Get [Person] my Outlook calendar
What are my top priorityred/late Action Items?
What are my Action Items for today/this week/this month?
What is [Person] working on today?
Get my workstreams
Get my workstreams from [Team]
Get my objectives from [Team]
I need to update KRs
Create an AI for me
Add this Action Item for [Person]
Tell me a joke
Have fun!
WoBot likes to share wisdom, but can also let its hair down and make you smile. Ask for some inspiration or a joke!
WoBot is continually building its skills and fluency. However, sometimes it may not understand and give up on you — though we hope you won't give up on it. If you notice odd behavior, tell WoBot you'd like to "send feedback"... we'd love to get your suggestions!