Overview
The Teams Details page provides a quick dashboard view of your team's work. Easily see OKRs, status, health, priority and number of at-risk items all in one place.

Access The Teams Details Page
Select Teamwork from the main menu
Click Teams
Click the link on the team name you'd like to access
View the Timeline for Team Projects
Use the Timeline view, accessed from the workstream tab of a team, to visualize your team's projects over time.
Team workstreams are displayed in a Gantt chart showing a schedule of the team's scheduled work.
Workstream names are listed on the left side of the chart, and can be sorted by name, priority and start or end date.
Adjust the timeframe of the chart to days, weeks, or months, whichever best fits your project horizons.
The length of each bar on the Gantt chart is determined by the start and end dates you've set on each workstream, with the total number of days you've planned for the project shown at the start of the bar. Projects with no start or end dates will show as a grey bar.
Quickly change the start and end dates of the workstream by dragging and dropping the endpoints on the Gantt chart, or drag the entire bar to move the workstream's entire timespan forward or back.
The color of each bar on the Gantt chart indicates the current health of the workstream.
To change the health rating, click on the name of the workstream to open the detail view. Here you can also change the priority and pace ratings, or add or edit the project narrative.
View the Narrative for Team Projects
The narrative view will give you a neat dashboard of workstream status. Each workstream is listed with current progress, description, and lead.
Easily see an overview of how many red, late, and doing items each workstream has, and view or update the pace, health, priority, and start & end dates. Sort the workstreams by name, priority or date to focus on what's important to you and the team.

Track Information with Custom Attributes
Custom attributes allow you to set your own standard input fields to track information on each workstream in the team.
For instance, if your customer success team is using workstreams to track customer relationships, you can use custom fields to add information about each customer, such as products or services purchased, sponsor contact info, or business need.
To set custom attributes, click the kebab menu on the Team details page and select "Set Custom Attributes".
To edit custom attributes, click the same kebab menu and choose "Edit Custom Attributes".

Once custom attributes are set, enter information on each workstream's view by clicking the kebab menu in the upper right and selecting "Workstream Attributes".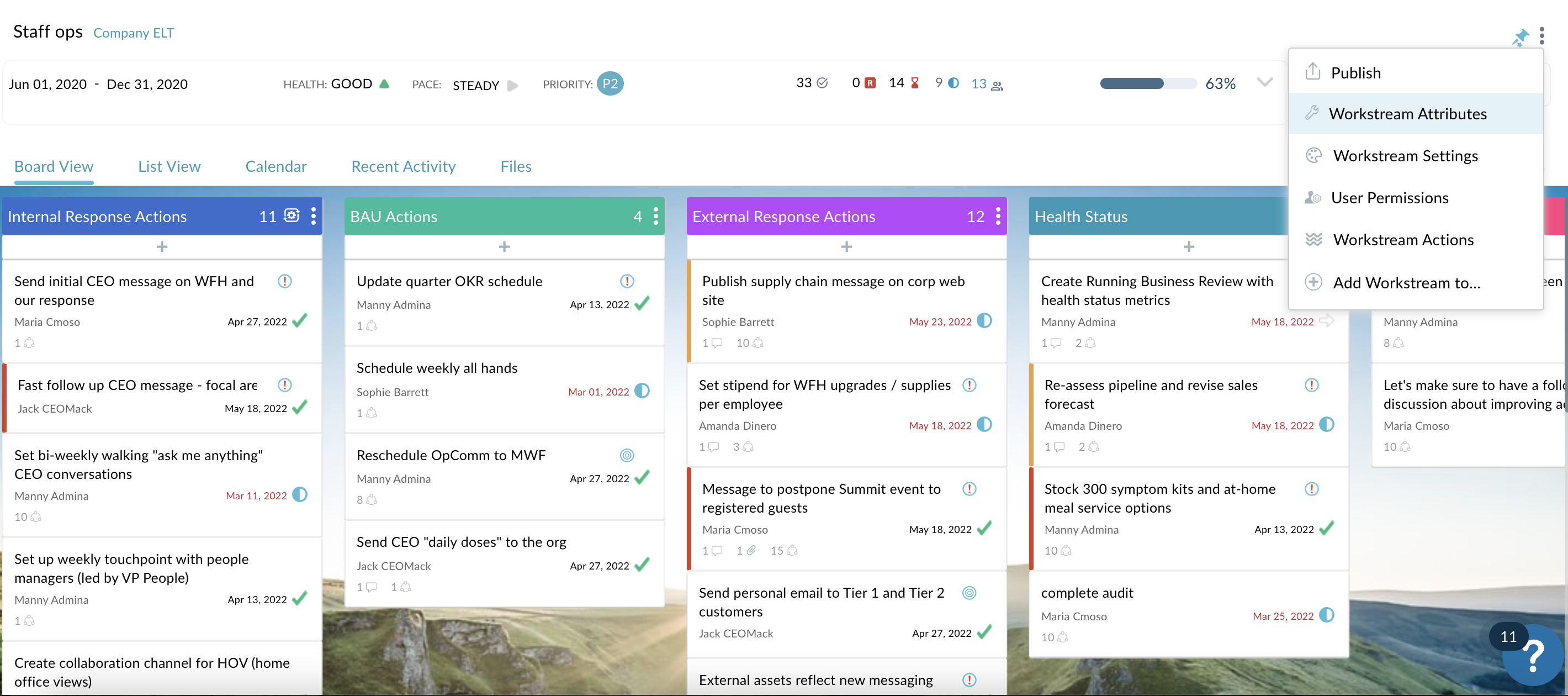 View Team Work, Objectives, and Roster
Using the tabs at the top of the Teams page, you can access:
Action Items and any Objectives tied to the team's workstreams
Weekly Snapshots showing the team's progress over time
The Team Members roster where team managers, co-managers and admins can view and edit the team's members and their roles