Overview
WorkBoard offers several different types of boards to help you manage execution of strategic initiatives. There are two basic types of board: Workstreams and Visual Boards.
Workstreams
Workstreams let you visualize and quickly manage your team's work for a specific project or initiative, with individual action items organized into columns.
When you add a new Workstream, choose whether it should include a Completion Flow Board, or Create Your Own.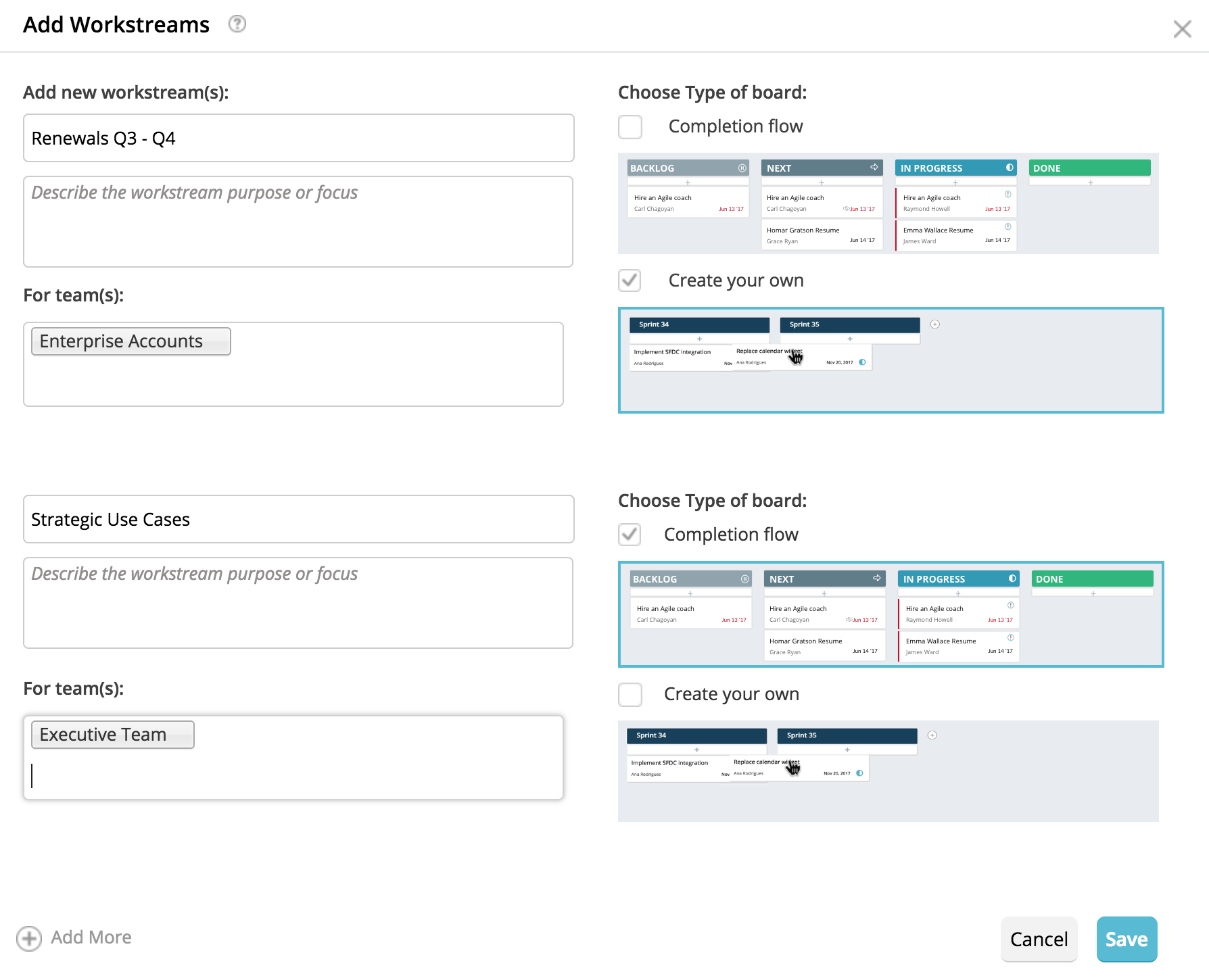 Create a Workstream
Click Create
Select Workstream
Click Workstream
Select Completion flow or Create your own
Completion Flow Workstreams
Use Completion Flow Workstreams to easily manage projects from start to completion. The four columns included on Completion Flow Workstreams correspond to Action Item statuses (Paused, Next, Doing, and Done). However, you can customize the column names to reflect your own team's workflow.
For example, a software development team might use Backlog, Planning, In Progress, and Done. Drag-and-drop Action Items between columns to instantly change their status, or within the same column to indicate higher-priority items. Click on individual actions to make comments or updates.
If you later decide you need additional columns and automation options, you can convert your board into a Custom "Create Your Own" board.
Click the kebab menu icon in the upper right and select "Board Themes", then click the "Convert board to a custom board" checkbox. (Note that this conversion cannot be undone).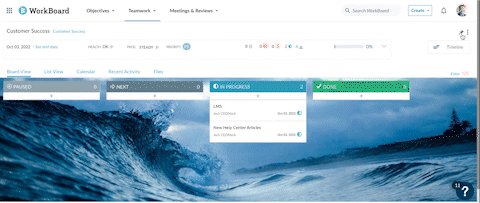 Custom "Create Your Own" Workstreams
Customize the way you organize your team's Action Items with a Create your own Workstream.
For instance, a development team can manage a product roadmap with columns for each quarter, while a sales team can track relationships with multiple key clients using a column for each customer.
Include as many columns as you need, reorder columns anytime, and group related tasks into columns regardless of their status. As with Completion Flow Workstream, you can drag-and-drop action items between columns to sort actions. Click on individual actions to update them as needed.
You can also add automations to automatically change owners, status, priority and more each time an action item is dropped into a column.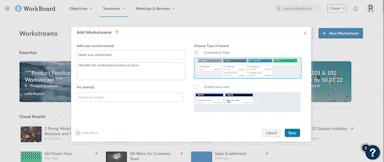 Visual Boards
Create a dashboard of multiple Workstreams or projects with a Visual Board. Visual Boards display high level status information and attributes for other Workstream components instead of individual Action Items.
You might use a Visual Board if your customer success team has set up Workstreams for each of your customers. You can create a visual board with each Workstream in columns indicating their overall health.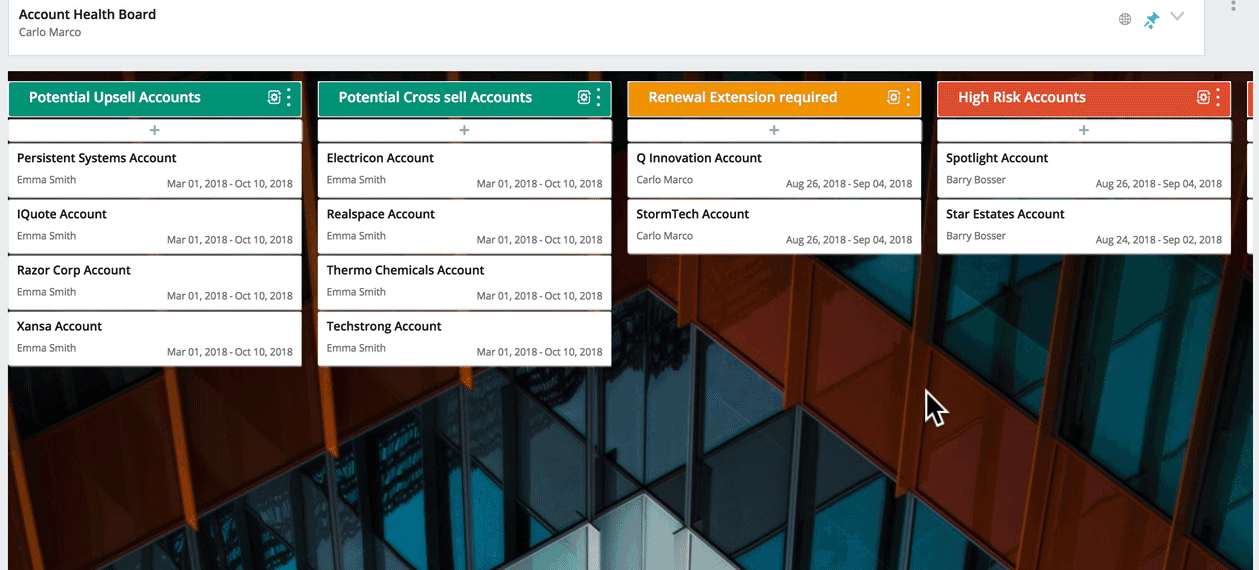 Create a Visual Board
Click Create
Select Workstream
Click Visual Board
Select either Text and images or Workstreams
Text and Image Visual Boards
Timeline
Click the Timeline button to see a Gantt chart of your team's actions across time and manage each team member's capacity and workload.
Click each person's name to highlight their actions on the board, and click on an individual bar on the chart to open that action's detail view. Adjust start and end dates for individual actions by dragging the endpoints on each bar.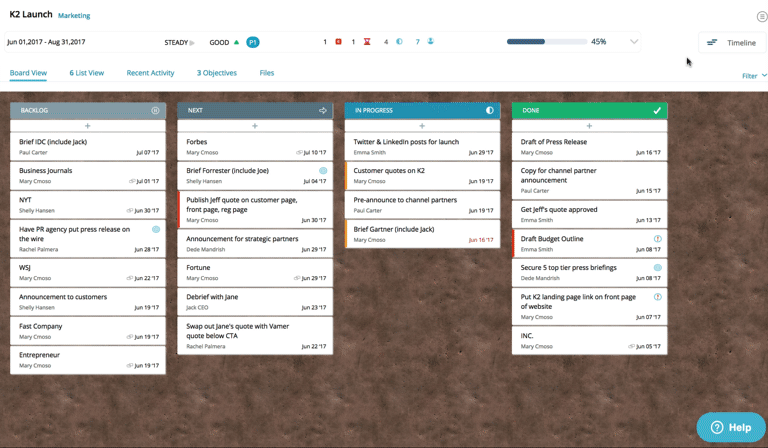 Board Filters
Use the Filters to highlight your own actions on the board, or to show or hide action items. Filter by priority, confidence rating, owner, or tag. On your custom Workstreams you can also filter by action item status. Shorten the "Done" list by filtering out actions that were completed more than a set number of days ago.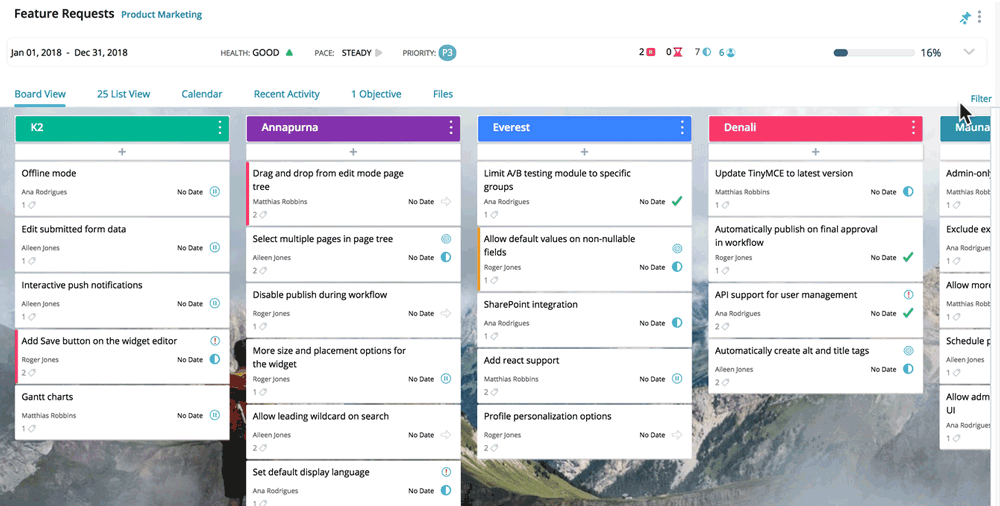 Board Themes
To customize your board, click the kebab menu icon in the upper right and select Board Themes. Choose a different background color or image for your board; if you are using a Completion Flow Board, you can also change column names or hide columns.

Set Your Default Workstream View
The board view is the default for each Workstream. However, if you prefer to use the list view:
Click your Profile Photo
Click My Settings
Click Preferences
Choose List under "Workstream View Preferences."